879. Pinnacles Middle Loop (05/04/13)

Hikers (18): Adam, Alan, Brad, Chinyet, Christina, David, George, Giulia, Jeff, Kirk, Mike Si, Nick, Patrick Be, Peter, Rufina, Shuli, Sophie, Steve
Distance: 17 miles
Rating: 5 difficulty, 9 beauty
Park info: Pinnacles National Monument south of Hollister

Write-up by Peter and David -- Pictures by Giulia and Alan W
My sixth trip to the Pig Fence was the easiest one I've ever experienced thanks to the cooler temps, but it got hot in the afternoon and the High Peaks kicked my butt. Hence the Level 5.
Pig Fence Virgins (no longer): Adam, Brad, Christina, Mike, Nick, Rufina. Congrats to all! Brad missed out the High Peaks due to pulling a hamstring, but got to enjoy The Fence.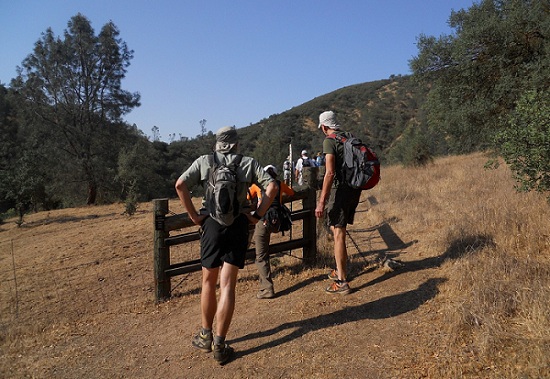 Hopping the fence on the South Wilderness Trail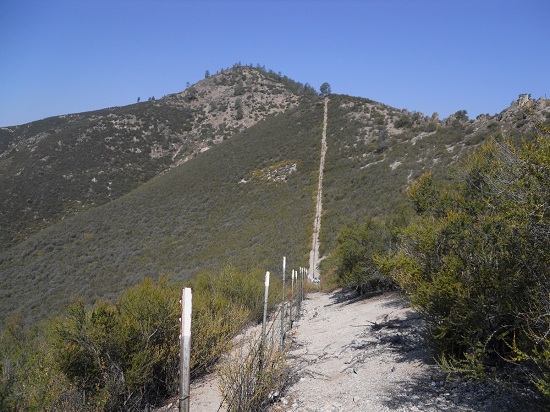 Looking up at the start of the mighty Pig Fence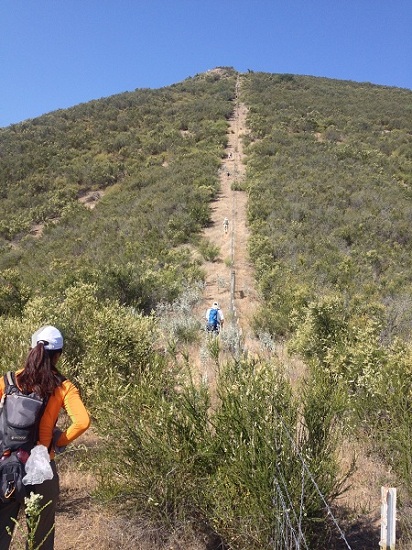 Rufina is wondering what she got herself into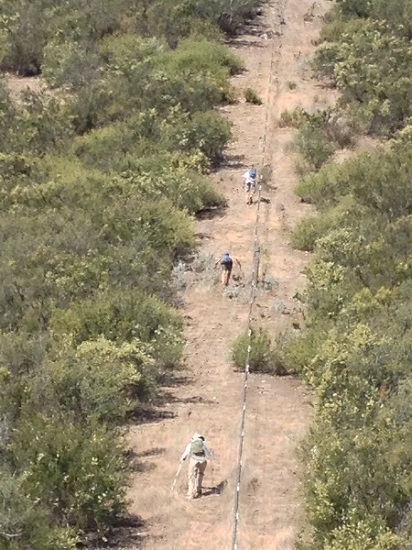 INCHers working their way up ... and up ... and up The Fence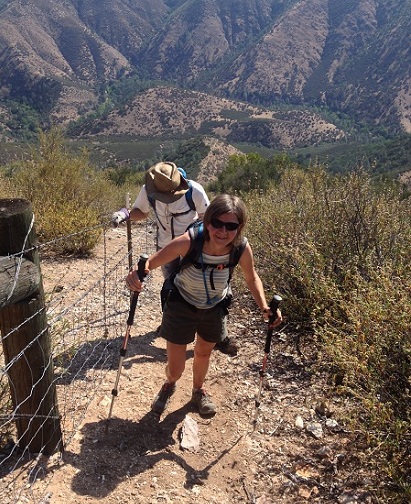 Sophie's all smiles as she knows she's close to getting her Forest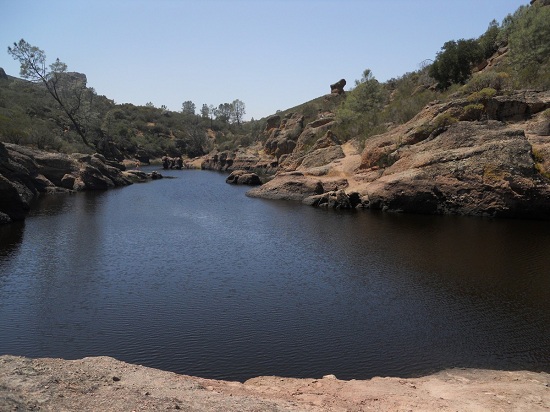 The Bear Gulch Reservoir looked great (but of course, we didn't stop to enjoy it)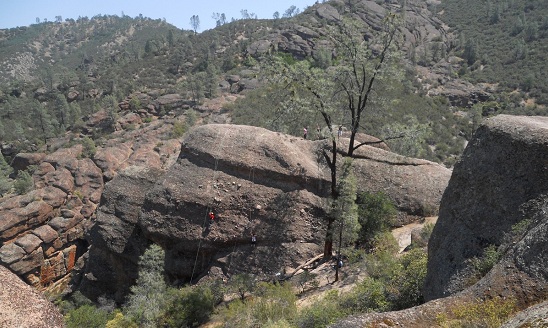 Rock climbers at the Pinnacles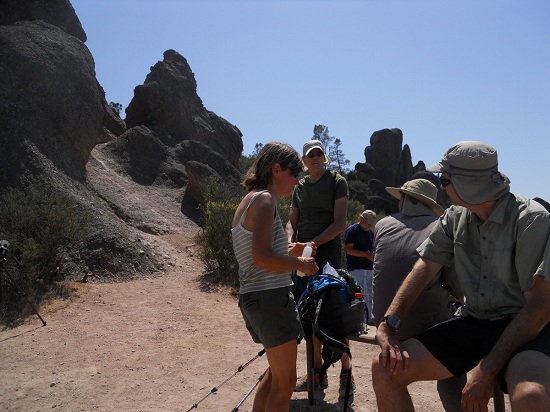 Sophie gets ready for a celebration shot of smooth tequila at the High Peaks
As we were toasting Sophie's 100th hike yesterday, the question was raised about who was the quickest to reach 100. David has the answer: it depends! Measuring by time and in terms of INCH hikes yields two different lists. As a point of reference, the 100th INCH hike was on the 939th day of its existence (2.57 years), which is good for 5th place in the Measured by Time list.
Top Ten to 100, as measured by number of hikes:
| Rank | Name | Hike |
| --- | --- | --- |
| 1. | Peter | 107th (93.5%) |
| 2. | Russ | 125th (80.0%) |
| 2. | Sophie | 125th (80.0%) |
| 4. | Paul | 127th (78.7%) |
| 5. | Steve | 137th (73.0%) |
| 6. | Mike B | 138th (72.5%) |
| 7. | Ross | 140th (71.4%) |
| 8. | George | 143rd (69.9%) |
| 9. | Karl | 155th (64.5%) |
| 10. | Eugene | 162nd (61.7%) |
Top Ten to 100, as measured by time:
| Rank | Name | Time |
| --- | --- | --- |
| 1. | Paul | 785 days (2.15 years) |
| 2. | George | 855 days (2.34 years) |
| 3. | Ross | 876 days (2.40 years) |
| 3. | Sophie | 876 days (2.40 years) |
| 5. | Mike B | 939 days (2.57 years) |
| 6. | Peter | 997 days (2.73 years) |
| 7. | Karl | 1051 days (2.88 years) |
| 8. | Russ | 1121 days (3.07 years) |
| 9. | Sarah | 1156 days (3.17 years) |
| 10. | Diane | 1177 days (3.22 years) |
Milestones:
George's 310th leaf
Patrick Be's 1st leaf
Sophie's 1st forest







Pages maintained by Steve Walstra, Peter Saviz, and Russell Gee.
©2022 Intrepid Northern California Hikers