883. The Dipsea Triangle (06/01/13)

Hikers (29): Brad, Carissa, Chinyet, Christina, Christophe, Dan, David, George, Giulia, Hailong, Iris, Jane, Jeff, John, Kirk, Lance Jr, Paul, Peter, Ralph, Ramesh, Ross, Rufina, Sarah, Shuli, Sophie, Steve, Tiffany, Yannick, Yipeng
Distance: 22 miles
Rating: 5 difficulty, 10 beauty
Park info: Mt. Tamalpais State Park in Mill Valley

Write-up by Steve -- Pictures by Giulia, John and Steve
This wasn't supposed to be Dipsea. The plan to visit a "new" pond deep within Henry Coe. But with predicted Coe temperatures in the mid-90s, common sense prevailed and I put together a last-minute hike. Still wanted something hard, but not too hot. Mill Valley to East Peak (of Mt. Tamalpais) is hard, but it's hot. Double Dipsea is cooler, but it's not hard. Mill Valley to Stinson Beach to East Peak to Mill Valley, however, is "just right". With lots of new trails near the summit, I figured this triangular-shaped hike would be like the Bermuda Triangle, with INCHers getting lost. The hike also had another advantage: two beer stops and refreshments (ice cream) at the East Peak summit.
As the "secret carpool" entered Mill Valley, some guy in the cross walk decided to stop, turn around, gesture to someone behind him on the sidewalk, and then slowly continue. I pulled around behind him (at a safe distance) and he looked back and pointed at a police car. Minutes later, that police car would pull me over (at the place we were already stopping to have coffee, so at least it was convenient). I won't tell you the outcome of the stop. . .but despite the delay, followed by the snail-paced service at Native Paul's favorite La Coppa Coffee, and our remote parking location, we pretty much started the hike on time. Because of the delays, however, I couldn't finish that aforementioned coffee, and had to carry it up the stairs. . .second time that's happened on a Dipsea hike.
1-2-3 INCH
Every time I do Dipsea, it seems easier on the way up. There were plenty of other people using the trail, perhaps because the famous Dipsea Race was coming up in a month. We were on Panorama Dr in no time. I figured people were stretched out by this time, but while this part of Dipsea is not perfectly signed, the constant stream of people lets you know where to go.
Down we went into Muir woods, and then up "Cardiac Hill". Along the way, we ran into Jackie L, who started a bit earlier and was only going to do Double Dipsea. The way down to Stinson is always nice, as you can see the ocean and the whole beach. Soon I was on the beach just ahead of George, Shuli, and Yipeng (who were ahead on the hike, but took the scenic route to the beach). On the way back from touching the water, I saw Ross, who already had a beer in hand. That's the spirit! I headed for the Parkside Cafe, where I almost always eat lunch on Dipsea hikes. Enjoyed a Sless' Stimulating Oatmeal Stout from Iron Springs Brewery (Fairfax) while watching INCHers trickle in.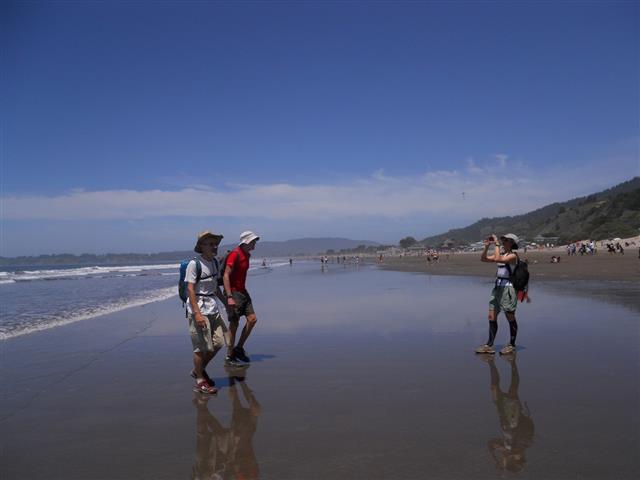 Every good INCHer knows to touch the water
Every time I come to this place, I generally regret ordering lunch because it takes forever to get service and food there. A few people people popped in (it's open-air seating, so people who have been there before know where to look) and I sent them all to the beach to earn their beer (if they hadn't already visited). Very few returned, as there was a larger group of INCHers hanging out in the park. Peter, Paul, David, and I were the last to leave the restaurant, and everyone else was long gone. But we were in the best spirits of all, because everything goes better with beer, including hiking.
The route up Steep Ravine was quite nice. Lots of ferns and shade. The only downside was that it was very popular, and passing people is tricky (and passing long lines of people even trickier). I was expecting people to get lost around Pantoll and/or miss Nora Trail, but it looked like everyone made it with no problem. . .except Jane O, who did miss Nora and headed to Mountain Home Inn. But she figured it out and came back, which is how I ran into her at the top of Nora Trail at the West Point Inn.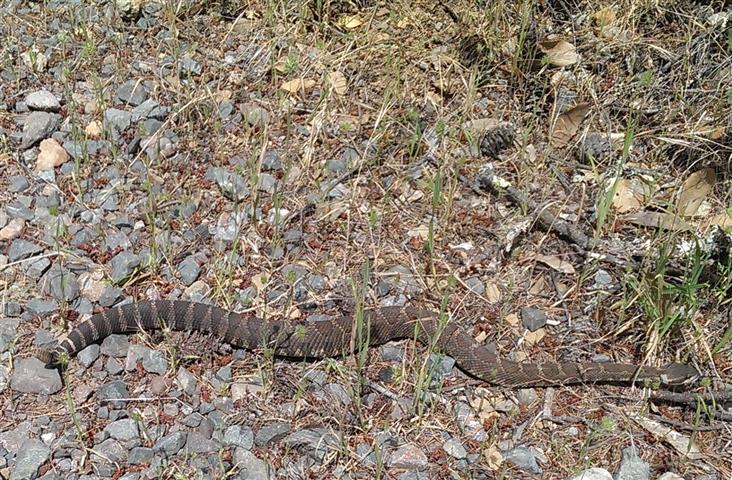 We've been seeing a lot of these guys lately on hikes
The West Point Inn is at the knee point of an old rail road route, and has another road coming it to it, plus two trails. So it's in the middle of a 5-way intersection. The signage is not particularly clear, but the map is. Ran into Jeff and Yipeng after scouting a bit down the wrong trail. Eventually found the right trail and set off.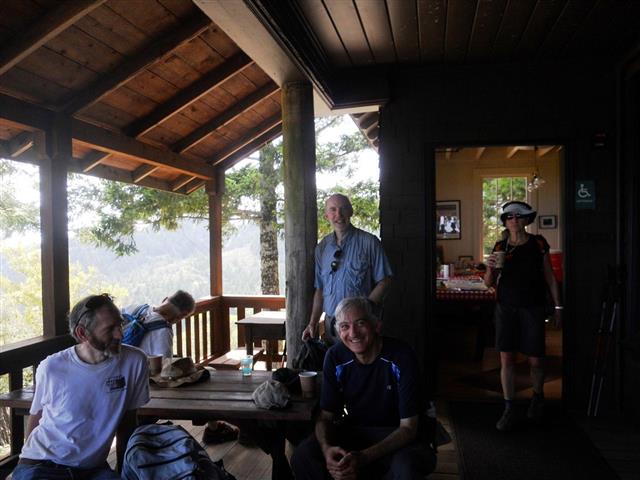 Chilling at the West Point Inn
What I didn't realize was that the West Point Inn was something that could be visited! Pictures from Giulia showed a big group of the early-Stinson-leaving-group stopped in to enjoy drinks and shade. Fortunately for me, there were several refreshment stops still to come! (keep reading)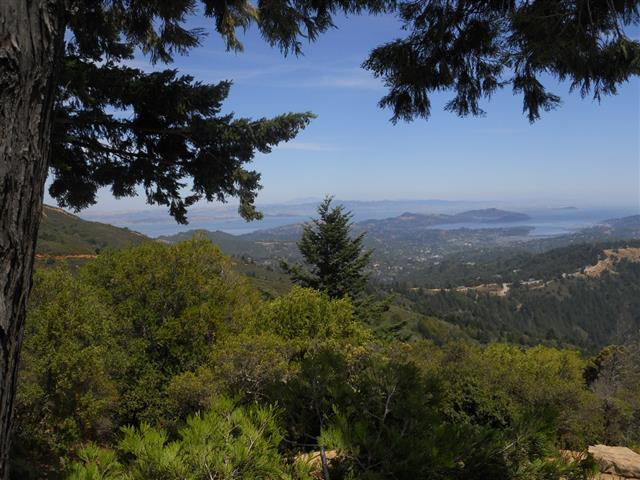 View from the West Point Inn
I had made ten or so "special" maps with an extra stop at Middle Peak marked. The plan was to send the faster people up there to even out the pace so we'd be sort of close together at East Peak. When I got to Middle Peak, I ran into a big group of INCHers just starting to come down. This was the West-Point-Inn group, so that turned out to be a much better source of "delay".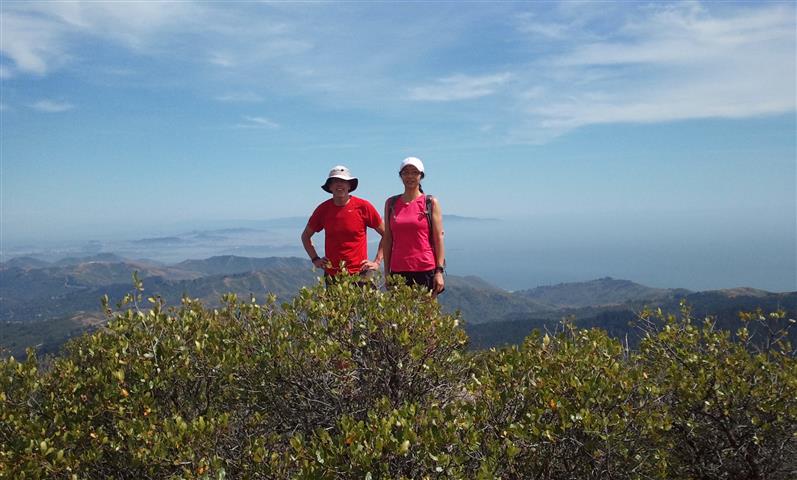 Middle Peak peak baggers
It's not too far or too hard to get from Middle Peak to East Peak proper. When I got to the edge of the parking lot, Ross and Shuli provided an update about who had already been there and who was still at the summit. So far, looked like no one was missing. Ross had enjoyed ice cream, but they had just closed the snack center when I got there. Up at the summit, someone mentioned they were going to grab some ice cream, and I had to break the bad news. Christina J started to leave, and I suggested waiting a bit for everyone else. She said she wanted to get beer at the Tourist Club. I wasn't even sure it was open, but she was, so since we were going to pass it either way, I was happy to put another refreshment stop of the list. . .to make up for the ice cream debacle.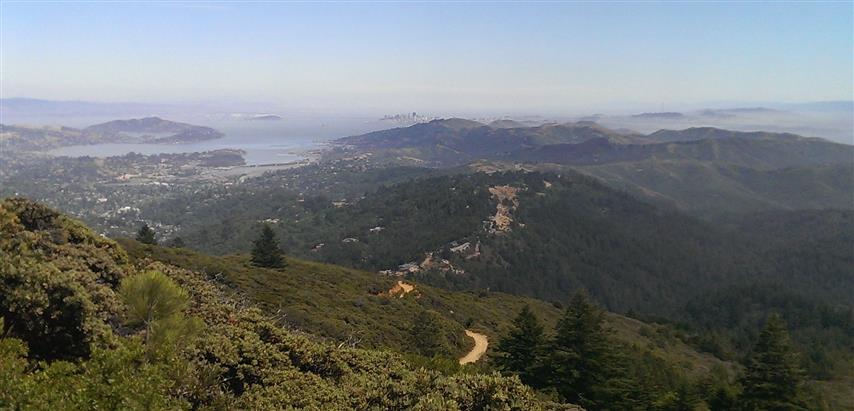 San Fran from the trail
Waited at the summit for a while until almost everyone showed up. Ran into the last three missing people on the way down: David (who had left Stinson Beach latest and tagged Middle Peak on the way there), Ramesh, and one other person who will remain nameless. Love it when things work out.
We looped around the paved trail to the back of the peak looking for Temelpa Trail. There was a trail, complete with steps, off to the left, but it didn't have a sign. I kept going, but Jeff called me back, noting that "there is only one trail on the map". I couldn't argue with that logic, so we took it for a while and determined that, nope, it wasn't right, because we could see a better trail. We went back and took the right trail--no worries. When I downloaded the GPS tracks, it looked like we might have been able to reach the official trail with a little perseverance, but I'm glad we didn't try.
Down at the junction of Vic Haun and Temelpa, I assured everyone to keep going down the Temelpa, as indicated on the map. I was taking that route because we'd never been on it before (we've always taken Temelpa up, coming in on Vic Haun). Later, I'd hear that the West Point Gang, led by Giulia, took the gentler Vic Haun down. They were oddly repentant about it, which was the right reaction. Ran into Peter a few feet down the trail at Sitting Bull rock, which has a plaque with a great quote. From there, we headed down the last rough segment of Temelpa. It was steep, rocky, and hard on the knees. The whole Temelpa Trail used to be like that, but they re-routed much of it above Vic Haun many years ago.
We shot through through the Double Bowknot looking for the Hoo-Koo-E-Koo Trail (a continuation of the road of the same name). The junction for the trail is actually on Railroad Grade, but I noticed on Google Earth that we could get there just as well from the end of the "Bow". As we approached that point, someone said "Are you INCH?". It was Yannick, helpfully posing as a human trail marker. He was dehydrated and taking a break (wearing denim jeans on a hard hike in summer will do that to you). Jeff stuck back with him a bit and we headed down to Mountain Home Inn for those long-awaited beers.
To my great dismay, a bouncer was standing outside the restaurant. Next to him was a sign saying "Closed. Private Party". Arggg! So I crossed the street and took the trail down to Alice Eastwood Rd (which keeps everyone off the Highway). "Well," I thought, "the Tourist Club it is!" and off I went (with a chain of INCHer behind).
The Redwood Trail is attractive and shaded, and has the namesake Redwoods--the most we'd seen along the 22 mile stretch of hiking. When doing Double Dipsea or East Peak, we usually route part of it through Muir Woods. Today, this trail segment was the only bit of Muir we'd get. When I arrived at the Tourist Club, the "easy entrance" (off the trail) said "Please head to main entrance". The main entrance turned out to be the road downhill to the parking lot--the place is actually pretty big. When I finally got to the entrance, I was again dismayed to read "Closes at 5pm". It was already well after 5pm. . .Curses! I came back up to deliver the news to the group--no beers for us until the parking lot.
And so we had another goal--just finish the damn hike. And we did. At the very end, I crossed through the woods behind the library because my car was in that direction. That bypassed Old Mill Park, where there was already a big collection of INCHers. I cleaned up and moved my car closer, thinking everyone had left. Someone from INCH walked by and casually mentioned everyone was in the park, so I headed back down to find lots of goodies. Hooray!
Eventually all of my carpool was there. . .but not Jeff's. He had given Rufina his keys earlier when she passed him at "Yannick Point". So now he couldn't get into his car and his passenger was lost. Well, long story short, she showed up later--no problem. She took a wrong turn in the residential area. It happens to everyone once. After a while, everyone showed up. Another fine hike in the books.
At the post-party cleanup, we found a backpack. No one there could lay claim to the mystery pack. Was it a bomb? We stood in a circle as Yipeng pulled out various items to see if we could figure out who it belonged to. No clues were found. We thought about leaving it where we found it, figuring someone would come back, but in the end we threw it in my trunk since the odds were very good it was an INCHer's pack. Later we'd hear from newbie Lance that it was his.
On the way back, after I missed the first reasonable exit, I was counting on ex-Mill-Valley local Paul to get us on the toll-free path to San Jose via the East Bay. He provided an exit that got us stuck in Mill Valley hell for ten minutes until we gave up took the GG bridge to San Francisco. The bridge is now 100% FastPass, so it was an experiment to see how the collection works. This write-up reminded me to log into the site and "pay" the unknown toll by providing my license plate number, a credit card number, and a range of dates. . .what could go wrong? We'll see.
Milestones:
Highest point in Marin county
Brad's 10th leaf
Lance Jr's 1st leaf







Pages maintained by Steve Walstra, Peter Saviz, and Russell Gee.
©2022 Intrepid Northern California Hikers