947. Hunting Hollow to Dowdy Ranch (09/13/14)

Hikers (7): Angelika, George, Karl, Kirk, Peter, Robert, Sarbinder
Distance: 24 miles
Rating: 5 difficulty, 8 beauty
Park info: Henry Coe State Park near Morgan Hill

Write-up by Peter, George, and Karl -- Pictures by Karl and George
Peter's notes:
Another good old-fashioned Big Henry beatdown. As I approached Hunting Hollow in the morning, the warning light came on in my car (true story) -- it was a sign of things to come. My car was smarter than me. I should have turned around right there. We ended up doing close to 6000 feet elevation gain over 24 miles on a hot day. The temperature hit 104 by midday as Big Henry opened up his can of whup-ass. Those who made it to Dowdy Ranch were pretty much wiped out by then, and getting back seemed like an impossibility, but we somehow made it. I think if there hadn't been water at Dowdy, most of us wouldn't have made it back.
David had one of those off days and had to get hauled out by Ranger Jennifer, but not before doing half the hike, including a killer climb up Vasquez Trail. His final words to me as we left him under a tree by the side of the trail were, "This is the worst I've ever felt on an INCH hike." No leaf, but discretion is the better part of valor.
Angelika also took that same trail -- she probably would have been better off going to Dowdy to get water, shade, and rest -- and then walked all the way back to the car. Good job!
Robert threw up a few times, but refused help from the rangers and kept going. His reply to Ranger John. "I threw up 3 times. Only 8 miles? I can make it." As George, Karl, and I walked along the Wagon Road we debated if we would have taken the ride after puking 3 times. In the end we all agreed, if there's only 8 miles to go (and 4 of them downhill), we're not taking the Ride of Shame. INCH spirit, baby!
Kirk's legs locked up at the top of Steer Ridge and also had to get a cab ride from Ranger Jennifer (we kept her busy, and as usual with the rangers at Coe, she was very nice about it -- love those guys!!!), but I'll give him a leaf because he almost made it, and he had some credit in the bank for doing the Double Sizer.
Big thanks to Sarbinder for shuttling back and forth on the trail to find spots where there was signal so he could call for help for David and Kirk. I forgot to mention he showed up half an hour late for the hike, and passed the rest of us to Dowdy. He needed to do a few extra miles just to make it fair for the rest of us :)
Bigger honorable mention that usual to Thomas -- he didn't just show up at the parking lot, he went all the way up the Phegley Trial!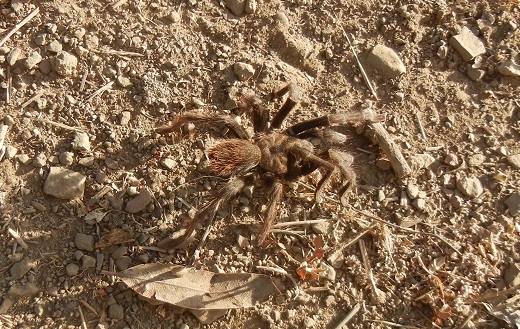 One of Coe's locals came out to greet us at the outset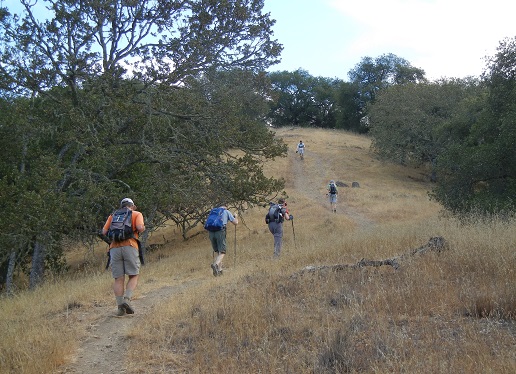 Starting up the Phegley Trail. So far, so good ...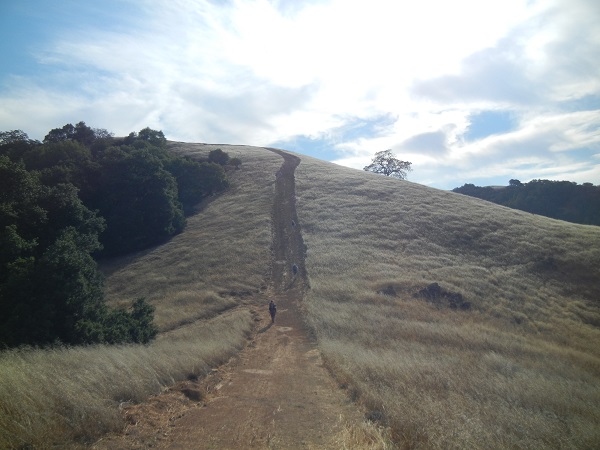 ... and then it became a Coe hike!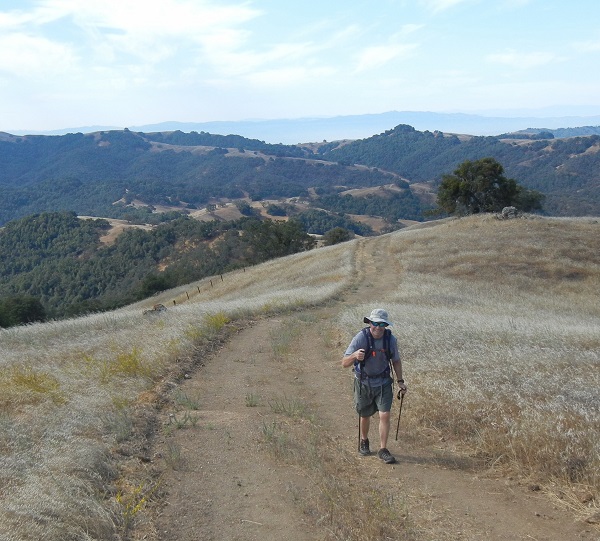 Still smiling on the approach to Vasquez Peak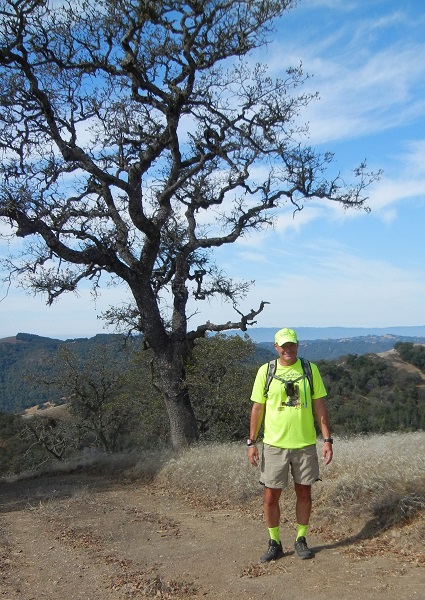 Karl wisely wore neon colors to facilitate ranger rescue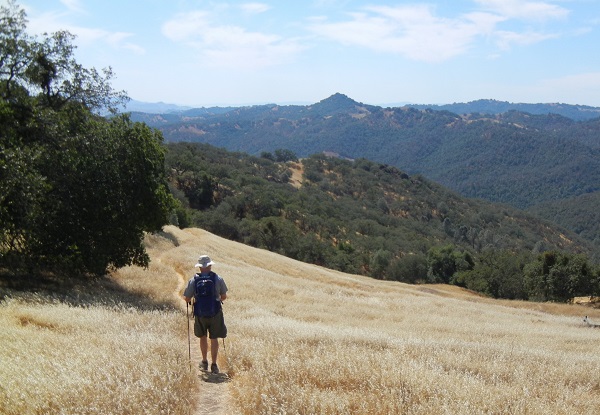 Hobbling down to Dowdy Ranch for a well-deserved rest.
I stupidly took a wrong turn on the Dormida Trail and added to my misery by doing some bush-whacking.
George's notes:
Peter told us how he got into bush-whacking up the Dormida Trail. He stepped over the line of stones intended to make hikers veer to the left onto a grassy trail under the shade of trees. Instead he forged ahead getting into denser and denser tough scratchy brush. Finally on his hands and knees with his backpack snagged on some brush he decided to head back down and look for the actual trail.
And...
We watched in amusement as Robert leaned into the picnic table after the hike and howled in agony as his leg muscles cramped up.
And.....
For a while Sarbinder and I each sat on a bench in front of the office building at Dowdy. Silent, quiet, warm, we both started thinking how nice it would be to take a nap. A number of hours later while sitting on the cement slab by the door of one of the strategically placed outhouses of Coe, Karl and I both agreed if we laid down for a second we'd fall asleep. The smell coming under the door was not enough to chase us away. Sitting down was just too nice.
And.....
At one point early in the hike I remember Karl doing a typical fun INCH thing - yelling out to Peter - "We hate you Peter !" Later in the hike he said it a few times more, there was no amusement in his voice at this point however.
And.......
Even after Sarbinder made up for a 30 minute late start he flew by me and got to Dowdy well before me. When we started the hike back he stayed with us for a while but we kept telling him to go on ahead. He kept saying "No, I like this". He would zoom up a hill and watch the 3 of us (Karl, Peter, me) struggle and stagger our way to the top. Eventually he disappeared into the distance. A while later he reappeared (by doubling back he would have to repeat some climbs!) to let us know he was able to contact a ranger. He then attempted to hang out with us for while, but once again he ended up standing around waiting as we labored and struggled, and eventually took off, no doubt wondering where the Intrepid-ness had gone.
Karl's notes:
Most of the excitement on this hike happened after we arrived at Dowdy Ranch, some 11.5 miles from Hunting Hollow. After a relaxing rest stop at Dowdy Ranch, that included a shady picnic table and cool drinkable water, we set off for the long hike back. Just before we left, Robert arrived at Dowdy looking a bit worn out. He said he was pretty wiped out and was "hoping" he could make it back to Hunting Hollow. Robert started to take his break as Peter, Sarbinder, George, and I started our heatfest journey back to Hunting Hollow. We figured David and Angelika would be arriving at Dowdy after Robert.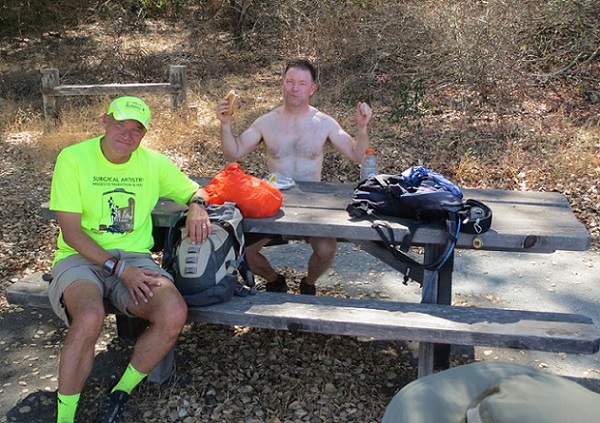 Lunch at Dowdy in 104 degree heat. Can you feel Karl's joy?
The 4 of us set off. It wasn't long before Sarbinder blazed ahead of Peter, George and I. As the 3 of us trudged along in the hot sun, we were surprised to find David sitting on the side of the trail resting. David and Angelika had taken a shorter route up the steep Vasquez Trail, and missed their opportunity for fresh water at Dowdy. He said he was struggling in the heat and was exhausted, and was hoping he could get a Ranger ride back. Angelika was already heading back. Sarbinder had already stopped to chat with David and was up ahead. David said he would hike along with the 3 of us as far as he could. It wasn't too long before we found Sarbinder heading back towards us with the good news that he had made contact with the rangers, and their ETA to pick up David was approximately 30 minutes. So, David shut down his hiking for the day and urged us to continue on. Sarbinder peeled off ahead again and Peter, George and I trudged on. I noted the mileage on my GPS at the point that David stopped so I could relay this to the rangers: I had done about 15.3 miles of hiking at the point we left David.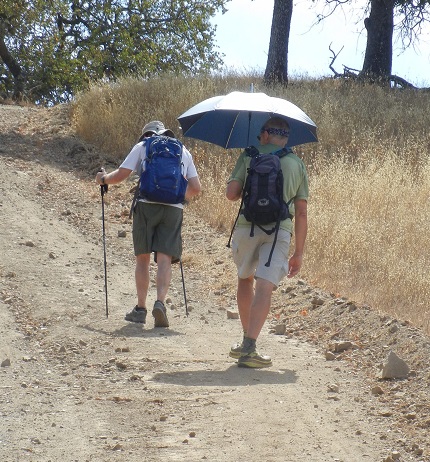 Not proud of this, but too tired to care!
Peter and George were hiking very slowly. George had his big umbrella going. I was hiking even slower and was about 200 yards behind. Three snails crawling along in the scorching heat. Before long, I saw dust flying ahead and later saw 2 ranger pickups heading our way. They stopped to chat with Peter and George, and then stopped and talked to me. I looked at my GPS and was able to tell them that they'll find David about 1.25 miles up the road/trail. I also recommended that after they tend to David, they should continue on the road and try to check on Robert, who we now knew was the final hiker. They asked for a description and I remember Robert was wearing a blue tee shirt and hiking shorts. There was a blonde woman ranger in the first truck and our buddy Ranger John in the second truck. Off the rangers went.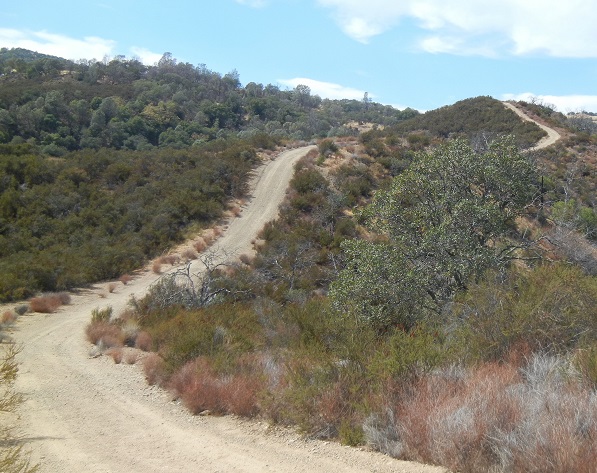 Still got a long tough road ahead of us in triple-digit heat. Damn!
Sarbinder was far ahead again. The 3 of us trudged along. Before too long, Ranger John came back with an empty pickup and mentioned that he had spoken to Robert. Robert reported that he had vomited a few times since he left Dowdy. Ranger John said that Robert refused a ride. Ranger John recommended that we wait up for Robert, who he estimated was ¾ mile behind. His truck pulled away and I could see him stopping and chatting with Peter and George not far ahead. Ranger John took off on this own. Evidently David had gotten his ride out with the woman ranger, but we never saw them as they likely took a different route back to Hunting Hollow. I caught up with Peter and George. All the excitement had ended. We were, once again, doing the Death March back. I had seriously debated getting in that ranger pickup. When Peter told me I wouldn't get a leaf if I got a ride, I never seriously considered it. I was tired, but healthy, and I sure as Hell wasn't going to do any part of this Death March without getting a leaf. I asked Peter if we should wait for Robert. Peter says "It's not the INCH way" and we trudged on! Robert's a veteran INCHer, runs marathons, backpacks, and climbs mountains, so I knew he'd be fine.
Peter, George, and I trudged along, mostly in silence, minus some of my cussing at Peter for planning this hike. Peter's response was something like "It's all Big Henry, I am only the messenger" stuff. For a while the 3 of us debated whether any of us would take the Ranger Ride-Of-Shame if we were puking. George was shaking his head amazed that we were even having this conversation. After a while, even George agreed that if there were "only 8 miles or so left" we would all refuse the ranger ride too, puking or no puking.
I started to fall a little behind again. I really struggled on any climb, even the short and gradual ones seemed like Mt. Everest to my legs. I could keep up on the flats and down hills, but fell behind when we climbed. Peter's knees hate downhills, so I would always catch up, then fall behind, etc. With about 6 miles to go I find Peter and George sitting in the shade of an outhouse. It was the only shade around. I joined them: we were all spent. After a short break, we set off. I remember Peter giving me a hand to get my butt off the ground. I might still be sitting there.
We were looking forward to Willson Camp, a couple miles ahead, where we heard we could get water refills. About a mile before, Peter, knowing I was dragging, offered me a shorter route back. But when he told me it involved my nemesis, the Serpentine Trail, I refused. "Serpentine is no friend of mine" I replied. No thanks on that one Peter! I stuck with Peter and George trying to keep up as best I could. We made it to Willson Camp, but we were all scared off by the water purification or lack thereof, warnings. After taking water inventory, we all figured we had enough water to make it back. Peter called an audible and we all took the slightly shorter Bowl Trail back. It was still plenty warm, but the temperature was dropping late this afternoon and the uphills were done. I realized I will have consumed 6 liters of water on this hike, thanks to the refill at Dowdy. Thats a lot for me on any hike!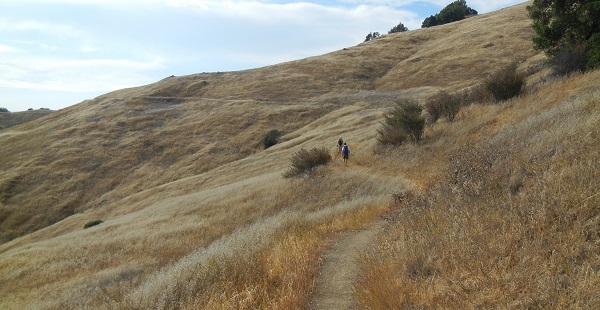 But it finally cooled off as we headed down to end a long day
The rest of the hike was non-eventful. But even the downhill was tiring for me. I made it back a few minutes after George. I think Peter was behind me, having been slowed on the steep final decent. Angelika was back. Sarbinder arrived looking fresh as a daisy but reported that he had called the rangers once again, this time for Kirk who was cramping badly a couple miles from home. Robert arrived about 20 minutes after me and was looking pretty good, considering everything.
The post hike drinks were colder and tastier than ever.
Robert was cramping but I was doing ok until I tried to sit in my truck to drive home. Robert and I carpooled to this hike. Robert's cramping had subsided, so he took the wheel and drove us to Gilroy. By that time, my cramps had subsided thanks to the electrolite stuff George had given me before we left. So I took over the driving after that.
I was proud to have survived, but I told Peter that Big Henry gave me a beatdown that I won't forget for a long time.






Pages maintained by Steve Walstra, Peter Saviz, and Russell Gee.
©2022 Intrepid Northern California Hikers