Boating information:
Private sailboats, canoes, rowboats allowed.
Gas-powered motors prohibited.
1 ramp with concrete to water level, sand base under water at edge of ramp.
Inflatables prohibited
Fish in this lake include:
Other information: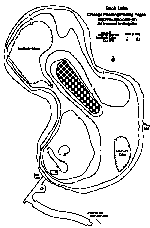 Get detailed map, (29k) (including depths).
Beck Lake is located on Central Road, just west of I-294. The entrance is on Central, just east of East River Road. The Des Plaines River and the main campus of Oakton Community College are nearby.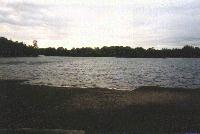 The picture was taken just east of the boat ramp, I'm told the foam on the shores is from decomposing plant life in the lake. Kayakers may want to read this Water Quality link for more information on this lake before practicing rolling (scan for Beck Lake).
'Beck Lake is great for crappie and has a fair number of 1-3 lb Largemouths. Most of the action is in the Northern part of Beck.' brott@interaccess.com

(Quote/e-mail address used with senders permission)