1123. Murietta's Lookout (03/03/18)

Hikers (5): Bjorn, Jarda, Mihail, Sophie, Steve
Distance: 18 miles
Rating: 4 difficulty, 10 beauty
Park info: Ohlone Regional Wilderness near Livermore

Write-up by Steve -- Pictures by Jarda, Bjorn, Mihail, Sophie and Steve
A Swede, a Czech, a Belgian, and a Bulgarian walk into a bar. The bar is empty. They ask the bartender why no one is there? "Well, it looks a little rainy!" That's the punchline for this EU-only hike. But the joke was on the fair-weather hikers, because it was a great hike.
Got to the parking lot early and walked down to Lake Del Valle. The water level was very low. In the summer, the place is crowded, but in the winter, it looks like hiking is the only game in town.
1, 2, 3. . .INCH!
We headed up the standard Ohlone Route from Del Valle, but then veered up a use trail to reach Rocky Ridge. Despite the rain the prior night, the trails weren't as muddy as anticipated. We made good time, and could see the snow-covered peaks ahead. We knew we'd be going higher than those peaks, so it seemed possible we'd touch some snow. But I was thinking maybe it would melt off before we got there. . .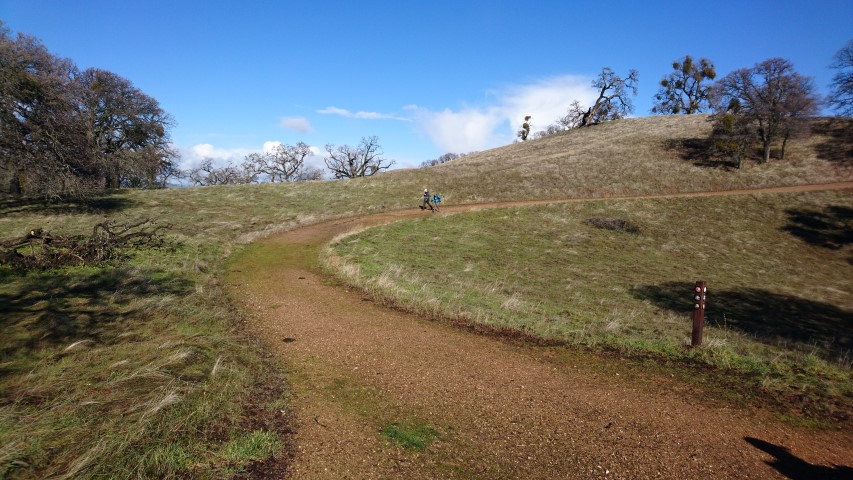 Approaching OT #37 at 2.2 kft
We waited a OT #37, where a group of people famously did some extra hiking on hike #1006. This time, we all took the longer route, so arrived together.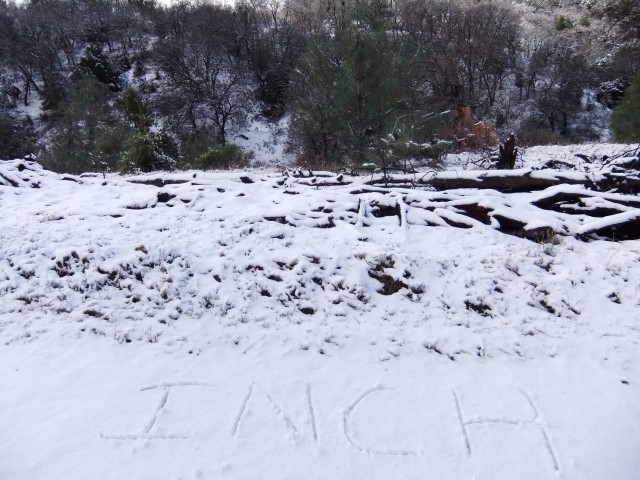 INCH around 3.2 kft
A few miles later we were in snow. It was first just patches, but around 3kft it was continuous for miles. Later in the hike, it would be a good four inches deep. Livermore has never been so pretty.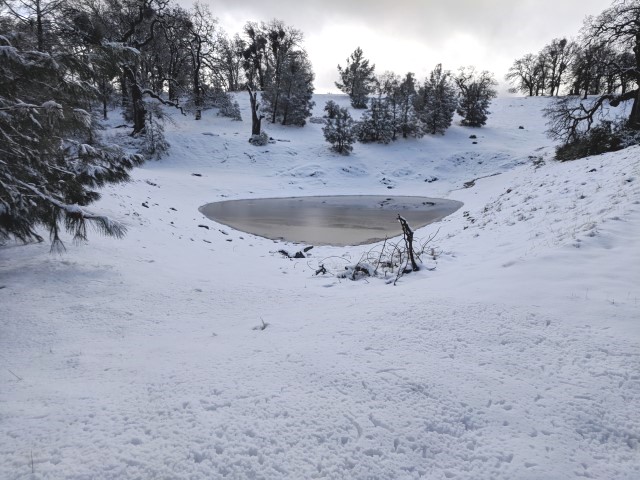 West Lake Tahoe @ 3.5 kft
After passing a picturesque pond that, in warmer times is nothing special, we were off to the highlight--Murietta's Lookout.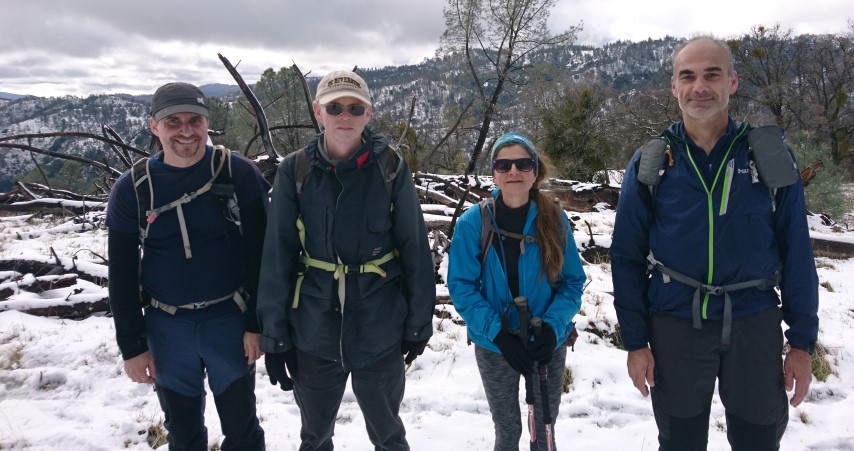 Murietta's Lookout @ 3.5 kft
The actual highest point on the ridge was tree-covered, but a little bit farther had a nice view of much of the valley below. This particular summit is a prominent point relative to the valley below, but not higher than some of the nearby peaks, including the highest point in Alameda County less than 2 miles away (as the crow flies).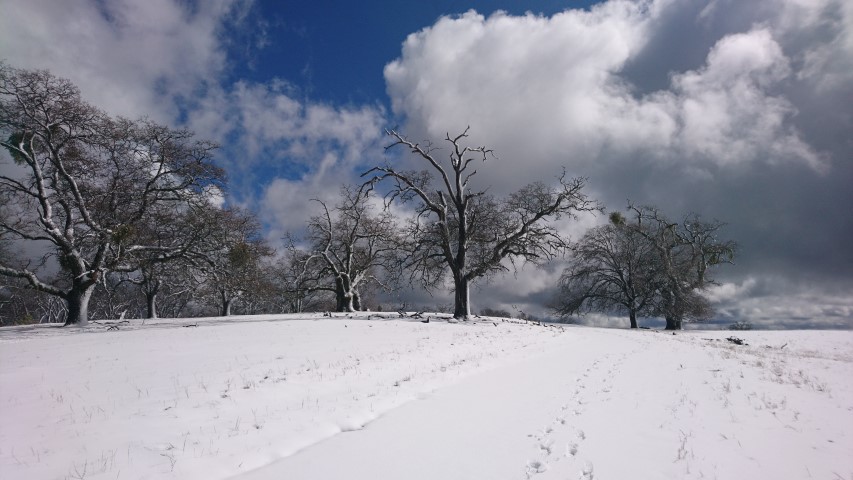 Ski Livermore
Besides three brown cows that hiked about three miles (and 1 kft of elevation) ahead of us, we had the winter wonderland section of the park to ourselves exclusively. It wasn't until we hiked down to Murietta Falls that we ran into people.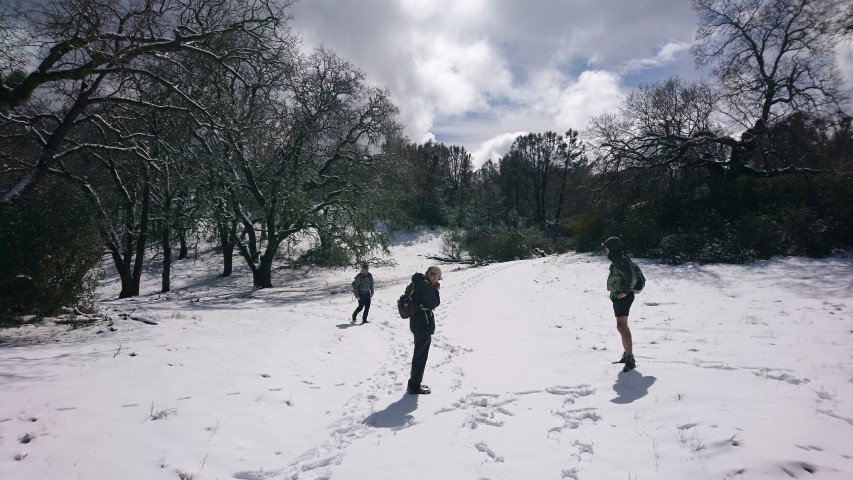 Waiting at Ohlone Trail #33 @ 3.5 kft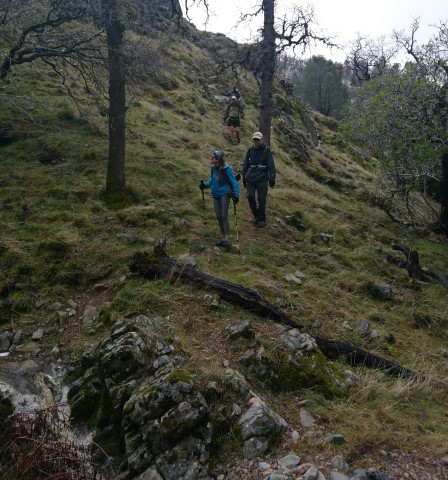 Coming down to Murietta Falls, around 2.9 kft
The falls were going strong, as expected. The (other) group in Murietta Falls had a camp stove going, although I'm pretty sure they weren't planning on camping there. We took plenty of pictures and hung out for a while. I visited my nearby cache. As we left Murietta Falls it started snowing.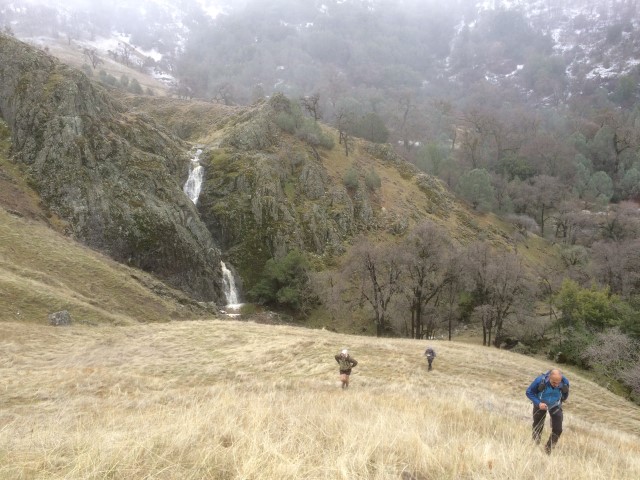 Hiking out of Murietta Falls
That was actually nice, because the fluffy snow was not particularly wet. So as long as we stayed about about 3 kft, it seemed we'd stay mostly dry! Plus it's fun to walk around in snow--and unlike previous cold times in the general area, it wasn't windy, so we weren't getting pummeled by hail pellets.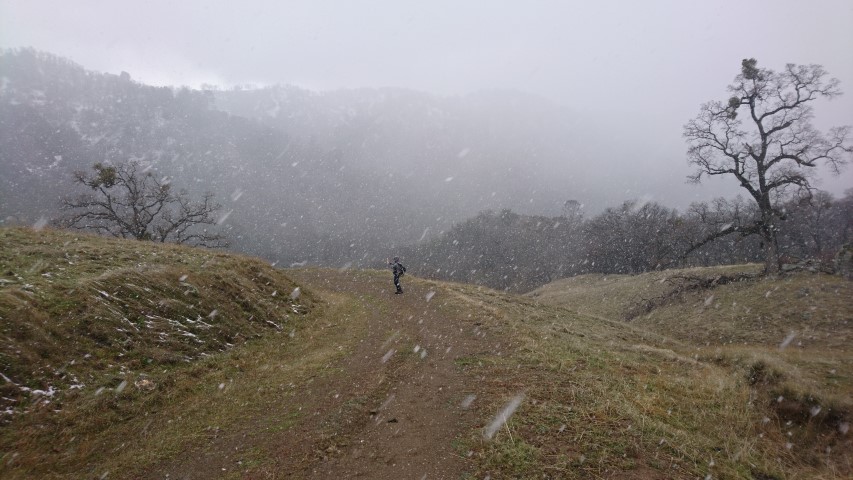 Snow on the way out of Murietta Falls
We were heading back out on the OT, so around Schlieper Rock or so, the snow was no longer on the ground. As we got closer to William's Gulch--famous for having a steep climb on either side--we were welcomed by a bright rainbow. Did it make the mistake of hiking into the gulch and couldn't get out?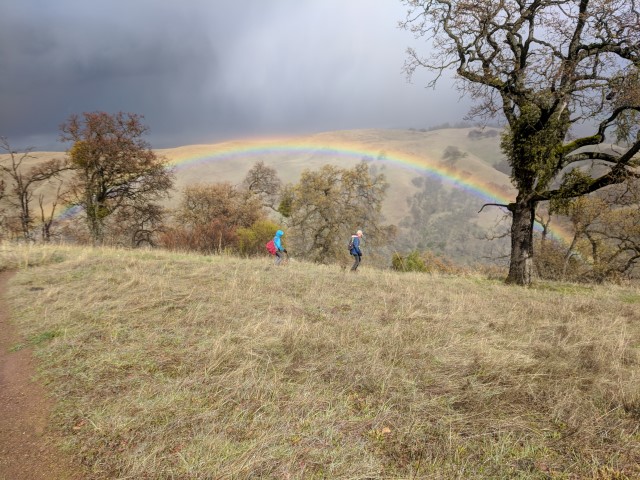 INCH chases a rainbow into William's Gulch
It started raining about this time, but it couldn't dampen our spirits after so much adventure. Plus it wasn't raining all that much.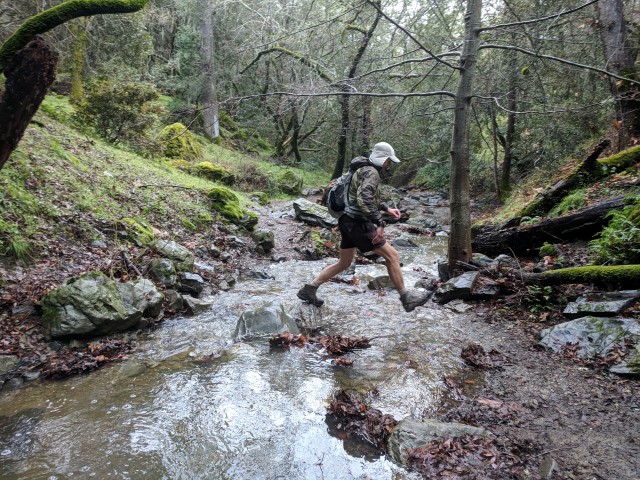 Hopping higher-than-usual creek at 1.9 kft
The thirsty trails absorbed most of the rain, and weren't nearly as slippery as feared on the final stretch to the cars. We were already planning the post-hike party before we got there: First Street Ale House in Livermore. In perhaps a record, 100% of the hikers showed up. Fun!






Pages maintained by Steve Walstra, Peter Saviz, and Russell Gee.
©2022 Intrepid Northern California Hikers