1122. Kelly Lake (02/24/18)

Hikers (17): Adam, Arlene, Baltazar, Bjorn, Brad, Chinyet, Christina, Karl, Kevin, Mihail, Peter, Piotr, Robert, Sarbinder, Sophie, Steve, Yipeng
Distance: 22 miles
Rating: 5 difficulty, 8 beauty
Park info: Henry Coe State Park near Gilroy

Write-up by Peter -- Pictures by Chinyet and Karl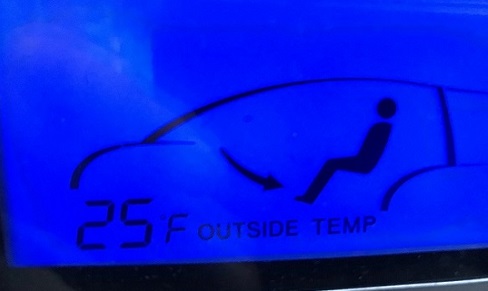 To say it was a chilly start is an understatement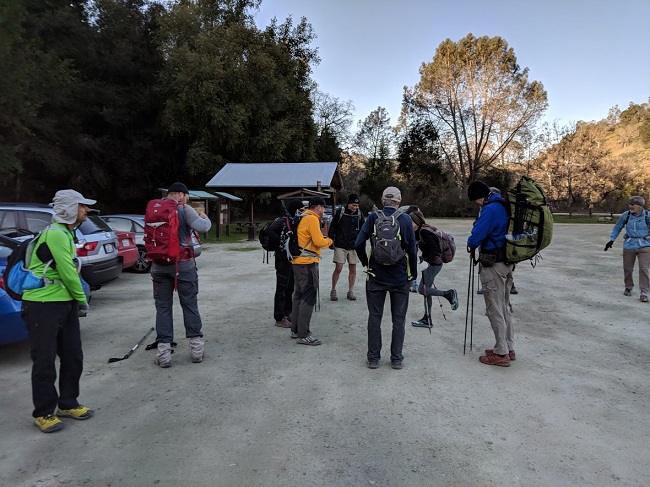 Let's get going, it's cold dammit!!!!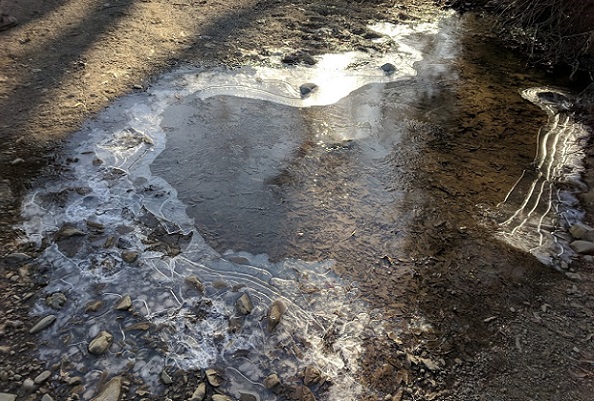 Ice, ice baby!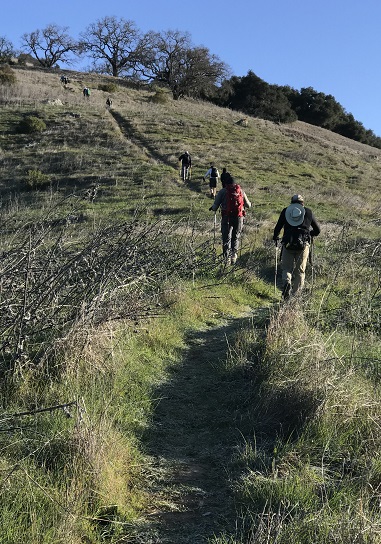 The Steer Ridge made sure we warmed up quickly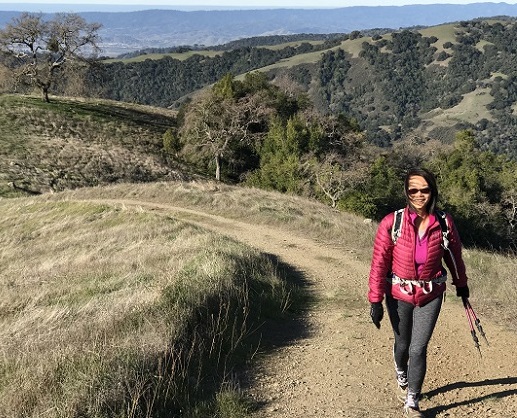 No sweat for Yipeng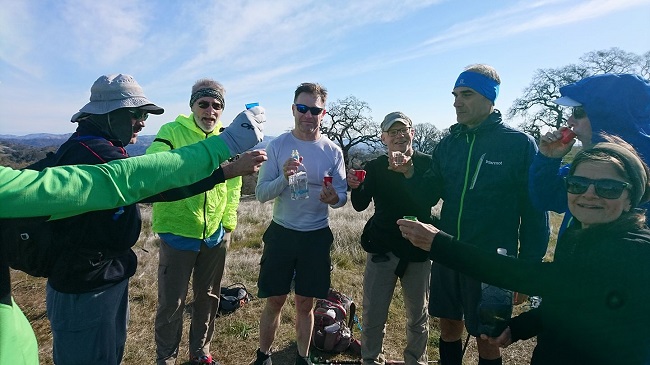 Congrats to Mihail on his 100th INCH hike!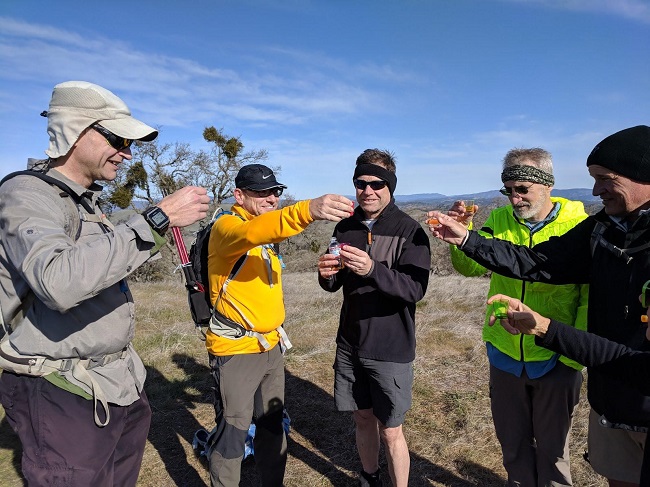 And to Robert on his 151st!
(the bar was well-stocked on this day with two kinds of tequila and 151 rum on Willson Peak)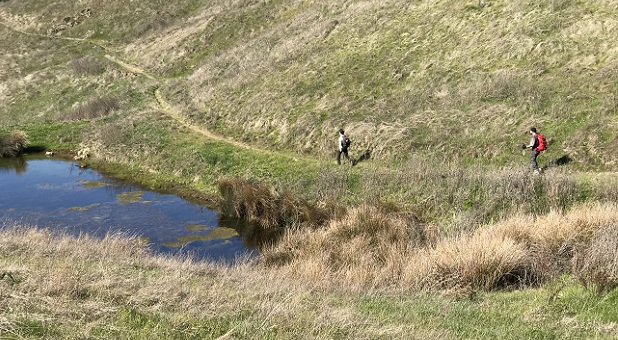 After a couple of shots, the pace picked up :)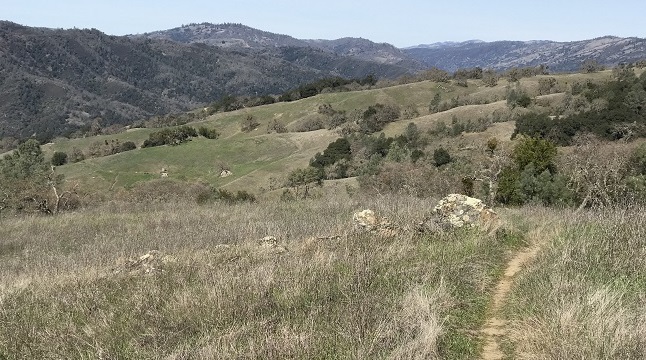 Still got a long way to go ...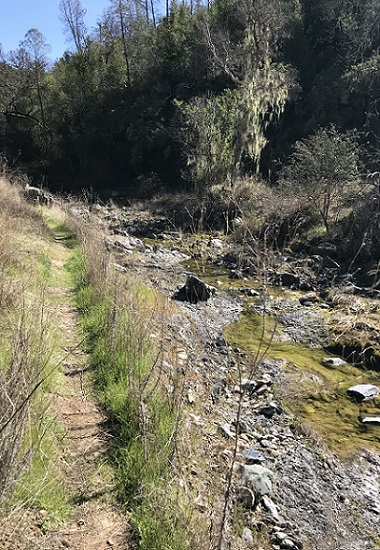 There was little bit of water in Kelly Cabin Creek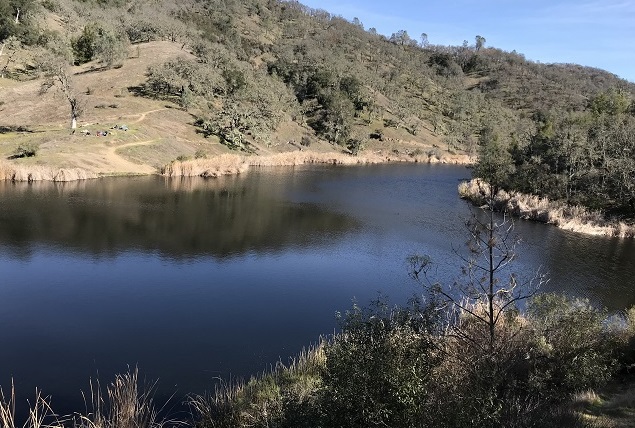 Beautiful Kelly Lake -- it's a nice place to camp ...
... but you can't really enjoy it because you know there's more uphill in store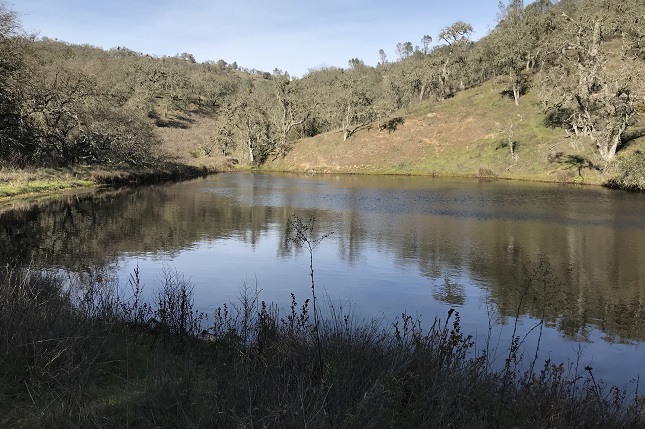 Tule Pond was looking good too (it was a mud hole last time)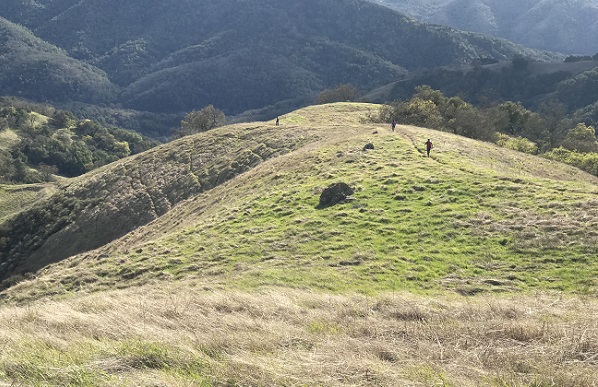 Final downhill of the day -- the endless Middle Steer Ridge
Karl's stats on the day: 22 miles, 6200 feet eg, 4200 calories burned. A good day's work!
For me, it felt good to be back after a long layoff, but I paid the price, especially during the last half of the hike. The downhills just killed my knees and I had to keep taking breaks. I think it took me well over an hour, maybe an hour and a half, to come down the Middle Steer Ridge. I finally staggered in after the 9-hour mark. Big Henry knows how to welcome back old friends.
We lost Arlene for a while, but she eventually made her way out. There would be no "Arlene Junction" named on this day. Sorry, Kevin :)
This was also supposed to be Russell's 151st hike, but his car mysteriously died less than a mile from the trailhead so he had to skip the hike. Russell's car was smarter than me, but then again, that's not saying much.
Honorable mention to Manfred and Susan CF who did the first 2/3rds of the trail with us while carrying heavy backpacks. They picked a freezing night to camp at Kelly Lake -- they could have used some 151 to keep them warm.
Milestones:
Brad's 210th leaf
Chinyet's 140th leaf
Karl's 270th leaf
Mihail's 1st forest
Robert's 151st leaf (and shot)
Sophie's 260th leaf







Pages maintained by Steve Walstra, Peter Saviz, and Russell Gee.
©2022 Intrepid Northern California Hikers