1128. East Del Sycamore (04/07/18)

Hikers (16): Bjorn, Chinyet, Craig A, Jim, Karl, Mihail, Praveen, Robert, Sandy F, Sarah, Sarbinder, Shuli, Sophie, Steve, Susan S, Yipeng
Distance: 14 miles
Rating: 2 difficulty, 9 beauty
Park info: Del Valle Regional Park in Livermore

Write-up by Steve -- Pictures by Chinyet, Praveen, Karl, Sophie and Steve
I've had this literal "rainy day" hike in mind for a long time. It requires (1) an easy-to-set-up shuttle, (2) a smallish attendance, and (3) some reason for other people not to hike. So a bad weather day is perfect. There wasn't going to be a hike at all (INCH Holiday) but Kathryn had mentioned she wanted a not-too-hard hike for her 200th last week (e.g. #1127), so all these things sort of came together.
The day before, the forecast improved considerably, leading to a bigger turnout than expected. But Kathryn, who is scared of mud apparently, declined. I resisted my Old Testament urge to purge "fair weather" hikers. . .
I got to Sycamore Grove one minute before the allotted meeting time. Everyone had figured out that we'd need four cars to shuttle from here to the start of the hike, including mine. Several had parked a quarter mile outside the park to avoid the exorbitant parking fee, which is good to remember for future hikes. What no one had considered was who would go in which cars. So in the end, I had five people in my small car, and one car apparently only had two people. No big deal--it wasn't that far to drive to the free parking at the edge of Del Valle Regional Park.
1-2-3 INCH!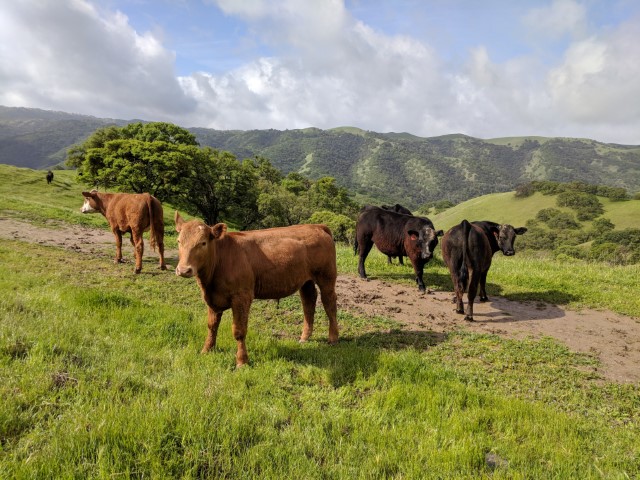 The cattle are kings of the trail
This was Sandy F's first INCH hike, but he wasn't new to the area. He shared that the Livermore water district had fairly recently bought the property on the NW edge of Lake Del Valle, meaning that the odds are good that at some future date, a trail to loop the whole lake will materialize. But as of now, there are no plans to put in that trail. We learned firsthand that the reservoir is quite long, so that would be a pretty worthy loop.
The farther one strays from the coast of Lake Del Valle, the less traveled the trails become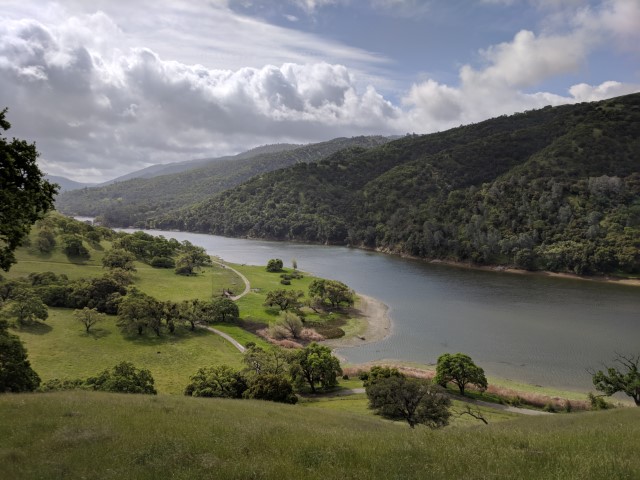 Heading back down to the more popular part of the area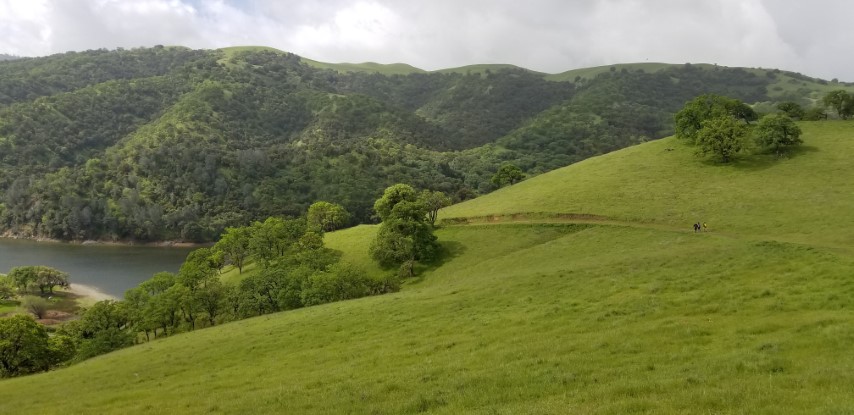 Heading down Ridgeline Trail to Swallow Bay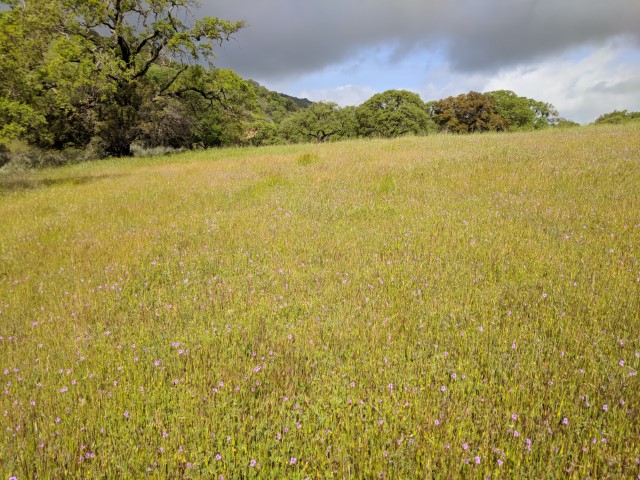 Early wildflowers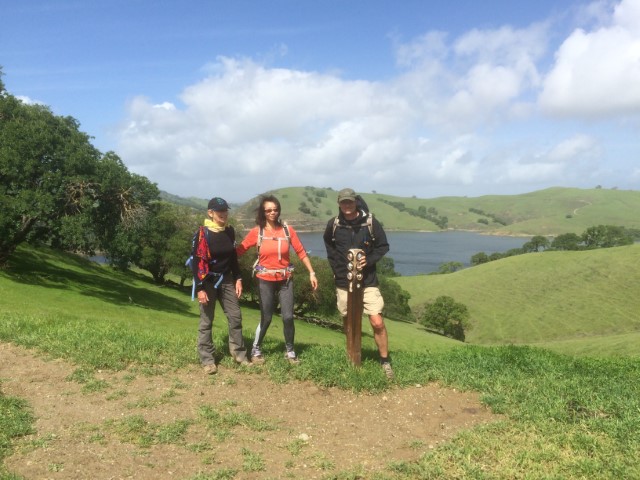 About to head down Heron Bay Trail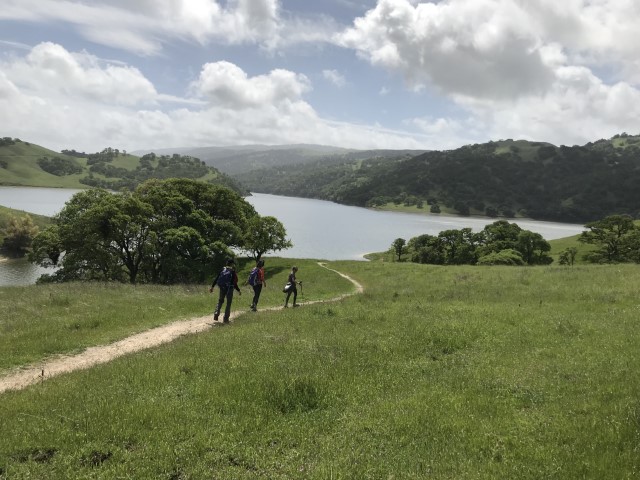 Far end of Heron Bay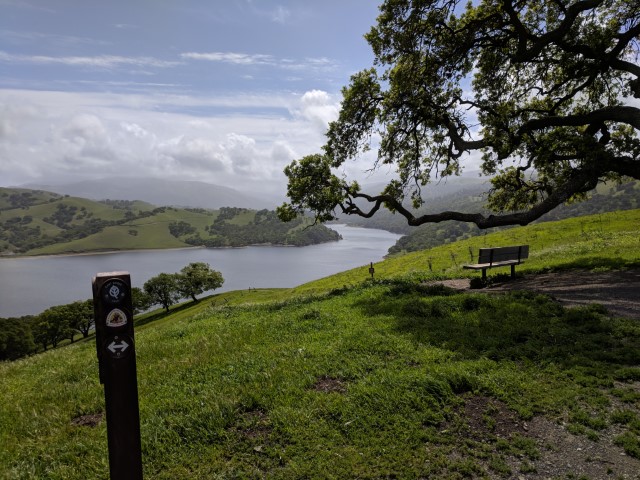 After the last climb back up to East Shore Trail
While I made an effort to add as much elevation gain as possible, the route is generally downhill from the trailhead. We barely cracked 2k ft. But the hike back up to East Shore was certainly steep.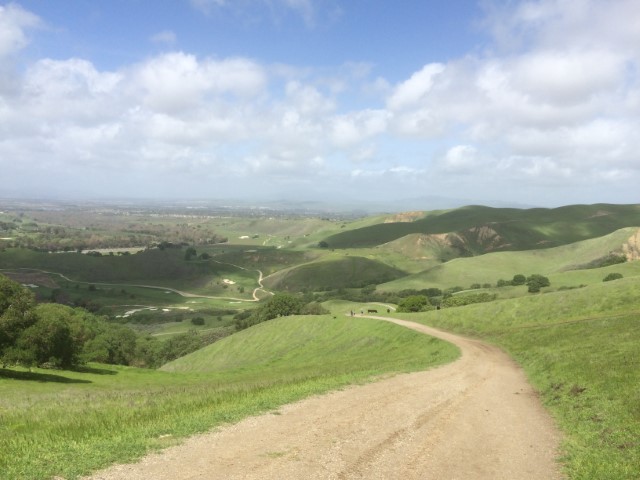 Down to the golf course on the other side of the dam
I can't believe no one took pictures of the best part of the hike! Between the end of Del Valle and the entrance to Sycamore Grove (along the Arroyo Del Valle Regional Trail) is a stretch along a creek with a dense riparian collection sycamore (no surprise!), palms (surprise!), and eucalyptus (among others). It's like the seeds of all the nearby homesteads ended up along the creek and successfully took root.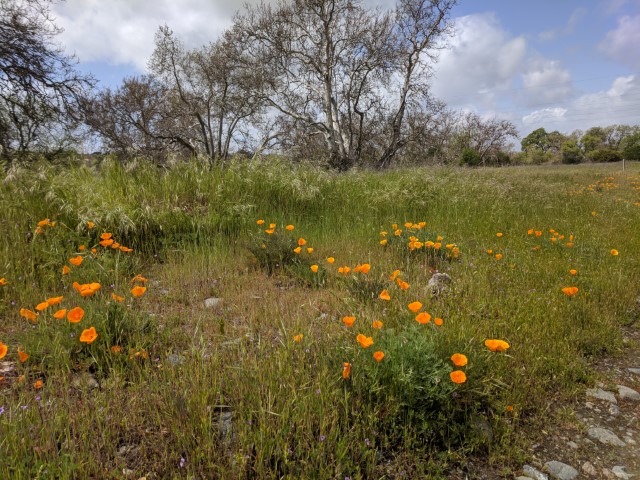 California poppy among the sycamore in Sycamore Grove Park
After that, one enters Sycamore Grove Park proper, which is both less diverse and less dense. It borders Wente's vineyard, so if you walk the eastern perimeter, you'll see plenty of vines.
Ran into Jim and Shuli at the start of Sycamore Grove where it was "hiker's choice" back to the cars. I took a slight detour to visit some new trail, but ten minutes later I could see Jim and Shuli on a parallel trail. We were all converging on the cars.
We had discussed earlier about why the parking here was more expensive than the vastly larger Del Valle. The conclusion was "flush toilets and a sink". With that in mind, I partook of the bathroom amenities to clean up before entering the parking lot.
The front runners were all standing around, ready to retrieve the cars back at the trailhead. After some discussion, I learned that the plan was for Chinyet to hang back and tell everyone to go First Street Ale House (since this city park didn't allow alcohol). I had to go back into the park to drop off Sophie's car key (to Chinyet) so I could go with the rest of the group to retrieve the cars. Sarbinder drove us back to the trailhead--everything worked out perfectly. . .
When I got to my car, I realized I'd left my change of clothes and wallet in Yipeng's car (back at the trailhead), thinking we'd hang out there after the hike. So I drove back to Sycamore Park. . .on the way, I saw Karl shuttling Sophie back to her car (Karl gave a helpful honk!). I had forgotten Sophie had been one of the shuttlers. If I'd paid more attention, we could just have recruited Chinyet to drive Sophie's car back. . .Turns out she was freaking out because her stuff was in Sarbinder's car.
Back at Sycamore Grove Park, I was dismayed to find Yipeng's car wasn't there. Sarbinder showed up behind me, mentioning he had Sophie's crap in his car. Robert was there, and confirmed Yipeng had left. I was about to go home when Sarbinder guessed that Yipeng was probably going to the post-party in Livermore. I called Chinyet, who confirmed this fact, so I headed off to downtown Livermore in search of my wallet and clothing. . .
Parked a couple blocks away and headed for the venue, where I found Yipeng. She walked me to her vehicle, which was (of course) in the opposite direction of my car. I changed, cleaned up, and started the journey back to my car dragging my gear behind me. Along the way, I spotted Sophie making a U-turn in a bank parking lot. She picked me up a block away. We parked next to my car, which allowed her to get her junk from Sarbinder's car (he'd parked nearby, and she'd already gotten his key) while I stowed all my junk. Success!
Back at the brewpub, we swapped stories about how everything works out perfectly in the end. . .The next day, I couldn't find my credit card. Turns out I'd left it behind after everyone else paid in cash. So. . .I had dinner at the same place Sunday night.
Milestones:
Bjorn's 10th leaf
Craig A's 30th leaf
Sandy F's 1st leaf







Pages maintained by Steve Walstra, Peter Saviz, and Russell Gee.
©2022 Intrepid Northern California Hikers