1141. Bear Mountain and Mississippi Lake (07/21/18)

Hikers (9): Alan, Brad, Chinyet, Chris R, Mihail, Peter, Sarbinder, Sophie, Steve
Distance: 26 miles
Rating: 5 difficulty, 8 beauty
Park info: Henry Coe State Park near Morgan Hill

Write-up by Peter -- Pictures by Alan, Sarbi, Sophie, and Peter
I knew it was going to be a long, tough hike so I set an early 6:30am start, but I gave the fast hikers the option of starting a couple of hours later. As I left my house at 5am, I turned on the radio and there was Joan Jett singing "I Hate Myself For Loving You" -- that's how I feel about Big Henry!
I had the whole place to myself at 6am
I figured I'd be the only one setting out so early, but, to my surprise, I was joined by Alan, Sophie, Mihail, and Sarbi! Mihail explained he wanted the early start to (a) beat the heat, (b) do more trails, and (c) have more time to drink beer afterwards. Steve, Brad, Chinyet, and Chris would make up the group of late starters.
1, 2, 3 ... INCH!
Coe Park was gorgeous in the early morning, with a sweet smell blowing through the tall grass. I'd been down this road before. At 3pm, Big Henry would be asking me, "How do you like the view now, smart guy??".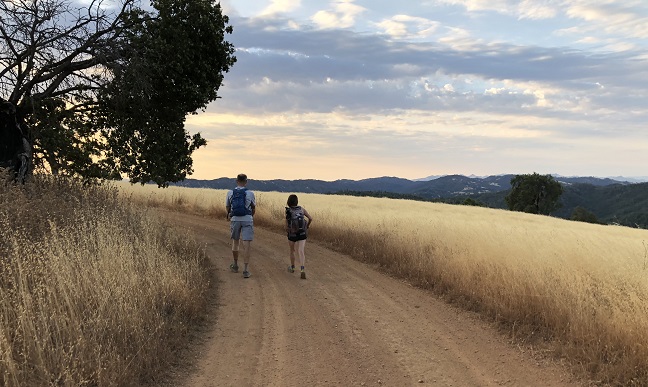 Mihail and Sophie take the lead
I knew I wasn't going to be breaking any speed records on this day. I just wanted to pace myself and get out without too much damage. Alan hung back and hiked with me most of the day.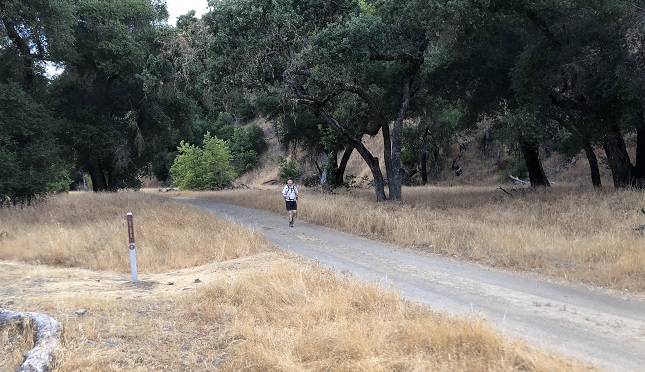 Arriving at Poverty Flat (so far, so good) ...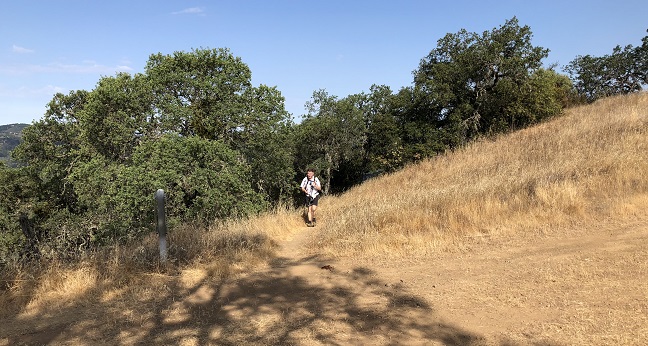 ... and the top of Willow Ridge (whew!)
We made it to the top of Willow Ridge in 2.5 hours and the picnic table at The Lake just under two hours later. Along the way, we counted the number of hills on the Interior Route, aka Willow Ridge Road, between the top of the Willow Ridge Trail and the final turnoff to Mississippi Lake. And the answer is ... 21! Blackjack! You win 6 more hours of torture, courtesy of Big Henry.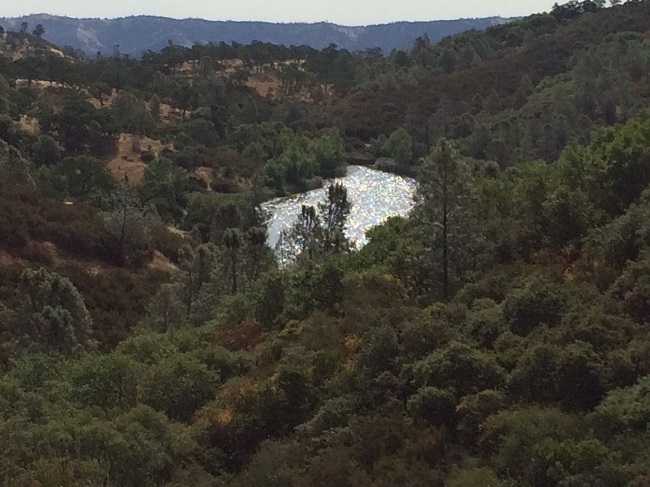 Glad to finally see beautiful Mississippi Lake!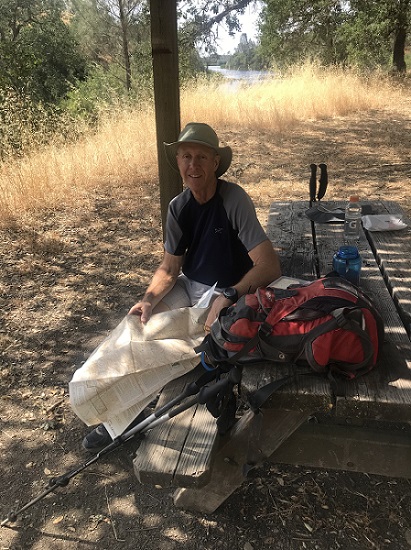 Alan looking for a good route back -- there is none!!!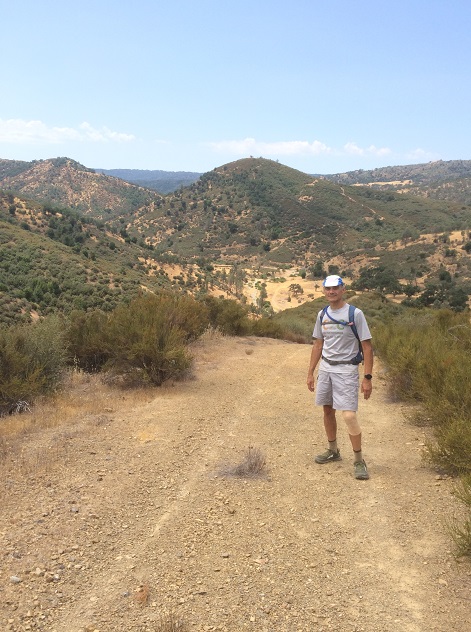 Meanwhile, Mihail was closing in on The Bear
After a 20 minute break at The Lake, including waving to Mihail across the water, Alan and I packed up and started the slog up to Bear Mountain. The temperature had increased significantly. Big Henry was starting to turn the screw. Luckily my instincts were right, and we took the right trail, even though it was not marked. We did get a few scratches fighting through the scrub brush, but ended up at the peak in good time.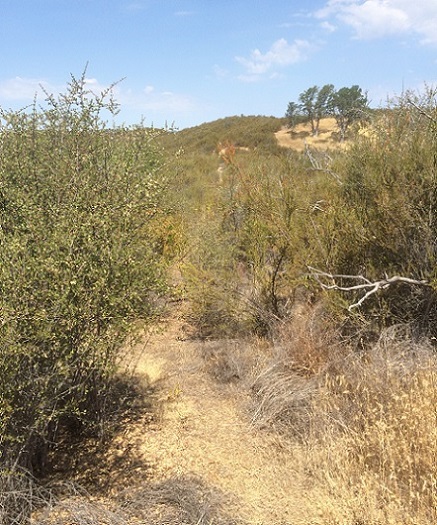 We picked up lots of scratches on the way to Bear Mountain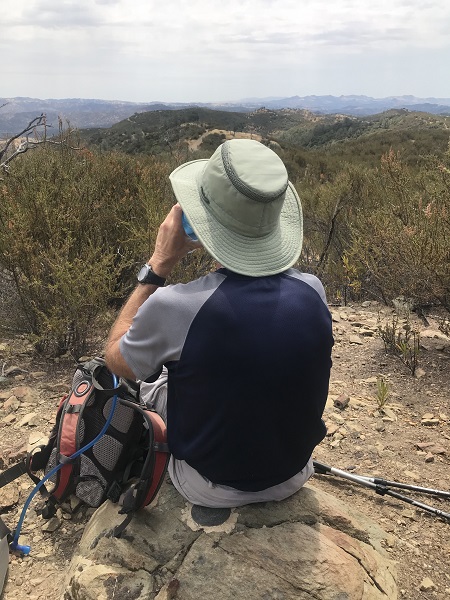 Alan enjoying the view from Bear Mountain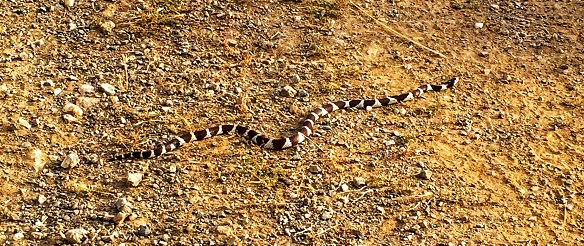 Big Henry sent his friends out to greet us
The next few miles would be mostly downhill. I say "mostly" because even the downhills at Henry Coe have uphills! (more on this later)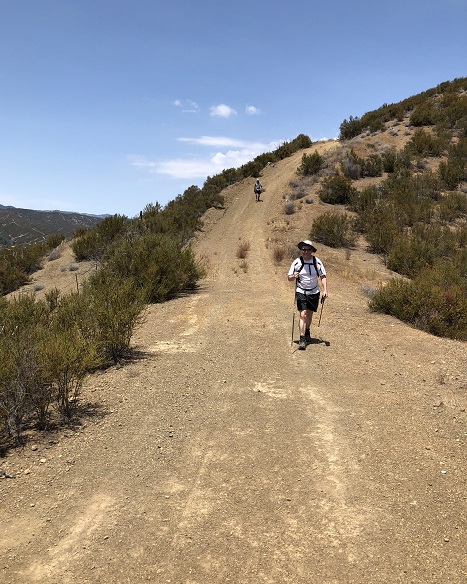 Steve caught up on the way down from the Bear ...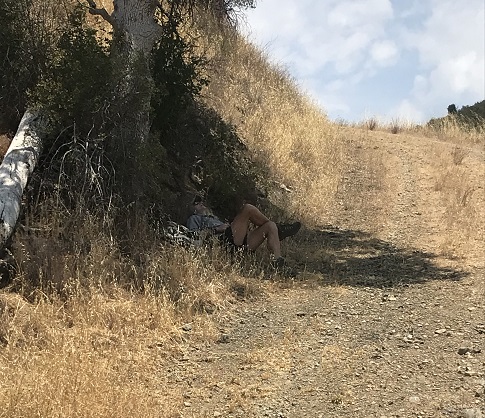 ... but he paid the price! [Steve: This was my 100th INCH Coe hike!]
By the time I finally made it to the bottom of the Bear Mountain Road, my feet were aching. I could feel a bunch of blisters coming on, and I was also very short on water. I just didn't want to face the Blue Ridge and Poverty Flat uphills without water, so I decided I'd head back along the (flat) Narrows and up the China Hole Trail instead. I figured I could do one major uphill with the water I had left, and I was just hoping there would be water in the tank at Manzanita Camp at the top of the China Hole Trail.
Even though the next few miles along the Narrows were flat, the heat was starting to get to me. I had to stop and rest in the shade a few times, and took small sips of whatever warm water I had left in my supply. When I got to Los Cruzeros, I had to decide -- take the 5-mile fire road with more elevation, or take the longer 6-mile route that had fewer ups and downs? I chose the latter.
I'm not sure if I made the right decision. The next mile through the Narrows to China Hole was endless, and to make it worse, it went through a ton of poison oak. Big Henry was giving the screw a couple more turns. I thought about turning back, but the damage had already been done. At this point I didn't care any more. I just wanted to get out of there. I took a swig of my last few drops of water at China Hole. I was completely out now, so at least I didn't have to think about how to ration myself any more. 5 miles to go -- 2.5 miles uphill, then 2.5 miles along the top of the ridge.
I kept grinding my way up the hill -- hands on hips most of the way. I kept thinking about the water tank at the top. Oh man, I would just lie there on the ground under the tap and fill my belly up with that cool water and let it pour all over me!! Getting closer ... 1.5 miles to go ... 1 mile to go ... half a mile to go. Finally!!! I made it to the water tank ... only to find out that it was dry. I was close to crying. Big Henry stuck it to me again!!
I just sat there at the foot of the tank for a while. I could see some campers nearby and thought about asking them for water, but after I rested for a while I felt sufficiently recovered and I knew I had just over two miles left back to HQ, so I decided to tough it out. I'm told it's good for your character.
When I finally stumbled in (literally) to HQ, I saw Alan, Sophie, and Mihail sitting around enjoying a well-earned rest in the shade. None of them seemed to be moving much :)
I mumbled something about being thirsty and weaved my way to my car where I proceeded to drink about a gallon of semi-cool Gatorade in about 30 seconds. Oh my God -- I needed that!!
One by one, the rest of the crew began to drift in. Some of them had increased the torture level by doing extra trails. Mihail got 28 miles and 6500 feet elevation gain on the day. Steve did 30 miles and looked pretty beat up. Chinyet and Sophie were hurting pretty good. Brad was hallucinating about people looking like Mark Zuckerberg :)
No sign of Chris ... he had hiked with Brad and Chinyet most of the day, but he had started to slow down on the way down from Bear Mountain. Remember, even the downhills at Coe have uphills -- yep, it seems The Bear got Chris. Brad gave him 1.5 liters of water about 2/3 of the way down the hill, and then picked up the pace to go get help. Would we have another Karri incident? There were some nervous moments, but I'm happy to report Chris made it in safe and (mostly) sound around 7pm. Just another hike at Henry Coe!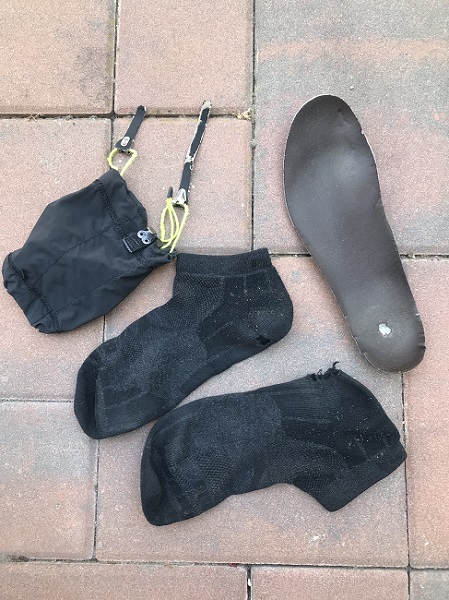 The aftermath -- holes in both socks and my insole, busted gaiter, numerous scrapes and blisters, and poison oak all over my body (be glad I'm not showing you that)
Milestones:
Sarbinder's 180th leaf







Pages maintained by Steve Walstra, Peter Saviz, and Russell Gee.
©2022 Intrepid Northern California Hikers