1142. Mt. Tam via Pilot Knob (07/28/18)

Hikers (23): Adrien, Arlene, Chinyet, Crystal, Dan L, David A, Giulia, Hong, Jarda, Jim, Karl, Kendra, Mihail, Milon, Pal, Peggy, Qi, Sarah, Sarbinder, Shuli, Sophie, Steve, Susan CF
Distance: 20 miles
Rating: 4 difficulty, 9 beauty
Park info: Marin Municipal Water District near Fairfax

Write-up by Steve -- Pictures by Chinyet, Karl and Steve
We knew it would be hot, but most of us (from the South Bay, anyway) had never been to this part of Mt. Tam. Later, I'd find that even the locals hadn't been to some of these parts in a long time.
We started off at the free-to-enter Deer Park trail head. I started the hike slightly early to beat the heat and the crowds. That worked out perfectly, as we had not problem with the parking (but it was still quite packed when we returned).
1-2-3 INCH!
The good part about this hike was that we knew there would be water at the summit (and several people pointed out there was water on the way to the summit, too). We were all counting on that. I thought there was a concession stand up there, too, but David A would point out (on the hike--too late!) that it had shut down a couple years ago. No ice cream for you! But there is a vending machine. . .and plenty of water fountains. I'd hear later that the vending machine was credit-card only.
First off, though, was a quick visit to Bald Hill. Amazingly, Shuli decided to visit the "facilities" at the last minute, and missed the start of the hike. We caught her later--ahead of us. She apparently took a more direct route up after finding us gone. Jim didn't know this, and went looking for her. . .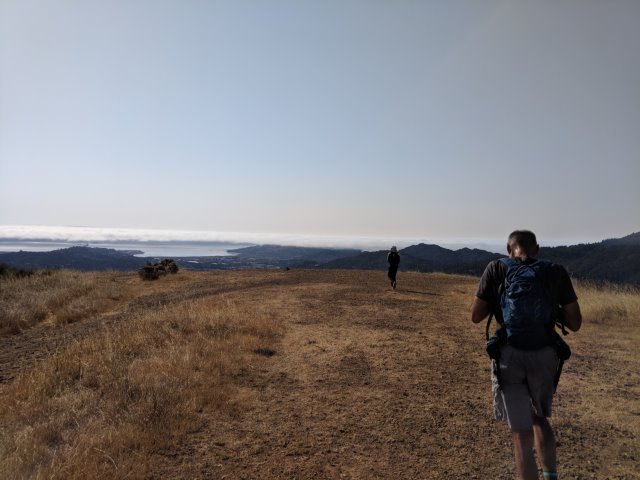 Front runners milling about on Bald Hill
I was afraid people would miss the short detour up to Bald Hill, and was more convinced when no one showed up. But after searching (futility) for a geocache, eventually some other people showed up. Incidentally, I heard Jarda and Kendra found that cache!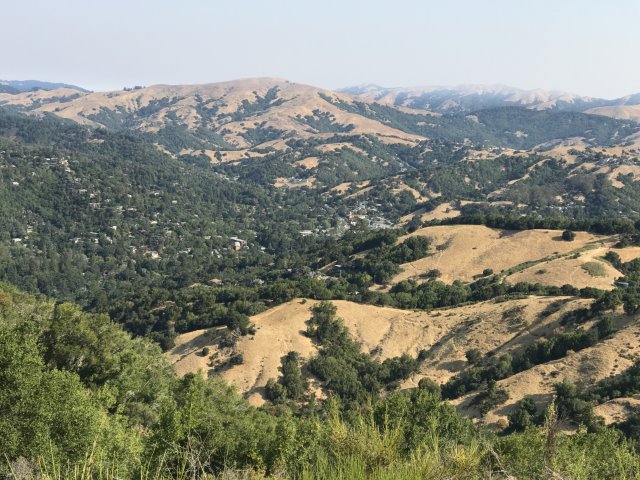 View from Bald Hill toward Lucas Valley
From the summit it was down, down, down to some pretty lakes and up to Pilot Knob. This was part of the motivation for the hike, as Pilot Knob was one of the "Nifty Ninety" San Fran Bay Area Peaks we hadn't visited. I overshot one of the trails, but luckily other INCHers called foul and I was also suspicious, so we turned around. Despite it only being about 300 ft, people complained about the "extra distance" on this 20 miles hike. And, in the other direction, others complained that the correct route wasn't actually right. But I had the waypoint, by gosh, and it was right. . .and it worked out as expected. But, the key point is that there are a *lot* of junctions in this area. Most are marked, but not all, and you really have to pay attention if you want to take all the trails you intended.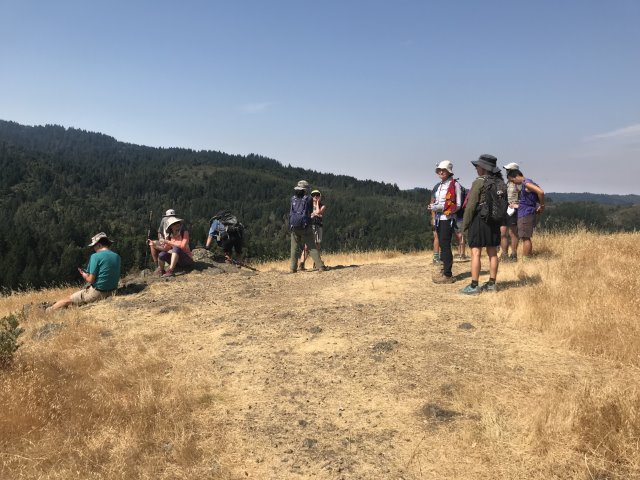 Hanging out at Pilot Peak
We waited a while for everyone to show up at Pilot Peak, which is an unmarked spur trail. We'd passed Sarbinder coming down, but otherwise kept most people synchronized at the summit. Eventually let a few go (to be passed much later). We still hadn't seen Jim, which could only mean he'd died trying to find Shuli. Shuli, on the other hand, wasn't too worried.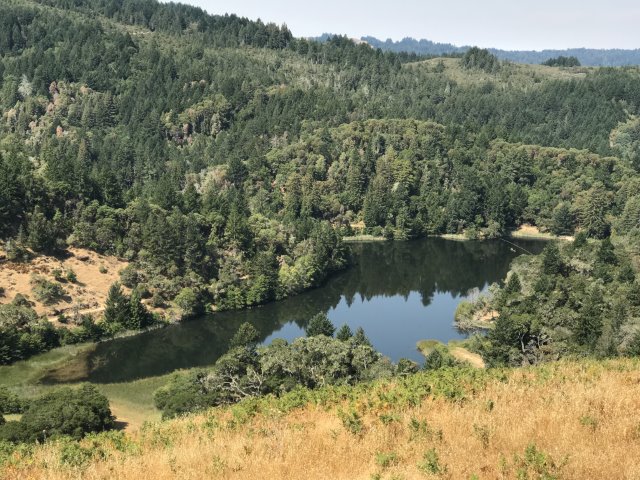 Lake Lagunitas from Pilot Peak
From here was the crux of the hike: heading up Collier Spring Trail. I'd been wanting to take this steep trail for a long time, but there is really no way to do it unless you come in from this side of Mt. Tam. It lived up to its steep reputation, with a bonus of no-breeze (which David A foretold earlier in the hike). Still, it was at least shaded the whole way. . .I slowly passed INCHers on the way up.
Enjoyed a quick respite and splash of cool water at the actual Collier Spring location before heading up for the last little bit to reach the pass between Middle Peak and West Peak. Ran into Susan CF here, as well as Adrien who was milling about just a few dozen yards away from the trail he should have taken. So that worked out well--no one lost yet.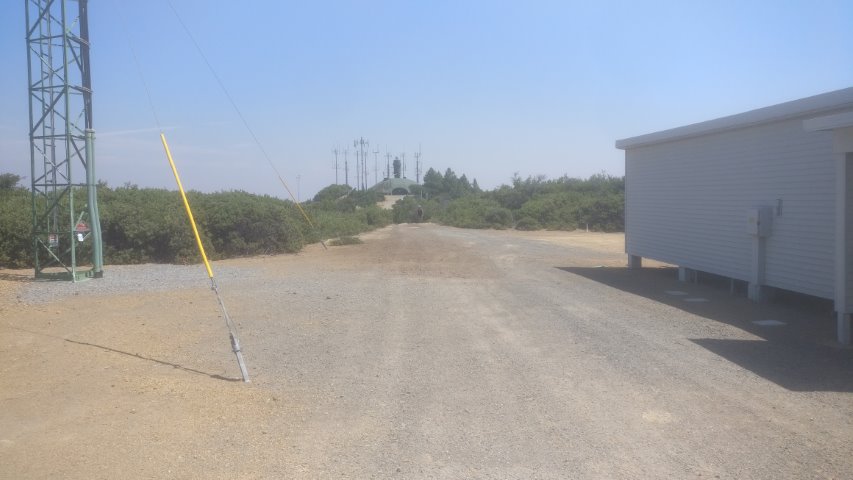 Looking back at the point named Middle Peak on the Topo (the green dome)
We all headed to the highest accessible point on Middle Peak, which is a short jaunt past some military buildings. The topo map shows the closed area with a UFO-like dome as the high point, but it seems like rocks we climbed (farther away) are the highest natural points in the area. Ran into Sandy F coming down. He'd started from a closed trailhead. No leaf, but good job!
From here it was not too far to the summit. Ran into Sarbinder at the bottom of the peak--he'd already been there and was getting water for the trip down. At the summit, ran into a few front runners and we slowly took over the peak as more showed up (crowding the shaded area). We hung out for a while and eventually headed down where we ran into a few of the tail end including Sarah and no-longer-missing Jim.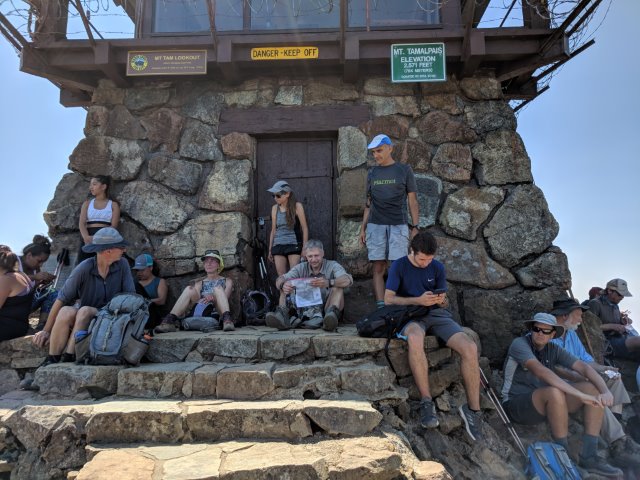 Lazing at the summit
The next route was a long route down Eldridge Grade. I'd taken this route because it was all new trail, but it was a bit tedious and bit a rocky. . .and a bit warm. Down, down, down we went. . .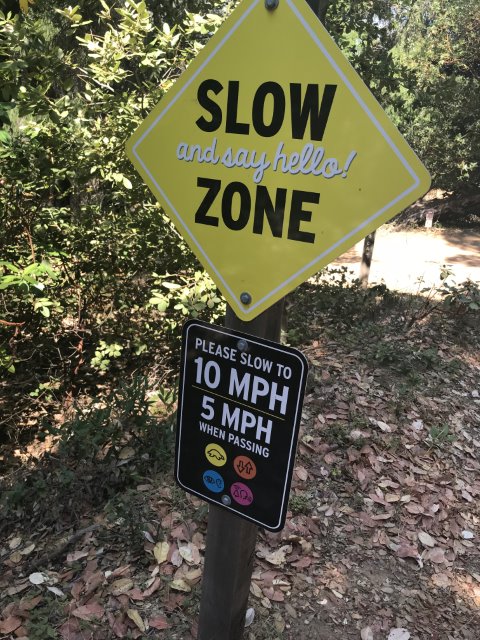 We weren't going anywhere fast on the downhill. . .
There was one tricky turn to take up to the Filter Plant. The junction was unmarked, so left a big arrow. We ran into Kendra a bit later, so at least one person took the right route. It sounded like most people went the correct way (at the end of the hike), but if I hadn't had a waypoint, I would have surely continued down Eldridge at this unsigned junction and cut a bit of distance and elevation off the hike.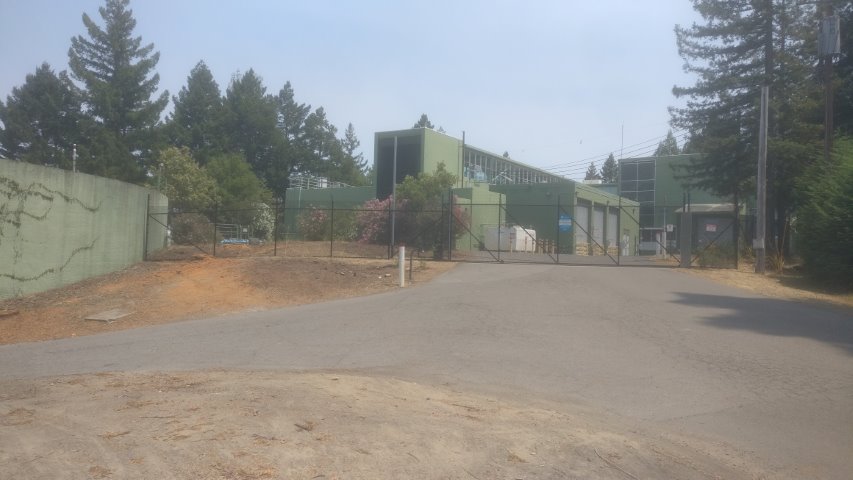 The Filter Plant! Smells like Soylent Green.
At the end of the Filter Plant road, we reached a piece of trail we'd taken in the morning. It was a quick jaunt until we reached a new junction. I left several arrows to get us to Pumpkin Ridge, and then Elliot Trail. There were quite a few trails that paralleled corresponding roads--we took them all (leading to many arrows being dropped). At the end, it appeared that everyone took the correct route(s), which added a bit of elevation gain late in the hike.
At one junction, Kendra caught up and took a different route to grab a cache. At the next junction, I was almost "done", but ran into two people who saw me looking at my map and wanted to help. It took me five minutes to explain the weird orientation of the One Tam map that I was using. They just wouldn't listen. . .so essentially I helped them agree I knew where we all were standing. One of the guys did mention a steeper route back to the parking lot that I'd originally considered. . .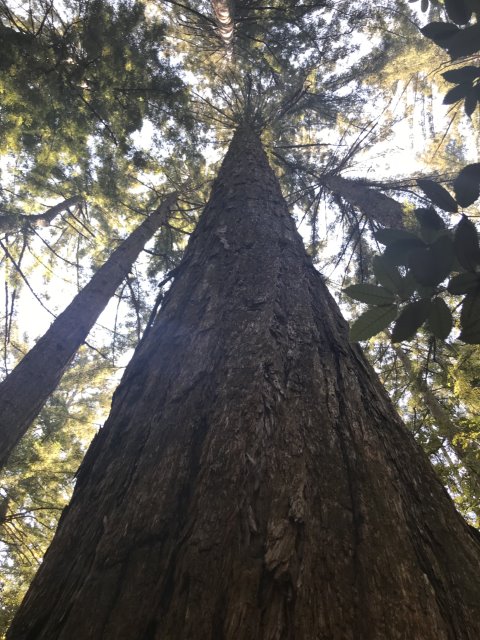 Plenty of trees to provide shade
I dropped an arrow pointing to Junction Trial. At the end of that trail, I ran into another hiking group returning from their shorter day hike. I tiredly threaded through their large group with visions of cold beverages dancing in my head.
Back at the bottom, Susan CF was guarding a table while the other front runners were cleaning up/getting supplies. That other group had a party nearby. Not too surprisingly, several of the North Bay people knew people in the other group. All I can say is that their table had much less junk food and no beer (but wine)--INCH rules!
We hung out for a while as people trickled in. Eventually, everyone was accounted for. Another fine North Bay hike in the books.
Afterwards I drove to Bernal Heights to knock out another those "Nifty Ninety" peaks (too easy for INCH!). Three to go! Time for a trip to Calistoga. . .
Milestones:
Highest point in Marin county
Chinyet's 150th leaf
Mihail's 120th leaf







Pages maintained by Steve Walstra, Peter Saviz, and Russell Gee.
©2022 Intrepid Northern California Hikers