1174. Garland Ranch (04/20/19)

Hikers (6): Jim, Mihail, Shuli, Sophie, Steve, Yipeng
Distance: 22 miles
Rating: 5 difficulty, 9 beauty
Park info: Garland Ranch in Carmel Valley

Write-up by Sandy F -- Pictures by Jim, Mihail,Sophie and Yipeng
INCH is apparently scared of the unknown. Garland Ranch is a great location for hard hiking, and we enjoyed it on this Easter weekend. But what was most interesting was that everyone besides Jim and Mihail had been on our first visit 8 years ago. Other people from that hike had considered attending for a shorter version, just because it was so memorable. Good times!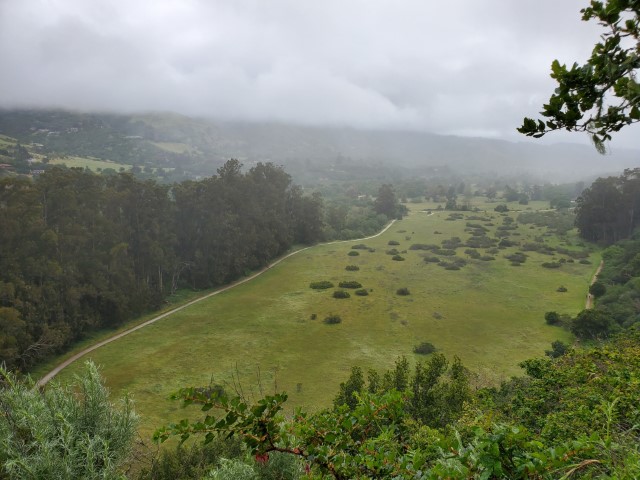 The view from Acorn Point
Flowery uphill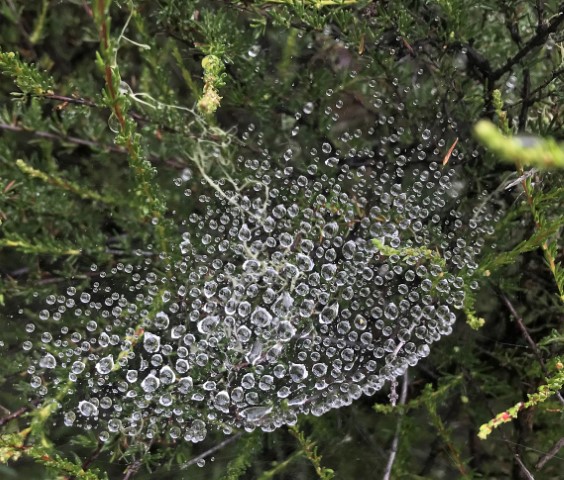 Garland spiders are queched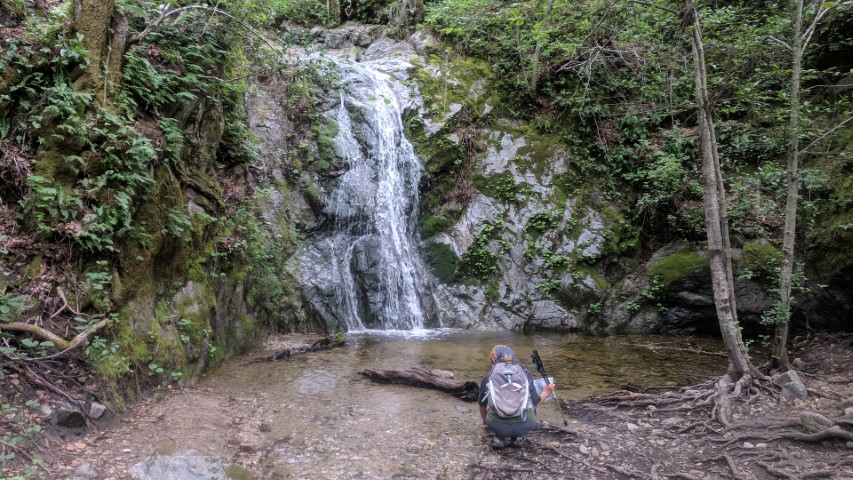 Fern Falls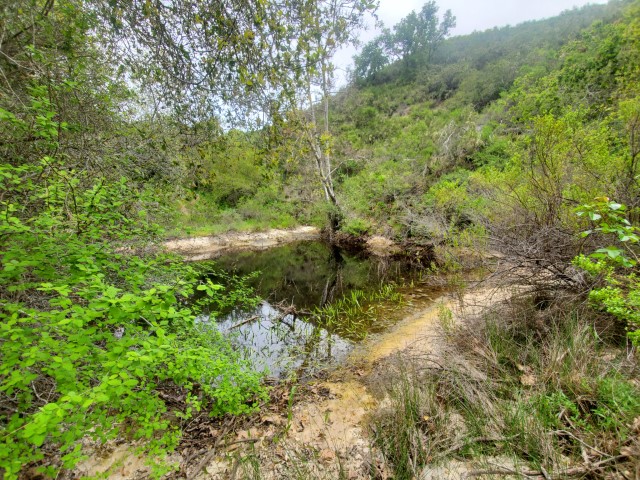 The Stock Pond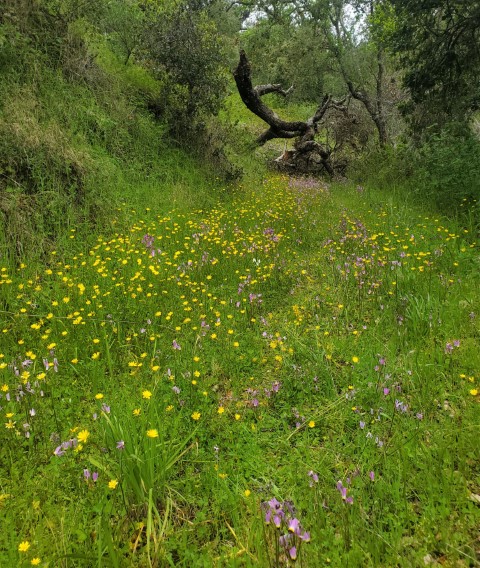 The trail to Stock Pond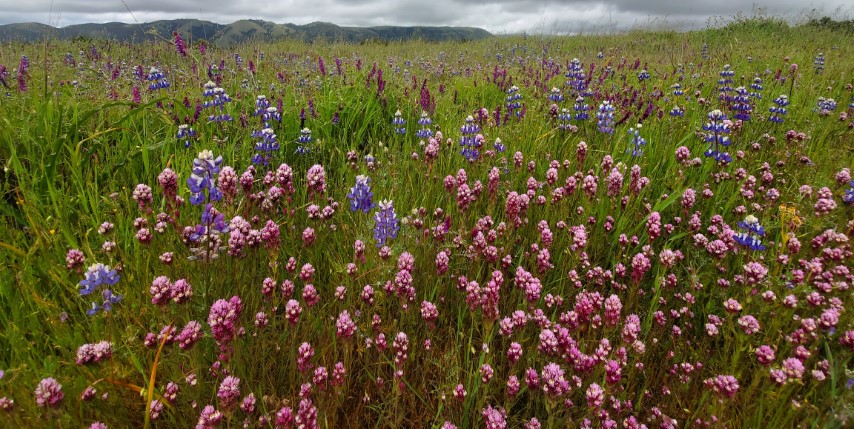 Wildflowers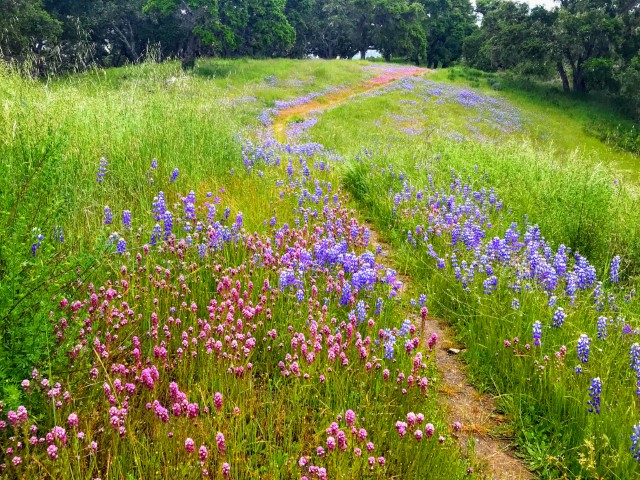 Along Vasquez Trail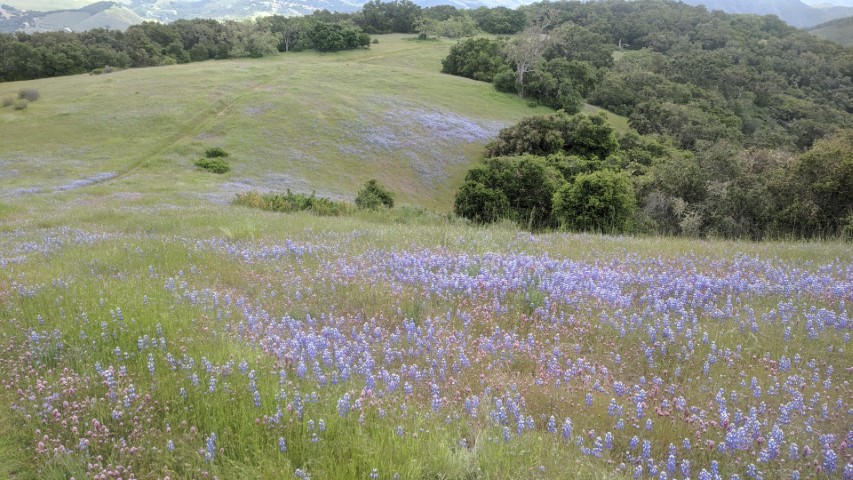 More Vasquez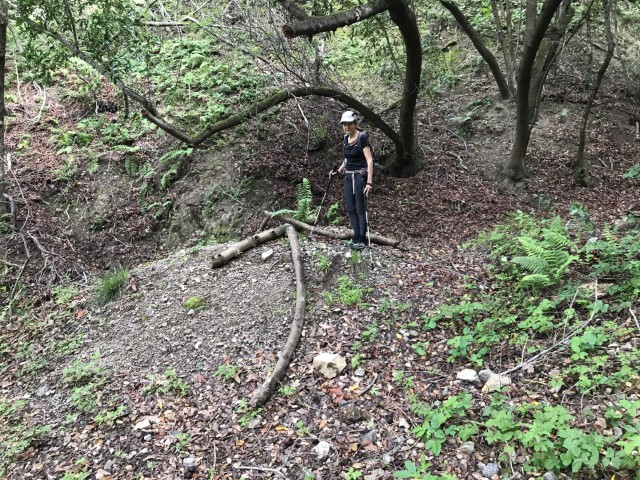 An arrow bigger than Sophie
---
Sandy F did a shorter version of the hike, and had this to say:

There was mist on the windshield and the clouds were low as we pulled into the parking lot. It was pleasantly cool (mid-50's). The hike started with the classic INCH unmarked, hidden trail and a mild rain. The drizzle lasted long enough to get you damp, and then stopped. Just as you began to dry out, it would start again. Actually saw my shadow a few times in the afternoon. All the creeks were running full (feet deep). Luckily, there were bridges. The soils were sandy, so no mud. This hike is all hills, each >1000 ft. George said in the past that it was like Big Henry without any flat parts. There was a large flower bloom on top of Vasquez ridge. There were all shades of blues and reds along with yellows and whites. The trail wended though the middle, with blooms brushing against your legs. Just beautiful. The group made it back about 7. This is one of the toughest Bay Area INCH hikes. The only way it could be harder would to do it when it was >90 degrees

Milestones:
Mihail's 150th leaf







Pages maintained by Steve Walstra, Peter Saviz, and Russell Gee.
©2022 Intrepid Northern California Hikers