1176. Hunting Hollow to Headquarters (05/04/19)

Hikers (17): Adam, Alan, Bjorn, Brad, Chinyet, Christina, Giulia, Hailong, Jim, Kristy, Mihail, Pal, Peter, Sarbinder, Shuli, Steve, Yipeng
Distance: 33 miles
Rating: 5 difficulty, 9 beauty
Park info: Henry Coe State Park east of Morgan Hill

Write-up by Adam and Alan -- Pictures by Chinyet, Giulia, Hailong, Jim, Mihail, Yipeng, and Peter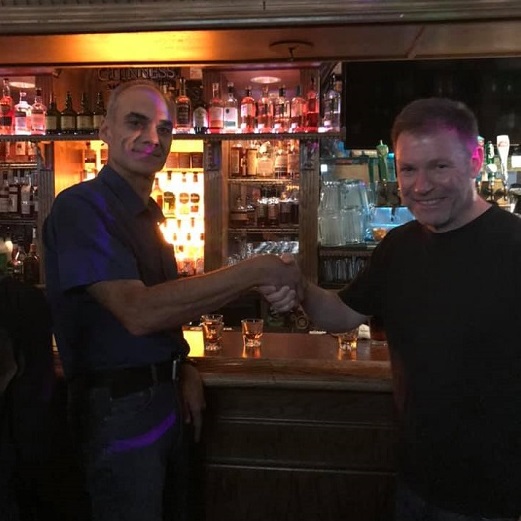 A photo that shall live in INCH infamy: After a few too many late night drinks at Mihail's birthday party, I finally agreed to do his crazy hike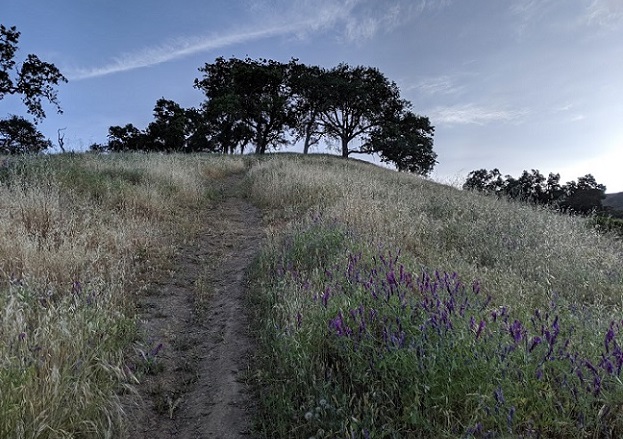 It was a chilly 40 degrees at the start, but the Steer Ridge took care of that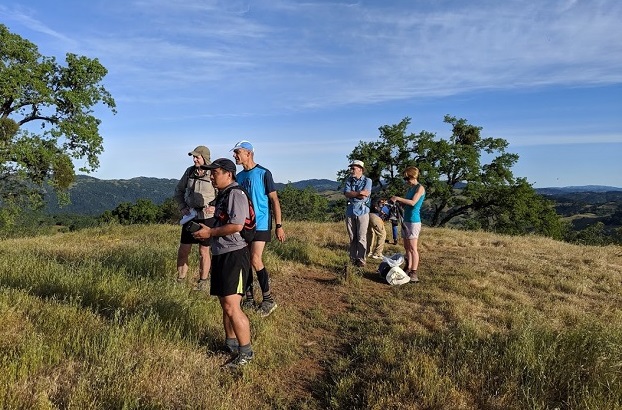 Front-runners at Willson Peak: "Hey, where the hell's the rum???"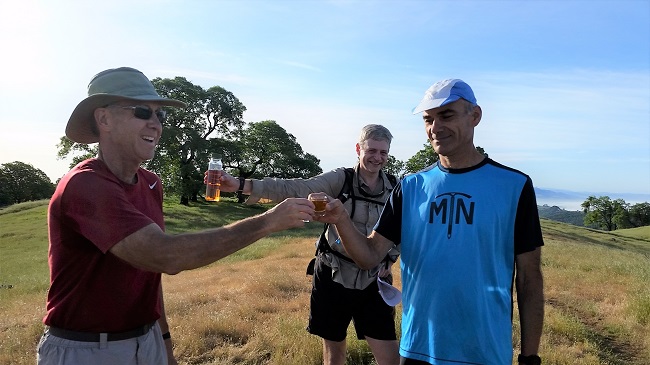 Alan to the rescue for the warm-up shot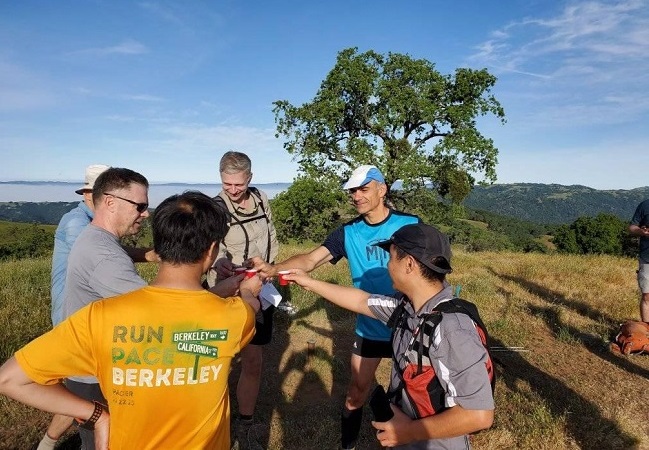 Then Peter finally arrived with the 151 -- congrats Mihail!
And then the adventure really got under way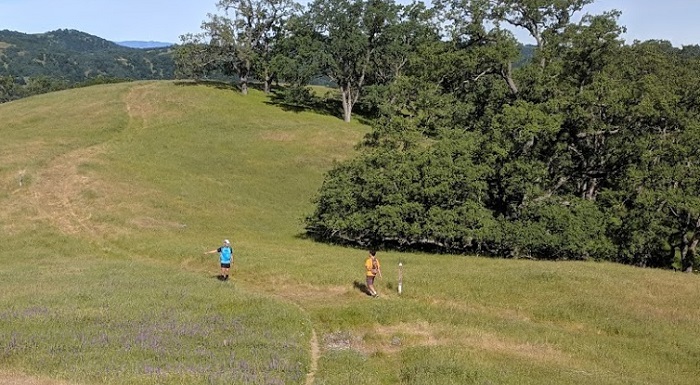 Mihail got lost on his own hike (and a bunch of us followed him -- thanks for the extra mile / 600 feet, I really needed that extra 10% elevation)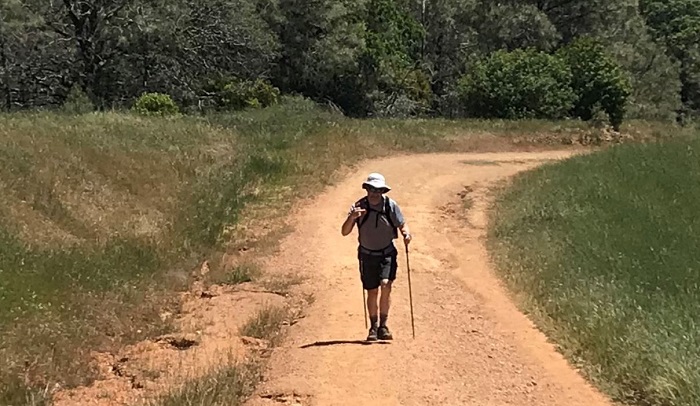 That last mile before HQ always takes FOREVER -- and guess what, we had to head out and do 15 more miles after that! This hike sucks! (and, yes, I am giving the finger)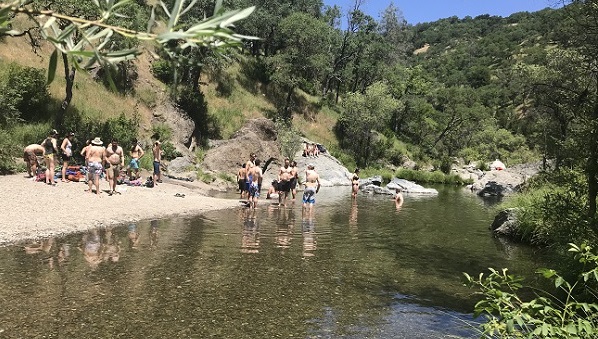 A lot of folks were having fun at the ol' swimming hole -- aka China Hole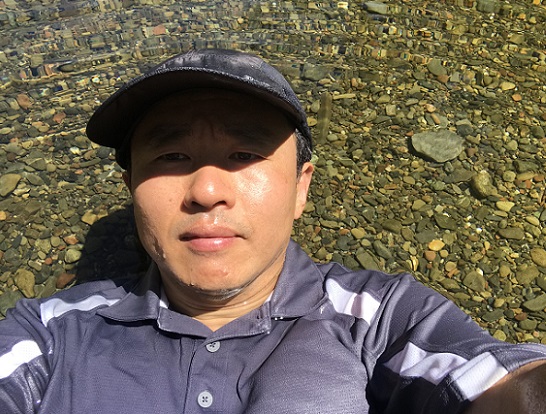 Hailong was hiking so fast, he had to lie down in the creek to cool off!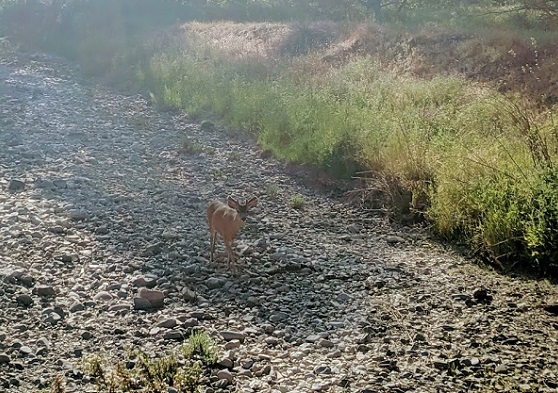 This little cutie was waiting for us near sundown at the end of the hike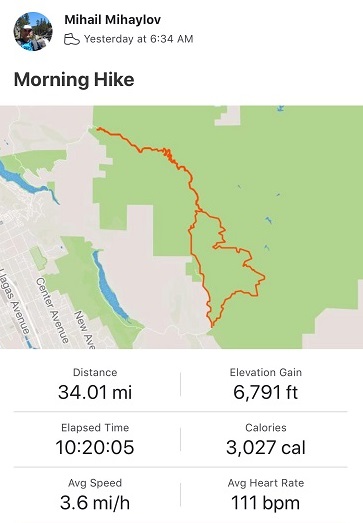 Stats on the day (includes the extra mile) -- basically the same elevation as HH to Dowdy but with an additional 10 miles thrown in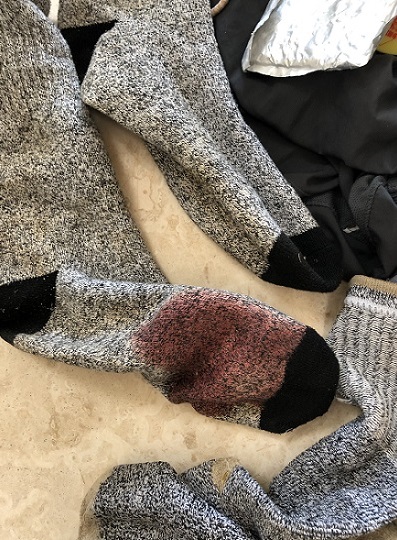 Those blisters during the last 8 miles were not fun. Note to self: Never drink or hike with Mihail again!
Adam's notes:
It was both colder and hotter than I expected: 36 degrees as I started up Steer Ridge with my too-heavy pack, then nearing 90 later on sun-baked climbs. Since I've hiked Dexter Trail, I decided to explore a bit farther along Grizzly Gulch and try Rock Tower > Domino > Cattle Duster > Coit Spring > Cross Canyon detour to Coit Rd.--a route which at least sounded unfamiliar, although we probably cover some of it on Kelly Lake hikes.
This proved both rewarding & tedious, as almost none of the numerous junctions were adequately signed (markers sun-bleached or missing entirely) and some trails were overgrown to the point of fading out in the tall grass.
After the detour and the exposed Mahoney Meadows section I began feeling a little sun-bleached myself, and was happy for the shade on the China Hole descent even though I twisted an ankle on a stone I failed to see in the deep shadows. My wet feet dried by Manzanita Point, and I took Forest Trail to stay out of the blazing sun.
After a cold soda and water refill at HQ I decided to ditch my planned "interesting" return via Springs, Cougar, Los Cruzeros & Lost Spring, given my somewhat lame ankle and all the rock-hopping & stream-crossing required thru the Narrows. The standard route back was a bit dull but mostly downhill, not really taxing but just long. Wet feet started to get to me on Mahoney until I changed socks at Coit Camp. Also skipped Grapevine/Anza option due to the late hour.
Alan's notes (a week later):
Had a busy week and just got around to reading the report and taking to Brad on the alt-inch hike today. Told you not to insult Big Henry! Although I agree with you that the hike was not that hard, I found a very black big toe when I took off my shoes - I was collateral damage for you saying the hike was not to hard to me in e-mail! I didn't do Steve's hike today because I didn't think the toe could take another 30 miles.
I hiked with Cristina and Guilia all day. We didn't make the silly turn off Wasno and didn't yell at Mihail to come back because it was his hike and we thought he was taking an alternate route on purpose. We took the Spring trail on the way to HQ and the Forest trail on the way back because Cristina had no idea there was any way beside the road to get up from Poverty Flat. We went back via Poverty Flat, and the climb up Jackass Ridge and steep drop to Los Cruzeros was a bitch as always. Everything else was straightforward, and we made it back by 5, having been passed by Mihail who ran by saying he needed a beer. Brad came in not long after us, the Kristy about 20 minutes later, followed closely by Yipeng. Then Sarbinder from the other direction (!), apparently having gone back Coit Road and some way back to Grizzly Gulch. Left about 6:30 to meet my wife for dinner - sorry I didn't stay to hear your verbal tirade :-)
Milestones:
Giulia's 140th leaf
Hailong's 60th leaf
Mihail's 151st leaf (and shot)







Pages maintained by Steve Walstra and Peter Saviz.
©2021 Intrepid Northern California Hikers