1177. Upper San Leandro Reservoir (05/11/19)

Hikers (11): Bjorn, Dan L, Jim, Mihail, Pal, Peggy, Sarbinder, Shuli, Sophie, Steve, Yipeng
Distance: 26 miles
Rating: 5 difficulty, 8 beauty
Park info: East Bay Municipal Utility District near Castro Valley

Write-up by Steve -- Pictures by Everyone
The weather looked good for a long hike, so scheduled a slight variation of the first Upper San Leandro. All being said, it was about the same difficulty--hotter, but less rainy and muddy. Added a few extensions to get the length over 30 miles for those interested. Only Mihail took most of the extensions (I took them all), so at least two people exceeded 30 miles. . .for the second week in a row. Sarbinder, who eventually zoomed out ahead, took the shortest route. We can only assume it's because he likes to drink alone.
Several people failed to seek out the plentiful water at the Quail picnic area near the halfway point. I was out of water by then, so motivated to find it (less than 100 yards in the opposite direction of the hike). Consumed over 5L during the hike. Heard later that Jim filtered water under Stone Bridge--it's wise to have a backup plan! How people can do 26 miles with just a "few" liters is a mystery.
Not too long after Quail/Owl picnic area, I did the "Big Bear" loop. While I had provided waypoints for this little diversion, it sounds like I was the only one to visit this new-to-INCH trail. While it added a bit of elevation, you get three fern-filled valleys for the effort--definitely a net gain.
A bit later took the signed "Bird Trail" (another optional extension). There are several unlabeled trails back there, and eventually found myself back on the main MacDonald Trail in a way contrary to the map. No big deal.
MacDonald has a long painful history for me because almost every time we take it, it's near the tail end of the 32 mile Skyline National Recreational Trail. So by this point, one is getting tired and has to endure an uphill stretch exposed to the sun almost the entire time. Felt the same today--this was the hottest and sunniest section.
Unlike previous visits, though, I ditched MacDonald near the highest point and headed into a residential area to get to Skyline Boulevard, where I hiked down the middle of the road (there is nice trail between the four-lane road) to the City Stables where Goldenrod Trail begins. This "optional extension" was both to access some new trail in Chabot Regional Park as well to make sure the total length would exceed 30 miles. Turned out to be a nicer trail than expected--mostly shaded and without too much gratuitous elevation gain.
Was happy to reach the Stone Bridge and head up Cottontail. I was tired of going downhill, and made good time passing voracious goats on this final uphill section. Spotted Pal and Peggy P just before reaching the top of the ridge, but lost them again after leaving an arrow (didn't realize everyone except Dan was ahead). Almost caught them again, but just as I was within "hello" distance, they weirdly took the paved road instead of the trail. So it would be several miles until a third encounter.
Caught up to the last half of the group right around the final leg down Willow View trail. Jim, Peggy, Pal, Yipeng were passed in quick succession. Shuli would be next, but she kept jogging on the downhill. Caught her at an ambiguous junction just before the parking area. I remembered the way from the last visit, which goes underneath the road and connects to the parking lot. That worked out perfectly (although had to jump over a creek), and we popped out in the correct location. Ten minutes later, the aforementioned people came walking along the road, having not taken the correct route (but didn't have to jump over anything). Same thing happened on the last visit. . .
Soon we were cleaned up and enjoying a nice post party. Some dude drove up in an expensive car, pulled out a remote-controlled toy car, and zoomed it around for 20 minutes. Is that what people do in retirement?
Dan L. was still missing by the time the last of us left. Oh well! Turned out that despite having the (apparently imprecise) route in his phone, he got lost early on and tacked on a few miles. . .eventually returning at 8:30pm, not too long after the last of us left. He had tracks to prove he did the hike (exceeding 30 miles). His phone was dead by the time he got to the Stone Bridge, so failed to get the requisite picture. Hello

. . .but since he had some data, we'll still grant a leaf.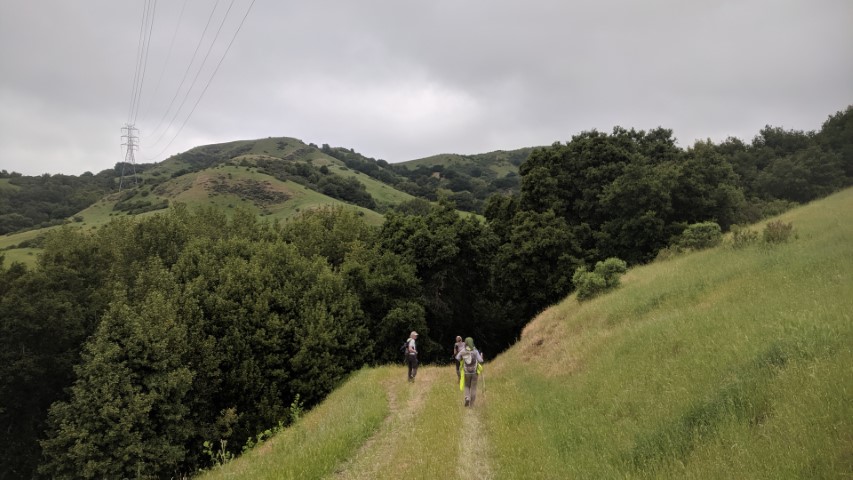 Early on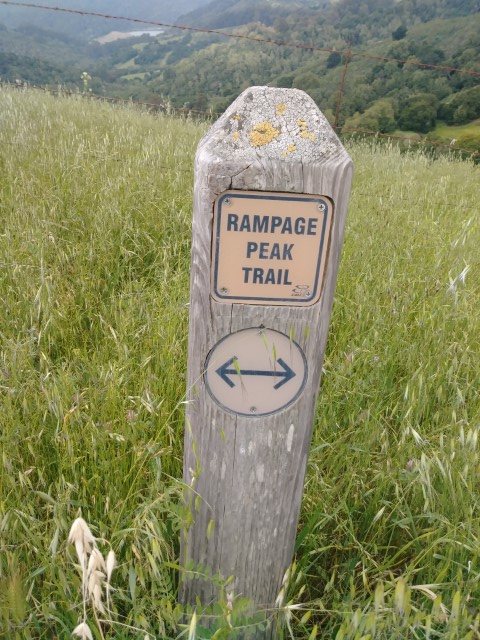 Spell checkers screw up everything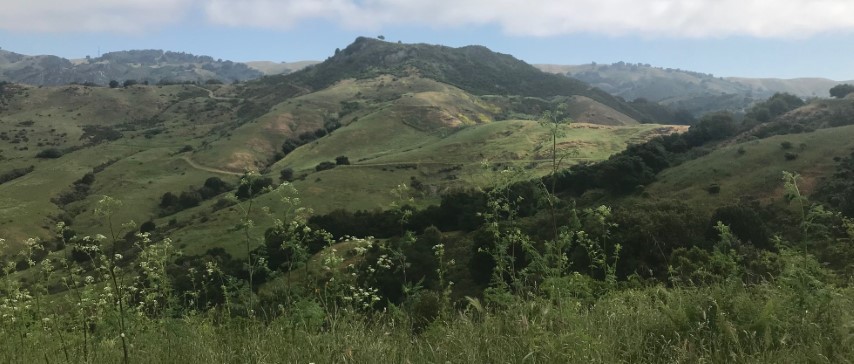 Ramage Peak is close, but far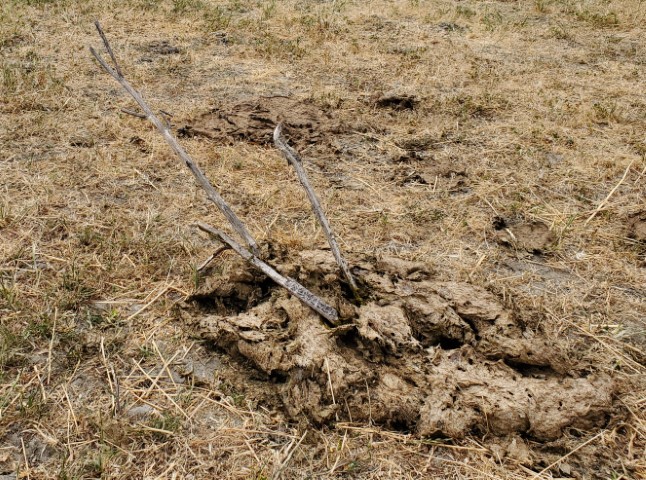 Fresh 3D arrow using locally sourced produce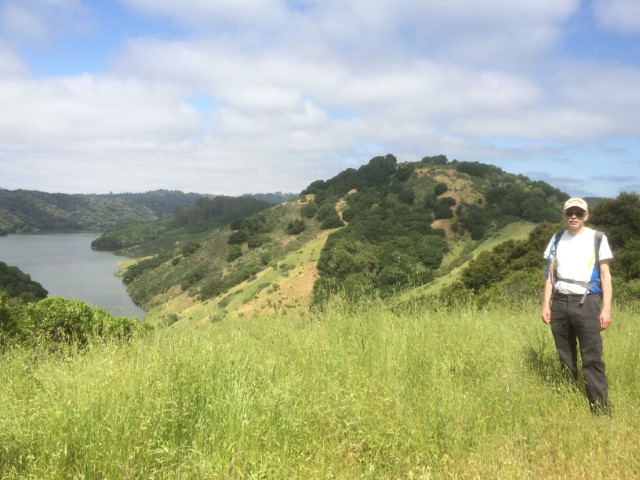 Looking toward King's Canyon Loop

Hungry goats
Hiker
Gate
Bridge
Sarbinder
Steve
Mihail
Sophie
Bjorn
Jim
Shuli
Yipeng
Peggy P
Pal






Pages maintained by Steve Walstra, Peter Saviz, and Russell Gee.
©2022 Intrepid Northern California Hikers