1214. Bear Mountain and Mississippi Lake (02/08/20)

Hikers (16): Alan, Bjorn, Chinyet, George, Giulia, Hong, Manfred, Mihail, Pal, Peggy, Peter, Robert, Sarbinder, Sophie, Steve, Yipeng
Distance: 26 miles
Rating: 5 difficulty, 8 beauty
Park info: Henry Coe State Park near Morgan Hill

Write-up by Peter -- Pictures by Alan, Chinyet, George, Manfred, Pal, and Peggy
After six weeks of lame hikes, it was time to get back to business ...
As I started the car at 5:45 to head to Henry Coe, a red light start flashing on the dashboard: "STOP! Coolant Low!". Oh great ... well, no time to deal with it now, so I threw all my stuff into Taylor's car and headed out. In doing so, I forgot to load my post-hike change of clothes, and, more importantly, my beer cooler!! D'oh!!! Hopefully this was not a bad omen.
Not to worry. There was a beautiful golden full moon in a clear sky as I headed to Coe. This was going to be a great day! As we assembled in the parking lot, the weather was surprisingly pleasant. I had debated wearing long sleeves and bringing gloves for the hike, but they were definitely not needed.
1, 2, 3 ... INCH!
(and for the first time in many weeks, the "I" was accurate -- marathon hike starting)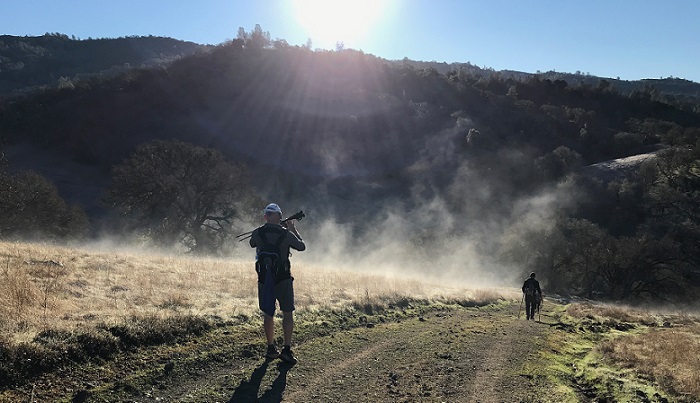 Steam rising off the Narrows in the early morning -- cool!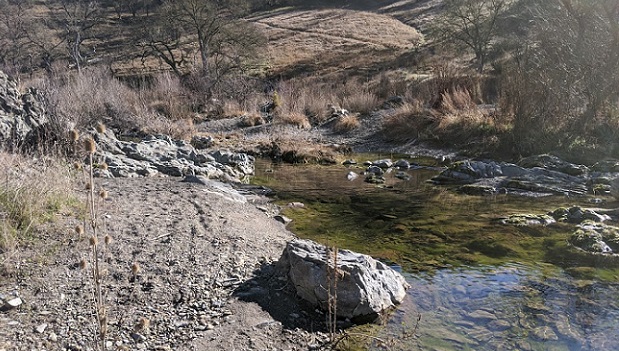 Stream crossings were pretty easy -- no change of shoes needed, but many of us carried an extra pair all the way through the hike :(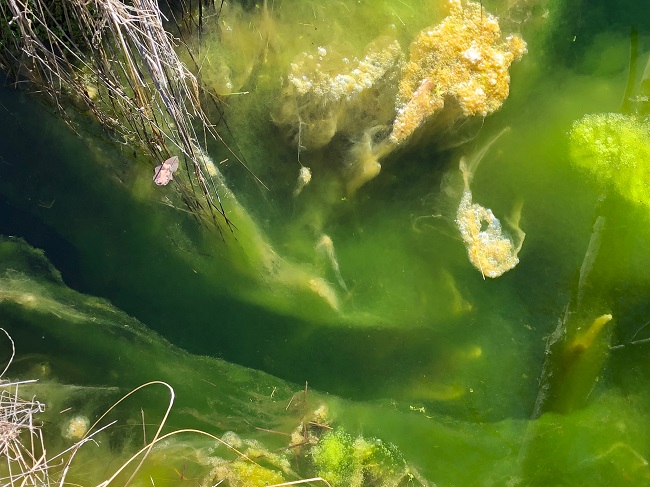 Mmmmmmmm, algae!
As expected, I soon fell behind this fast group of hikers. My goal was to finish in under 11 hours, so I was going at a leisurely pace. It was a gorgeous day and I was not in a big rush to get it over with.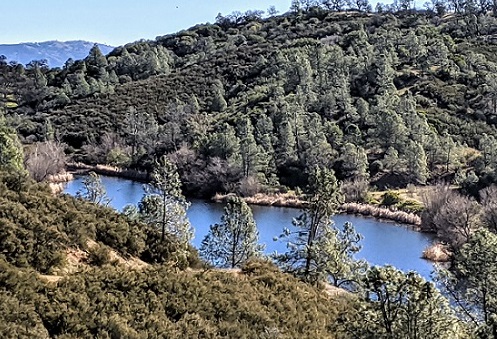 Mississippi Lake comes into view -- well worth the trek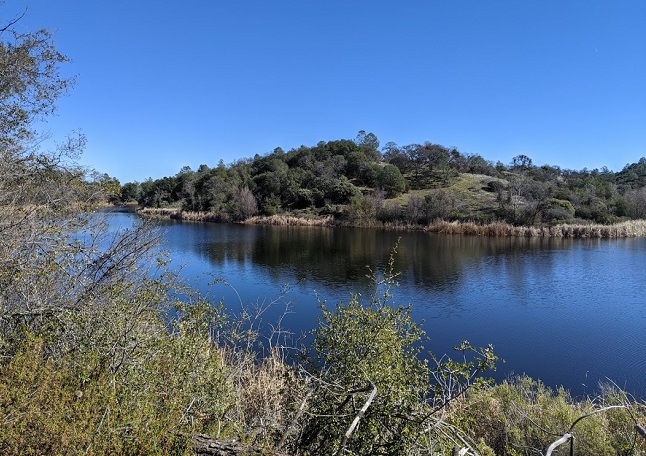 The Lake was looking beautiful on a gorgeous "California Winter" day -- great lunch spot!
I had the picnic table all to myself and I sat there for a while just enjoying the solitude. It had been a stressful week at work, and this was just what the doctor ordered. Nice! As I was getting ready to head out, Manfred showed up. Of course, he had done a bunch of extra trails. He lamented that he had not brought his camping gear -- this would be a great weekend to just throw down a tent and hang out at the lake.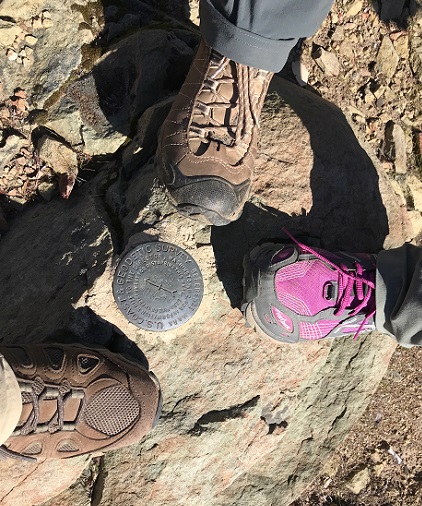 Then it was on to visit The Bear!
It started to feel warmer as I began the climb up Bear Mountain. Big Henry had been kind so far -- was he about to turn up the heat? Thankfully, the climb was over with pretty quickly and then it downhill for a long time. I was carrying too much water and my shoulders were hurting. I gave some to Manfred to save him the trouble of filtering. Win-win!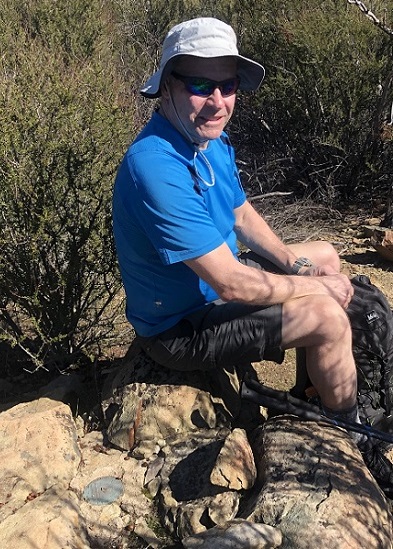 Sitting my tired ass down at the peak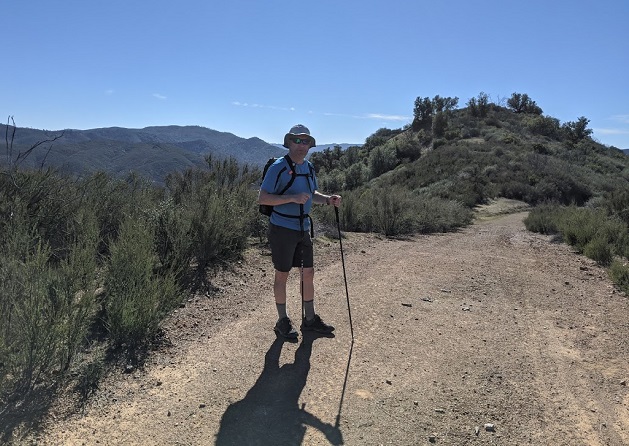 Bjorn and Chinyet started 1:20 after the main group and caught up to me about halfway down the Bear Mountain Trail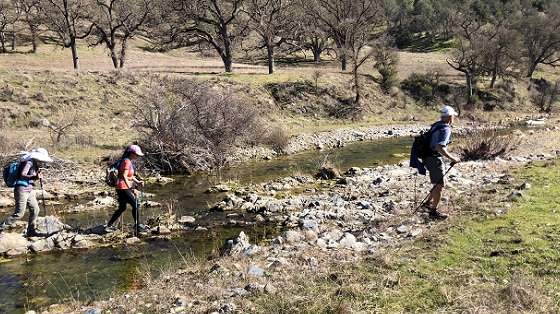 INCHers showing good form on the creek crossings -- there were many of them en route to Karri Junction
I continued solo most of the way back. I was making good time and was well ahead of the 11 hour goal. I took my last break at Poverty Flat and dumped out most of my remaining water. I just needed a little bit to get me up the climb to HQ. Let's get this over with!
About halfway up the climb, Manfred caught up with me again. Of course, he had done additional trails. We had a nice chat on the way back, and it made the time pass quickly. Before I knew it, I was turning onto the Corral Trail for the final half-mile past the blue ropes and into HQ. I arrived back just under the 10-hour mark and in time to catch the tail end of the party. Cheers!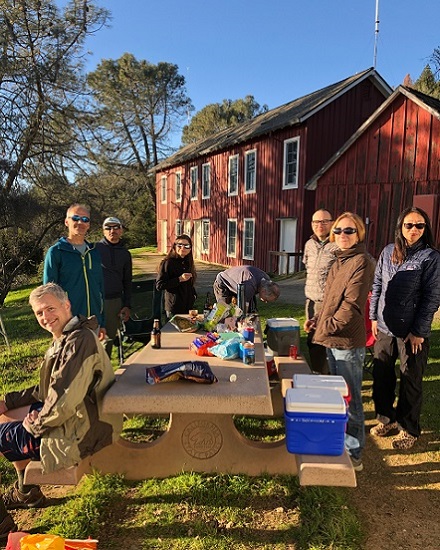 After the climb up Poverty/Cougar trails, INCHers enjoyed a nice party in the late afternoon sun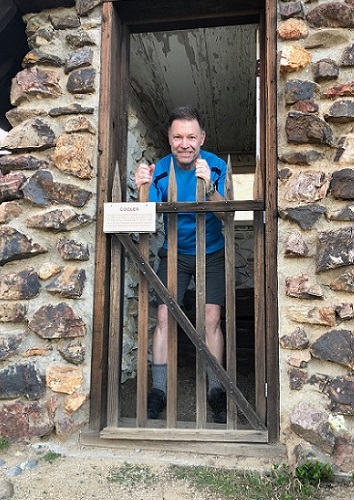 George insisted I go to jail for scheduling this hike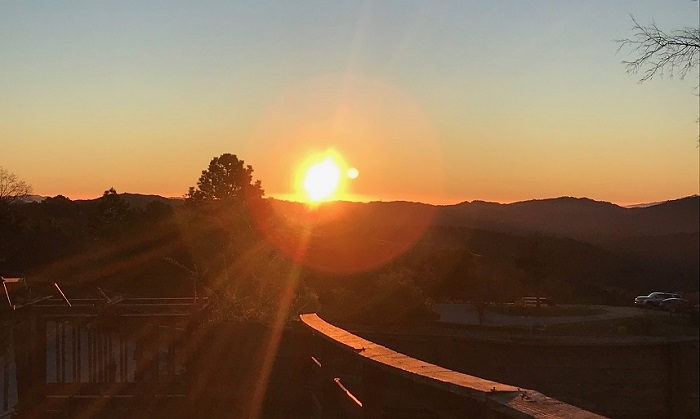 Gorgeous sunset over Henry Coe to end a perfect day
Milestones:
Alan's 210th leaf
Sophie's 320th leaf







Pages maintained by Steve Walstra, Peter Saviz, and Russell Gee.
©2022 Intrepid Northern California Hikers