1246. Mt. Robison #2 (04/24/21)

Hikers (4): Christina, Mihail, Sophie, Steve
Distance: 21 miles
Rating: 5 difficulty, 8 beauty
Park info: Henry Coe State Park near Hollister

Write-up by Steve -- Pictures by Mihail, Sophie and Steve
The hike was advertised as 19 ± 2 miles, and came in at 21 miles. But the distance wasn't the issue, nor was the 6k ft of elevation gain. The issue was the tremendous beating up to Mt. Robison and back down (a different way). We can confirm the "wild" in Orestimba Wilderness. This was my fourth visit to the summit and the worst by far. But it also provided a rare need to visit the inexplicable reservoir below the summit to refill water. . .
This year, they limited attendance to one person per permit (instead of one carload per permit). This was unexpected to many people, as was the short sign-up time. I was committed to going, as I wanted do this hike last year and it was canceled. So I posted it as an INCH hike since I knew I'd be there. It was posted before the permits were released, but not a lot of people look at the schedule page (I'd learn later).
Set a calendar reminder to sign up. Was on the website two minutes before the release. Was surprised to see I'd have to pick a camping location, so picked the one I knew was close to where I wanted to start, although I hadn't planned to camp there. Gratuitously checked back an hour later--sold out! Felt justified in setting the calendar reminder, although I knew there would be a second release the next day.
Fast forward a week or two, and people started asking about the hike. I pointed out they were out of luck, because the permits were sold out. Some crazy people thought they'd day-hike it from HQ. Don't think people realized just how big Coe is. Mihail, on the other hand, was game, and decided to hike in from Hunting Hollow Friday, which was the only sane approach.
Christina turned out to be the only other person who had gotten a permit. She was able to get an additional permit later on, which she gave to Sophie. So looked like we'd have four people after all.
Friday morning, I made the mistake of checking into work before leaving. Ended up leaving two hours later than intended. I'd planned to have breakfast at "Casa de Restaurant" in Casa de Fruta, but skipped it because I was late. There were no cars ahead or behind as I rolled into the check-in station, which only had two volunteers (usually around five or six). It was around 11am, which was earlier than a normal Backcountry Weekend start. The prior three backpacking visits, I got there ~11:55, just before the gates open, and would be behind a long queue of other more eager beavers.
I had three days of hikes planned, so parked near Hummingbird Trail, which leads to the road to Mustang Peak (and farther away than if I wanted to minimize the hike to my campground). I picked up several post-fire geocaches along the way, and went up to the Mustang Peak summit for the hell of it. Felt like I had the whole park to myself, as I hadn't seen a single person since leaving my car.
I was paranoid that Jackrabbit Lake would be packed since, with an early start, anyone could get there (relative to other years). Since I was there pretty early, searched and found a remote spot with flat ground. Set up camp, then hike back up to a nice shady location overlooking the lake, set my camp chair, and chilled for a bit. Wanted to catch sight of anyone coming in, mostly Mihail.
Hours later, he showed up. Much to my surprise, he also went over Mustang Peak (and saw my log in the summit register)--that's hardcore with a pack after putting in the extra mileage. He looked around for a camping spot and eventually set up camp in the same creek bed. Everything else was just slightly too sloped. The standard camping location had plenty of flat ground. . .
Mihail brought a couple Rasputins, which was a good way to end the day!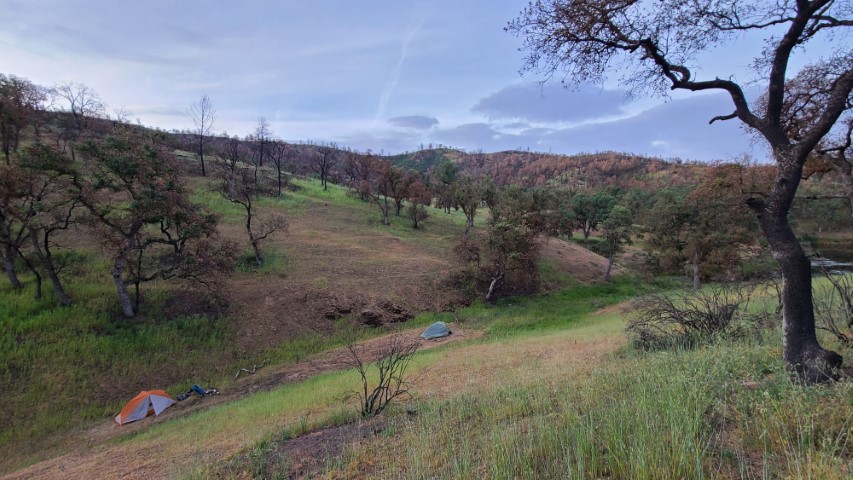 Camp Awesome #4 -- in a creek bed leading to Jackrabbit Lake. We'd be doomed in a flash flood.
We were ready to go exactly on the time we'd agreed the night before, and made our way to the pre-arranged meeting spot with Christina and Sophie. We purposely hiked out clockwise around the lake to check how many people were at the standard camping area I'd avoided. Zero.
We got to the meeting area a little early. I'd bet Mihail that the other half of INCH would be there before the 8:45am meeting time. He guessed they'd be after 9am. Mihail won. Off we went!
The weather was great--not too hot--and the route to the first summit was a mix of disused ranch roads and still-used ranch roads. The going was fast. We stopped along the way for an intermediate benchmark (BM). Christina refused to go over the fence to touch the BM.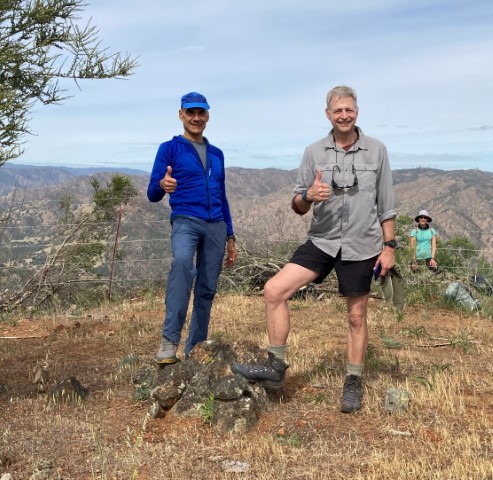 Benchmark #1 -- Christina was not having it
From there is was more uphill and undulating hills. While the route wasn't always obvious, it was always easy going.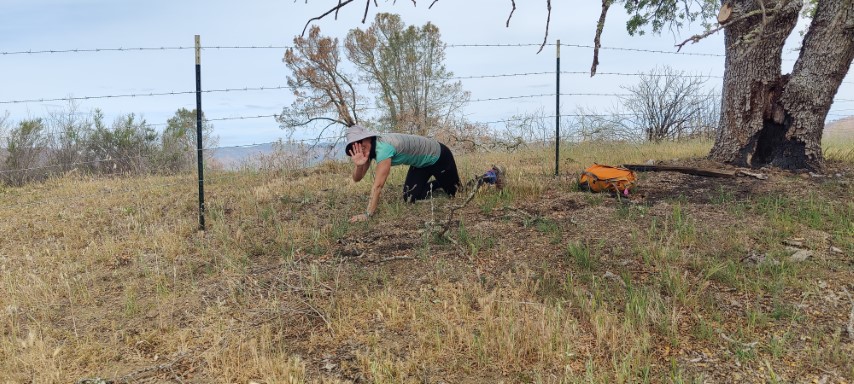 Eventually a fence had to be crossed
We eventually made it to the first peak of the day. Great views in all directions, including a very alluring Willcox Ridge in the distance. But that is for another day--our next goal was Mt. Robinson, the jewel of the Orestimba Wilderness. I had warned everyone that Mt. Robinson's trials would be worse than this peak. . .that turned out to be an understatement.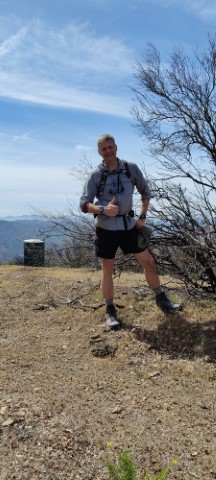 BM #2 and Summit #1. Also BM #1, but that's a different story.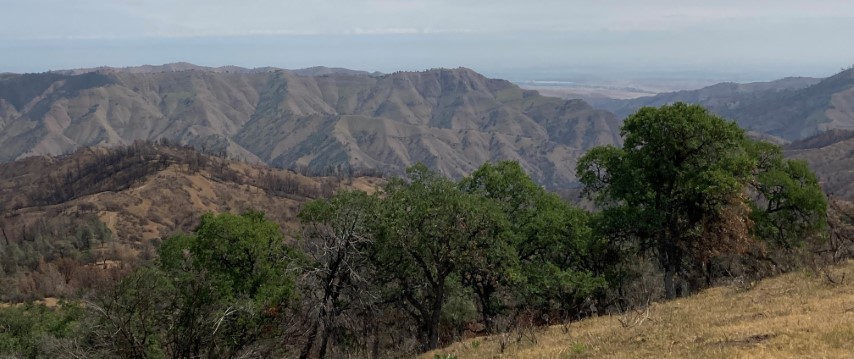 Wilcox Ridge and the Central Valley from the summit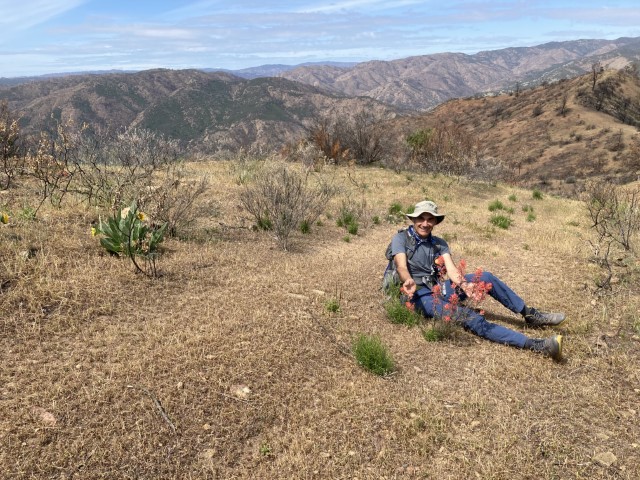 Mihail loves Indian Paintbrushes--Mt Robison in the background on the left
Down, down, down (with some up) we went, all the way to Orestimba Creek. There was a mile of cross country, but it was easy going thanks to the fire. We just kept following the shallowest ridge lines the whole way.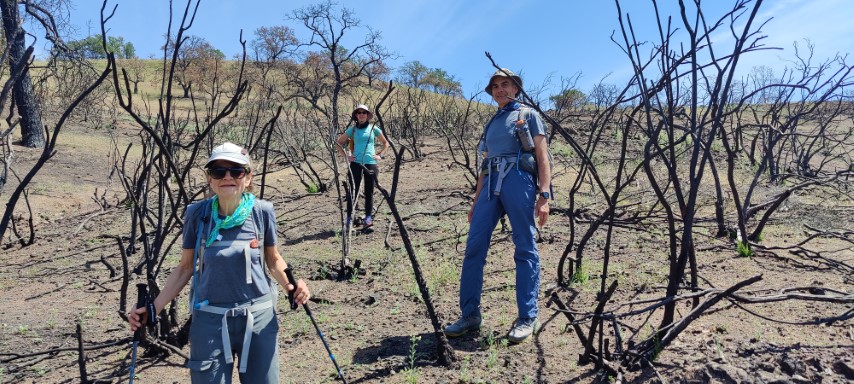 The cross country segment was easy after the fire
We headed up Murphy Trail. After an steep introductory rise, we started encountering various brushy obstacles. Some just required threading between bushes, while others required going upslope or downslope off the old road. It was not pleasant. I was happy when we reached the junction with the Mt. Robinson Trail that we'd be taking back, as this point means most of the elevation is out of the way. But there was still plenty of crappy bushwhacking left as we followed the ridge in an undulating curve up to the peak.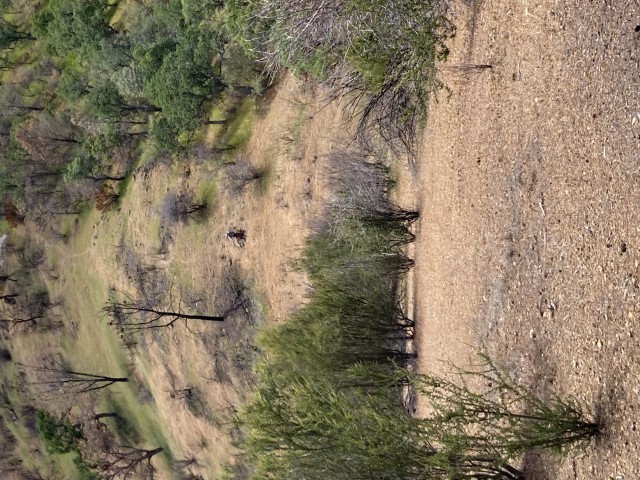 A rare clear section along Murphy Trail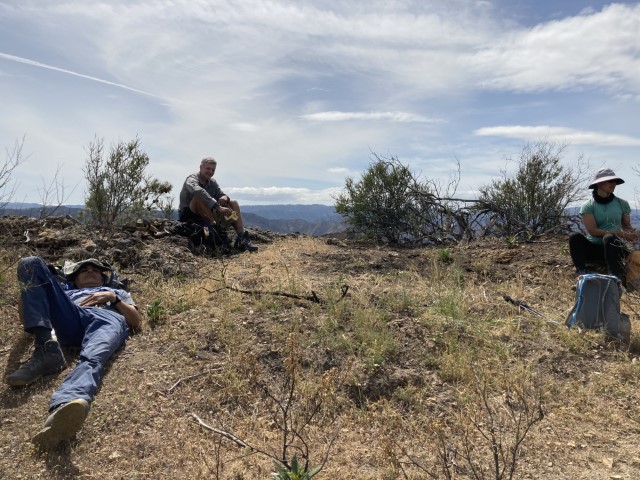 Taking a break at Mt Robison summit
Everyone was happy to reach the summit and take a break. Signed the summit log, which had one other entry from earlier in the month by a geocacher, and then a year gap back to March 2020.
As we were talking and eating, it became clear everyone was low on water. Mihail brightened our spirits when he declared he had a water filter with him. I pointed out the large reservoir not far away from the summit. I'd planned to bag the benchmark behind it (it was part of the original hike), but had already decided against it after the beating we took coming up. But now that we had to go to the reservoir to get some water, I headed up while everyone else went to the water.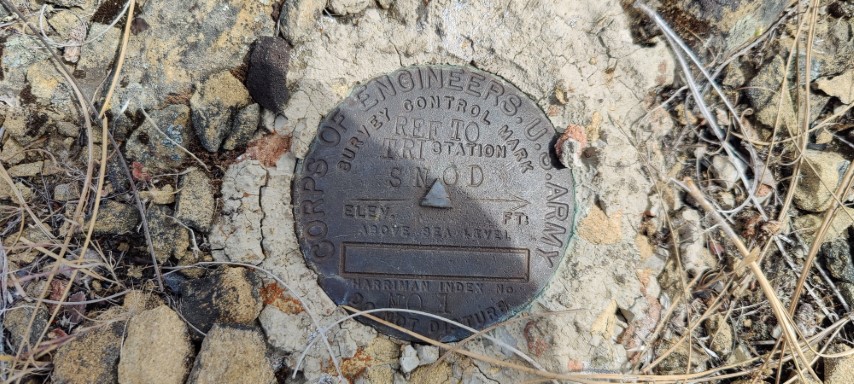 The Snod reference marker was BM #3
Made a small loop of the summit, coming back along the reservoir's dam. Mihail had a fairly slow filter, so didn't hold anyone up. I still had a liter left, so didn't need too much more. We were soon off, taking the nearly indiscernible road back to the indiscernible junction with the "main" route, and then headed back to the junction with Murphey Trail.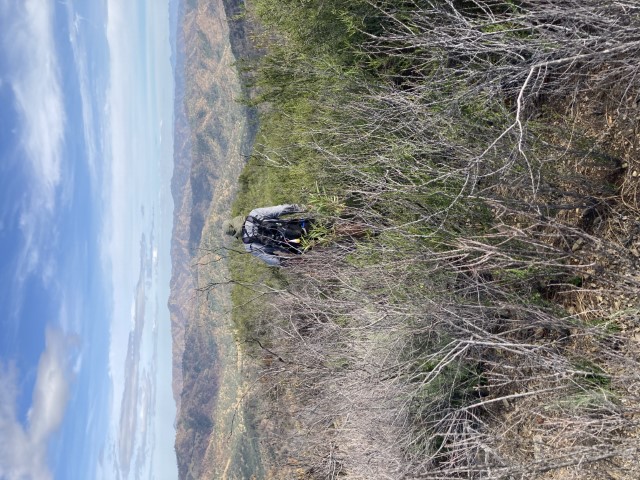 The state of 75% of the trails on Mt. Robison
It was a little faster going downhill through the brush and we were getting better at taking parallel less-clogged routes. We eventually got to the bottom, which intersects the well-traveled Rooster Comb Trail.
The route was flatter, and we moved quickly, but it went on forever and gained elevation along the way as it bypassed private property. We eventually reached the highpoint of that trail, and started the sustained downhill. It was killing me, so whipped out a map to see how much distance was left to go. . .and sat down while doing so. From then on, I was the caboose on the INCH train. We headed under the actual Rooster Comb feature and then more downhill followed by a mile or so of flat.

Passed under Rooster Comb near the end
Sophie and Christina had stored some beer at the junction between their camp and ours, where we expected to hang out for a little bit. It was about 6:45pm on a day with a 7:45pm sunset, and we were both about 1.5 miles from our established camps, so no big rush. We ended up "partying" for an hour. We needed that much time to share four tasty beers and a wide variety of food including cheese, sausage, crackers, pretzels, and peanuts. Couldn't believe the great food cache in the middle of Orestimba Wilderness. We were also able to clean up at a nearby water hole, so it was reasonably civilized. Total people who passed by during that hour: 0.
Mihail and I hiked back to the camp afterwards and took the clockwise route around Jackrabbit Lake to continue the loop theme. We ran into the volunteer managing Jackrabbit Lake before the lake. Mihail and I had never seen him, because he was closer to the way normal backpackers would reach Jackrabbit Lake (i.e. not via Mustang Peak). He mentioned that some campers there had spotted our remote camp.
The next morning we headed out and ran into the aforementioned campers who had the enormous, flat, de-rocked camping area to themselves. It had just started drizzling, so was glad we got a slightly early start. I'd slept pretty well considering my inflatable mattress developed a hole the first night, and so I'd spent two days waking up with my hip getting poked by rocks, then rolling over and re-inflating for a 45-minute reprieve. . .
I mentioned to Mihail that the last day of BCW is when you see people, as everyone is heading out. That was the case, but there were way fewer people than usual. We confirmed with a volunteer that the total number of people, including volunteers, was around 100. Prior years would have had more than that in cars.
After a while, we ran into Christina and Sophie. Invited them to meet us at Casa de Restaurant, which is INCH tradition when doing a hike out of Dowdy Ranch. Since I was parked farther away than them, I figured the timing would work out pretty well. Mihail had no choice, as he was catching a ride back to his car in Hunting Hollow, so had to go.
When we reached the Orestimba Creek Trail junction, I pointed out that the road was shorter but had more elevation gain than the trail. Mihail wanted to take the road, as he'd taken the trail on Friday. I understood this logic, although had wanted to take the easier route. He soon complained about all the uphill! But it wasn't all that bad--the real issue was that he had no idea where the car was, so didn't realize it would be an eight mile hike with 1k ft of elevation gain. I didn't either, because I'd planned a different route which was abandoned for fear of rain (which never materialized) and general laziness after the prior day's beating.
When we got to Casa de Fruta, there was a long line. The line was because capacity was limited to 50%. Made a reservation for 4 and went back to the car for a jacket. When they finally called us, we got the best seat in the house (far away from everyone else, and in the corner). I texted Sophie to see if they were coming (considering how long we'd already been there), and indeed they were nearby. Worked out perfectly for them (no waiting) and Mihail and I got the signature beer, so were happy too.
And so ended a fine INCH adventure! Sophie wasn't impressed by the quality of the Asian chicken salad she ordered at Casa de Restaurant. Just read that sentence again. I love the place. It has comfort food, and after a hike, everything with calories is tasty, so have nothing but fond memories.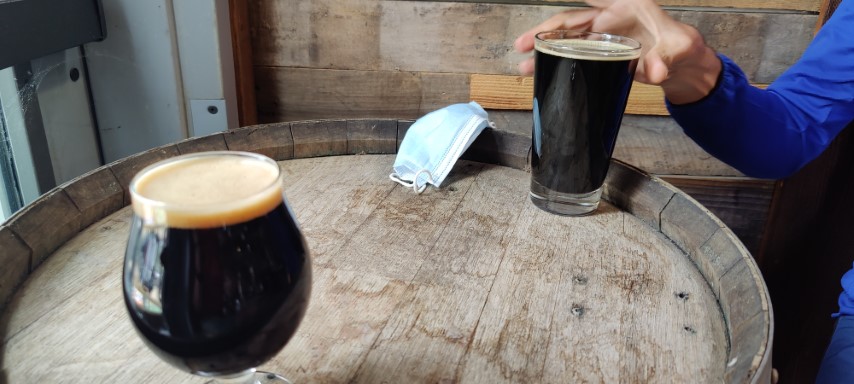 After an early dinner in Casa de Fruta the next day, we made a beer stop on the way home
---
You read this far? Here's a bonus story.

I managed to put two holes in my inflatable mattress. I field-patched the first one, but couldn't find the second . Once I got home, was able to find it with the help of clean water. The patch kit came with two patches, but I didn't want to take the risk of another miserable night on my next trip. What to do?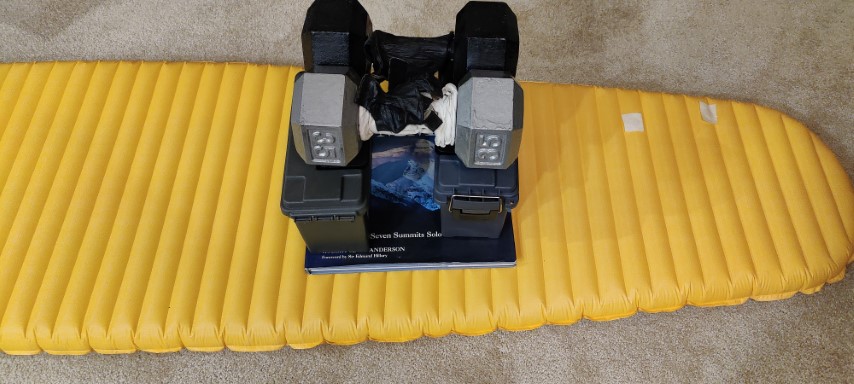 ~75 pounds sitting on the mattress 10 minutes after patching the second hole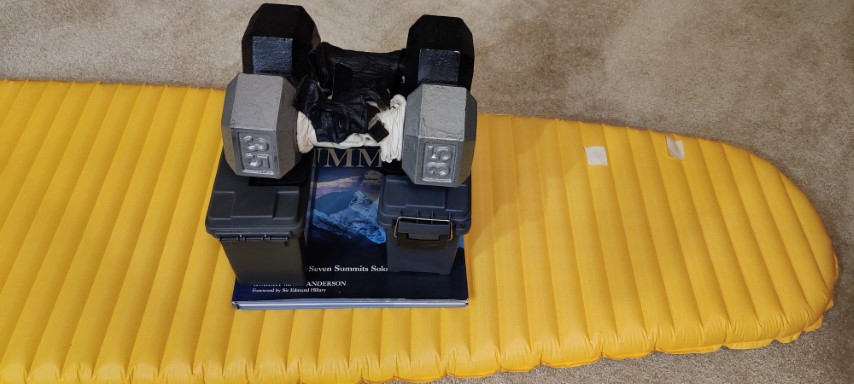 24 hours later--looking good!






Pages maintained by Steve Walstra, Peter Saviz, and Russell Gee.
©2022 Intrepid Northern California Hikers