1255. Hunting Hollow to Dowdy Ranch (07/10/21)

Hikers (12): Brad, Chinyet, Christina, Dan L, George, Jim, Manfred, Mihail, Peter, Sarbinder, Shuli, Yipeng
Distance: 23 miles
Rating: 5 difficulty, 8 beauty
Park info: Henry Coe State Park near Morgan Hill

Write-up by Chinyet, Dan, George, Jim, Manfred, Shuli, and Peter -- Pictures by Chinyet, George, Jim, Manfred, Rufina, Shuli, and Peter
It was another beatdown, at least on par with, or maybe even worse, than the legendary Dowdy Smackdown of `17. One ranger rescue, two near-rescues, and many more people wishing they could have been rescued. 112F in the shade and 6000+ feet elevation gain over 23 miles will do that to you. I lost 6 lbs on the hike and it probably took 6 years off my life. It deserves a Level 6. The good news is that I got Dowdy (and the Pig Fence) out of my system forever -- never again!! (I know nobody believes me. As David says, I have no credibility left -- not that I had much to begin with).
George's writeup:
It was quite a day. I'm glad I started early, 1:40am, although I lost about 45 minutes of that because of a wrong turn.
It was surprisingly pleasant in Hunting Hollow, about 66 degrees at the start. As I climbed Steer Ridge it actually warmed up - at 2:30am it felt like 70 and it was actually quite breezy and at times quite windy. That pattern continued most of the way to Dowdy Ranch - cool in the canyons, warm and breezy on the ridges.
At the 5-way junction near Wilson Camp I turned left onto what I thought was Vasquez Rd, turns out it was Wagon Road. Went down almost a mile before finding my error, and climbed back up to the junction again. Only mistake of the day, other than showing up at all!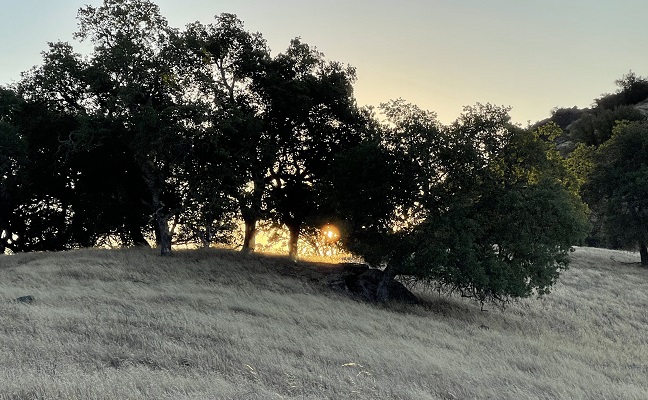 Nice sunrise near Burra Burra Peak
Had a nice but short break at Dowdy - too many little flies. The water seemed pretty good at the time. I drank a bottle of it and refilled my reservoir with 3 liters. I used 2 liters to get to Dowdy, plus I drank a 12 oz bottle of V8, and I still had a cold 3/4 liter water bottle that started out frozen. So I headed out well hydrated and carrying 3 3/4 liters. I should be fine, right ? Right ??
The sun was out now so it was a bit warmer, but not as hot as I expected. Most of Central Flats Road was okay, just warm. That final climb up to Wagon Rd - uggg. I thought I was pretty much done with the hike - the only climb left was the Serpentine Trail, and that is short and not steep.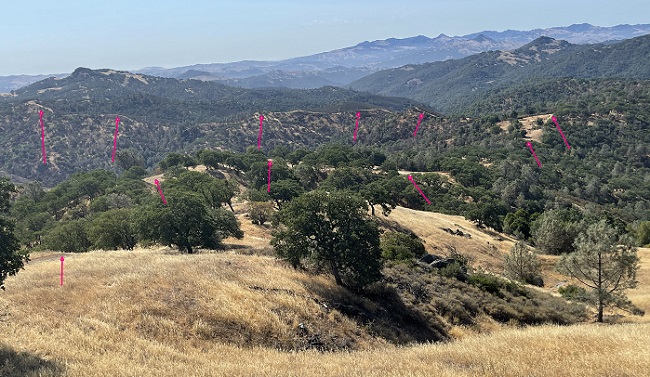 The Center Flats Road is now part of INCH lore
The Serpentine Trail was my slowest pace of the day (you know, the short and not steep trail). All my energy was gone, and it was hot hot hot. I was stopping in each patch of shade and just breathing and trying to cool down for the next patch of sun. .9 miles must have taken 1.5 hours. I think not sleeping last night was taking its toll.
As I started down Middle Ridge I was expecting my usual fast walk/jog and I'd be done in no time. Not happening - I was woozy and weak, I needed to sit down. But there was no shade for quite a while, and I couldn't sit down on the ground or I would have trouble getting up again - I needed a rock. Finally found one and sat down for about 15 minutes. I was leaning my head on my poles and kept nodding off - I needed sleep. But I had to get out of the heat. I finally stood up and almost keeled over - I had to steady myself with my poles to stay up. I realized that there would be no more sitting down for me on this hike or I may not be able to get back up again.
It was a long slow trudge down the trail - no jogging for me. Took a lot of effort to not just crawl under the shade of a tree and go to sleep. Funny how that flat road going to the parking lot seems like one of the longest hardest parts of hikes out of Hunting Hollow.
Sarbi had passed me pretty high up on the Middle Ridge Trail. He was bopping along enjoying himself. Not suffering from the heat - AT ALL ! It was after seeing him that I had my 15 minute sit down. But I think he finished around 12 or 12:30, and I finished around 2 or 2:30. He gained 2 hours on me in the last 3 miles!
Sitting in the shade with a cold drink in hand did not seem that much better. It was over 100 degrees and I felt like old underwear. I could barely speak because my throat was so hoarse. I couldn't think about eating any food. All I could do was sip cool drinks, spray myself with some cool water then hunker down in silence. Poor Sarbi - I was not very good company.
Chinyet came in next, and he sat with his head in his hands for a while, then had to leave. Then came Mihail and he sat in his chair for a while just trying to recover - could not talk much or eat. That seemed to be the pattern.
Christina came in next and she was pretty perky. Definitely hot, but able to eat and drink and talk. I guess it says a lot about a hike when the definition of how you feel at the end is based on whether you can eat, drink and talk!
We were all wondering where Peter and the rest of the hikers were and how they were doing. I was surprised how long people sat waiting in the 103? temps waiting to see who would show up. I can't wait to read Peter's tale.
Chinyet's writeup:
I kicked off the hike around 6:15 AM, slightly after Shuli, Jim, Dan. Realizing that I missed the turn up to Steer Ridge right away, I ran back to the turn and saw Yipeng and Manfred were heading up the trail. Knowing that this will be brutal later in the day, I tried to cruise along as much as I could to cover more mileage before it gets too hot. I passed Shuli and Jim at the Willson peak, and Peter on the way up to the Vasquez peak. The pace was good till I reached the Vasquez hole around 8:20 AM.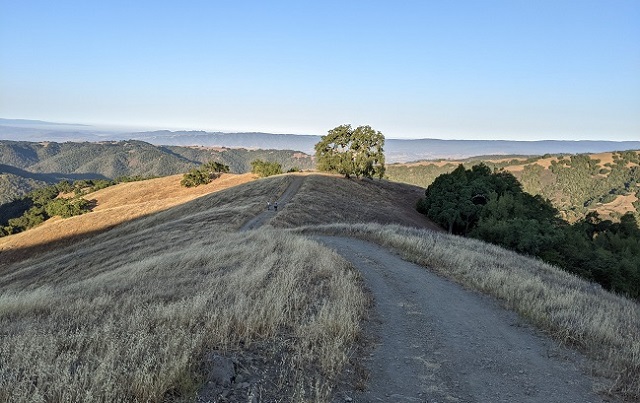 Heading up the Steer Ridge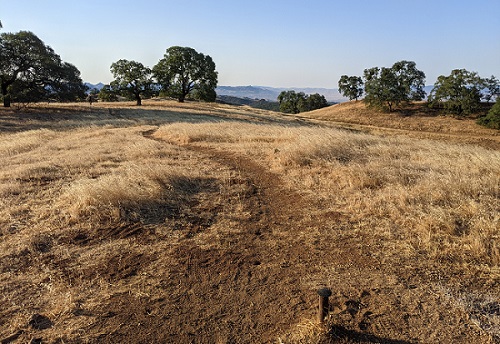 Quick photo at Willson Peak
With the heat starting to set in, Dormida trail felt tougher than the earlier section. I got to Dowdy ranch around 9:20 AM. There was nobody around except a bag of dried ice cream sandwiches sitting on the picnic table (probably left by George?!) After pouring a lot of iced water on my head and replenishing my water bottles, I headed down Aetna road, still hoping to cut some time before the heat really strikes.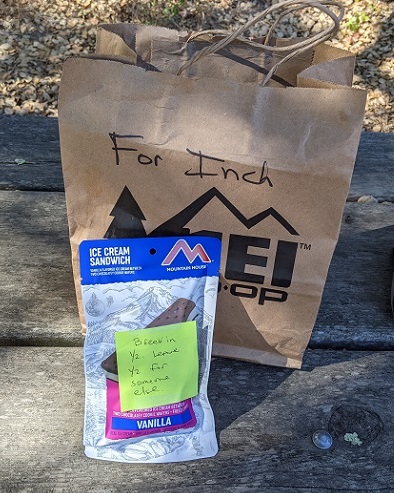 George left us ice cream at Dowdy!
However, it was a little too late already when I got to the last part of Center Flats Road and the beginning of Wagon Road. My energy was sapped away with the excessive heat, and I started to suffer with each step up the hills. I struggled to pull along past Wasno Road, and then had some easier time down Tule Pond Trail. After that there came the long struggle up the Serpentine Trail. I had to take a break every once in a while in this otherwise short uphill. I had some minor dehydration, and threw up a few times when I pushed a little bit too long between breaks. Luckily I didn't have too much food in the morning, so most of it was water. Finally, after pulling along and passing Willson peak junction, I headed down Middle Steer Ridge Trail. Still affected by the heat, I was actually moving slower in this downhill section than going uphill earlier in the morning. And the last short stretch back to the parking lot felt never-ending with a few more throw-ups. Eventually it took me about 4hr 40 min from Dowdy Ranch back to the parking lot. That is 1 hr 40 min more than the first half of the hike.
Peter's note: That's real INCH spirit! Chinyet was happy that all the times the hike made him threw up, it was "only water".
After getting back to the parking lot, I could only sit in front of my car sipping some soda and slowly changing the shoes to sandals, trying to pull myself together. Then I went to George and Sarbi and enjoyed some cold water spray from George. After sitting under that scorching heat for a few more minutes, I still felt really shitty, and needed a cold shower before taking a nap in a room with A/C. So I just said goodbye to Sarbi and George and headed back home.
Shuli's writeup:
Heading up Steer Ridge Trail was not hard at all in the cool morning at Coe. I didn't see anyone except Jim on the way up to Wilson Peak, wondering if most of the INCHers left earlier than I did. Reaching Wilson Peak one hour after leaving Hunting Hollow parking lot, I turned around and saw Chinyet at the junction reading his map. After the peak, Chinyet was running and passed us. At this moment Jim was talking about skipping lunch at Dowdy to save time. 50 mins later I caught up with Peter and Brad on Vasquez Road. So far it was a nice hike toward Dowdy Ranch. Refilled water bottles at the fountain as soon as I arrived at Dowdy. Only saw Mihail and Jim at the picnic table. Later Brad joined us, then Peter, then Manfred. At this moment I worried about the heat and was ready to head out, but Jim was still eating though he mentioned skipping lunch earlier. Not long after we left Dowdy on scorching shadeless Center Flats Road, Jim started to drag behind and stopped many times. At the junction of Wagon Road and Snake Trail (uphill shortcut loop) Jim suddenly dropped his backpack and lay on the ground, then started vomiting. I was shocked and ready to call the ranger but Jim demurred. After 25 mins we were back on the road, it felt like hiking in the oven with 200F. At Tule Pond I knew my water was running out soon, but decided not to filter it when I saw the rainbow algae. I paid the toll through the last 2 miles, especially on the flat endless last 0.8 mile road toward the parking lot. This was my toughest INCH hike ever. Thanks George for the face sprinkle at Hunting Hollow, it helped cool down a lot.
Jim's writeup:
The way out was an easy 12-mile hike - very nice at Dowdy. Then Shuli and I were pushing to get past Center Flats before the day reached max temperatures. Shuli was fine - she's used to hot weather in Taiwan - but I was having difficulty drinking as we headed up onto Wagon Road. I tagged her at the end of the loop shortcut as this "came to a head". Shuli was ready to call the ranger, but we pressed on. I was just crawling on the uphills, but we topped Serpentine eventually and headed down Middle Ridge. Shuli went on ahead and I had another bout there, but eventually reached start after many short rests, seated or prone. My voice was gone completely and I couldn't stop panting. George's water deluge system helped a lot, but I didn't really get over the heat until after driving with full AC and then lying on the cool kitchen floor for about a half hour. Even after that huge bottle of cola and everything else I drank, I was down 9 full pounds from the morning.
Manfred's writeup:
Anyone who grow up in Europe knows 112 as the emergency telephone number- it's the equivalent of 911 here in the States. So when the whether forecast for Henry Coe showed 112F I took it as an omen and prepared accordingly. I brought my Kool Tie and my sun umbrella that is fixed to my backpack and allows me to walk with my hiking poles, while having constant shade over my body. In addition to my normal food for an INCH hike, I brought NuuN tablets and Skratch for electrolytes, Pringles for extra salt and a banana for potassium, as I wanted to avoid any cramps due to excessive sweating.
Although I arrived slightly before 6 am in the parking lot, where I met Jim & Shuli, Dan & Rich, Yipeng, Mihail, Chinyet and Rufina, I started only at 6:17 am together with Yipeng. It was a really pleasant morning walk up to Wilson Peak. As I tend to go downhill pretty fast I lost sight of Yipeng after Wilson Peak until seeing her again at Dowdy Ranch. When reaching Vazquez Rock, I caught up to Dan and Rich. Rich turned around at that very moment to get back to the parking lot. For the rest of the hike to Dowdy Ranch I was by myself until I caught up to Peter shortly before Aetna Road. I crossed the road and went by the water tank to the picnic tables, where Jim, Shuli and Brad were already sitting in the shade. Peter turned left on Aetna Rd and came from the other side to the picnic tables. On one of the tables was a nice surprise from George: ICE CREAM. Who would believe this? It was freeze-dried Mountain House Vanilla Ice Cream that tasted amazingly good - although it was not cold at all. By now Christina, who had started at 6:45 am arrived together with Dan and shortly thereafter Yipeng. Christina's min-max thermometer showed a max of 108F. It was clearly warm out there. One by one everyone left - some after wetting their shirts and hats at the faucet. Dan was contemplating to walk out to Bell Station and get a ride from there, but eventually left last together with Yipeng and me. We made it up to Center Flats Rd, where Peter was resting in the shade. I joined Peter and then Dan joined us. We were all a little concerned for Rufina as Christina had passed her on Wilson Peak and she had not shown up at Dowdy during our long break. I was surprised to see Dan constantly pouring water over his head and shirt. He used almost a liter of water for that - which was the total amount of water I Ieft Dowdy Ranch with. For me it was way too precious as drinking water than to pour it over myself. Peter moved on first and once Yipeng came into sight, Dan and I got moving too. When I met Peter again in the shade on Wagon Rd, I joined him again. This became a pattern for the remainder of the hike. I staid a while after he moved on, but when neither Dan nor Yipeng showed up, I kept moving and met Peter again at the Wasno restroom, where he had laid down in the shady entrance way. Once again I joined him in the shade. My Garmin watch showed 104F in the shade. As usual Peter left first. I caught up to him on the way down to Tule Pond. While Peter pondered whether to go turn right on Grizzly Gulch to go up Wilson Peak Trail or go left and walk up Serpentine Trail, I made a beeline to Tule Pond, waded into it until reaching clear water and used my empty bottle to pour water over my head until all my clothes were drenched.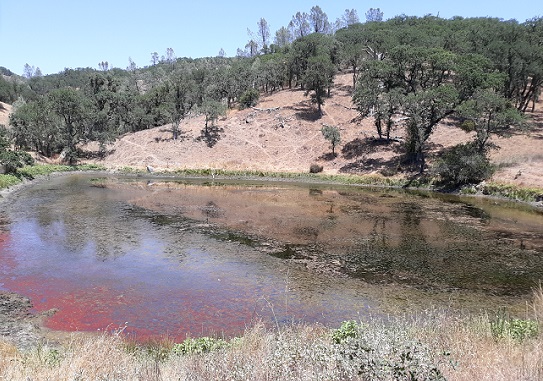 Tule Pond has a lot of algae, but at times like this you can't be picky
After a short rest in the shade I continued to Serpentine Trail and went once again up to Wilson Peak. Exactly 8 hours after texting Gela from Willson Peak in the morning I texted her again that only three downhill miles remain to my cooler with sparkling water and grapes. Those three miles seemed to stretch forever, especially since I was slowly running out of water. I rationed my water and only used it to wet my throat when my mouth had become dry. Eventually I ran out of water on Middle Steer Ridge. Thus I made a small detour to the Windmill, sat down at the picnic tables in the shade. After first dowsing my whole body with water, I filtered 1 liter of clear, delicious, cold water from the trough that is fed by a spring and downed the whole liter with some Scratch mixed in. Before walking back to the parking lot, I filtered another 0.5 liters. Thus refreshed I walked back and got passed by Ranger Derek who offered me a ride. He was looking for Dan who had called for rescue from Center Flats Rd. That explained why I never saw Dan again. Ranger Derek couldn't find Dan anywhere in the described location, but instead found Rufina, who was happy to get a ride back in the air-conditioned SUV. I thankfully declined and walked back on my own. To my surprise Peter was not in the parking lot although I took quite the breaks at Tule Pond, where we separated and at the Windmill. And I had not passed him on Serpentine Trail. Later Dan showed up to all our surprise as Ranger Derek was searching for him all over the place. Now Ranger John showed up in the parking lot, not being happy at all. Dan told him that his cell phone went dead and he couldn't call to let them know that he was moving on after an hour of waiting with no one showing up. When we told Ranger John, that Peter and Yipeng are still not back, he became pretty tense and wanted to see a hike map to understand where they would most likely walk.
So what happened? Peter had gone up Wilson Peak Trail with several rest stops, which is why I didn't pass him on Serpentine Trail. Yipeng, whose thermometer showed a maximum temperature of 112F had taken it slow. Both showed up eventually - first Peter and then Yipeng. All was good! The rangers had offered Yipeng a ride on the last quarter mile, but she declined just like I had. Ranger John sped by our group without stopping, while Ranger Derek stopped and exchanged a couple of friendly words. He too had measured 112F as the highest temperature. It seems like the forecast of 112F was spot on and 1-1-2 was indeed an omen for 'emergency'. Luckily nothing really serious, but a brush with the harsh reality of heat while hiking.
Dan's writeup:
It was supposed to be a hot day for a hike. We all knew that. The night before, I packed 3 liters of Nuun water, salt tablets, and two empty Nalgene bottles to fill up once I got to Dowdy Ranch. After 3 hours of sleep, I got up at three, got ready and made the drive down from San Francisco to Hunting Hollow.
I started the hike with Richard, who I'd never met, at around 6 AM. We missed the turnoff to the Steer Ridge Trail but after realizing the mistake, backtracked for the steep climb up to Wilson Peak. The air up there was warm but not oppressive.
As we were coming down from the peak, Mihail was going up to it. It didn't take long for him to catch up and leave us behind. Chinyet passed by sometime after. As we were reaching the Vasquez Trail, Richard, who didn't plan on doing the whole track, headed back, just in time to see Manfred pass by. By the time I made it to Dowdy Ranch sometime before 10, I'd hiked close to 12 miles with over 4K of gain.
The air got hot way before Dowdy, maybe not the 112 degrees it would get up to, but hot enough. On the way to Dowdy, I entertained fantasies of a general store where I'd buy ice and abundant liquids to cool off with, maybe eat at the local grill. Ha. Dowdy has pit toilets, some type of (closed) park building and a picnic table near a spigot with cool water. For about a millisecond, I thought of walking the 7 miles to Hwy 152 and hitchhiking back to my car but thought better of the idea.
With Mihail and Chinyet long gone, Peter left next, then Christina, then Manfred, Yi Peng and I took off, hoping Rufina who was still on the trail to Dowdy, was OK. My water bladder and the two Nalgene bottles were filled to the brim. I had to leave my ice fantasies behind though.
On the way uphill, I wasn't far from Manfred, catching up a few times but he was always ahead. At one point on the Center Flats Trail, I found him and Peter resting in the shade and took a break. No-one had to twist my arm. In time, Peter took off and later Manfred and I did too. At some point I didn't try to keep up with him, it was enough to stop every so often and cool off in the shade of an Oak.
About a mile away from the Wagon Trail both quadriceps froze up in painful cramps that forced me off the trail and onto a cluster of rocks. I thought my debilitated condition meant the end of the hiking day and was only too glad to call Park Headquarters to see if there was a way out. There wasn't but I was told a ranger could come get me. Not quite as fast as Lyft or Uber but I didn't complain.
In time Yi Peng showed up and told me my big mistake was trying to keep up with Manfred. With 20/20 hindsight, I agreed. Yi Ping turned down a possible ride with a "No way" comment and after about 30-45 minutes, I discovered I could walk again. What was to keep me off the trail now, the heat? No way! I began this march to the gates of hell and back with the idea of getting more attuned with hiking in the heat and if I could I was going to finish. Perhaps an INCH black leaf or thinking I'd be razzed for taking the ride of shame influenced me but whatever it was, I took off and in time caught up with Yi Peng, being careful when my quads seemed like they'd seize up again. I never got a chance to call park HQ to tell them not to come, which was good for Rufina. I had an idea my quads would give me more trouble and by the time I realized I'd be ok, the battery on my phone was out. Oops!
The rest of the climb I might as well have been a turtle or a snail without a protective shell. The sun's rays were pummeling me. The heat really does sap your strength. It killed all motivation and any sense of making decent time too. Looking on the map, there were two ponds that looked like a good cool off spot but both ponds were low on water and full of algae. With about 1/2 of water left, my only motivation was to make it back to the car; alive if possible.
Near Wilson Peak, I ran into Peter and took a break with him before we headed down the Middle Steer Ridge Trail. Talk about a steep downhill. My quads just loved it!
In the broiler oven of Coe, the beauty of the rolling brown hills, sparsely peppered with oaks, gets lost in the heat. Throughout the hike, the hills seemed endless. The numerous false summits only made them worse. At least on the final downhill stretch, I really could see the end of it all, even if that last three miles seemed like it was never going to end.
Peter's writeup:
We all knew it was going to be brutally hot, but we went ahead anyway. George started super-early, before 2am, with the plan to be back at the start before noon. That was too early for me, but I figured a 5am start should get me back to Hunting Hollow by 3pm. The main group was planning to start around 6am, and I had no doubt they would soon pass me on the trail.
Normally, I don't sleep well the night before these big hikes. I keep getting up, looking at the clock, and trying – unsuccessfully – to fall asleep. But this night was different. I went to bed at 8pm and got a solid 6 hours until 2am. At that point I should have just headed out, but I decided to stay in bed. I finally headed out at 4am and got to the trailhead at 5.
I pulled into the dark parking lot at Hunting Hollow and looked for George's car. I was greeted by a pack of howling coyotes, so I was afraid to get out of the car (even though I badly wanted to use the bathroom). I beeped my horn and flashed my headlights and they eventually scattered, but my nerves were pretty jangled. After fumbling around with my gear and triple-checking that I had not forgotten anything critical, I was just about to head out around 5:20 when Sarbi pulled in to the lot. We exchanged a couple of quick greetings and off I went. I was sure I would be seeing him again shortly, and the added bonus was that he could help identify my body after the coyotes had torn me to shreds.
It was in the mid-60s as I headed up the Steer Ridge, but it felt muggy. I don't know where the humidity was coming from, but I knew that was the least of my problems. About halfway up, I started hearing grunting and snorting off to the side of the trail. I was guessing it had to be wild pigs. I was right. I flashed my headlamp over in the direction of the sound and a couple of big ones went scampering off. Early morning encounters with nature at Henry Coe!
I kept slogging up the hill. As expected, Sarbi blew past me with about a mile to go to the peak. From then on, a steady stream of people passed me between Willson and Vasquez Peaks – Chinyet, Brad, Jim, and Shuli. I told folks that I might call an audible at Rock Springs and turn back (that would give us about 16 miles and decent elevation on the day), but they kept on going. When I got to the rise above Rock Springs, I sat down for a few minutes to have a late breakfast. I was feeling fine, so no real thoughts of calling the audible, but in my gut I was thinking that this was the point of no return. Beyond this, you're pretty much committed to go to Dowdy, and then it's a looooong way back. As I was finishing up, Mihail came bouncing along, chipper as usual. I had cut a mile and some significant elevation off from the hike plan during the week, but he told me he was going to do the full route, which involved dropping all the way down to the Sherrer Trail after Dowdy, adding about 1000 feet on the day. Crazy guy!
Manfred caught up to me just before Vasquez Hole. Then came the big climb up Dormida. I was glad it was still relatively early in the morning and had good shade cover most of the way. As I approached the top of the trail, I could see Manfred had made the turn and was on the trail that goes around Burra Burra. I stopped briefly to catch my breath, then contined on. As I got within a half-mile of Dowdy, I saw Manfred was sitting under a tree. I wondered why he had chosen to stop at this point when he was so close to Dowdy. It turns out he had seen a big deer and stopped to take photos. Brad had also seen the same deer a few minutes earlier – "magnificent stag", as he put it. I thought he was referring to me, but it must have been the heat.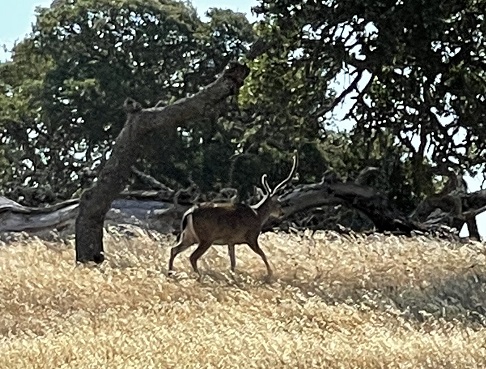 This guy had half a horn missing, but was still impressive
It took me about 4.5 hours to get to Dowdy. Not my best time, but not too bad. I was careful not too take too long of a break there – that has been my downfall in the past. I had a quick lunch with Brad, Jim, Shuli, and Manfred. I did not even take any of George's ice creams (damn!). But I did take off my shirt and hat and gave them a good soaking – I got this tip from a ranger at the Grand Canyon on my first R2R trip back in the day (yes, I know there's no writeup). As I was getting ready to head out, Christina and Dan came in. Dan looked OK, but said he was struggling and was debating walking out to Bell Station to get a ride. I heard that Yipeng and Rufina had also been struggling. I was hoping they would also stay put and call for help at Dowdy. The clock was ticking, so I loaded up with a gallon, but just before leaving I made a fatal mistake and said to Brad, "This hike has been pretty good so far". That got Big Henry's attention.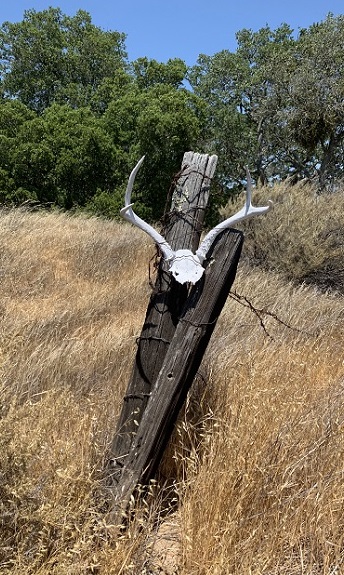 Even the deer were suffering in the heat
It didn't take long for me to eat those words. Less than a quarter mile after Dowdy, I missed a left turn and ended up dropping down a couple hundred extra feet before I realized my mistake. I caught the Center Flats Road and began the grueling 4.5 mile trek around 11am. It always seems that when you leave Dowdy the temperature is significantly higher than when you arrived, and this was no exception. It wasn't noon yet, but Big Henry was already bringing the heat. The heavy gallon on my back was not helping. My neck and shoulders were starting to hurt. It's always a delicate balance between carrying enough water to get you through the hike but not overloading yourself.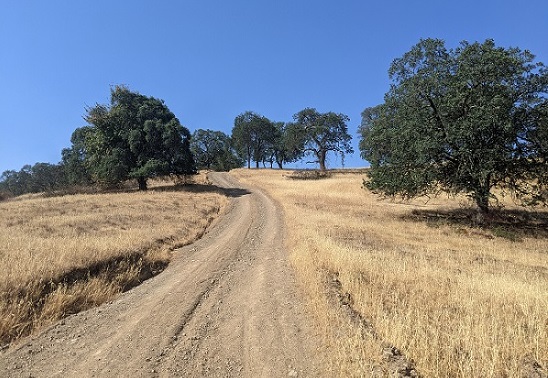 Center Flats Road begins ...
I kept grinding along, setting mini-goals for myself to get to the top of the next rise, get to the next tree, etc. This was going to be a death march. I was stopping every quarter mile or so. The only good news was that I was on a main fire road, so hopefully someone in a truck would come by at some point. On one of my longer breaks, Manfred and Dan caught up to me. Dan had decided to walk back. They confirmed seeing Yipeng at Dowdy, but no news from Rufina. I scraped myself off the dirt and headed out. This pattern repeated itself over the next few miles – I would go up ahead, collapse in the shade, and then Manfred would catch up to me. He was only carrying one liter of water all the way back and did not seem to be struggling in the least – amazing! Meanwhile, I was accounting for every drop – should I pour the nasty hot water over my head or drink it? There were no good options. If I could have gotten signal I would have thrown in the towel and taken the Ride of Shame back, but no such luck. I would have to drag myself out of this. My only other option was to just wait until sundown, or maybe the next morning, to walk out. I knew there was a concrete bathroom at the intersection with Wasno, so that would give me shelter during the night. I just had to get there.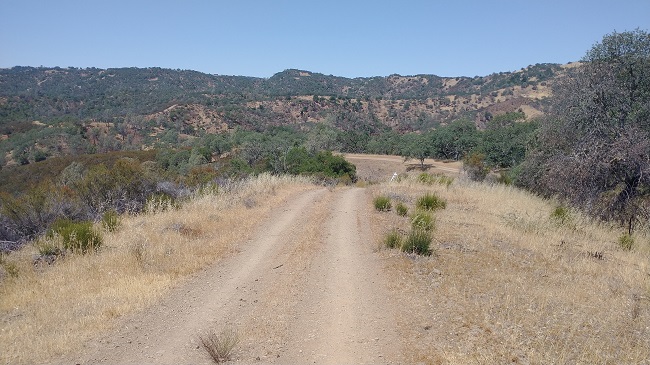 Shuli had no problems on this hot day
The Center Flats Road continued on and on, with no end in sight. After every hill, there was another. Heartbreak after heartbreak. I was on rubber legs at this point. I was light headed and had to lie down under a tree for a long time. All kinds of sharp stalks, twigs, poison oak, and burrs were stabbing me in the back, but I didn't care. I just wanted to get out of this f***ing place. I packed up one more time. I would get to the top of the ridge or die trying.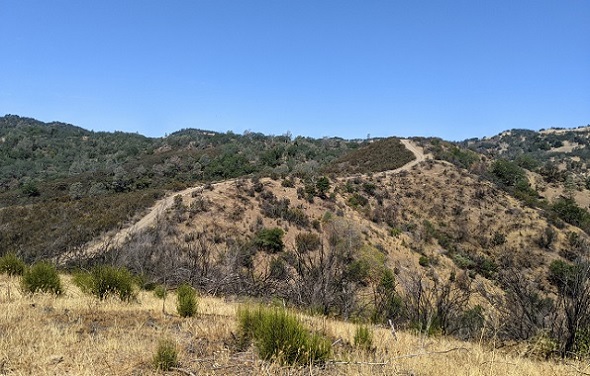 The endless road in the blazing sun
After an eternity, I made it to the top. Finally off the Center Flats! I thought I would never get there. From here, it was a tough, but manageable, mile to the intersection with Wasno and the aforementioned bathroom. When I got there, I threw my backpack on the ground and collapsed once more. As I was just about to drift off to sleep, I heard footsteps – it was Manfred. He lay down next to me in front of the bathroom door. Normally, this would be a little strange, but it made perfect sense at the time. Big Henry was throwing knockdown punches left and right.
One more time, I gathered up all my crap and reluctantly hit the trail. It was slow going, even on the flat trail. My goal had been to finish by 3pm and it was already past 4. I had 6 miles to go – about half a mile along Wasno, ¾ mile downhill to Grizzly Gulch, ¾ mile along the Gulch, a mile up to Willson Peak, and 3 miles back down to the car. Another option was to go back via Willson Camp. Pros: less elevation gain due to cutting out Willson Peak, and potentially water at the camp. Cons: one mile+ more distance, less shade, no guarantee of water, harder to be picked up since I would have deviated from the planned route. I decided to forego this option and stick closer to the original plan. I would learn later that Mihail took this option; in retrospect, I should have done the same because I really needed more water.
The key was the mile uphill back to Willson Peak. The official route was to take Serpentine up, but I decided to take Willson Peak Trail – even though it's steeper, there's more shade. But before I could attempt the uphill, I had to take a long break in the Gulch. This was my longest break of the day – probably close to half an hour. I was down to my last few drops of nasty hot water. I just lay by the side of the trail in a pile of leaves, hoping that a rattlesnake would not come along (my recent rattlesnake experience at the Pinnacles was still fresh in my mind).
I finally summoned up the will to get going. The break had done me good and I started well, but it didn't last long. The bottom portion of the Willson Peak Trail is also the steepest. I ran out of gas again. My heart was pounding after a few steps. I sat down on a dry rotten log, but it collapsed under me, with a sharp piece of wood stabbing me in the butt. Big Henry adds insult to injury. Time to go on a diet, Fatty! Arms and legs scraped up, I picked myself up again and kept going. Just one step at a time.
I finally made it to Willson Peak and threw myself down by the side of the Steer Ridge Road. I finally felt confident that I was going to make it back. It was after 5pm. I'd been out for 12 hours. My usual round trip time to Dowdy is about 10 hours. I was not looking to set any records on this day – just get out alive. I drank my last few drops of hot water and waited for my heart rate to come down. I figured Manfred had taken Serpentine and was probably close to being back by now. The only ones behind me had to be Dan, Yipeng, and Rufina. Hopefully they had gotten a ride. Just then, I saw Dan coming over the top of the rise. He seemed in good spirits.
We headed down the Middle Steer Ridge Trail together. It was all downhill, but easier said than done. I had to stop a few times, take off my pack and lie down. This trail always seems endless at the end of the hike, but even more so on this day. Dan went on ahead. At least he would be able to tell them to send help if needed. I began to have serious doubts that I would be able to make it down. The thought of being attacked by a bunch of angry boars at night motivated me to keep going. Each step was painful. I finally reached the bottom and collapsed once more.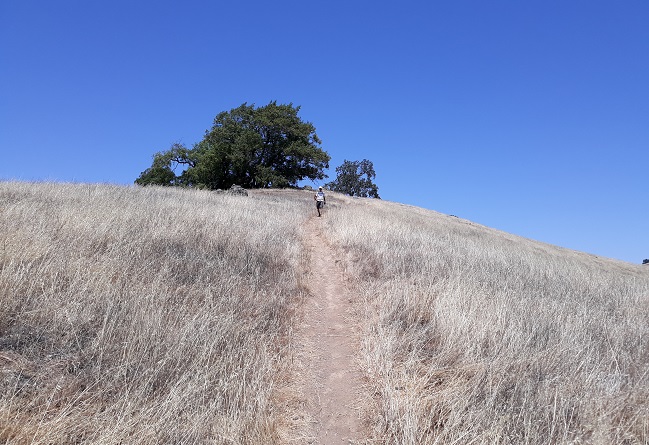 Jim in the home stretch coming down Middle Ridge
It was only ¾ mile back to the parking lot on a flat road, but it seemed like an insurmountable barrier. I had nothing left in the tank, but I could not quit now. I just had to think about other things. I was planning my rest stops for the remainder of the way – I knew there was a bench about halfway along the trail. I could stop there for another rest. As I was stumbling along, I saw Ranger John's Jeep coming down the dusty road. He stopped and asked me about Yipeng, and in a hoarse voice I replied that I had not seen her all day but I heard she was not too far behind. He was not happy with me for letting people hike on their own, especially on a scorching day like this – valid point. He continued on down the road to look for her, while I finally stumbled the last half mile back to the parking lot.
I think it was close to 7pm when I finally got back. It had taken me about 4.5 hours to do 11 miles / 3500' on the outbound trail, and 8+ hours to do 11 miles / 2500' on the way back. Mihail, Sarbi, Manfred, and Dan were still there but everyone else had taken off. I collapsed in a chair and downed some cold water and poured some over my head. Oh man, what a day! It turned out that Dan had called for a rescue, but not taken it, but Ranger Derek had seen Rufina along the trail and picked her up instead. Ranger John found Yipeng about a half-mile down the road, but she walked back in. Glad everyone made it back safely!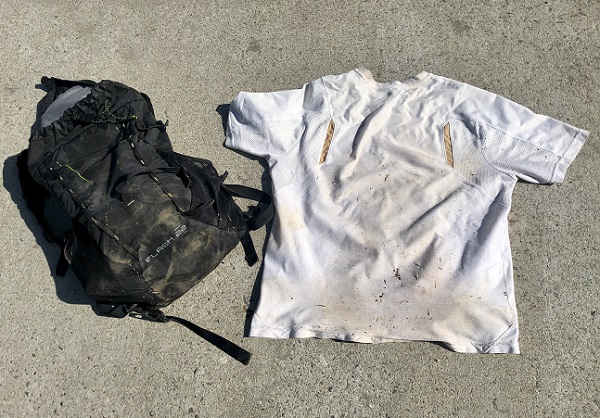 I spent a lot of time lying in the dirt -- probably close to 2 hours altogether -- on the return leg
p.s. I purposely did not advertise that it was my 604th hike, so luckily no 151 shots for me. That definitely would have killed me. I had 4 beers the day after the hike instead (to get that water weight back).
Honorable Mention to Rufina for doing a good portion of the hike before being picked up by Ranger Derek and taking the Ride of Shame. I wish I had been so lucky. Kudos also to Rich H for doing the first part of the hike up and around the Willson Peak area (as he had previously indicated) and getting 15 miles on the day.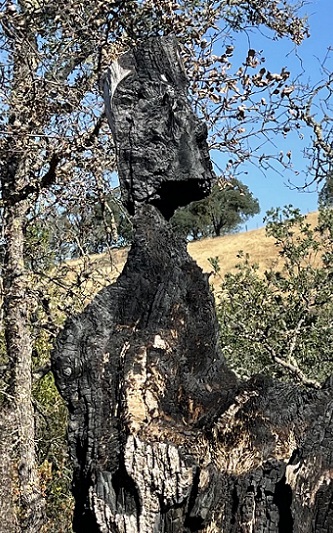 George says this tree stump is like an INCH hiker screaming in pain (or saying, "Screw you, Peter!!!")
Milestones:
Peter's 151st leaf (and shot) × 4







Pages maintained by Steve Walstra, Peter Saviz, and Russell Gee.
©2022 Intrepid Northern California Hikers