1256. Ukraina Loop (07/17/21)

Hikers (38): Arlene, Bjorn, Clive, Cogsworth, Crystal, Dan, David A, Ellen, George, Giulia, Helen, Hong, Jeff, Jim, Kathryn, Kevin, Le D, Lina, Manfred, Max D, Mihail, Milon, Nagendra, Nohemi, Otis, Peter E, Peter M, Praveen, Qi, Ross, Rufina, Sandy F, Sarah, Sarbinder, Shuli, Steve, Susan S, Yipeng
Distance: 15 miles
Rating: 2 difficulty, 7 beauty
Park info: Garin & Dry Creek Pioneer Parks near Union City

Write-up by Steve -- Pictures by Jeff, George, Hong, Jim, Shuli, Sarbinder, Mihail and Steve
The former farm of Agapius Honcharenko has been an unconnected piece of Garin Regional Park for a long time. Noticed an existing ranch road in Garin had been officially declared a trail, and that trail connected to a sub-division road that allowed easy access to the trail to Ukraina.
Decided to make it a loop starting from Dry Creek Pioneer. This would make the hike longer and the parking cheaper. The parking was full by the time I arrived, but there was ample street parking a short distance away.
It wasn't just a loop--it was three loops. I figured people would get lost, so mentioned everyone should Always Be Going Counter Clockwise (ABGCC). George made buttons to remind everyone of this crucial fact. Really! Always thinking outside the box.
1-2-3 INCH
I'd planned the shadiest route possible. Nohemi, Susan S, and Bjorn bolted out ahead, missing the shaded canyon route we took up to the ridge. This was in the first ten minutes of the hike. Did I mention they had the GPS route and saw the other 30+ people going the right way? Black leaves all around (

).
As we walked along High Ridge, Jeff took a detour to visit Gossip Rock, one of the Nifty Ninety.
From the ridge, we headed down to Newt Pond and then back up the Vista Peak Loop to (new to INCH) Bailey Ranch Trail. That ended in a sub-division. A few turns later we reached Carden Lane, where most people park to reach Ukraina Loop.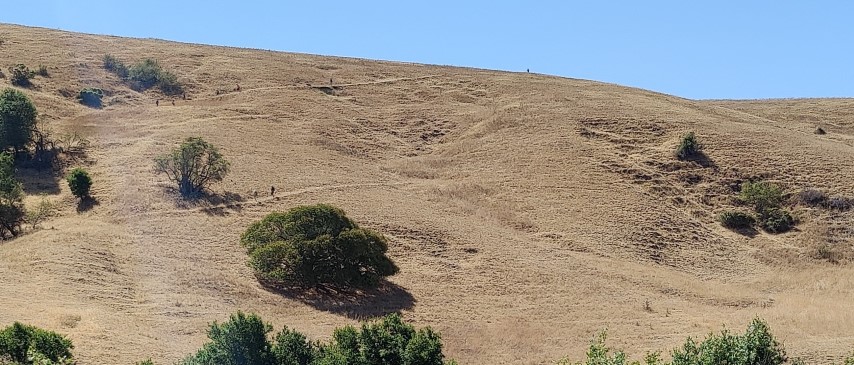 INCHers coming down Newt Pond Trail
Not a bad place to rest. . .
. . .with good views across the bay
There is a short spur along the loop to visit California Historical Site #1025, which includes the grave sites of Agapius and Albina Honcharenko, along with some nice views of the Bay. We continued counter clockwise. . .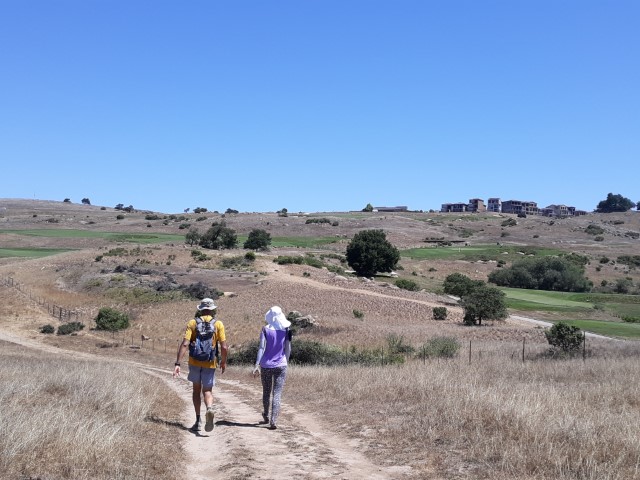 Returning Counter Clockwise on the Ukraina Loop
Took a detour on the way back to visit Jalquin Vista Park. Ran into Sandy F near the entrance--he had the same plan. We headed up the long staircase to the mini-summit. It would be a nice place for a picnic. Even better, it was also a loop, as there was a different route back to the entrance, following the loopy trend. Sandy and I parted ways as I proceeded a different way farther into the subdivision to pick up an unnamed trail off Mystic View Court that connected back to our route with a few geocaches along the way. That route merged back into the standard route near where the INCHers are in the picture two below. . .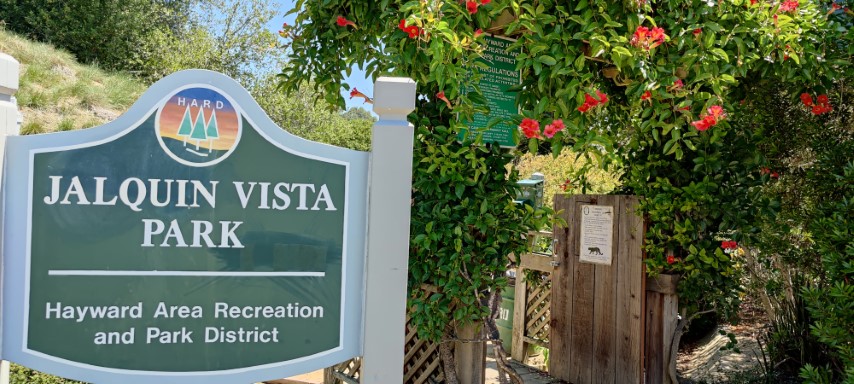 Stopped by this small park on the way back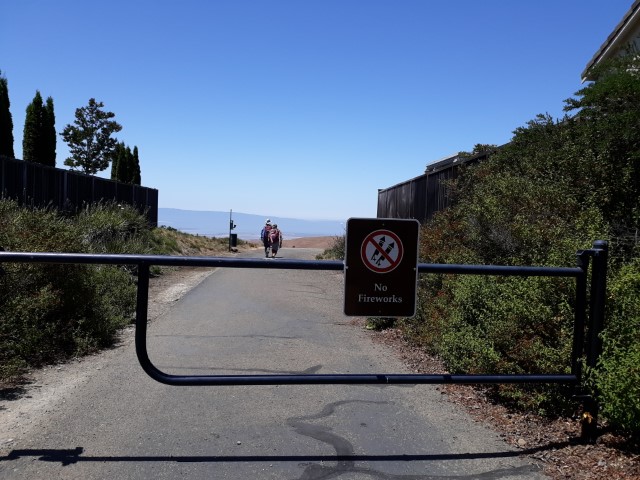 Leaving the sub-division
Next up was Garin Peak. I'd put it on the route. Not sure why, but there is no official trail to the summit nor signs pointing to it. Seems weird that Garin Park wouldn't celebrate Garin Peak. The Vista Peak Trail passes just underneath Garin Peak, so it's a short detour to the summit. Vista Peak is 14 ft shorter than Garin Peak and, at this time in history, has less of a vista. Oh well. Passed Rufina and Praveen on the trail up to the peak and directed them up there as I came down--Rufina was less than thrilled about the detour, but was no doubt joyous upon reaching the summit. Was happy to hear later that most people did visit the summit.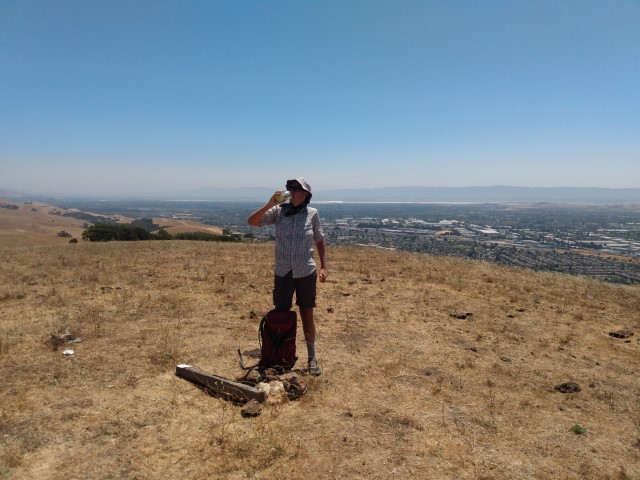 David bags Garmin Peak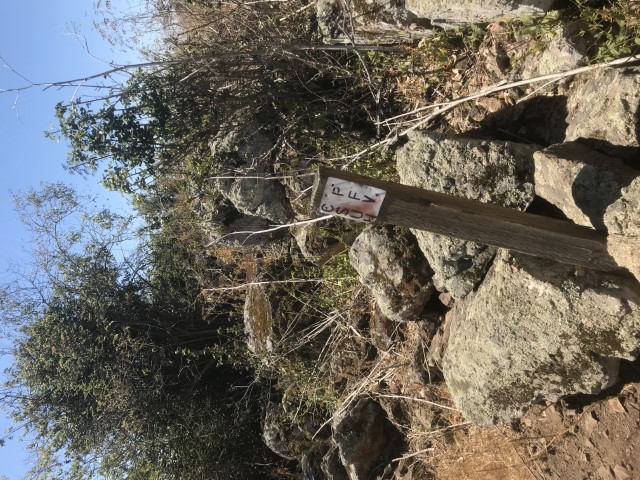 Near Vista Peak. Jarda noted that the left text is "CSU Hayward", but what is "PFV"?
Rocky Route
From Garin Peak, it's downhill all the way to the cars. I'd picked a specific route near the Garmin entrance that turned out to be an alternate equestrian trail. That's probably why I hadn't taken it on prior visits. Passed some INCHers just before that junction and, upon taking that route, was walking back toward them (on the other side of a fence). They skeptically asked if I was on the correct route--I said they could take the road as well (which they did). Was happy to discover the route I picked ended up in an picnic area with a water faucet, which I happily used to fill up another 2L. Could see a lot of parties going on closer to the parking areas--this park was rocking.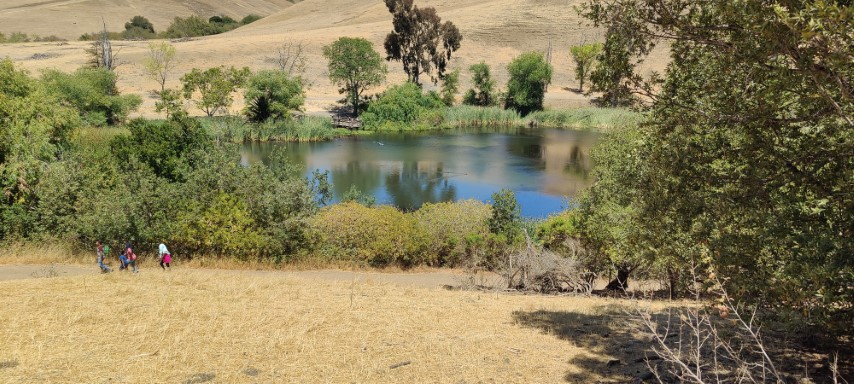 Jordan pond from a different angle
The highlight on the way back was picturesque Jordan Pond--several people submitted pictures of it. I went around the pond, up Peak Loop Trail, then down High Ridge Loop Terrace to add some new trails.
As I reached the parking area, a small circle of INCHers had already kicked off the post-hike party. It would grow to an impressive size as the day wore on. People were happy to take a break after the hot hike before heading home. Good times!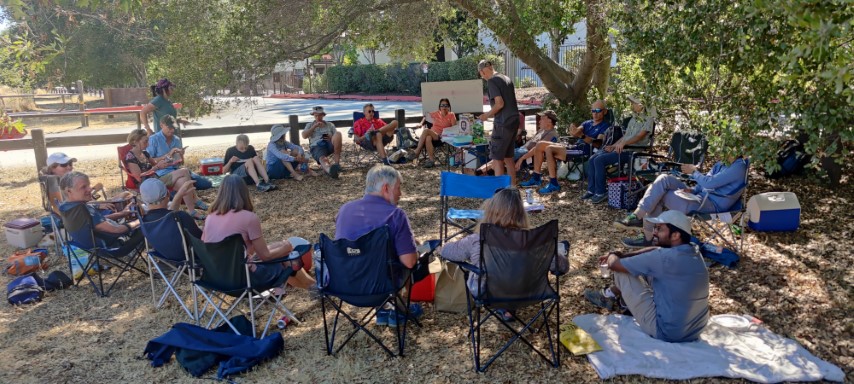 INCH enjoying the shade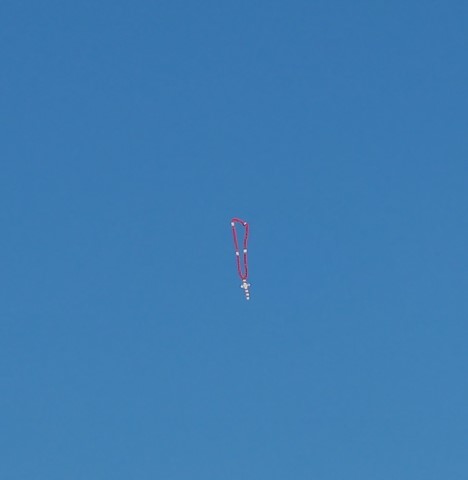 Reverend Honcharenko joined the party from above
Milestones:
Max D's 1st leaf
Sarbinder's 250th leaf







Pages maintained by Steve Walstra, Peter Saviz, and Russell Gee.
©2022 Intrepid Northern California Hikers