282. City Hike (09/07/02)

Hikers (22): Amanda, Angela, Cal, Christina B, Cynthia, Eugene, Hoy, Janice, Jason, Jeff B, Jinglan, Laurie, Miwako, Patrick, Paul C, Peter, Russ, Steve, Sue B, Sue C, Taylor, Wei-Kai
Distance: 5 miles
Rating: 2 difficulty, 8 beauty

Write-up by Steve -- Pictures by Cal
The big plan for this hike was to meet up at the Buena Vista Café, hike from there to Sausalito via the Golden Gate bridge, grab a bite to eat, and catch a ferry back to San Fran. We've done this hike a few times, but this time around we had the bonus of the Ghirardelli Square Chocolate Festival, which was going on that day in Union Square. Figured we could catch the tail end of it as well. Yum!
Any visit to The City requires a trip to the Buena Vista--it's INCH tradition. So we actually met at the bar. Every time we return to the BV, it seems they have raised the price. . .but we keep coming back anyway. Red Snapper all around!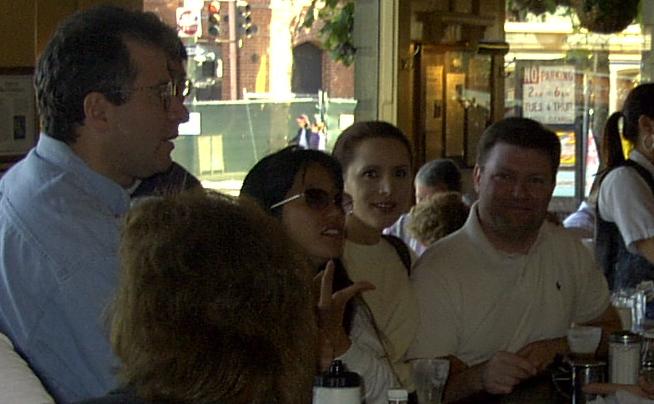 We hike because we love to eat. . .and drink!



A strong turnout of 22, including six newcomers, resulted in massive inertia at the start of the hike (exacerbated by the drinking, no doubt). Once we all got out the door (and everyone got introduced, which was no small feat), we did the cheer and set off.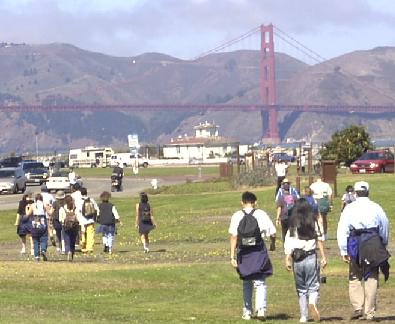 The INCH invasion force sets off to conquer the Golden Gate bridge



We split into two groups near the Presidio after the first "pit stop". Several people kindly stayed behind to merge with late-coming Eugene and Janice. This resulted in perhaps the slowest hike in INCH history, with me taking head count every five minutes like a kindergarten teacher overseeing a field trip to the zoo. But after a couple of cell phone calls, and a lot of waiting, all 22 met up at the GG bridge.



From L to R: Jinglan, Patrick, Miwako, Weikai, Cynthia, Christina, Laurie, Hoy, Taylor, and Steve loiter while waiting for the second group to catch up.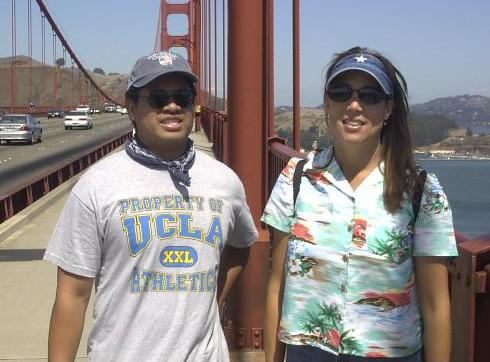 Russ and Janice pose for the requisite "bridge shot".



After safely crossing the bridge (a couple of people not so fond of heights zoomed across), we split up to forage for food in Sausalito. After consulting the ferry schedule, we found that in order to make it back in time for the chocolate festival, people would either have to eat very quickly (and leave), or catch one of the later ferries and miss the festival. We called the hike "finished" at that point to make it easier to coordinate. Most enjoyed various restaurants around town (with some of the guys opting to watch a little college football afterwards while waiting for the next ferry. Go Gators!).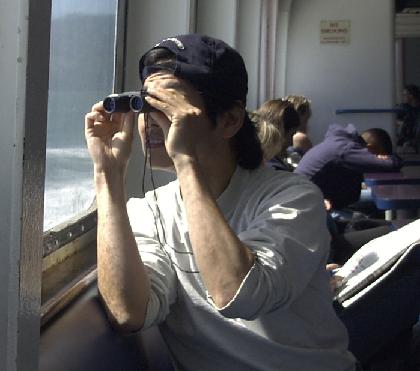 In a terminology mixup, Eugene brought an eye-piece for his ferry ride.



Eventually the "second fleet" of us made it back. Since the Chocolate Festival was over by then, we were forced to revisit the Buena Vista to enjoyed many delicious Irish coffees (and an unexpected parade of Eugene's girlfriends). One couple (Jinglan and Patrick), who took the earlier ferry, reported that the Chocolate Festival was "OK", but the sampling fee was too high. So maybe the BV wasn't such a bad choice after all. [Except for Russ, who ended up losing some of his Irish Coffee investment on the way home--but that's another story]


Milestones:
Amanda's 1st leaf
Hoy's 1st leaf
Jeff B's 1st leaf
Laurie's 1st leaf
Paul C's 1st leaf
Sue C's 1st leaf







Pages maintained by Steve Walstra, Peter Saviz, and Russell Gee.
©2022 Intrepid Northern California Hikers