520. White Mountain (08/13/06)

Hikers (12): Carissa, Chester, George, Hima, JP, Ross, Rudi, Russ, Sabine, Steve, Walter, Wennie
Distance: 15 miles
Rating: 5 difficulty, 9 beauty
Park info: Inyo National Forest near Bishop, CA

Write-up by Steve -- Pictures by George and Steve
Time for a "big" INCH hike, and White Mountain fit the bill. We were even set up to do a little scientific experiment by having three groups acclimate at three different altitudes the night before:
Sabine was in Mammoth Lake (~6-7k ft)
Hima, Russ, Walter, Wennie, Ross, and Steve stayed at Grandview campground (8.7 k ft)
Chester, Carissa, JP, and Rudi camped at the trailhead (11k ft)

Many of us had hiked at 11k the previous day, and others had even been hiking a few days prior as well. Ross, Chester, and Carissa were the only ones who hadn't hiked at least once in the past few days. Would it make any difference? Read on!
Those of us in Grandview camp had to get up pretty early to make it to the trailhead on time. It wasn't that far away, but most of the road was unpaved, so it is slow going. Sabine had to come from even farther away, and I was sure she wouldn't make it on time. But as the hour approached, there she was.
1-2-3 INCH!
We left right about on time at 8:10am. The initial section was a little steep, but no big deal. Soon we were at the Barcroft Research Station (land o' sheep), and a little later passed an observatory that marks the first time the trail goes down. It's a good landmark to remember, because it marks the last uphill of the hike on the return trip.
From there, we could first see White Mountain, still far away but accessible.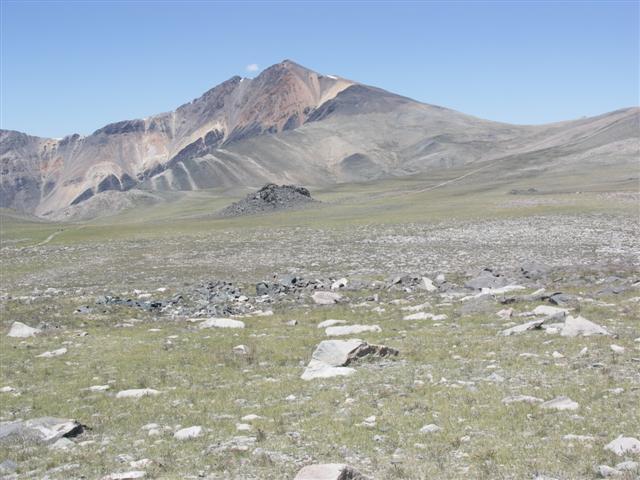 Ready or not, here we come!
By the time we got to the real base of the mountain, we had spread out dramatically. George had passed Ross for the lead, and Sabine was between Ross and me. I tried to pick up my pace, but couldn't go any faster. It was a different high-altitude sensation than past hikes--didn't feel tired, but had absolutely no ability to push myself.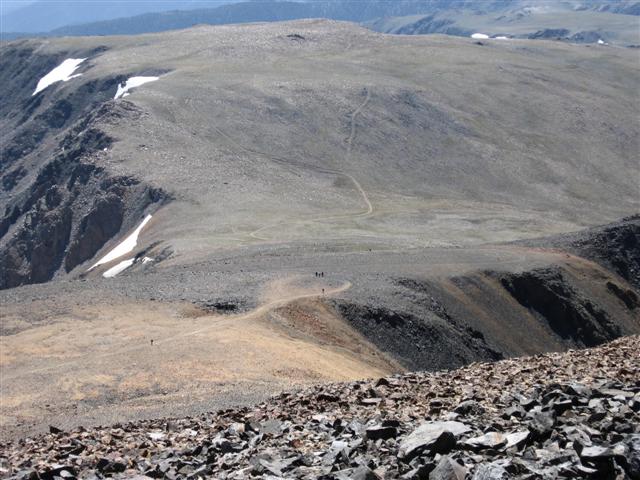 Strung out INCHers
The trail wound its way very slowly to the top. One could regularly see the small research building on the peak, and yet like a mirage it didn't get closer. Snow blocked part of the trail, forcing us to take a steeper route. It was then that you could tell you were at altitude--what would normally be a quick hike up a short, rocky slope became considerably more deliberate. Regaining the road/trail felt like a victory.
Got to the peak just before the 3 hour point, which is pretty pathetic for 7.5 miles. George was up and about, chatting away. Sabine was kicking back, and Ross wasn't looking so good. One conclusion we can make is that acclimation altitude wasn't a big deal (since the first three people came from each of the three groups), although highest-altitude George definitely seemed to be faring the best. The rest of the group slowly made their way up, and in thirty minutes we had a everyone except Wennie and Hima. It might have been the altitude, but I swear I saw Chester and Carrisa eating a burrito up there. Huh?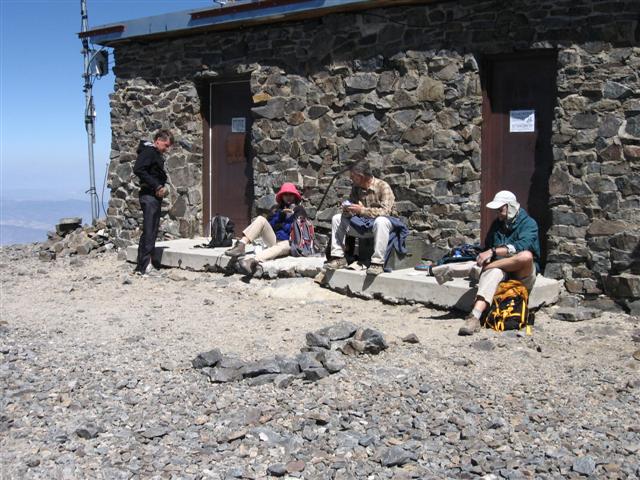 Chillin'. . .it got cold once the hiking stopped.
The views were great from the summit, and the air was clear, making us attempt to identify "nearby" peaks (we were especially looking for Whitney and Boundary/Montgomery). JP was digging the summit too, as it was another "highest peak" for him. On the several preceding days, he had been doing acclimation hikes with George and Rudi, and each of those days was a new "high" since all his previous hiking had been confined to the relatively low-altitude Bay Area. White Mountain is Mono County's high point--INCH's 13th county HP (and my 36th).
I had to fly to Oregon the next morning, and had a long drive ahead, so left after about an hour. On the way down, I ran into Wennie near the top--she didn't seem too enthusiastic, but I assured her she was near the top ("Look how close you are to the building!" Wennie: "I've been seeing that thing for a long time now."). Near the base of the mountain, I ran into Hima, who was wisely considering turning around. The guys at the top were keeping tabs with binoculars, so it was likely they'd head off if she turned around (if they hadn't already).
Sabine was ahead of me on the way down, and I wasn't closing the gap. I wanted to bum a ride off her down to the campground (to get my car), but had forgotten to ask. Luckily, I caught up to Sabine and Ross taking a break. It turned out that Ross was feeling dizzy, which was not so good because the gentle trail was not affording the rapid descent one prefers in this high-altitude setting. We pushed down some food and tried to set off quickly because the sooner we started, the sooner we'd be in thicker air.
Seeing the observatory in the distance was a happy sight, although it was a long way off and uphill. It was slow going, but eventually we all crested the hill and enjoyed the down hill from there. Rudi had caught up, but stopped to take more pictures and we eventually lost him again. Ross, Sabine, and I made it back to the cars, had some food and conversation, and then I angled to leave. Ross also had to work the next day, and was a little worried because he had carpooled with Russ and Hima. It turned out to be a non-issue though, as everyone showed up not too much later.
The drive back to the campground took forever, followed by an even longer trip to San Jose (some people had wisely taken the next day off--lots of cool stuff to see in the area, like Death Valley). All said and done, it was a good time and a great hike.
Milestones:
Highest point in Mono county
JP's 20th leaf







Pages maintained by Steve Walstra, Peter Saviz, and Russell Gee.
©2022 Intrepid Northern California Hikers