519. Sonora and Stanislaus Peaks (08/12/06)

Hikers (11): Carissa, Chester, George, Helen, JP, Ken, Rudi, Steve, Walter, Wayne, Wennie
Distance: 10 miles
Rating: 4 difficulty, 10 beauty
Park info: Carson-Iceberg Wilderness north of Yosemite

Write-up by Steve -- Pictures by George and Steve
Check out Ken and George's pictures.
INCH likes to visit county highpoints, so we hike a few every year. Some of them are regular hikes, like Contra Costa's Mt. Diablo, or Marin's Mt. Tam. Others are special trips, such as Monterey's Junipero Serra or Alameda's unnamed HP. For 2006, it was time for another special trip to Mono county's 14k+ ft highpoint of White Mountain. Before that, however, we needed a good acclimation hike. Why not Sonora Peak, at 11,459 ft? Did I mention it's the highest point in Alpine County?
The only problem with Sonora Peak is that it is a little too quick and easy, with no reason to stay at altitude for long. Sparky made the excellent recommendation of visiting nearby Stanislaus Peak in the process. This turned a great hike into a fun adventure.
Nine people were assembled at the early 8:30am start time at the difficult-to-spot trailhead near Sonora Pass. Our old friend Wayne, who hadn't been on a hike in four years after moving out to Arnold, was there. This hike was in his neighborhood for a change. At 8:35am, people were asking to start, but Walter and Wennie were missing. At 8:40am, another request came. I mentioned that Walter and Wennie were supposed to be camping, so would surely show up, but this wasn't a persuasive argument. I asked for a show of hands to start the hike, and the "waits" were outvoted, so we started. . .
1, 2, 3. . .INCH!
Honk, honk
Just before we crested the first small hill, a "beep" told us at Walter and Wennie had arrived. After a few minutes, we were all hiking up the hill.
A steep trail lead up to St. Marys Pass, at which point we could see an ominous Stanislaus Peak in the distance. We took a right up a short rise and across a plain to reach the base of Sonora Peak. The trail disappeared a bit after the pass, but a use trail was visible on the side of the mountain, so we headed cross country in the general direction. From there, it was a short, steep hike to a false summit and then to the peak.
The peak had a few wind shelters, but they weren't needed because the weather was cool and sunny. The surrounding Sierras still had snow patches, including immediately below our summit. We took the obligatory pictures while Helen, Carissa, and Chester chilled in the lower shelter. Walter came up, touched the highpoint, and immediately turned around. I asked him if he was feeling sick. Nope. He just wanted to get the heck off the summit because he doesn't like heights. Looking over at Stanislaus, it was clear he hadn't seen anything yet.
Stanislaus Peak (and lazing INCHers) from Sonora Peak
Once everyone made it up, we turned around and went back down. Several of us took cross-country paths to pick up the trail a little farther down, but it didn't save all that much time for anyone. Wayne had negotiated to skip Sonora entirely, so we figured he was well on his way to the top by then. A mile or so later, after crossing a beautiful wildflower-filled valley edge, we had reached the bottom of Stanislaus.
Stanislaus has no trail to its scary-looking summit. I thought there might be an easier route by swinging around the back of the peak from the right. This eventually took me to a sharp edge which plunged a good thousand feet. Whoops--wrong route. Helen had wisely waited for me to scout ahead, so turned back immediately. I hiked back down and around to the base, where George and Rudi were already half-way up the scree slope. As we made our way up, what first looked impossible, became increasingly more reasonable. The base was mostly sliding rubble, but the final steep section was solid rock, which make climbing up easier.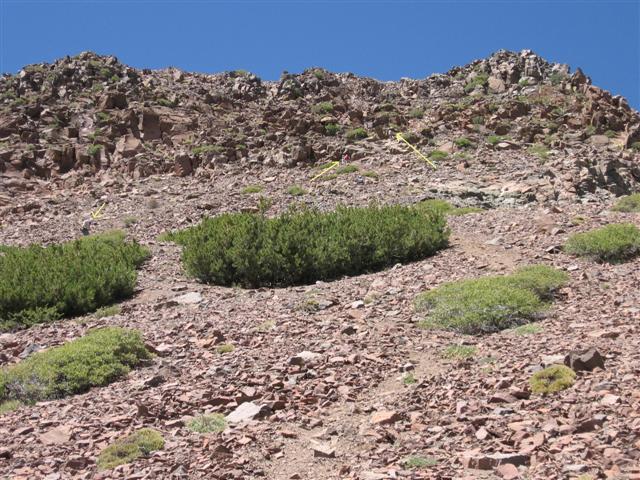 The last section (three yellow arrows point to INCHers)
Almost everyone slowly appeared at the summit, but where was Wayne!? About ten minutes after the first of us summitted, Wayne came from the other side of the mountain. He had taken a very long route down and under the peak (to the left of the initial trail), eventually coming up the "gentler" (and likely even more scree-filled) side. Good thing he started early.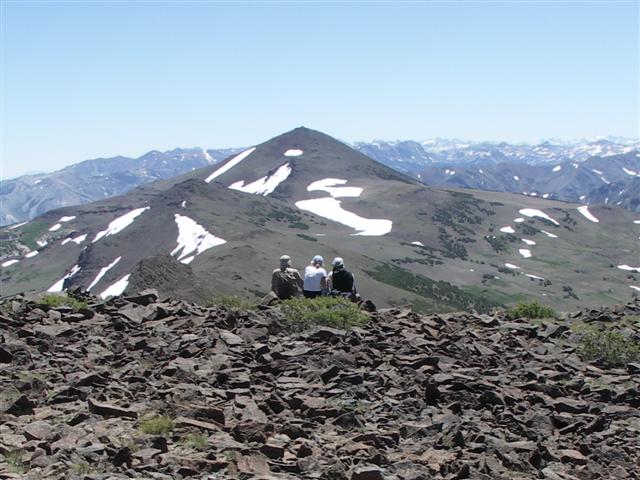 Sonora Peak from Stanislaus Peak
Wennie, and especially Walter, didn't want to come up the last section, so we met them on the way back down. No one was relishing the climb down the steep section, but it actually turned out to be easier than coming up. Soon we were on terra-firma, taking the St. Mary trail back through the valley.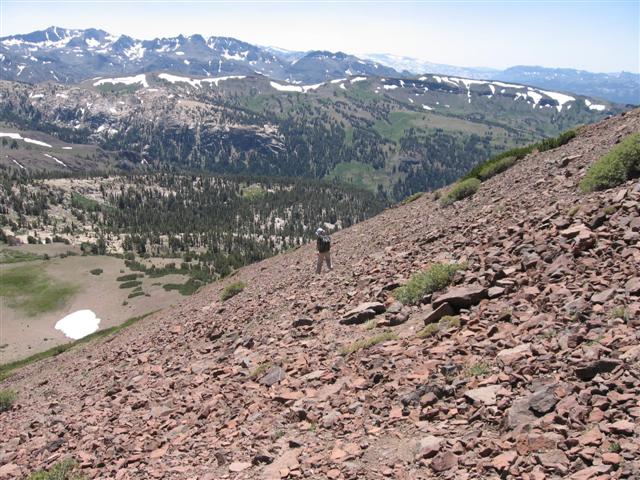 Going down Stanislaus
George and Helen stopped to take some glamor photos in the lush wild flowers--it really was a picturesque setting.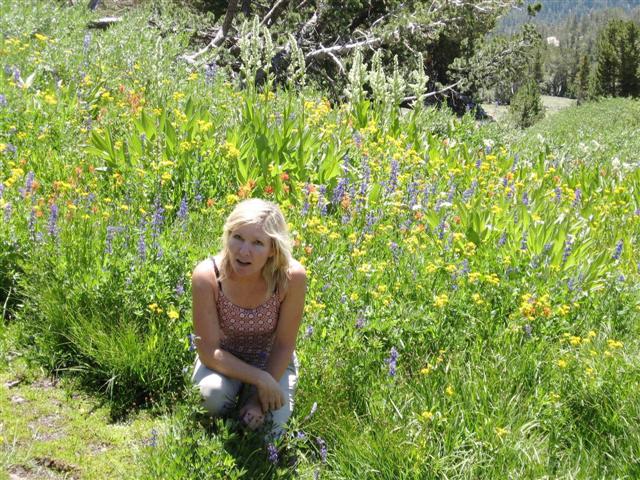 Flowery Helen
All-in-all, the hike was both harder, and better, than expected. Back at the cars, most of us still had more adventure left--the next hike was 150 miles away. I made a bee-line for Bishop (and the shower, and dinner) before heading to the Grandview Campsite. Helen went to Turlock (and home), while Wayne returned to Arnold. The rest of the group also went the Bishop route, but showed up at camp three hours after me (Hmmmm?). Ken met up with them in Bishop, but couldn't eat after the hike (and sun) and decided to skip the hike for lower altitudes.
Milestones:
Highest point in Alpine county
Carissa's 80th leaf
Helen's 20th leaf







Pages maintained by Steve Walstra, Peter Saviz, and Russell Gee.
©2022 Intrepid Northern California Hikers