Last time this was particularly tough, but it would be much cooler this time around. Shaved off a couple of miles as well because many people had a party to attend later that evening. . .

Things looked good from the start: No fees today. Hooray!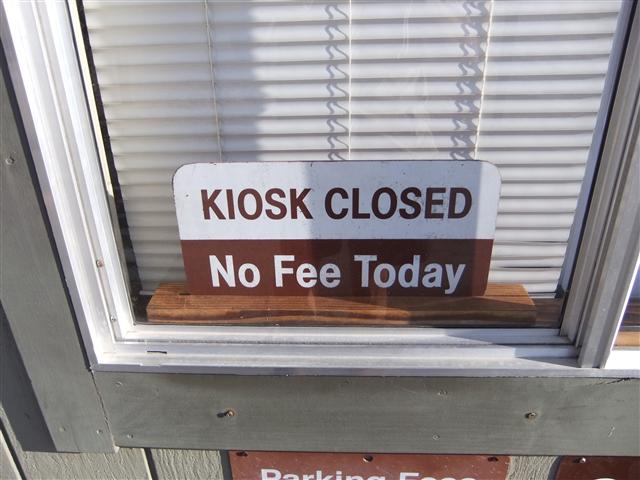 Best way to start a hike
1-2-3 INCH!
Ross pulled in as we were leaving, meaning all 30 people who had signed up were accounted for--an unexpectedly large turnout for a "distant" (relative to the South Bay) hike. In the hike notice I made a big stink about reading the map, so was happy to see 10% of the hikers (three!) look at their map for the first quick turn.
Within a mile of the start we were heading up the steep trail to the Rose Hill ridge line. It was a bit cold at the start, so was happy to generate some heat. Not long after getting to the ridge line, we left the trail for an old fireroad, hopped a fence (to keep cows in, not hikers out), and proceeded to the top of Rose Hill. This prominent peak no longer appears on the park map, despite being the namesake for the Rose Hill cemetery below.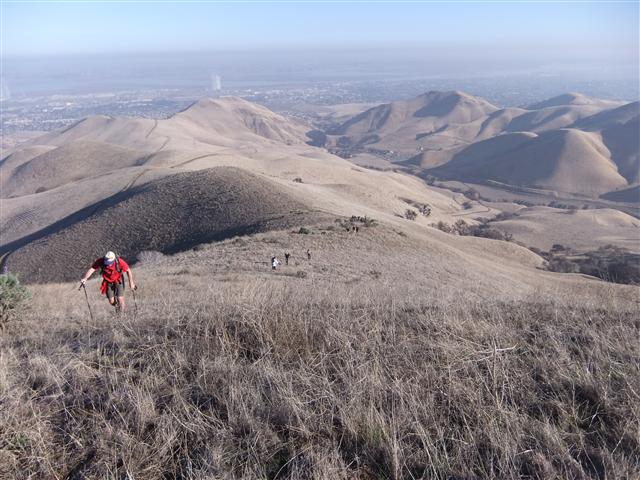 A little effort yields good views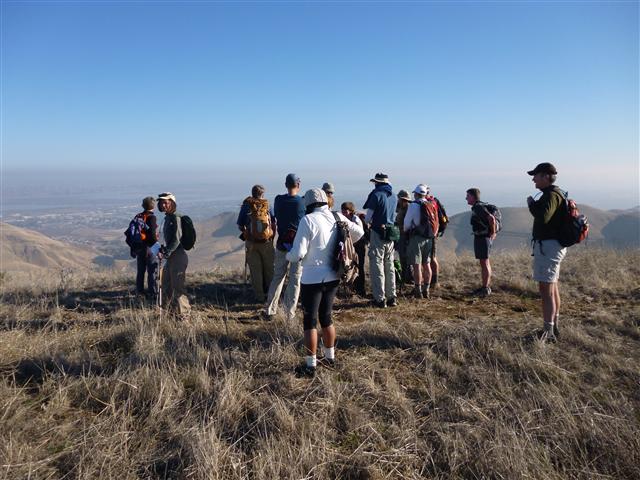 Chillin' on Rose Hill (and it really was a tad chilly)
We didn't get everyone to the summit before people started heading back down--it was getting cold and people were griping. On the way back to the main trail, I passed Angelika going the same direction. I asked her why she wasn't going to the peak. Apparently he couldn't get over/under/around the fence. Hmmmmm.
From there, it was a long way down to the next "map skill" part of the hike. I slowed down a little to see what would happen. John was paying attention and stopped at the crucial junction long enough to cause other people to stop heading straight. Ten yards from the junction was another fence to clear--a necessity to make the hike into a big loop. Another fence a mile later got use back into the park. . .and was a little harder to cross.
We took Black Diamond Trail instead of Coal Canyon Trail this time, mostly to see new views. Was guessing someone would miss this turn, but looked like the front runners made it. I left an arrow and slowly proceeded to catch up to the front pack over the next steep mile and a half.
That didn't last long, as a hilltop caching stop put me back toward the rear. As I reached the next turn, I watched the group ahead of me miss the turn for Manhattan Canyon. There was another cache there, so pointed out the correct trail for the person behind me and walked up the opposite hill. From there I could watch various people blindly follow the person in front of them, with only one or two checking the map. Couldn't help but think that if they had been a little earlier, they would have happily follow the errant group. This must be how kindergarten teachers feel. . .Anyway, came back down from the cache and talked to Russ for a while. Caught up to a few people at the intersection of Lower Chaparral and Ridge Trails who were discussing which way to go.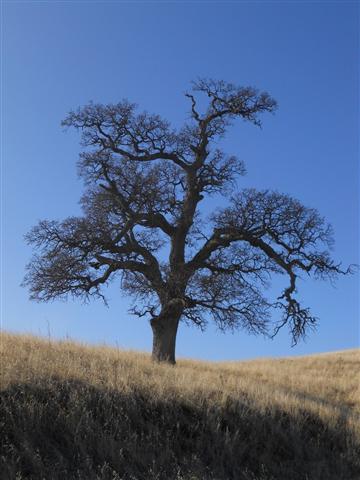 Given a million INCHers, this tree represents the routes they would take to get between two points on a map
The next major stop was the generically named "Overlook". We skipped this last time, so was glad to have a new destination. To get here, we had to take a couple sharp turns that I was guessing people would skip, but looked like everyone made it just fine. Lots of cows along the way, but no scary ones like our first visit.
Made an arrow for the turn-off to the overlook. Ran into the lead group coming down as I was going up, and a steady stream of INCHers kept coming. The only missing people were Thomas and Angelika, which is par for the course.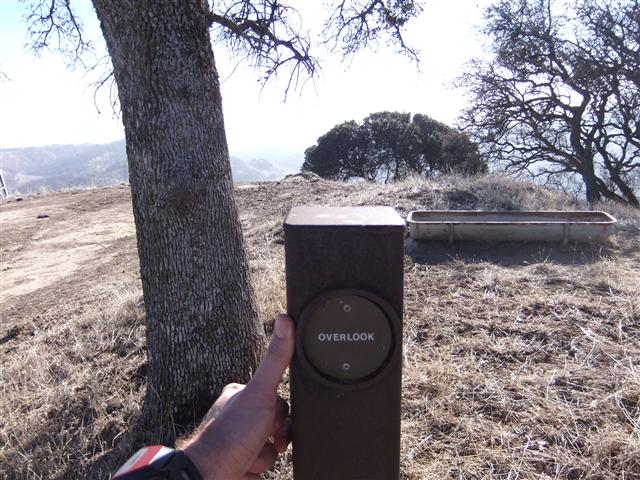 There's no doubting you've reached "Overlook" on the map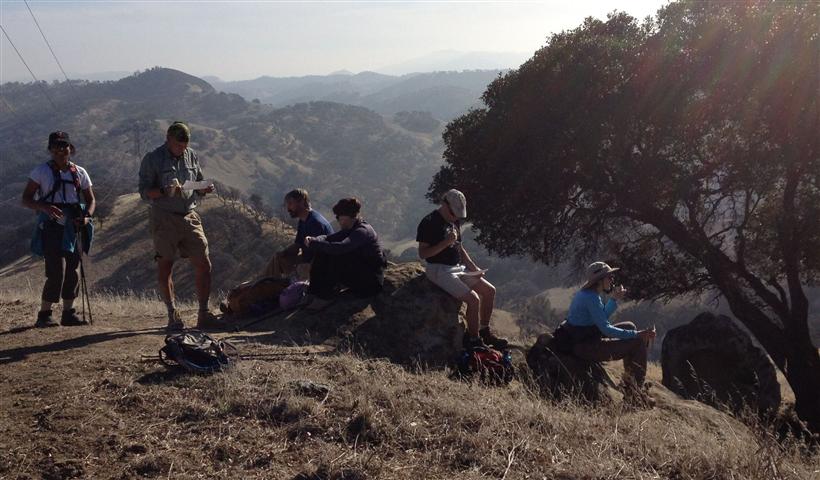 The sun shines on INCH at Overlook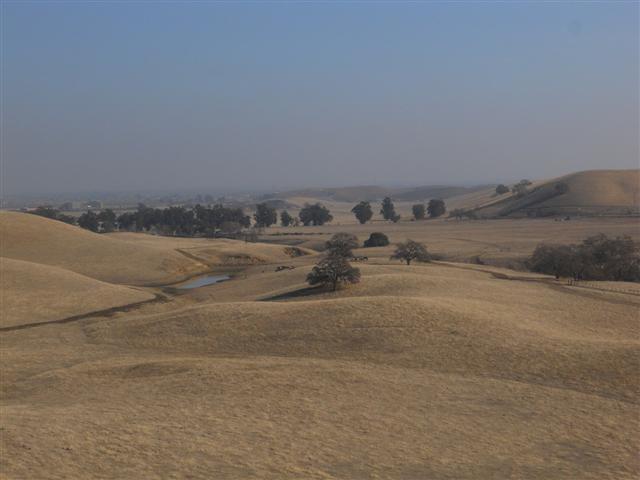 Fields of Black Diamond
The rest of the hike was straight forward. Sort of. Once we were back on the Stewartville Trail we started seeing non-INCHers. Before that, we pretty much had the place to ourselves. This section of trail used to be paved, and is still hard packed--my knees were starting to feel like it had been a much longer hike. Saw Ross coming back down from Prospect Tunnel. Later heard that several people went for a visit. You can go reasonably far into the tunnel (w/a headlamp). Sounds like a new destination for the next visit.
After a sharp turn to get off Stewartville Trail onto the Ridge Trail, the next turn is leaving Ridge for Contra Loma/North Portal. As I came up to the junction, I could see everyone ahead had skipped it. I called up to John that he'd missed it, and he call up to David. I think that's as far as the message was relayed. We all headed the right way, as did Ross and Linda who weren't far behind. When we came up the other side, the front-running group was coming down Acorn Trail. They all assured me that the route they took was much harder, and thus they had suffered appropriately for their "short cut". Other people would report they made the same mistake. The straight path is seductive.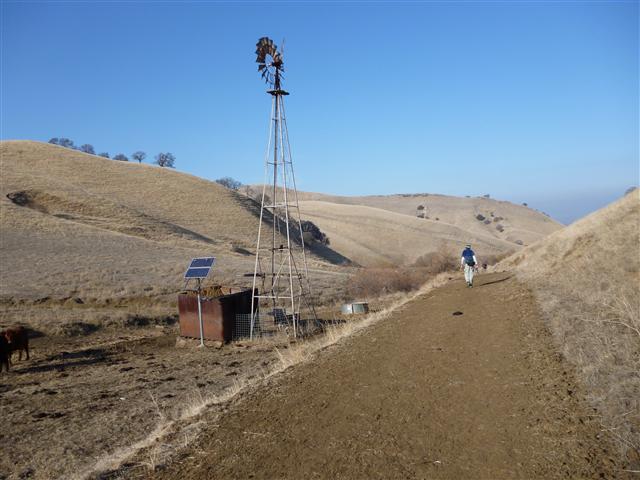 No visit to Black Diamond is complete without a picture of the solar powered windmill
From there, it was a mostly downhill to an old farm area with a windmill (see picture above). Behind it is the last uphill of the day on Lark Trail. While I was still planning the route a week earlier, Sarah had asked if I was going to include this miserable section of trail. . .so that pretty much made it happen. It was a nice cardio ending to a good hike.
Like last time, the time gap between the first group and the last people was quite large for an 18 mile hike. We ate and drank for quite a while. Thomas and Angelika showed up around the same time, but from different directions. It was impossibly early for either of them to be back. Thomas said he got lost and used the power lines to orient himself back to the parking lot. Good orienteering, but no leaf! Angelika said she made it to the overlook and came back over Lark Trail. People saw her going the wrong way on Ridge Trail which was funny on its own because they were also going the wrong way relative to the map. Anyway, since it sounded like she did all the hard parts, I gave her a leaf. The charitable judgment was helped by Thomas's Optimator, but the disturbing trend is noted.
This is where I'd normally have a story about how someone missed the party later that night because they got lost, but it actually didn't happen. Some people apparently thought we had lost Mike, though, and sent a ranger to look for him. He made it back all on his own, just before they called a helicopter. Grrr.
Milestones:
Hailong's 1st leaf
Hima's 210th leaf
Peter E's 20th leaf
Shuli's 60th leaf







Pages maintained by Steve Walstra, Peter Saviz, and Russell Gee.
©2022 Intrepid Northern California Hikers