826. Red Hill (04/14/12)

Hikers (13): Chinyet, David, David A, George, Giulia, Milon, Paul, Russell, Sarah, Sophie, Steve, Tony, Trish
Distance: 21 miles
Rating: 5 difficulty, 10 beauty
Park info: Sugarloaf Ridge State Park near Sonoma

Write-up by Steve -- Pictures by Tong, Giulia, George and Steve
Mike pointed out Sugarloaf Ridge State Park and Hood Mountain back in December, suggesting a possible big loop. Turns out you can't do that loop (yet), but with a little imagination the trails could be stitched together to make several small loops for almost the whole route. Why is this important? Who knows--but if an out-and-back can be avoided, it should be avoided!
I noticed there was a nice "remote" peak named Red Hill in the far back section of the park that seemed to be have a use trail going to it. When looking for more information, I ran across Dave and Bill Hikes, a Sonoma-based group who had visited the peak and highlighted their route on a topo map, confirming it was not only doable, but downright popular. I wrote to ask some more questions and discovered they were returning to the peak the same day I was planning. Small world! They gave helpful advice that prevented me from routing us down a trail that would have ended on private property and poison oak. . .
The "best" part of the hike (in theory) was that we'd have to go up and over the intervening Hood Mountain in the Sonoma Regional Park of the same name (the peak is called Mt. Hood on topo maps, but they seem to prefer calling it Hood Mountain locally). A rough calculation guaranteed at least 5k ft of altitude gain, so I decided to limit the notice to people who had previous INCH experience with 4+ hikes.
To make sure the hike exceeded 20 miles, I started the hike just outside the park entrance at Pony Gate trailhead rather than at the Goodspeed trailhead. That turned out to be a good idea, because the Goodspeed trailhead was almost full when our five-person carpool passed it. Plus it added a waterfall on the way back.
Almost everyone showed up early, so we were freezing while waiting for the clock to strike 9am. We were still missing David A and Trish but INCH waits for no one, and we were off!
1, 2, 3 INCH!
Well, there was much, much more, but I never finished writing it up. The pictures, however, tell the story. I recall Iris had to turn back, and everyone else survived. David A and Trish did show up, with Trish raising my cockles by starting from (and ending at) the Goodspeed trailhead. . .without feeling appropriately ashamed. Kids these days. Oh, yeah--and we ran into Bill and Dave (and their big group of hikers), too. That was fun. They had shirts that inspired much discussion over the next few weeks.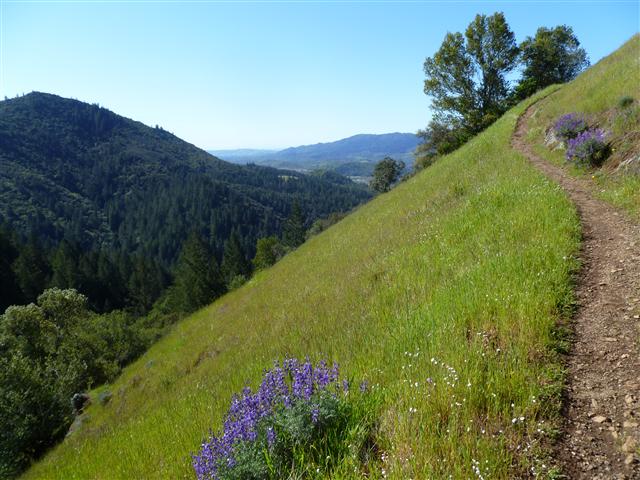 The hike started quite nicely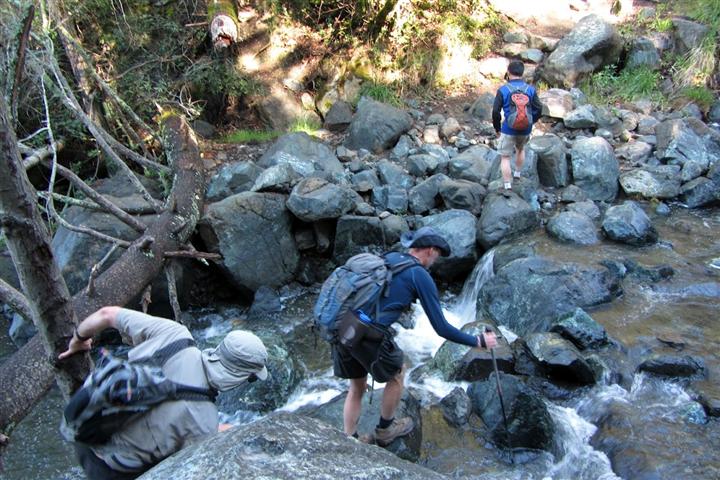 The harder path across the stream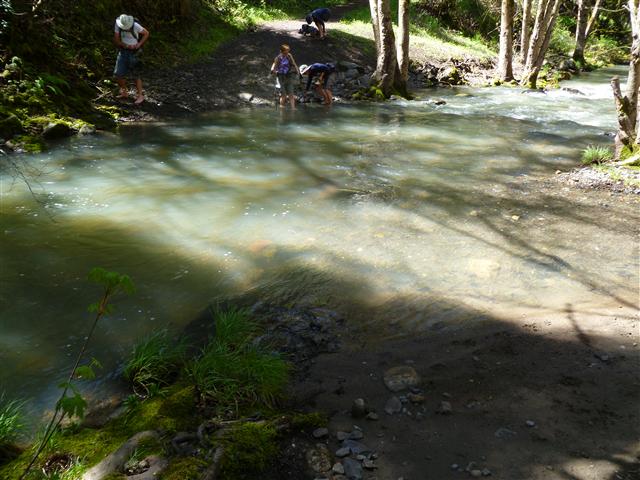 Creek crossing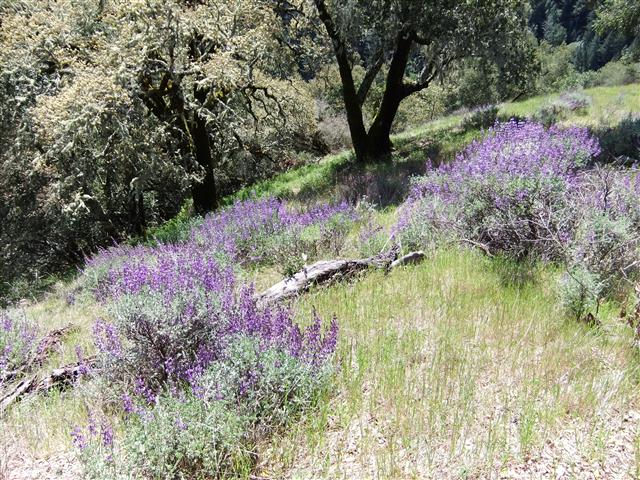 Some flowers along Quercus Trail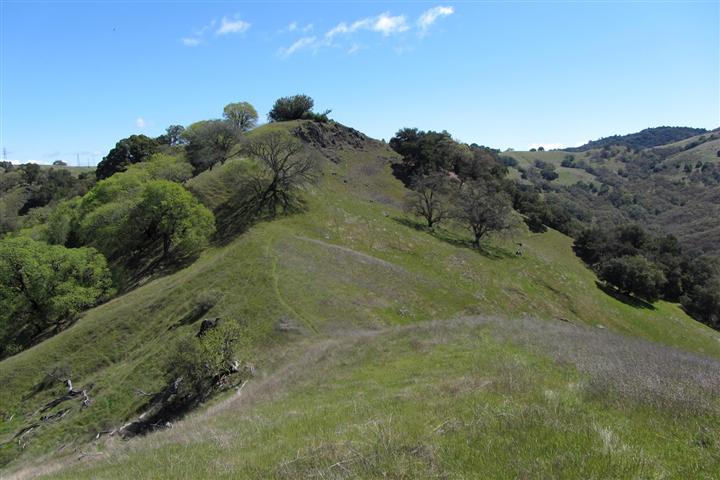 Final rise to Red Hill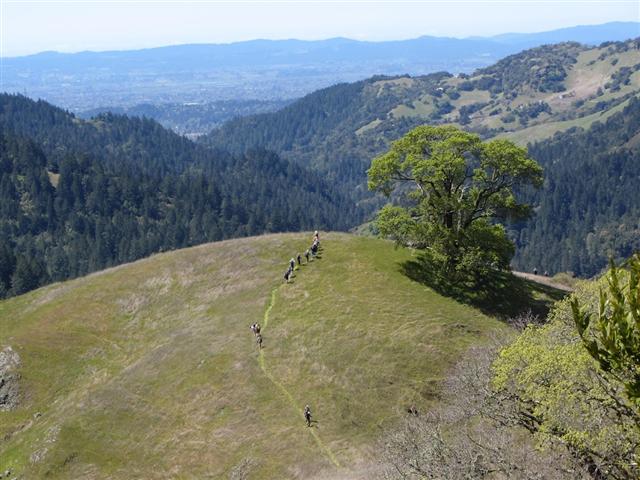 The day Dave and Bill's Hike Group crossed INCH, as viewed from Red Hill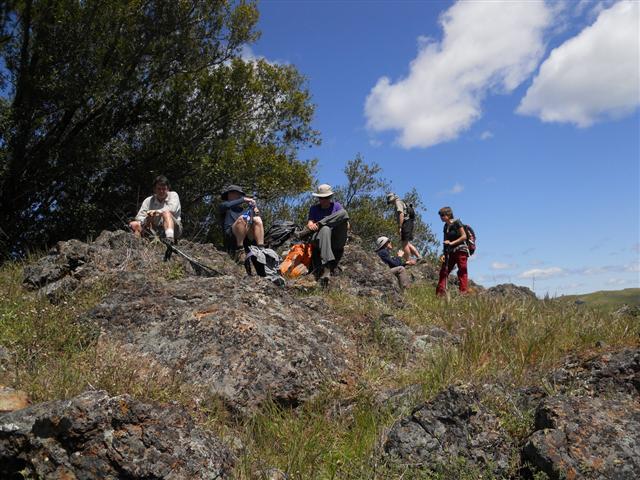 INCHers hanging out on Red Hill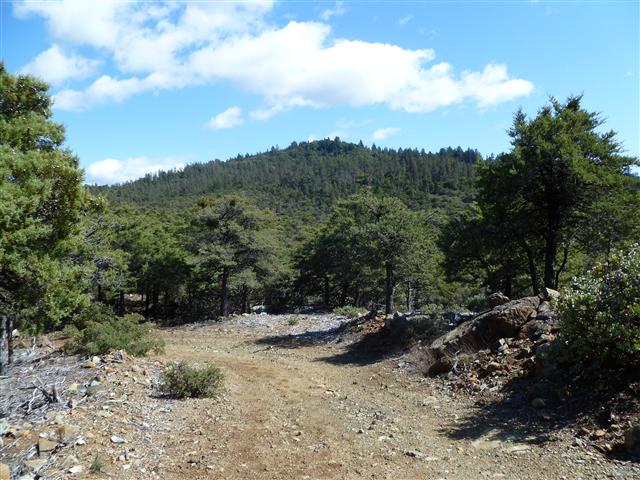 Mt. Hood from Hood Mtn. Road on the way back
Milestones:
Russell's 10th leaf
Sarah's 180th leaf







Pages maintained by Steve Walstra, Peter Saviz, and Russell Gee.
©2022 Intrepid Northern California Hikers