836. Rose Peak (06/23/12)

Hikers (18): Angelika, Carissa, David, Iris, Isai, Karl, Kathryn, Kirk, Paul, Peter, Peter E, Russell, Sarah, Shuli, Sophie, Stacy, Steve, Susan
Distance: 20 miles
Rating: 4 difficulty, 8 beauty
Park info: Ohlone Regional Wilderness near Sunol

Write-up by Iris, Karl, and Peter with notes from Shuli and Peter Ei -- Pictures by Karl and Iris
This was pretty much your standard out-and-back Rose Peak hike, with a twist. Purple Leaves of Confusion go to Karl, Shuli, and Susan for getting lost on the way to Del Valle, even though we have been there a hundred times, and showing up a half hour late (the rest of the group was long gone -- INCH waits for no-one) and to Sophie for not knowing what time the hike started (even though she works for the government in some top-secret evil science lab) and showing up an hour late. But they still did the full hike, so good job! You can read about Karl's excuses below.
The hike itself was nice -- 20 miles, 6000+ feet elevation gain, but I had to give it a Level 4 because of the cool weather. Welcome to INCH! After the hike, Iris asked me who was doing the write-up, so guess who got tagged?
Iris's story: I remember last Rose Peak Hike, Sarah wrote a very vivid and lively write-up. She started off the delightful tales with David's philosophical words "INCH write-ups shouldn't let truth get in the way of a good story". As I read this, mystic Poet Rumi's mystical words come into my mind:

"the truth is in silence and
not in the languages
which are men's creations"

Well, then I realized I should not let silence and good stories get into the ways of true story telling. As the truth is not coming from a single viewpoint and real good stories are always multidimensional. I re-delegate this write-up to multiple people for their perspectives of the INCH Hike #836.
This hike has many surprises from my perspectives even though it was not my first hike there.
(1) The unusual big numbers of hikers showed up late to the often-visited Del Valle trailhead: 7 out of 19 hikers. Starting from my carpool, always punctual carpool buddy Carissa and Stacy were 20 minutes late to our meeting place! (I am still waiting for the good excuses:-), then we made a wrong exit at Freeway. To our surprise, when we arrived at trail head parking lot around 9:02 am (late!), it was obvious to us we were not the last people arriving late. It turned out Karl, Susan, Shuli and Sophie weren't there yet. We started usual INCH hiking cheers "123 INCH" with only 13 hikers, soon Stacy and Carissa caught up. Karl tells his version of being late and got lost (mind you, got lost on the road not on the trails) story after you have the patience to read through mine.
(2) What a cool breezy weather for a mid-June Livermore hike. I prepared for the terrible hot weather, carried 5 liters water and some fruits. As it turned out, even in the open field without shade in the middle of afternoon it was very pleasant and breezy all the way to the Rose Peak -- breathing in the mountain air at 3817 ft with sweeping mountain ridge views and fluffy white clouds floating on blue sky, one can easily justify the obsession of hiking long miles and torturing uphills in soaking smelly sweat :-)
Sarah's words sum up the INCHer's nature: Mind you, I didn't hear this observation from any one while he was puffing up to the ridge or she was pounding on painful feet back down. Rather, I heard it from INCHers while he was filled with ascension glory and basking in the sweet sunshine on the summit of Mount Rose or while she was skipping merrily along the ridge. "My!" exclaimed sundry gleeful folk, "Wouldn't this have been a perfect day for a full Ohlone hike! Who could have predicted such a cool and breezy day in mid-June? How predictably we forget the agony of those many, many miles.
(3) Waterlilies in the pond looked like straight from Monet's drawing. The grass are golden brown along the trail, wildflowers are hardly seen anywhere. But in a little pond after Junction 33, there are beautiful pink and creamy waterlily blooming. Waterlilies are such a pleasant contrast to the arid surroundings. Is it native plant? Or someone planted them there?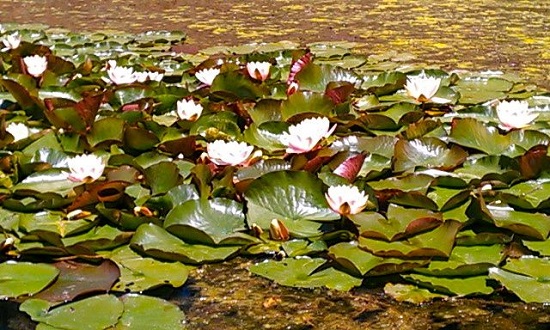 INCH hikes are the source of inspiration for French Impressionists
(4) Downhill was painful. As much as I hated uphills, which seemed never ending in the first 10 miles hike, I hated downhills even more, it was steep on several places and gravels made it harder to hold the footing. And I fell and scraped my knee.
(5) Finally, I did not get lost in the trail this time and made it to the Peak not too far behind the majority of the hikers. Yeah!! As the saying goes "if you did not get lost, then it was not an INCH Hike". Hmm, it is a surprise to me! After hike, Peter pointed at me saying "it is your turn to write the hike write-up this time" as if this is a punishment to me for finishing the hike 100%. I did not go to the Peak last time about half year ago as Tiffany and I made a left turn (which is not the "right "turn) in Junction 34.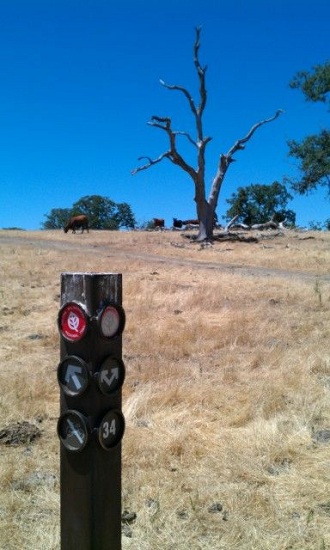 The infamous tricky junction (two MDs couldn't figure out how to read this sign)
Karl's story: There is nothing exciting about my carpool's late arrival to the hike. But since you asked (we did?), I will bore you with details. My carpool met at 7:45am, my rule-of-thumb, same as the INCH carpool meeting time. Although we left a few minutes late, we had TM's fine directions with us in printed form as we happily headed toward Livermore. I got flipped off by some impatient driver as we left the Mission Boulevard/N680 jug handle to get on to N680. Evidently, I wasn't driving the tight turned exit/entrance fast enough for this guy, and the fact that I was behind a line of cars in front of me, made no difference to the aggravated arm waving, middle finger flipping driver behind me. So, I did what any other Jersey Boy driver would do: I flipped him off in return and muttered "Go f*#k yourself" to the shock of my carpool buddies, as he zoomed around me and headed for the far left fast lane on N680. Just another day on a California Freeway, I thought.
I have been to the Del Valle TH a half dozen times or so, but not enough times to have the multi-turn directions memorized. But with TM's directions in the hands of my two able navigators, it was onward to Livermore: Sunol Grade, 84 East, Ruby Hill Golf Course, Concannon, S. Livermore Road, etc. All was going quite well. I listened to my satellite radio while Shuli and Susan chatted in English/Mandarin, about food, I learned later. I wish I could blame the wrong turn on an Asian driver, Asian navigator, food talk, or TM's directions, but I can't. Shuli told me "Make a right on Mines Road" immediately after we turned on to S. Livermore. It would have been more helpful had Shuli told me to turn right when we were actually at the Mines Road intersection, but I shouldn't be picky! Well, I must have missed the turn. We continued for miles on S. Livermore Road, passing ranches, ranch houses, and small wineries that looked very much like the ones you see on Mines Road and other country roads of Livermore. We even entered some mountains that looked very similar to the mountains you see on Del Valle Road just before you arrive at Del Valle Regional Park. Looks kind of familiar I thought, but not sure. We descended the mountains, but instead of seeing the entrance to the park, we entered more flat road. It was then, I realized, we had gone the wrong way and the "San Joaquin County" sign surely confirmed it. I pulled over and decided to plug in trusty Gina Garmin ... my car road GPS. My navigators performed the search for Del Valle, via Gina, and quickly found it. We need to "make a u-turn and drive 12 miles back to Mines Road" Gina told us! "Turn on my GPS. Duh! Why hadn't I thought of that an hour ago!" I muttered. So back we went 12 miles until we reached the Mines Road intersection, clearly marked by a sign that went across the intersection. I don't know how I missed it. During that time, I joked with both Susan and Shuli, coming up with various and creative reasons, why this was THEIR fault, but knowing it was mine. Meanwhile, Gina said we would arrive at 9:20am. We spent some more time, waiting to get through line of cars, paying the entrance fee, and buying a permit/map for each of us, etc. We finally arrived at the parking lot at 9:30am and were on the trail a few minutes later.
Fortunately, we had maps, and the route to Rose Peak was very straightforward. You simply go up the freaking mountain and come back down (as David said post-hike). There was no way we could catch the group, but I knew there was a decent chance that we could reach RP before some in the group had ended the traditional lunch time on the summit. Off we went with Shuli and Susan setting a blistering pace (at least for me). As we know, the first 5-miles of this hike are very tough, probably as tough, at the start, of any hike we do. After mile one, I signed in at the start of the Ohlone Trail. INCH had signed in at 9:22am and I signed in at 9:52am. So, this confirmed we were 30 minutes behind the group.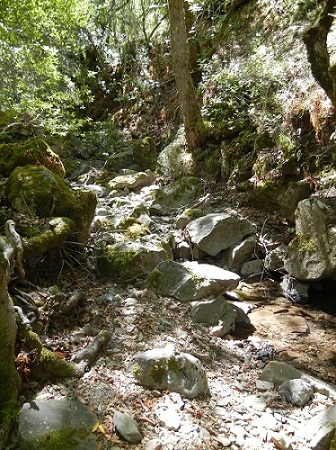 Our old friend, The Gulch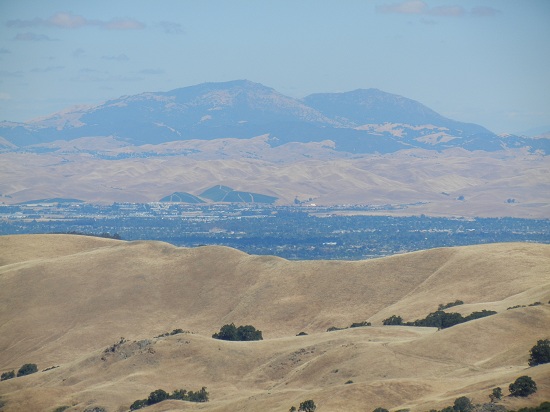 The twin peaks of Diablo as seen from the Big Burn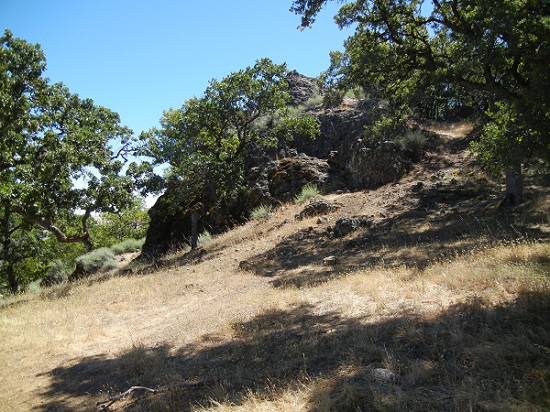 When you get to Schlieper Rock, the climb's almost over, at least for now
Onward I chased the two jack rabbits, who must have felt sorry for me since they slowed down at times, and even stopped at the top of some of the many hills to wait for me. Still, I was quite proud of myself just keeping these two in my sight. I am quite certain this was my fastest time to Rose Peak.
Susan and Shuli motoring to catch up with the pack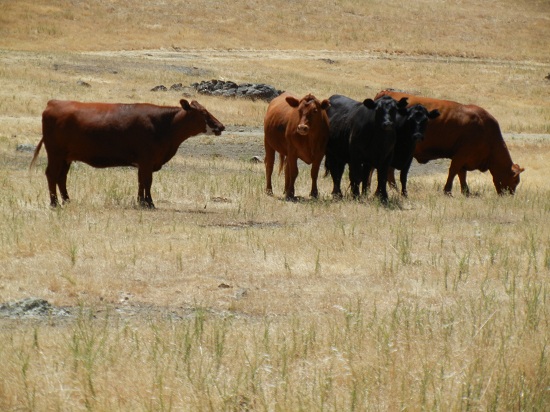 The Man's friends were looking for him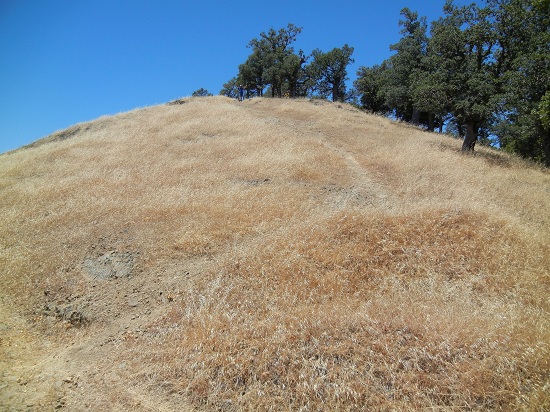 Finally at Rose Peak!
The hike to the peak was the usual difficult grind, but the comfortable temps, sunny skies, cooling breeze, and gorgeous views helped to ease the pain. Before reaching the summit, we saw many INCHers heading back down from RP. I had to explain the "missed Mines Road" thing to each of them as I chugged up the final mile or so. We did indeed find a half dozen or so INCHers still enjoying the summit when we arrived. The views were stunning as usual ... even more so this time with the clear and sunny skies. I enjoyed my MoJo bars, drank some electrolytes, changed into a dry shirt, and took a few photos. I glanced at my GPS. Wow, it read 4500 ft eg up, and 1600 ft down, so I knew we were in for 6100ft eg hike today!!! "Wow TM is right. Two dollars really does get you a full day of torture" I said.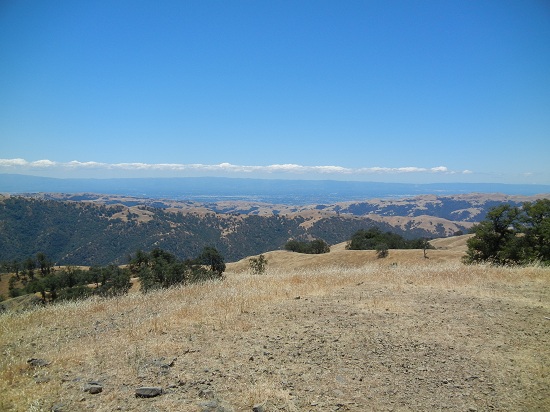 Beautiful view from the top on a nice clear day
The hike back was less eventful. I was no longer motivated to kill myself keeping up with Shuli and Susan. I hiked back mostly solo, occasionally encountering others (Susan, Shuli, Peter, Peter E, Kathryn, Sophie, Iris), on the mostly delightful trek back. I am typically slower on downhill sections than most, and I enjoyed the comfortable pace back. The final downhill sections were killing my toes as I was wearing North Face test shoes that were a half-size smaller than my own regular hiking shoes. They served me very well on this hike, until the final steep descent. As always I was thrilled to reach the truck and the always fun post hike celebration! Thank you Peter E for the cold soft drinks!
Heading back via Johnny's Pond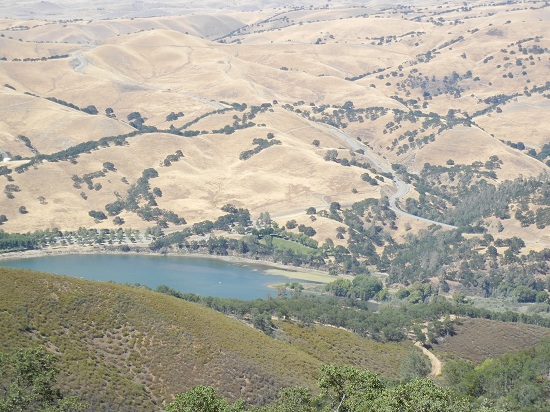 Del Valle -- so near and yet so far
So, that's my boring tale. Aren't you sorry you asked? Oh, I was sure to plug in "Gina" for the ride home and she got us back without a problem!
Shuli's explanation, which she sent to me in a mail entitled "Who to blame": "There are several reasons why Karl didn't make a right turn toward Del Valle Regional Park before the hike. (1) He didn't turn on his road GPS. (2) I told Karl to turn right on Mines Rd while we were turning right on S. Livermore Road, but he couldn't see "Mines Road" because Susan and I were talking about food and forgot to remind him." But she did also include a suggestion on how to improve the directions to the trailhead, which I may or may not include in future hike notices if I remember.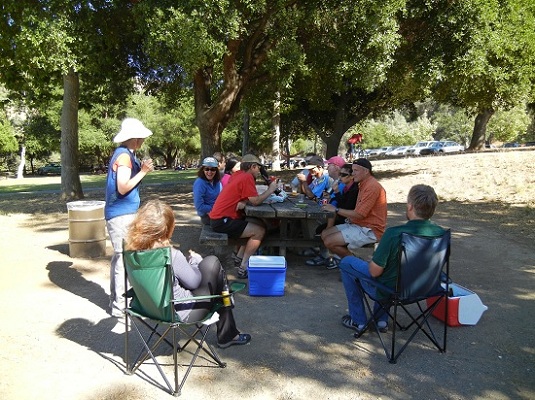 It always ends well
Honorable mention to Thomas for doing the first few miles, and, more importantly, bringing beer. Thanks also to Kathryn and Peter Ei for bringing a nice bottle of zin and to Captain Kirk for carrying it all the way to Rose Peak. Kathryn wisely held onto the corkscrew in case Kirk should go off to Murietta Falls (which he did, but still made it to Rose Peak). Kirk arrived at the peak with wine intact and later demonstrated his one-footed wine tasting technique: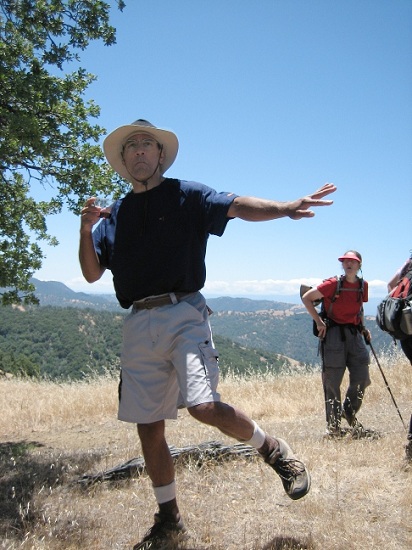 "If God forbade drinking, would He have made wine so good?" -- Cardinal Richeleu
Not only did he carry the wine, but Kirk also serenaded us with Roadhouse Blues as we enjoyed it ... the future's uncertain and the end is always near! Truer words were never uttered on any INCH hike. I was lucky to make it back to civilization as my back locked up on me a couple of times on the way back. I just froze completely and couldn't take a single step. The first time was at the bottom of Indian Gulch, under the cover of the trees. With no cell phone signal and no way to be seen from above, I was contemplating spending the night in the woods. Fortunately, things loosened up a little and I started to take baby steps and eventually got going again. It happened a second time about a half hour later, but the thought of beer at the finish line kept me going. I was able to get there just before the group packed up and headed out to Mission Pizza to continue the party. Cheers!
Milestones:
Angelika's 30th leaf
Iris's 60th leaf







Pages maintained by Steve Walstra, Peter Saviz, and Russell Gee.
©2022 Intrepid Northern California Hikers