856. Rock Spring Peak+ (11/17/12)

Hikers (9): Alan, David, Giulia, Jeff, Paul, Sarah, Shuli, Sophie, Steve
Distance: 17 miles
Rating: 4 difficulty, 8 beauty
Park info: Henry Coe State Park near Morgan Hill

Steve owes a writeup! -- Pictures by Iris
Special mention to Ross and Eric L who decided to ignore the "stick together" request and then overshot the start of a extra-special section of the hike (and missed the whole purpose of being there)! Poor Eric was clearly unhappy when we returned to the parking lot.
We got rained on for a while at the start, but it stopped an hour before we got back to the parking lot. Quite nice!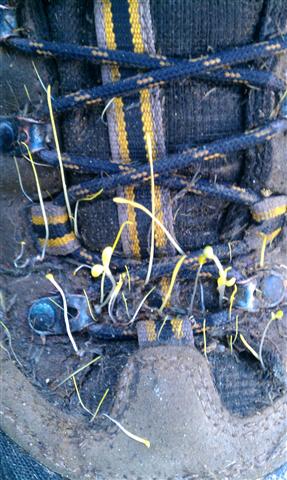 Alan's boot the next week--it sprouted!
Milestones:
Alan's 50th leaf
Sophie's 80th leaf







Pages maintained by Steve Walstra, Peter Saviz, and Russell Gee.
©2022 Intrepid Northern California Hikers