862. East Ridge Loop (12/30/12)

Hikers (20): Arlene, Chinyet, Despina, Giulia, Hailong, Iris, Janice, Jim Be, Kathryn, Kevin, Mike, Nagendra, Peter E, Sarah, Shuli, Sophie, Sparky, Stacy, Steve, Tony
Distance: 14 miles
Rating: 2 difficulty, 9 beauty
Park info: Big Basin State Park near Boulder Creek

Write-up by Steve -- Pictures by Tony
The goal of the hike was to hit some new trails in the far east side of the park, where INCH had yet to hike. The route made a loop of the basin (as in Big Basin) which feeds East Waddell Creek. Turned out to be a nice alternate route up to the top of the park.
16 people signed up, but we ultimately had 20 hikers as multiple parties had +1s. Had a few extra maps, so it worked out just fine. . .
1, 2, 3 INCH!
Speaking of maps, early in the hike I put down an arrow to mark one of the turns along the trail. I knew, despite providing a highlighted map and the lovely arrow, that people would miss the turn. I was thinking, "Do we really have to hold hands at every intersection to get everyone on the right trails? Is there a better way? Should INCH require some sort of remedial training where one learns to look at the map whenever one sees a junction marker?" As it turned out, a whole group of people missed that turn.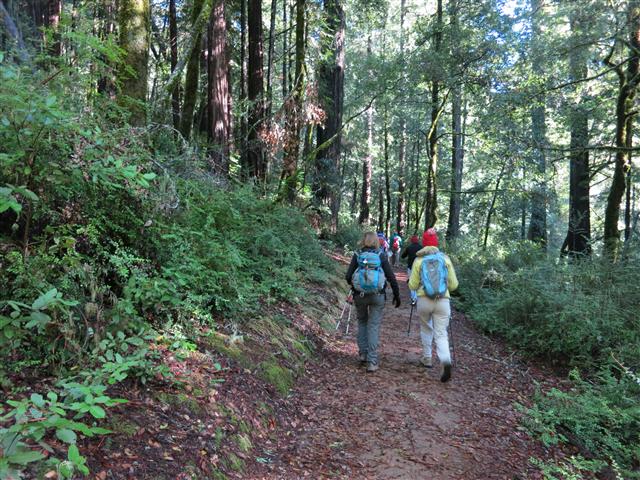 Plenty of shady green trails on the hike
Not much to say about the hike itself besides it was full of big redwoods, particularly along the Hollow Tree Trail. When I got to Ocean View Summit, Hailong was chilling in a plastic chair someone had left up there. Eric was hanging out, too, and we chatted for a bit while another group of people took many dozens of pictures of each other at the not-that-picturesque summit. From there, it wasn't long until we were done with the hike, which came in a mile shorter than estimated (but within the stated error bars). George mentioned afterwards that Redwood hikes has distances marked on the their Big Basin maps. This is good to know since the State Park's map and the most easily found online map both omit distances.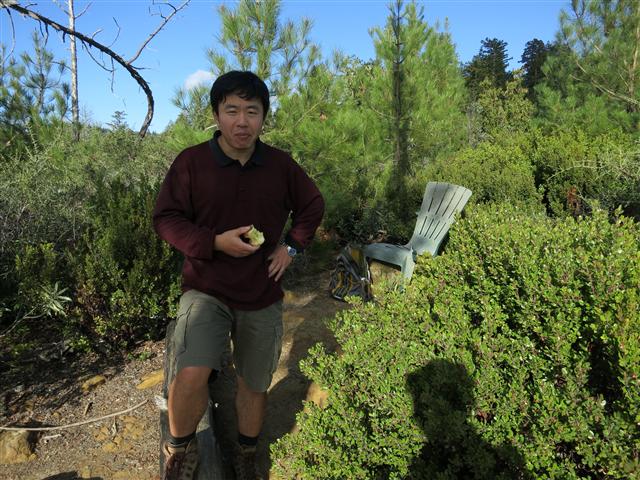 Hailong and his chair
Back in the parking lot, Hailong was waiting for Tony, his carpool. I was waiting for Tony, too, figuring he'd be the most likely to (1) be back soon and (2) have beer. Thus, Tony was met with much enthusiasm when we saw him walking down the road. While we were enjoying the predicted beverage. . .and berating Tony for getting lost (see first paragraph). . .one of the park volunteers came by. I was afraid he was going to say "Put that beer away, kiddo", but instead he suggested we could chat in the HQ, where they had a fire going. Great idea, as it was quite chilly.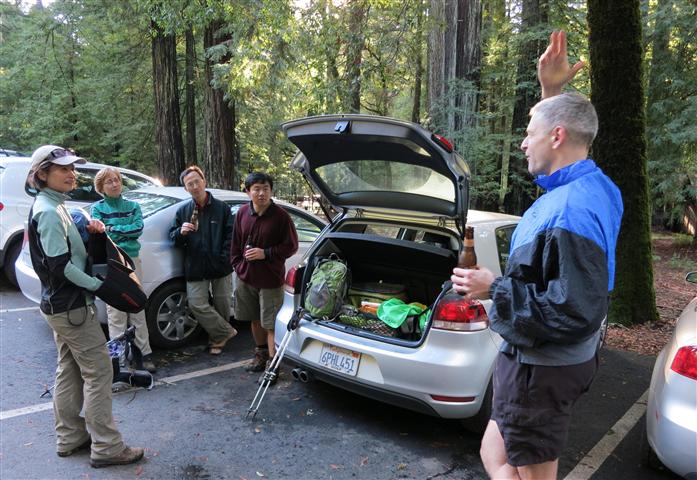 Steve tells weary hikers about his early years wearing a top hat
INCH eventually took over the place, with 12 or so people milling around drinking beer and wine while enjoying the snacks everyone brought. Giulia even added a log to the fire. All those "read the map" concerns melted away. . .Good end to an easy hike.
Prolog #1: At the end of the hike, I heard Arlene and company had quite a lunch party at the overlook point. Later Tony provided the photographic proof: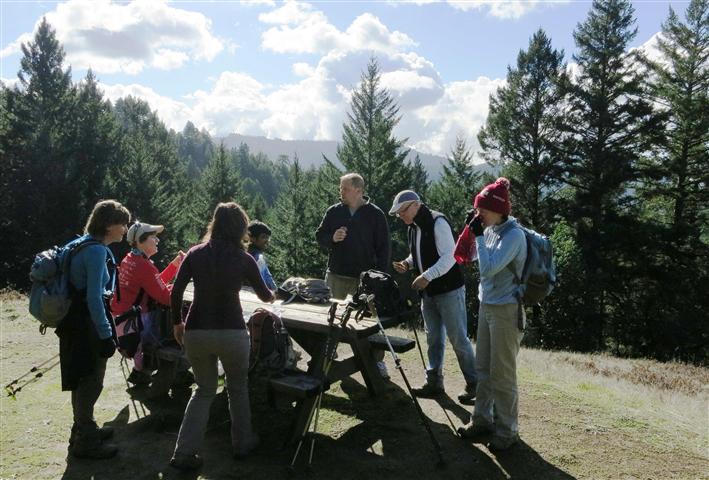 INCHers take a scenic lunch break
Prolog #2: The drive in and out of Big Basin features a narrow un-striped road. On the way back, we passed a recent accident with people on each side of the road checking out the damage to their respective cars. Didn't look too bad, but officially reinforced my fear of encountering a car zipping around every blind curve. Clearly other drivers felt the same way, and we had a slow procession until reaching the wider roads on the other side of Skyline Blvd. But the action didn't stop there.
Back down HWY 9, less than five minutes from downtown Saratoga, I watched a blue Lancer (or similar) come around a corner, fishtail, over correct, and crash into the guardrail head-on (no easy feat). Driver looked fine, as the bumper and the guardrail worked just like they are supposed to. Couldn't help wondering what made that happen since the road wasn't wet, the sun wasn't glaring, there weren't any cars near him. . .Two accidents between Big Basin and Saratoga and it's the day before New Year's Eve.
Milestones:
Despina's 1st leaf
Jim Be's 1st leaf
Peter E's 40th leaf







Pages maintained by Steve Walstra, Peter Saviz, and Russell Gee.
©2022 Intrepid Northern California Hikers