942. Bear Mountain and Mississippi Lake (08/09/14)

Hikers (13): Adam, Brad, George, Helen, Kirk, Kristy, Paul, Peter, Ross, Sarah, Sophie, Thai, Yvon
Distance: 26 miles
Rating: 5 difficulty, 8 beauty
Park info: Henry Coe State Park near Morgan Hill

Write-up by Peter and Thai -- Pictures by George and Helen, Kristy, and Sophie
My knees had been sore for many weeks and I kept canceling hikes, but I got inspired by a quote from Risky Business and told myself that sometimes you just gotta say WTF. So it was off to see The Bear ...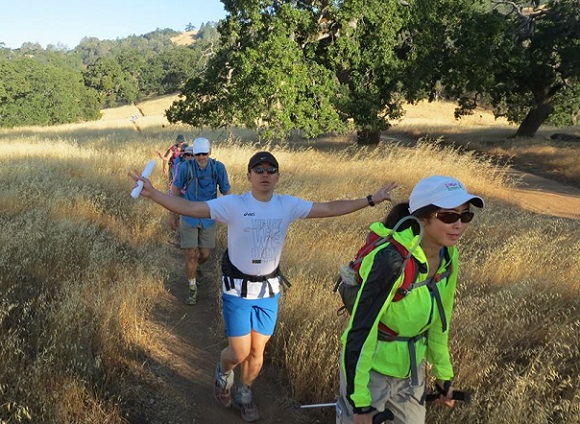 Thai asks, "What's the big deal?". He would find out later (see below).
Yvon's smiling 'cause she knows it's her last INCH for a while. Good luck in Toronto!
I started out real slow, walking gingerly, and being careful not to twist or buckle the knees. I knew I wasn't gonna be breaking any records on this day. By the time I started heading down the Poverty Flat Trail, everyone else was well out of sight. I didn't think I would see anyone else for the rest of the day.
But to my surprise, as I started down the Mahoney Meadows Trail to Los Cruzeros, I saw David was less than a quarter-mile ahead of me. He waited for me to catch up to him at the bottom, and we both sat there in silence just resting for a while, then he set out up the Willow Ridge Trail. I stayed behind for a few more minutes to give my sore knees time to recover from the downhill.
I felt good as I started up Willow Ridge. Love the uphill! About 3/4 of the way up, I saw David had stopped again. As I caught up to him, he told me he wasn't feeling well and was going to turn back at the top. It's rare that someone makes a wise decision at Henry Coe. We sat together at the top for a few minutes, and it looked like Big Dave was OK, so I said goodbye to him and headed out for The Lake.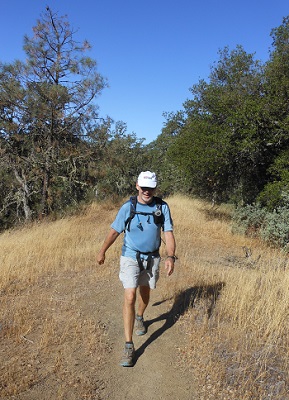 Uncle George was looking good early on
I made good time on the Interior Route, including stoppage time to visit my old friend the Alien Space Ball along the way. As I got closer to The Lake, I saw Kirk coming off the Rat Spring Trail. He was the only one who took the optional extra route. Extra credit for the Captain!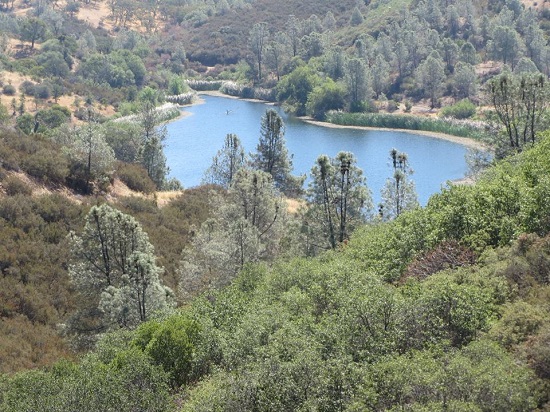 Our first destination: Beautiful Mississippi Lake
When I made it to the picnic table, Ross, Helen, Adam, and Paul were still there and told me the others had headed out not too long ago, so I was pleasantly surprised that I had not been going as slowly as I had feared (4:20 to the picnic table = 2.6 mph, not too bad for a guy with two gimpy knees at Coe).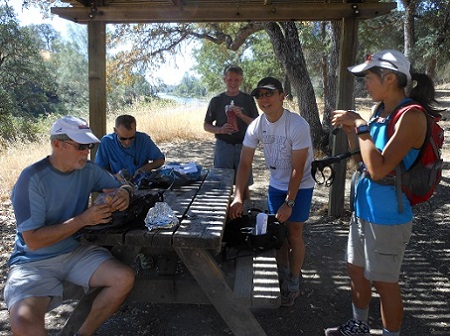 Front-runners enjoying a break at The Lake
After a nice lunch stop (mmmmmm, roast beef sandwich!), I headed out to meet The Bear. I took a wrong turn off the Bear Spring Trail and found myself bushwacking with Paul. Hmmm, this didn't look right, so we backtracked and continued on the Bear Spring Trail and eventually found the right trail up to the peak. It turns out that Brad, George, and Sophie had also made the wrong turn, but they ended up forging ahead and eventually came out on County Line Road about a half-mile below the peak. It's all good.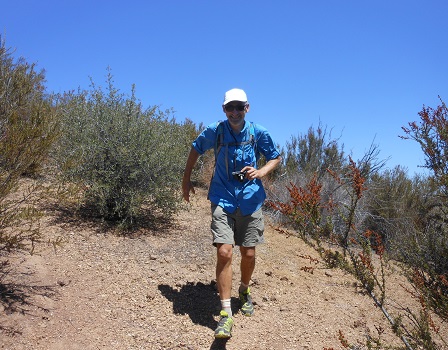 Brad loves a little bushwacking now and then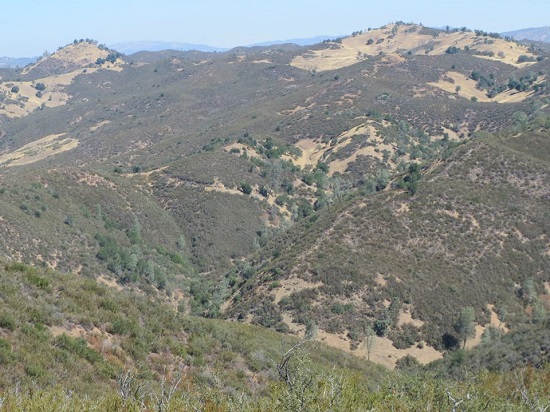 Our second destination: Bear Mountain.
Karl says: "Bear Mountain is the Peter Saviz reward for reaching Mississippi Lake!"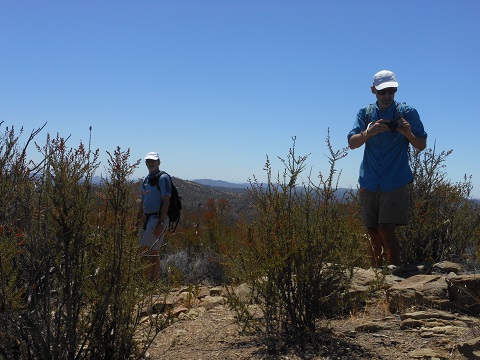 George and Brad meet The Bear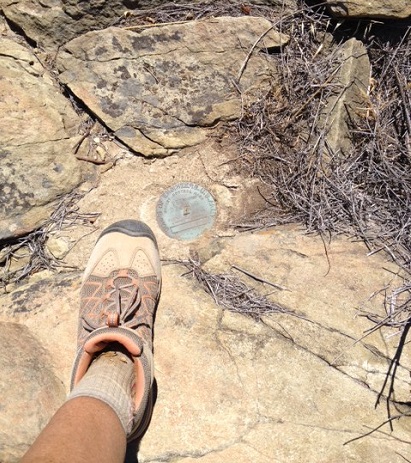 Kristy also proudly proves that she made it to meet The Bear
The trail coming down from the peak was hell on my knees. Two and half miles of pure misery. It also felt like the temperature had gone up considerably, so I was drinking at a rapid pace. The sweeping views were beautiful, but I couldn't wait to get off this goddamn hill. Finally, Paul and I made it to the bottom.
Paul kept going, but I had to rest my aching knees. I popped a couple more ibuprofens, but I would have paid $1000 for some ice to put on the knees (anyone looking for a new business idea, please note). I really did not want to do any more downhills today. I was also almost out of water at the two-thirds point of the hike. I still had about 9 miles to go, including the big uphill back to HQ. Damn.
Sign at the infamous Karri Junction (see Hike 711).
Peter's rule for Mississippi Lake: Get back any way you can.
I decided to follow my own rule for once and take a different route back. I figured going along the Narrows instead of taking the Blue Ridge would add some distance but save me a lot of downhill (basically going around the ridge instead of over it), and Helen had told me there was water at Manzanita Point, so the choice became clear: China Hole Trail.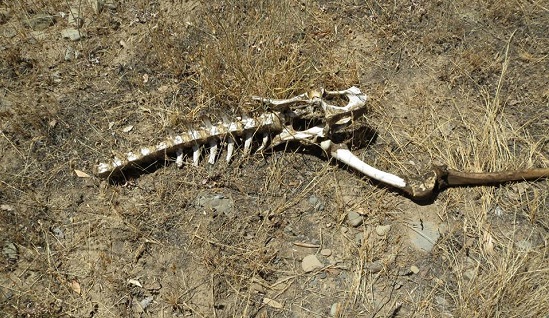 Looks this guy didn't get back
I never thought I would say this, but it felt good to walk on flat trail. I put the poles away and started to go faster. I had forgotten how pretty the Narrows were, especially the portion between Los Cruzeros and China Hole. I felt completely refreshed by the time I got to the Hole, and started up the other side at a good pace. It was nice not to deal with Poverty Flat for a change. I also hadn't been up this trail for a while and was really enjoying it. Cool shade, gentle grade, soft footing -- the civilized way to hike! Very un-INCH like, but variety is the spice of life.
Shortly after the intersection with Cougar Trail, I saw a group of people up ahead. I recognized Helen and Kristy (I knew Helen would likely be taking this trail), but there was also an old geezer walking with them without a backpack. Hmmmmm. As I got closer, I saw it was George. He looked pretty wobbly and had a bunch of dirt on his back. Turns out he'd hadn't been feeling well and had to lie down a couple of times. I didn't catch everything he said, but he was pointing to his heart and the words "moaning and retching" and "convulsions" stood out. Sarah was also with them and she had a similar story about passing out and losing consciousness for a few seconds. Very scary! Fortunately, other INCHers had been with them, and Ross had gone ahead to get help from the rangers.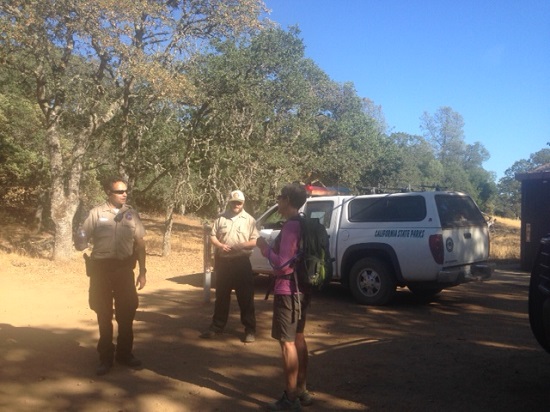 Rangers checking to make sure Sarah's OK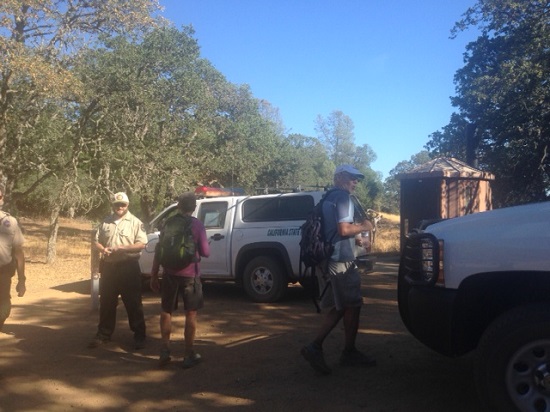 Sarah and George getting ready to take the Ride Of Shame back to HQ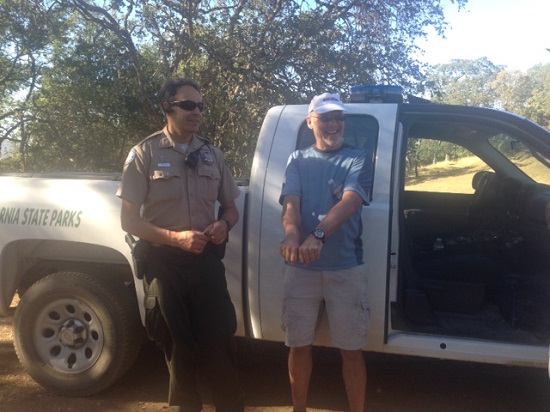 Ranger John's had about enough of saving UG's butt over and over again. "Where are my handcuffs?"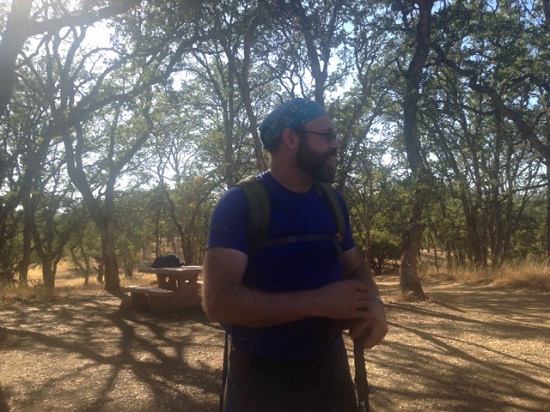 Adam enjoys the show at Manzanita Point
As always, the Henry Coe Rangers were very helpful and did a great job. In addition to giving rides back to George and Sarah, they also gave bottles of cold water to the rest of us. Love those guys!!! I'm glad to report everyone was fine -- a couple of cold beers after the hike makes everything all right! Just another hike at Henry Coe.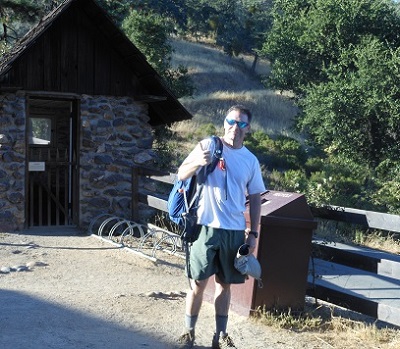 Glad that it's all over!
Thai's notes: As for my own bad experience on this hike, which I had only experienced one other time when I did a mountaineering climb in Ecuador up to Cotopaxi, I hit the wall just before climbing back up Poverty Flat Road to Poverty Flat. I had brought 1.4L of water on this hike, which was normally enough for me, but NOT this time. I was out of water when I reached the bottom of Poverty Flat Road just before the climb and I was completely drained of all energy. I am not sure if I was out of glycogen and had hit the wall, as they say in running, or I was dehydrated. I think it was more of the former. In any case, I was in a bad shape. I didn't think I was going to make the last 7 miles, not the mention the climb up Poverty Flat Road. I knew what was coming since we had gone down that way just that morning. I persevered. It was one of the toughest climb I had to do. I had to stop every few minutes because my legs were just not able to handle it. I was so tired and felt like sleeping the entire time.
Two trucks drove by as I was sitting by the roadside gasping for air, and of course the dust too. Finally when the third truck came along, I couldn't resist and stopped them. They were so kind of offer me a bottle of water. They even asked if I wanted beer... haha... that would have been nice at that point. Normally I don't drink beer but I was definitely thinking about beer at that point, and all the chips and cold drink too.
Anyway, that bottle of water didn't really help in making me feel better as I continue my climb up Poverty Flat Road, which was why I thought this is not a dehydration issue. Eventually I made it up to Poverty Flat and that was such a relieve. And when I reached Mazanita Point, I knew I was on the home stretch and at that point, I felt better psychologically but not much physically. But at least I knew there was no more climbing to be done. I knew if I just pushed myself a bit more, I would be able to make it back.
I kept asking myself why in the world did I sign up for this hike in a place and on a day that would be really hot and why I didn't bring more food and water. Anyway, I am just glad to be back in one piece. I guess what doesn't kill you makes you stronger. I hope I have learnt my lesson from this hike.
That's all folks! Honorable mention to David for making it to the top of Willow Ridge, and to Angelika for doing portions of the Willow Ridge and Bear Mountain trails.
Milestones:
Ross's 330th leaf
Yvon's 10th leaf







Pages maintained by Steve Walstra, Peter Saviz, and Russell Gee.
©2022 Intrepid Northern California Hikers