944. Kelly Lake (08/23/14)

Hikers (11): Adam, Alan, Angelika, Christina, David, Karl, Kirk, Peter, Sarbinder, Sophie, Steve
Distance: 22 miles
Rating: 5 difficulty, 8 beauty
Park info: Henry Coe State Park near Gilroy

Write-up by Peter -- Pictures by Karl and Alan W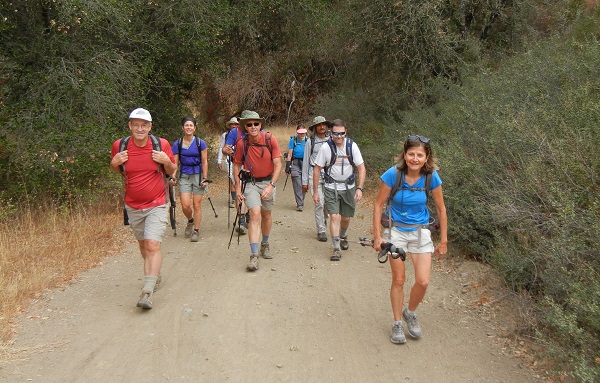 All smiles at the start, but would it last?
I'd planned to make the hike even more difficult than usual by going up what I thought was a steeper route, the Middle Steer Ridge Trail. After all, if it starts out flatter than the Steer Ridge at the beginning, it must end up steeper, right?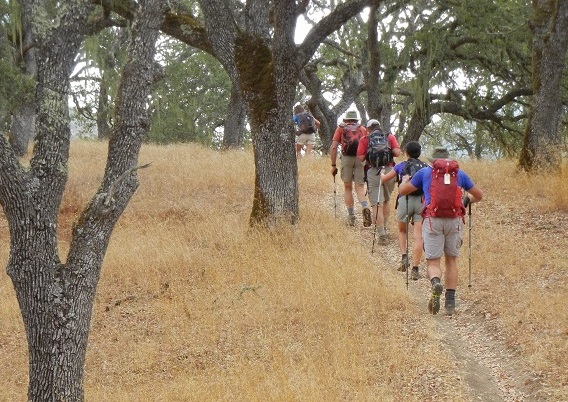 The climb begins!
Brief respite from the uphill ...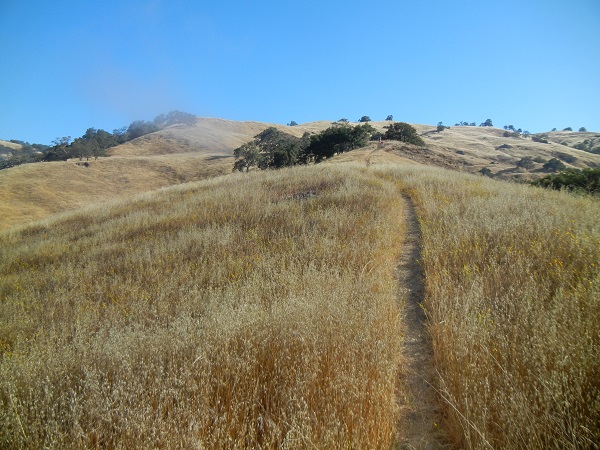 ... but then it continued ...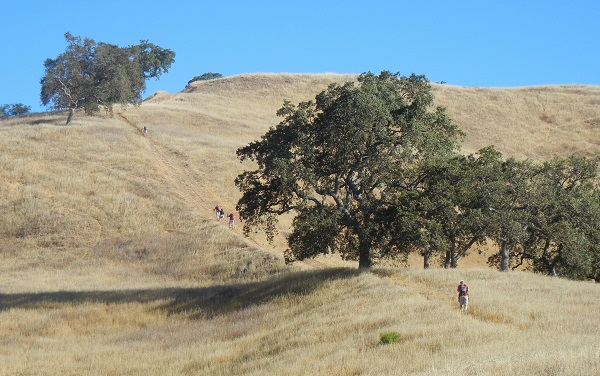 ... and continued some more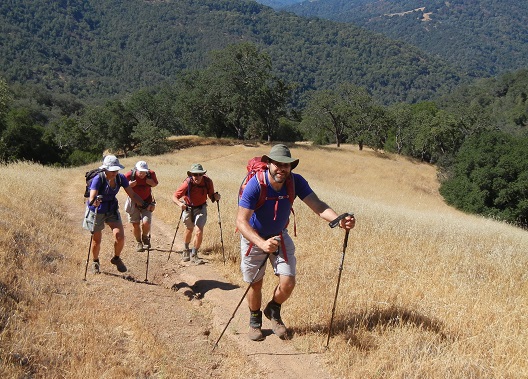 Adam & Co. are almost at the top (and still smiling!)
Wrong! The climb was easier than expected, but not to worry -- there was still plenty of suffering in store for us the rest of the day.
The drop down the backside of Willson Peak into Grizzly Gulch was murder on my knees, and I had to take a good rest when I finally reached the bottom. The rest of the group was long gone, except for Angelika, who was also nursing multiple ailments and taking it slow. I gave her an alternate route to ensure she would be able to complete the hike in reasonable time.
I picked up the pace along the flat Grizzly Gulch Trail and made my way through the maze of trails in the area around Jackson Field. As I approached the final turnoff to head up the ridge, I could see David's bright red shirt about a quarter-mile ahead of me, so I knew I was not too far behind the second pack.
Up at the top of the ridge, I could hear the voices of David and Co. in the Kelly Cabin Canyon down below. I had to make a strategic decision: Try to catch up with them, or stop and have my roast beef sandwich. I don't think it's hard to guess the outcome. Mmmmmmm, roast beef!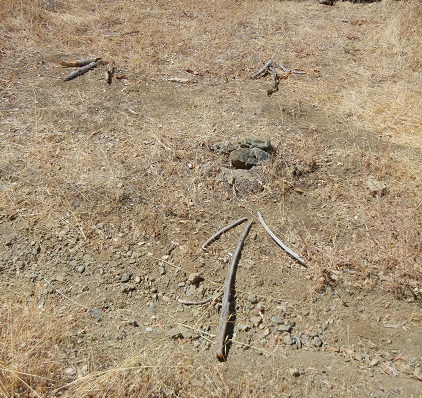 Making sure stragglers don't miss the mystery turn back into the creek
I caught up with Adam, Alan, Christina, David, and Karl at Kelly Lake. I think that for the first time, nobody had missed the turn going back down along the creek and ended up on the Coit Road. Who says INCHers never learn?
At this point, most folks were pretty worn out and just wanted to get this hike over with. Karl in particular was having one of those famous "Big Henry Beatdown" days that we all have every once in a while (some of us more often than others). The road back was a struggle for him. Every once in a while I'd see him bent over with his hands on his knees. It was easy to see him a mile away thanks to his bright neon green compression socks. Gotta get me some of those, and wear them with my bright yellow (or orange) shirt and baggy shorts to piss off Helen.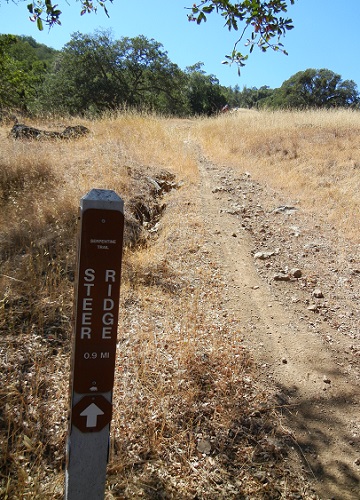 Almost done -- final big uphill of the day!
I chased Karl up the Serpentine Trail -- almost there, almost there, almost there! He was begging Big Henry for mercy. I learned long ago not to ask Big Henry for mercy as he won't give any. In fact, it just eggs him on. We finally made it to the top. Whew! Of course, "the top" wasn't really the top. There was still more uphill facing us along the top of the ridge before the final drop. Big Henry wasn't calling off the dogs just yet.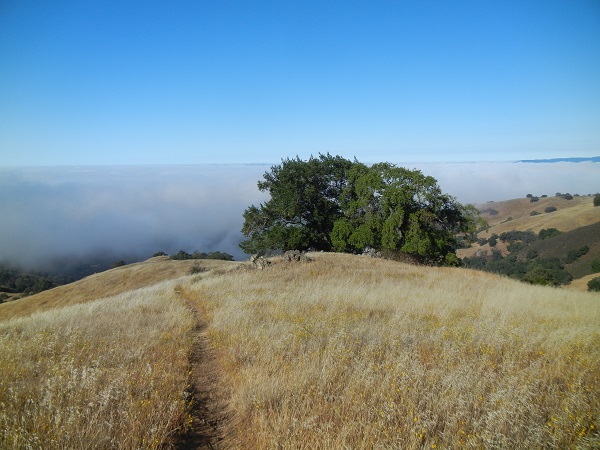 View from the top of the ridge as afternoon clouds roll in
I made another strategic decision to head down the gentle Donnelly Trail, instead of the steep Steer Ridge, in order to save my aching knees. As I was heading down, I looked over at the other ridge and saw Karl slipping and sliding down. This brought another question to mind: Which is worse -- going up the Steer Ridge or down it? The answer: They both suck, but in different ways!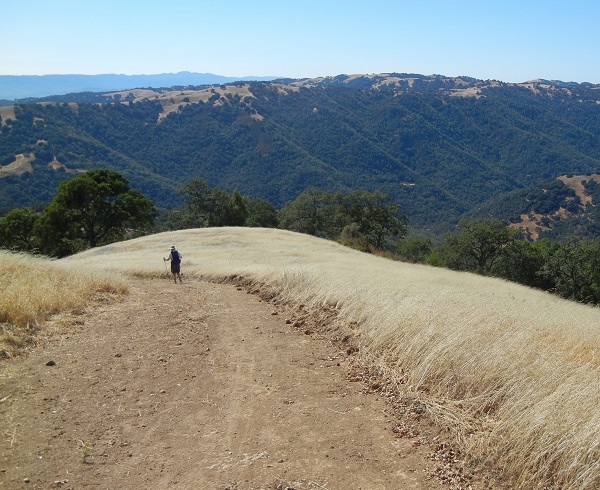 Heading back for beer!!!
As it turns out, my great strategic decision was a lousy one. The freaking trail added what seemed like 10 miles to the hike. I was even thinking of turning back up and coming down the Steer Ridge, but I was past the point of no return. The lesson, once again, is that Big Henry will find a way to kick my ass every time.
Milestones:
Karl's 170th leaf







Pages maintained by Steve Walstra, Peter Saviz, and Russell Gee.
©2022 Intrepid Northern California Hikers