958. Five Peaks of Diablo (11/28/14)

Hikers (33): Adam, Brad, Christina, Dan, David, Despina, Drew, Dwight, George, Gloria, Hima, Iyad, Jeff, Karl, Kathryn, Nagendra, Nick, Peter, Peter E, Rainer, Ralph, Robert, Rudi, Russ, Sarbinder, Sean W, Sophie, Stacy, Steve, Theresa, Wendy, William, Yannick
Distance: 16 miles
Rating: 4 difficulty, 9 beauty
Park info: Mt. Diablo State Park near Clayton

Write-up by Peter -- Pictures by Iris, Karl, and Stacy
It felt like a Level 3 going up to the Summit -- pretty sure it was my best time ever at 2:40 -- but like a Level 5 on my aching knees on the way down, so I'll average it out and call it a 4. Karl's stats showed 4800 feet elevation on the day, including UG's new Nature Trail at the start.
Screw Black Friday -- 1, 2, 3 ... INCH!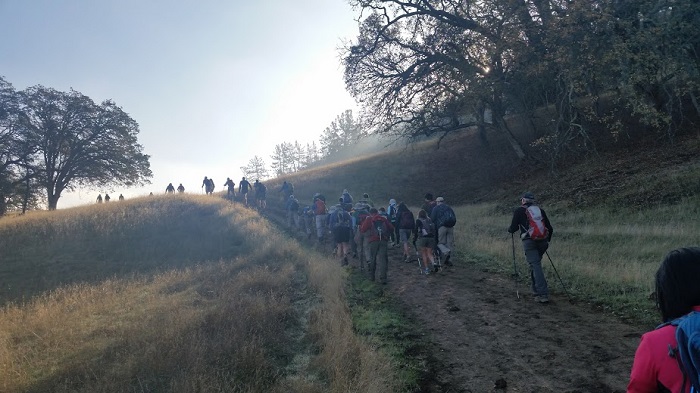 Ironically, I scheduled the hike for Black Friday in order to avoid the crowds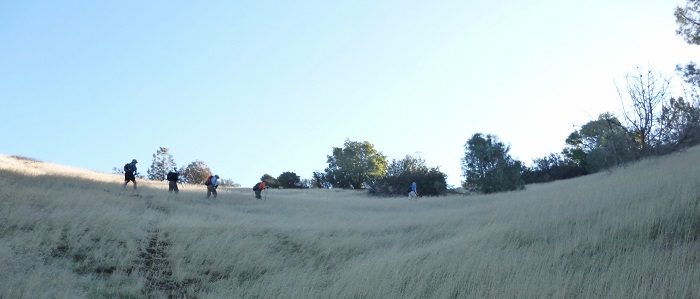 Sweeping through the sweeping grasslands heading up to Mitchell Rock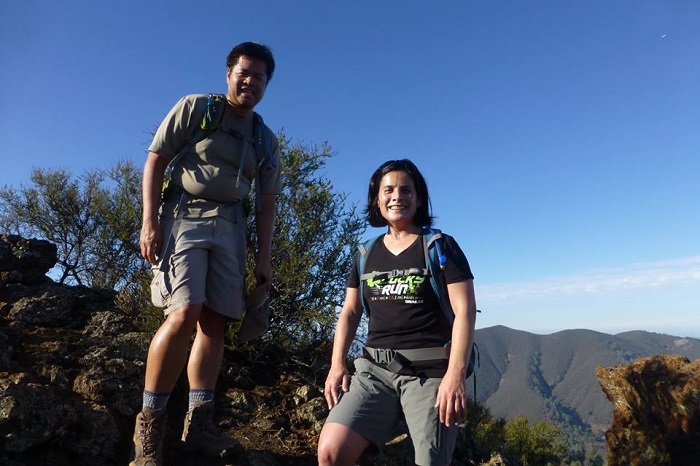 The Man and Wendy are all smiles at Twin Peaks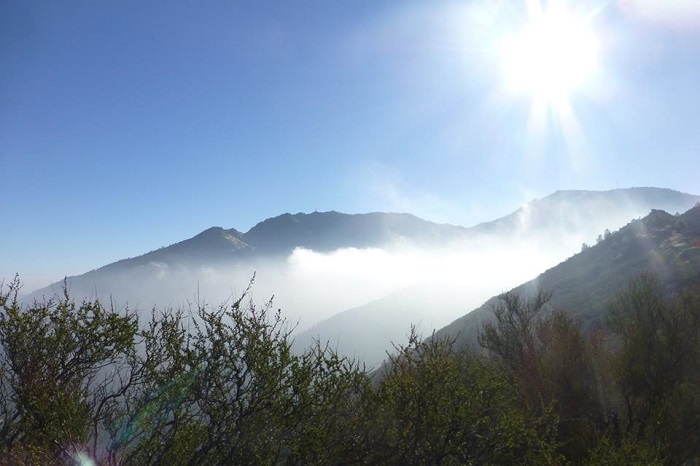 Beautiful morning for a hike!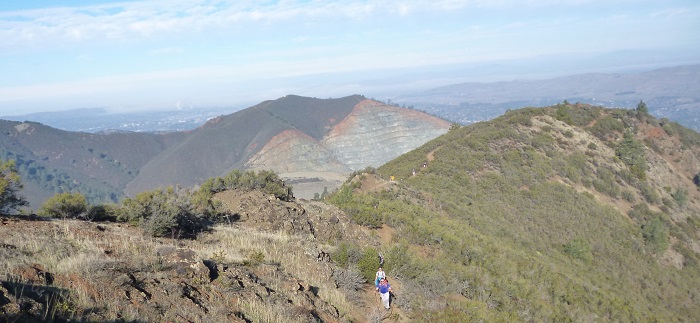 Looking back at the quarry from Eagle Peak (big elevation gain in short time!)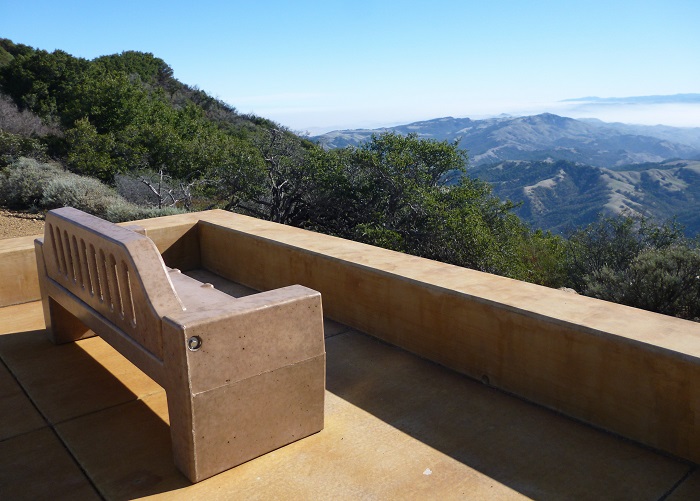 A bench with a view -- too bad we never stop to enjoy it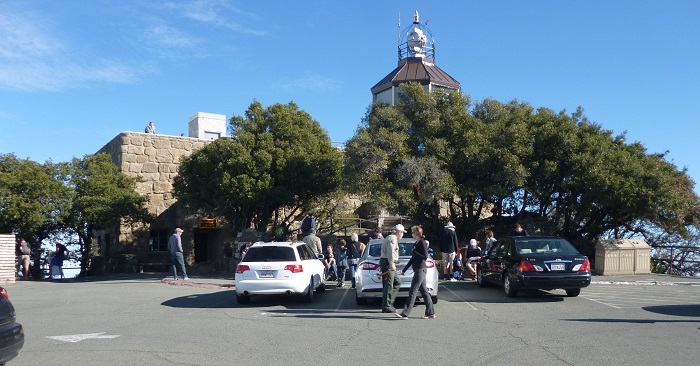 You mean we could have driven up here?
(Hima had an excellent post-hike suggestion to make it a one-way hike next year -- no downhill)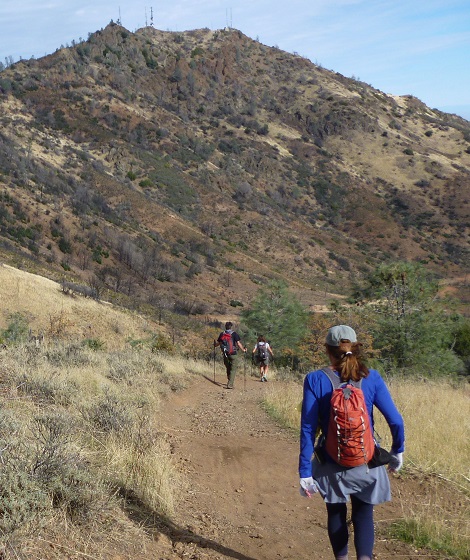 Then it was off to North Peak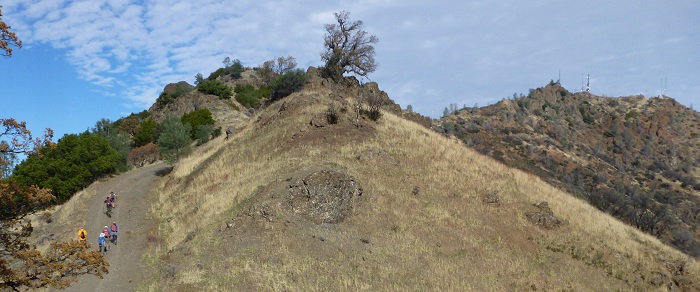 Getting closer ...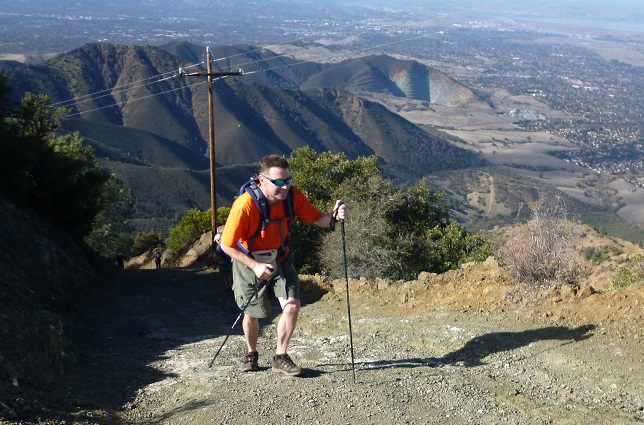 Getting up to North Peak is a lot easier than getting down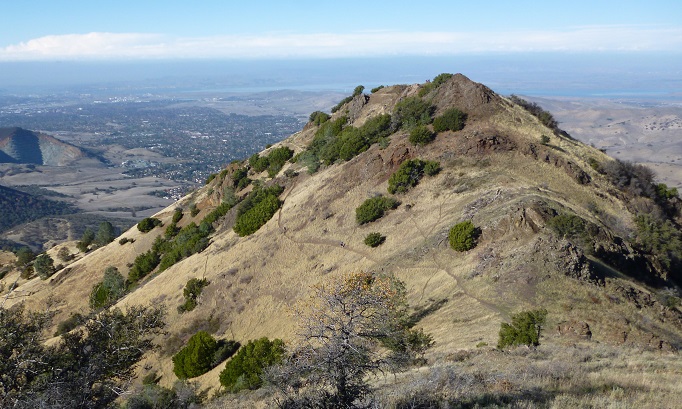 Olympia is the final peak on the day before heading back to the quarry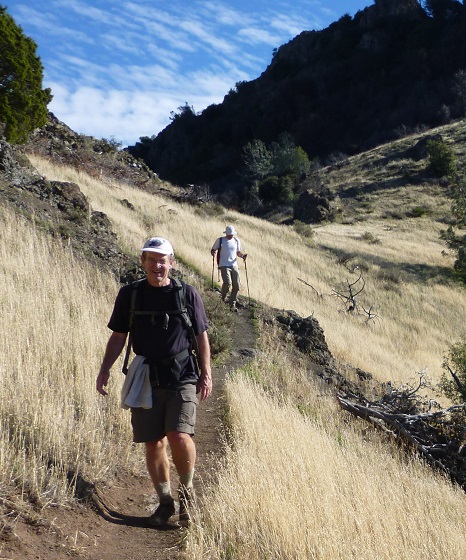 David knows he's earned that post-hike beer and it's coming soon!
Various dubious honors were bestowed on the hike:
Yellow Leaves of Lameness to everyone except Iyad, Jeff, William, Steve, and myself for not taking the Deer Flat Creek Trail, especially after I hauled ass up the hill to put a big stinkin' arrow on the ground. They came up with all sorts of lame excuses -- the trail was blocked off, it wasn't on the new map, yada, yada, yada ....... tell it to the judge! Wait a minute, I am the judge and I say Yellow Leaf! (and, yes, I know it looks kinds orangey, but pure yellow doesn't look good on a white background.) I'll cut The Man some slack and not Yellow Leaf him for this because he did a portion of the Bald Eagle Trail instead, but ...


Pink Leaf of Weakness to The Man for (wisely) not going up (and down) North Peak. He did bring bad karma on himself and his posse and they ended up doing extra mileage to make it back to the car, but I'm Pink Leafing him anyway. And just to be fair ...


Yellow Leaf of Lameness to myself for coming backwards down from North Peak. Yeah, it looks really lame, but I am literally lame and at least my knees survived.


Honorable Mention (but no leaves) to Iris and 3 teenagers (Becca, Mike, Nick) for doing a shorter variation on the hike, going up to the Summit via Prospector's Gap.
Milestones:
Highest point in Contra Costa county
Dan's 30th leaf
Drew's 1st leaf
Karl's 180th leaf
Nick's 70th leaf







Pages maintained by Steve Walstra, Peter Saviz, and Russell Gee.
©2022 Intrepid Northern California Hikers