967. Pacheco Falls (01/31/15)

Hikers (20): Adam, Biz, Brad, Carissa, Chester, Hailong, Jim, Karl, Kathryn, Nick, Peter, Peter E, Robert, Russell, Sarah, Sarbinder, Sean W, Shuli, Steve, Tony
Distance: 21 miles
Rating: 5 difficulty, 9 beauty
Park info: Henry Coe State Park east of Morgan Hill

Write-up by Peter, Adam, and PeterE -- Pictures by Biz, Karl, Sarbinder, and Tony
I was long overdue for a trip to Pacheco Falls -- it had been over 5 years since my last trip. The hike did not disappoint -- it was a gorgeous day with plenty of great scenery. Check out the pix below.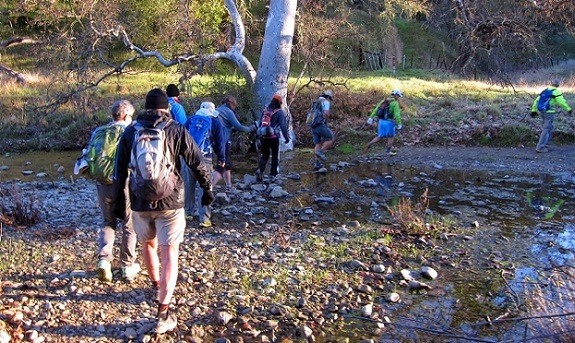 Starting out with a stream crossing on a chilly morning (32 degrees at outset)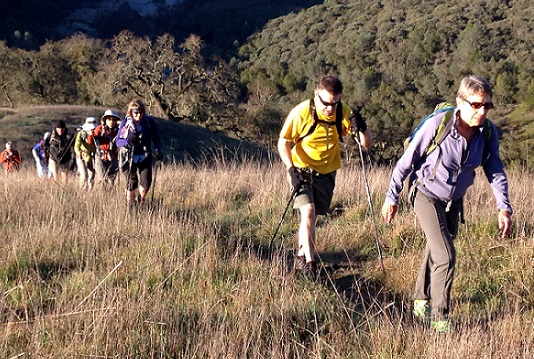 Don't worry, you'll warm up real fast -- the climb begins!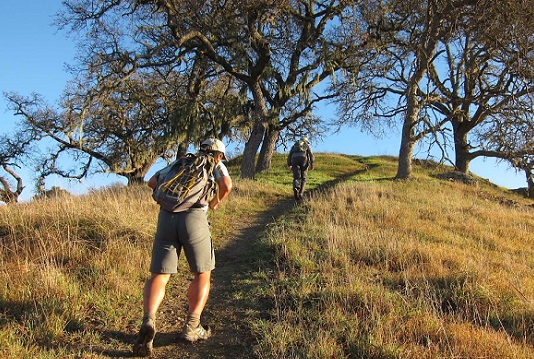 Keep going ...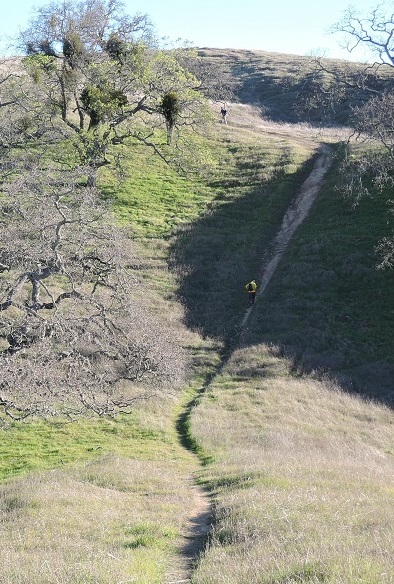 ... and going ... up the vertical hill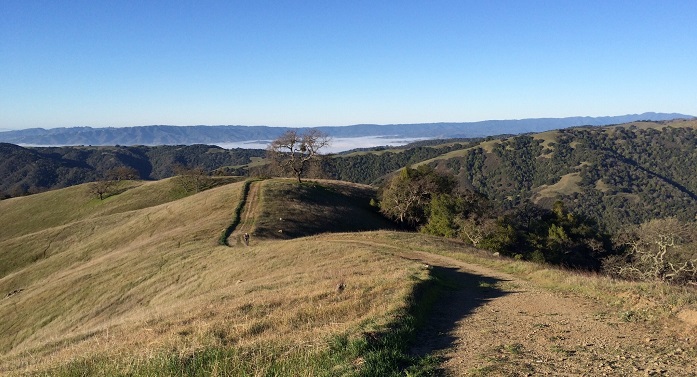 Above the clouds, it finally starts to flatten out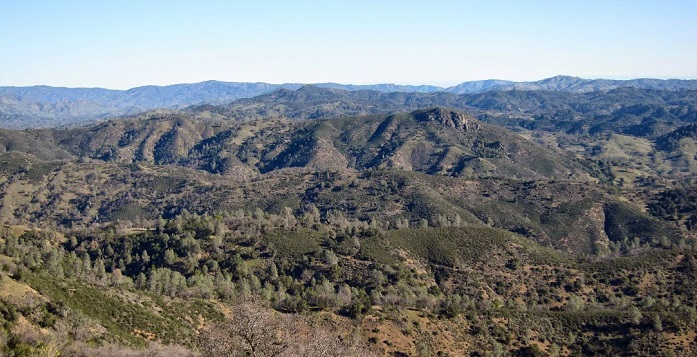 Your reward -- beautiful views all around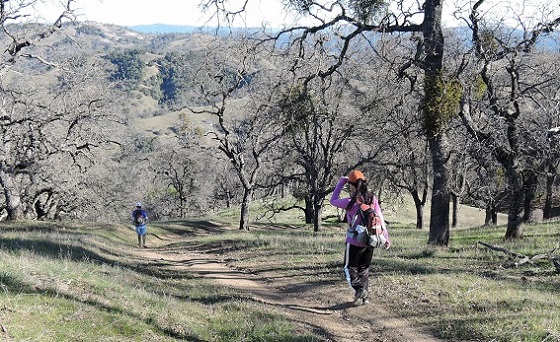 Then smooth sailing all the way to Pacheco Falls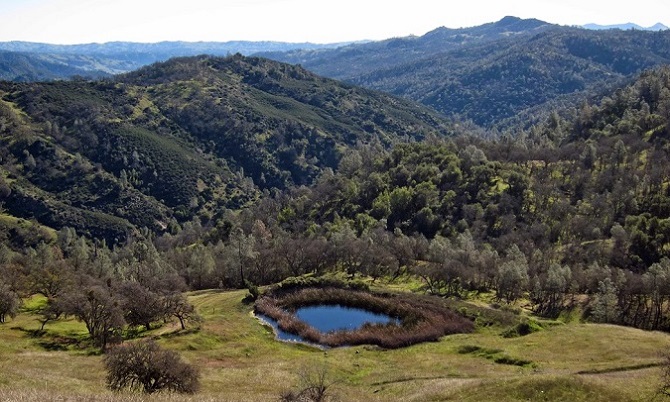 Heading down to the falls via Woodchuck Pond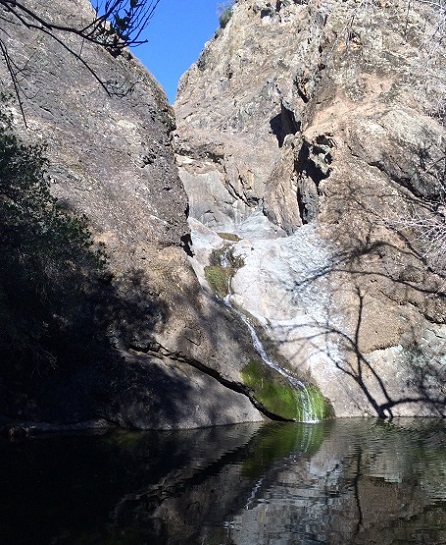 Despite California's drought, there was water in the falls!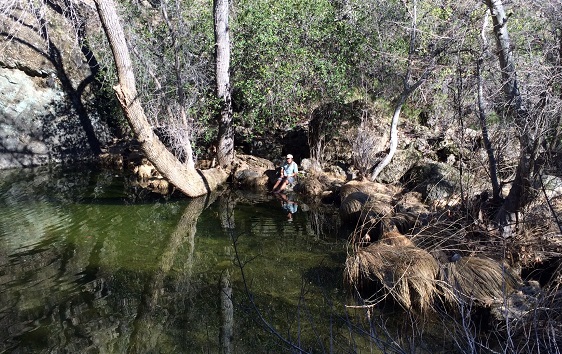 Hailong enjoying lunch at the nice cool pool at the bottom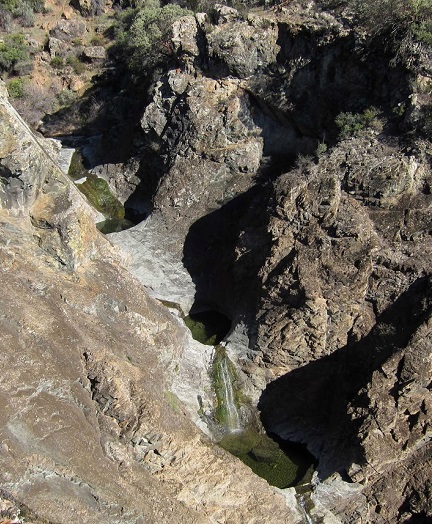 Multiple pools/falls could be seen from the overlook at the top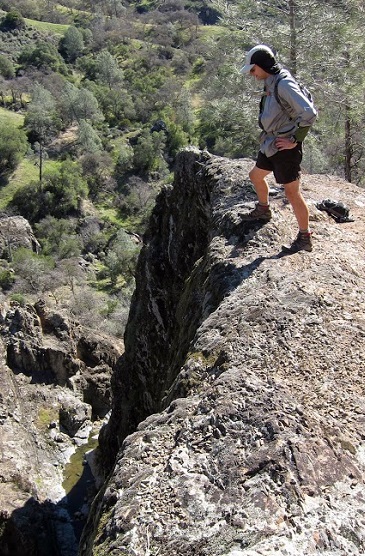 Jump!
Hmmm, I'm not getting near the edge!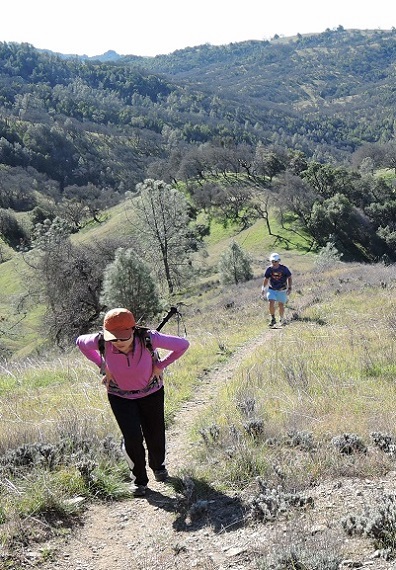 C&C heading back up the hill -- 11 miles back to the car (ugh!)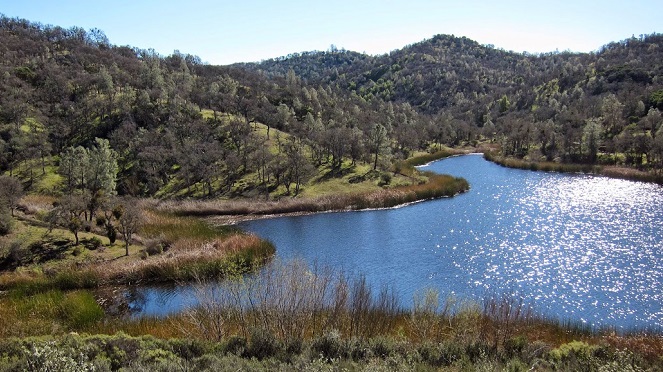 First stop: Beautiful Coit Lake shimmering in the sun
(the crapfest walk along the east bank was an unexpected bonus)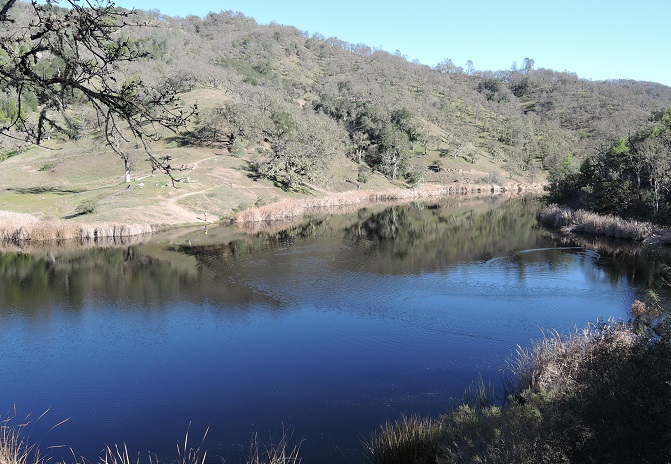 Second stop: Beautiful Kelly Lake was serene
(two-thirds of the way through the hike, fatigue setting in)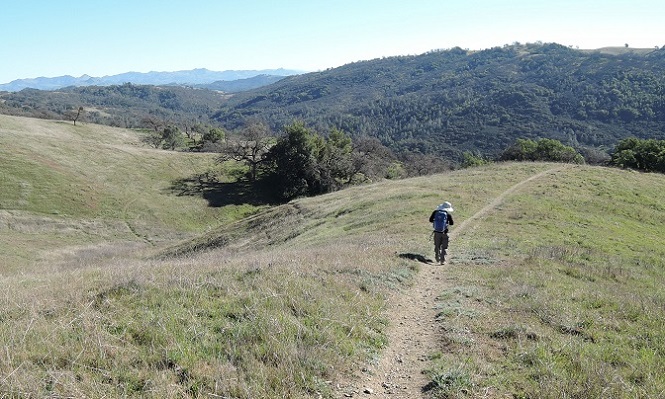 Heading down the Dexter Trail -- nice views all around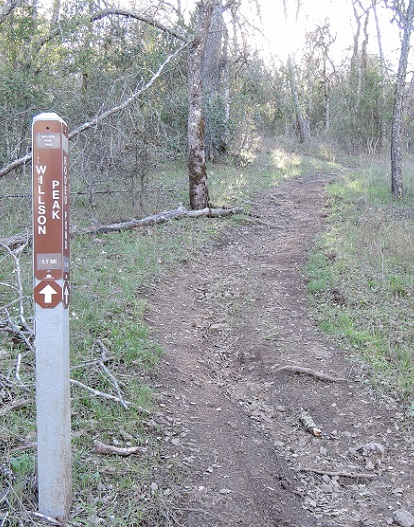 Big Henry had one final big climb waiting for us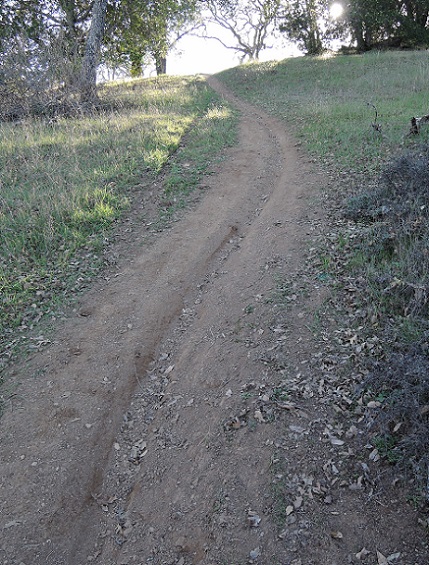 Make it stop, Big Henry!!!

Maybe this guy can help ...
Adam's notes: I've been fighting a stomach flu since yesterday but decided to go for Pacheco Falls anyway. Don't know if you saw me roll in just as you did the INCH cheer, but I saw Nick H and Sarah at least. I made a wrong turn at Wasno and went almost to Kelly lake, then reversed to Wagon where I was obliged to stop and be sick, both of which mistakes eliminated any thought of catching the pack.
Near Crest Trail I met Sarah coming back the other way along Wagon Road ...she recommended this as having less elevation than the rest of the loop. Made it down to the falls around 1:15, was pleased to see some water, then decided to hang with the official return route.
I couldn't find the "connector" despite much blundering near the pond, and ended up just taking Coit Road to Kelly Lake. Sun was setting as I passed Willson Peak, so I opted for Steer Ridge on the descent, which I think has better footing. Back to HH in the dark at 6:15 with no beer and no one to complain to :-)
Peter E's notes: After removing various GPS artifacts, bathroom stops, etc. my distance and elevation gain were 21.9 miles and 6180 feet. The differences between my route and the route marked on the map were:
I went to the bottom of the falls (.3 mi & 160')
Instead of Coit Road south, unnamed connector, & Coit Dam Trail northwest, I did the slightly longer Coit Road north & Coit Ridge trail.
From counting map contour lines and from tracklogs, I estimate my route to have been about .6 miles longer and 400-480' more elevation gain. Therefore, I estimate the "official route" to have been about 21.3 miles and 5740'. Of course, if you missed the connector then you added another .5 miles and about 160'. And I know some people that got confused and went up to Willow Ridge Road to add a little bit more mileage and elevation gain.

Misc: Honorable mention to Kalyan who showed up for his first INCH hike, despite being told multiple times that the Steer Ridge is not a good place to begin your first hike. He lasted less than an hour before turning back. Big Henry was smiling :)






Pages maintained by Steve Walstra, Peter Saviz, and Russell Gee.
©2022 Intrepid Northern California Hikers