968. Mt. Allison South (02/07/15)

Hikers (29): Adam, Biz, Brad, Carol, Christina, George, Giulia, Hailong, Helen, Holly P, Jackie, Jeff, Jim, Kathryn, Keung, Le D, Milon, Nick, Peter E, Robert, Ross, Russell, Sarah, Sarbinder, Shuli, Sophie, Steve, Theresa, Tim R
Distance: 15 miles
Rating: 3 difficulty, 8 beauty
Park info: Ed R. Levin County Park near Milpitas

Write-up by Steve -- Pictures by Keung, Sarbinder, Steve and Biz
The original plan was a hike down at Garland Ranch involving a bridge-less crossing of the Carmel River at the end. When I saw it was going to rain prior to and during the hike, I switched it to something that would not involve people drowning. Apparently other clubs canceled their hikes, because we had 30 people register for the hike. As it turned out, one less-than-intrepid hiker didn't show up and got The Boot from the list.
We met near Sandy Wool Lake, which looked to be serious need of some rain lest it be demoted to pond status.
1, 2, 3. . .INCH!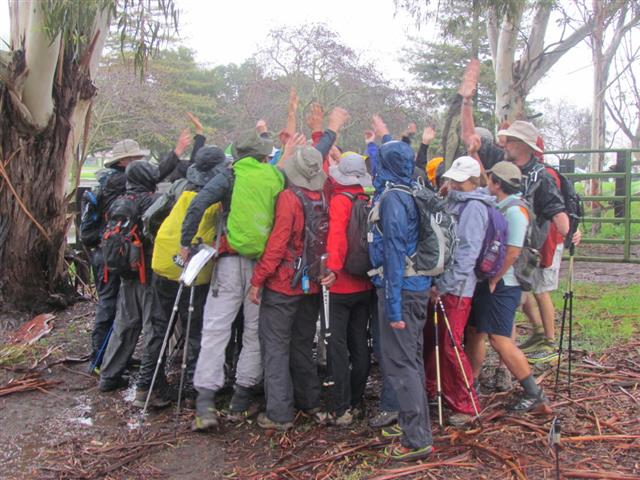 Wet start
Jeff and Shuli showed while we were heading to the trail head. We did a three mile loop "prelude" to start off the hike, which Jeff managed to botch. This resulted in us passing him an hour or so later heading up Monument Peak. He earned a

for this travesty.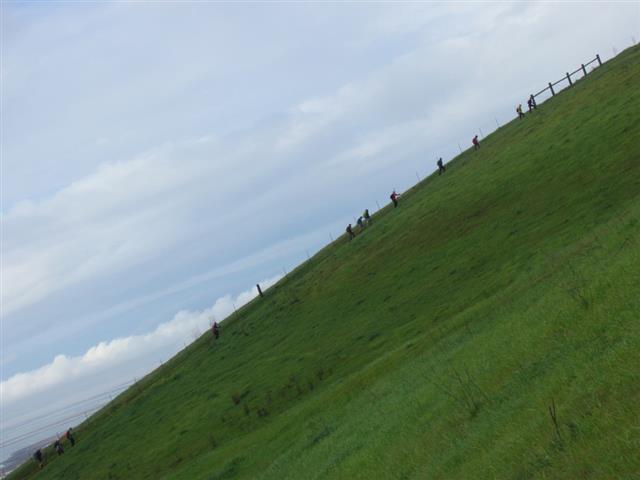 Steep trails!
It rained for the first thirty minutes of the hike, producing plenty of muddy slopes, but not too bad. Perhaps the biggest challenge of the hike happened half way up to the ridge when we entered the cloud line and the visibility dropped tremendously. I had put a few waypoints into my GPS since we were taking a "new" route hugging the east side of the trail/road system. That turned out to be more helpful than expected, particularly when we encountered an unexpected locked gate near the summit. Since I knew (from the waypoints) it was the right way to go, I left arrows on both sides of the gate to ensure people it was the right way. Since we couldn't see the summit from here, there was really nothing else to help orient.
After clearing the gate, it wasn't too far to the summit. The thick cloud cover made it impossible to know this, however. Someone noted on the way up that the giant antenna near the summit was invisible except for one of the guylines near the trail. The line just disappeared into the air. . .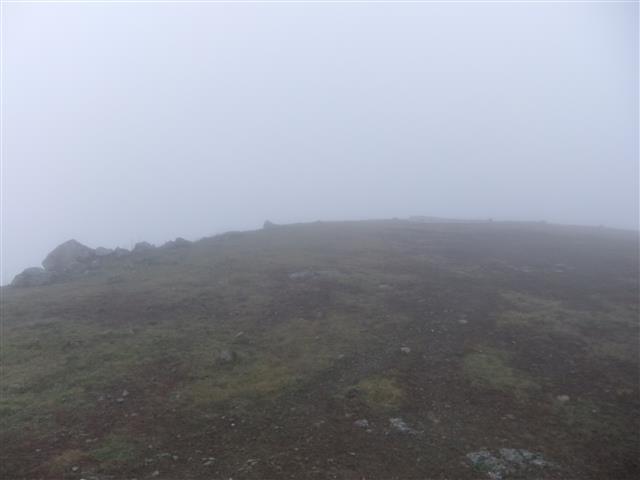 Monument Peak was not so easy to find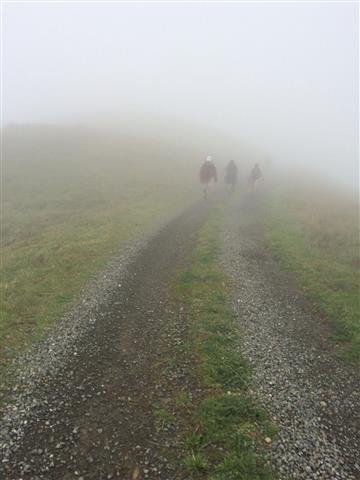 The second wave of people arrives to Monument Peak
We hung around on the lee side of some summit rocks for 30 minutes as small groups of INCHers appeared out of the fog. We had time for some tequila shots to celebrate Peter E's first forest. There was also time to take roll, where we discovered Jackie, Le D, Holly P, and Tim R were missing. I chalked them up to "lost in the fog" and we headed off. As we went down, there was Jackie just coming up.
Mt. Allison is not too far away, and the clouds were breaking up, so we could actually see it. We were soon there, took some more pictures, did another celebratory shot for Peter E's forest, and headed down. This time Jeff and Jackie were coming up as the group went down.
Misty Mt. Allison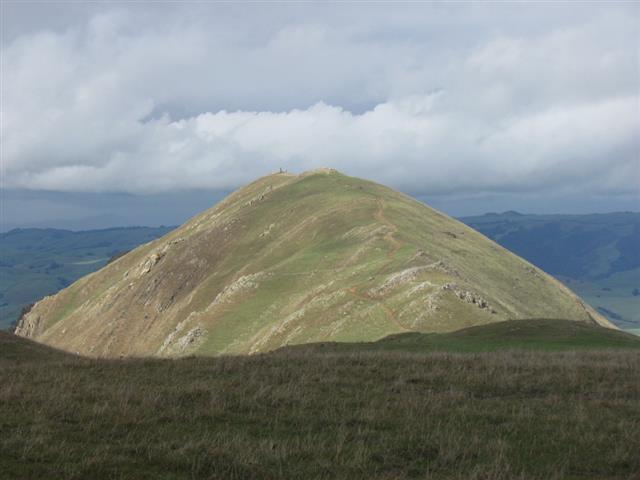 The sun shines on Mission Peak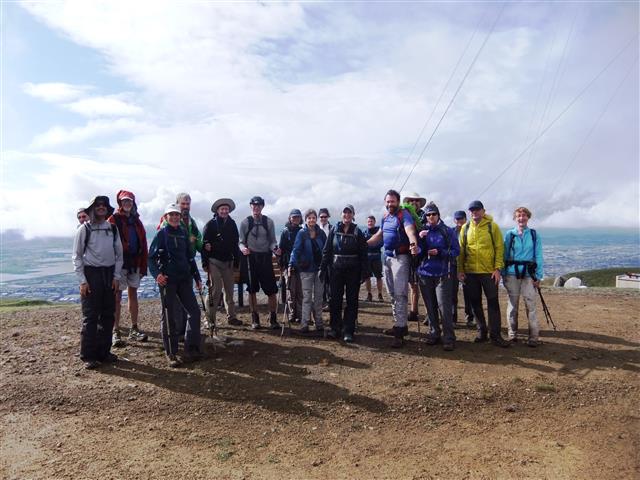 The sun shines on INCHers at the summit of Mt. Allison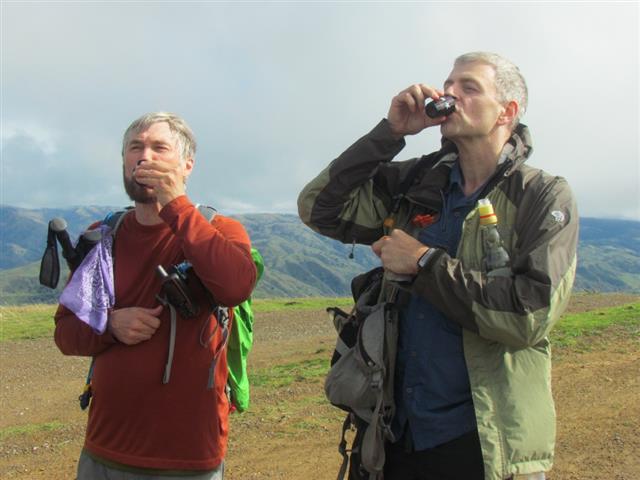 The sun shines on Peter E's first forest
Amazingly enough, we would later run into the missing three hikers, who were making their way to Mt. Allison in high spirits. Everything was going to work out after all.
There was much muddy slogging down the trails to the parking lot. There were also a few places where you really had to pay attention to the map to avoid taking the wrong trails (with unsigned junctions). A few people took wrong turns, but everyone eventually made it back unscathed.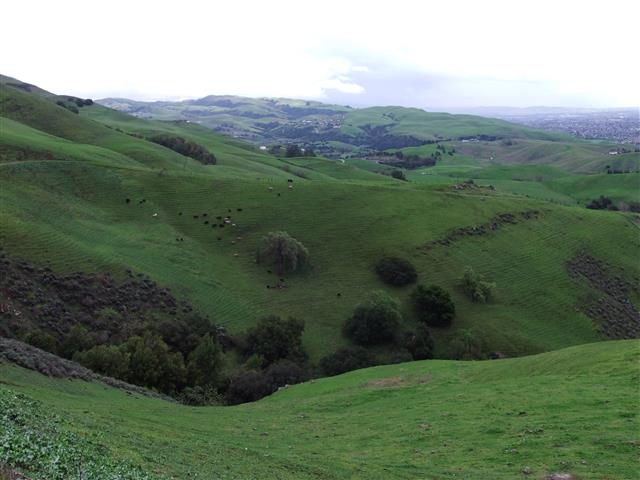 Sometimes it is hard to tell the INCHers from the cows
It started raining a bit before I got to the parking lot. My plan had been to head to California Craft Brews in Fremont immediately to avoid standing around in the rain, but people were already setting up for a post-hike "party" under a tree. By the time I had changed into dry cloths, there was a full spread of items on the table and no one was particularly bothered by the rain. Guess that shouldn't be a surprise since these same people showed up for a hike in the rain in the first place.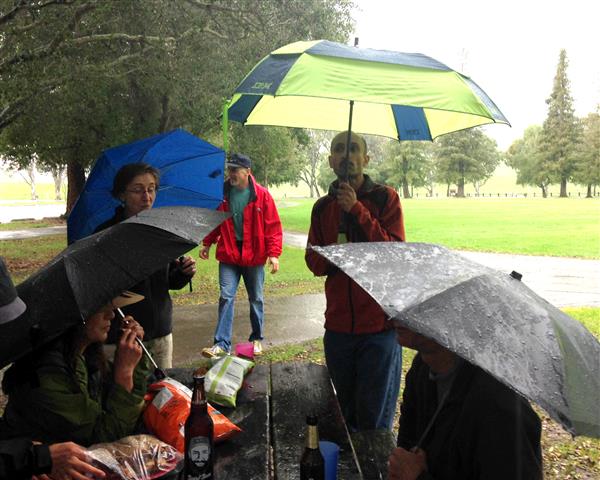 Nothing can dampen INCH's partying spirit
Hikers kept showing up, although Shuli was a little worried because her carpoo--and normally fast hiker Jeff--was AWOL. But he eventually showed up and all was good. When the party finally broke up and a few of us headed for California Craft Brews, Keung was still there waiting for Le D and Holly P (presumably), so guessing they all made it back in one wet piece. For the record, this hike probably would have been a "2" without the rain and mud.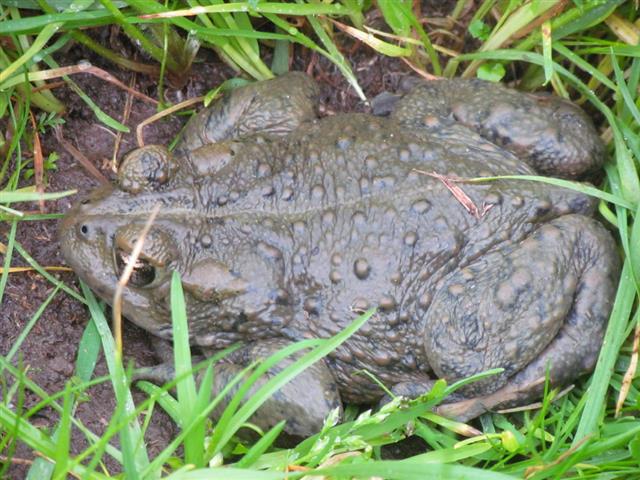 Keung caught Peter sneaking into the post party
Milestones:
Peter E's 1st forest
Shuli's 130th leaf
Steve's 760th leaf







Pages maintained by Steve Walstra, Peter Saviz, and Russell Gee.
©2022 Intrepid Northern California Hikers