984. Big Basin Loop (05/23/15)

Hikers (29): Arlene, Brad, Chris, Despina, Drew, Ellen, George, Iris, Jane, Janice, Jim, Karl, Kathryn, Kevin, Mike H, Nick, Padraig, Peter, Peter E, Rainer, Ramesh, Russell, Sarah, Sarbinder, Shuli, Sophie, Stacey, Sung, Tammy
Distance: 13 miles
Rating: 2 difficulty, 9 beauty
Park info: Big Basin State Park in the Santa Cruz Mountains

Write-up by Tammy -- Pictures by George and Karl
After an 11.08 year hiatus (really, check the stats page!) from INCH, I figure the least I can do to say thank you for letting me return is to do a write-up. I choose the 19th Anniversary hike at Big Basin as my reintroduction back to INCH. And what a reintroduction it was!
Before I start, I want to note the following changes I observed since I've been gone:
The homepage no longer says "we're an eating club that likes to hike" or whatever mumbo jumbo it was that I fell for back in 2003 that led me to believe this was a leisure hiking club. It now reveals it's true brutal nature to the world for all naive INCH virgins like I was on that fateful morning of March 29, 2003 - hike 311 to Montara Mountain via San Pedro. Or as I like to refer to it - the death march up the mountain with no shade. If you ask Steve he'll say it's a great date hike and something about an ocean view which I either blocked from my memory or never saw due to my exhaustion, dehydration, and/or over-exposure to the sun - I guess we all see things from a different perspective. But what we can all agree on is that at INCH, we hike because we love to suffer! is a more appropriate description.
INCH has grown so much that the list is now closed to new members! Here's where I do the obligatory thank yous to Peter, Steve, and Russ who let me back into this exclusive club - although I felt a little more special before I found out that they'll let any former member back in. Thanks Steve for making a girl feel (not) special!
The scale - oh the scale! Yes, I'm talking about the fact that the difficulty rating is non-linear and closer to a "log-2 scale". Who thought that was a good idea?!? Probably The Man - I blame it all on him. I mean, what normal person thinks 2 to 3 is actually like going from a 2 to a 4? Why would anyone of sane mind and body make that kind of scale? And because that isn't fun enough, that little tidbit is only located at the top of the Diary page - and not in oh, what's that page called? You know that one where people seek answers to frequently asked questions....? Ack, it's on the tip of my tongue...oh well, guess we'll never know ;-p
We don't stop as a group to eat at the high point/half way mark anymore! What the what?! I brought a sandwich - okay an omelet taco (I didn't have time to get bread) - that I was really looking forward to eating at Berry Creek Falls with everyone but I guess that's not a thing anymore. Some people do stop and eat, but it's not a big group activity anymore - at least not during the hike. Which leads me to my final observation...
The after party! Everyone eats and drinks, correction, drinks and eats after the hike! And I have to admit, while I miss the mid-hike lunch break bonding, the after party is awesome and something to motivate yourself toward!
Okay, enough stalling and time for the write-up.
The morning started at the secret carpool location where I re-acquainted myself with Peter and met Sung, his co-worker. After packing everything into Peter's car, our carpool was off to the Santa Cruz mountains. Upon our arrival, we noticed George and several other regulars already gathering and preparing for the big hike - these guys are not messing around! After obtaining the parking permit, we strategically re-parked next to the party site then walked back to join everyone - we made it after a harrowing walk down a narrow path where Chris tried to run Peter over - guess he didn't like the route Peter planned - hehe...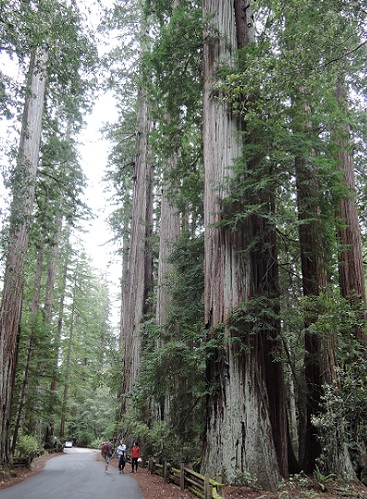 Back to the mighty redwoods, where it all began ...
Within minutes, 27 of us were gathered at the trail head ready to go. The Man gathered us around for a story, of a hiking group that started 19 years ago by a lovely..okay, okay, he just did roll call, noted who was new/newly returned and we did the customary cheer
1, 2, 3. . .INCH!
And off we went! In typical INCH style everyone took off at break-neck speed, as if in a race for the finish. If you listened carefully you might have heard the starter gun signaling the race was on. The usual speedsters took off so fast you didn't even know they were there to begin with. Who were they you ask me? Peter will have to fill in the blanks here as I'm still too new to reliably remember names.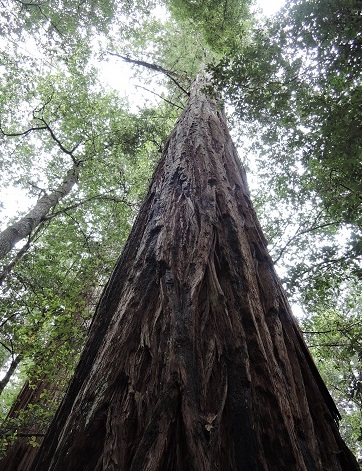 Feeling small?
Even with map in hand and turn-by-turn directions, most of us still needed help from Peter to locate Howard King Trail and the Mt. McAbee Overlook - is that really a thing? Because there weren't any signs and I don't remember a specific scenic spot that was more exceptional than the rest - I know, third world problems.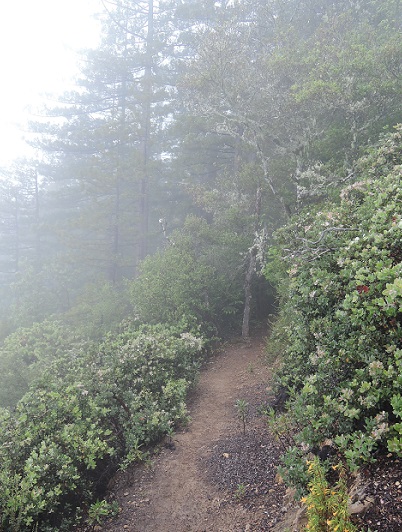 Foggy misty day, as is often the case in these parts
Anyway, onwards and upwards through the magnificent redwoods. More hiking, less talking. Somewhere along the backside of Howard King Trail, Sophie and Rainer, who arrived late, came barreling up from behind leaving us in the dust, or more appropriately, the fog and mist that blanketed the entire mountainside that day.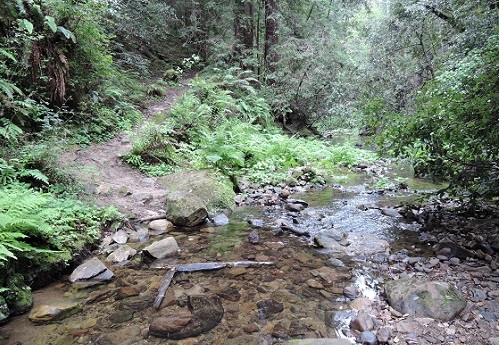 There was water in the creeks, even during California's drought
After several more miles, we were greeted by the beauty of Berry Creek Falls which even the mist could not hide. Some people took a break at the benches to fuel up while others of us kept marching on up the slippery rocks along the steep mountainside next to silver falls and further up past golden cascade.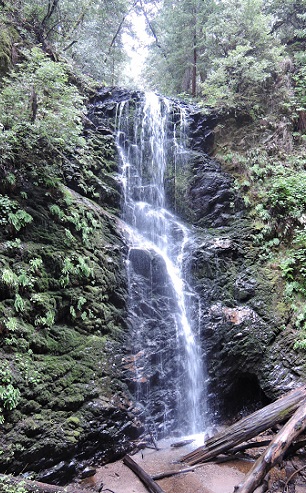 Beautiful Berry Creek Falls never disappoints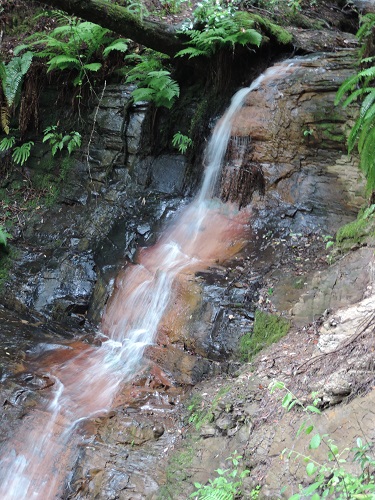 Golden Falls was looking good too
Past Sunset Camp, Peter delivered on the smelly outhouse just as described in the directions - I've never been sorrier for having the right directions. There were some bottlebrush plants somewhere along the way, but I was too busy trying to keep up with everyone to notice. I did however notice the tiny little teepee, but ironically, not the massive treehouse that it was beside - I blame it on the fog.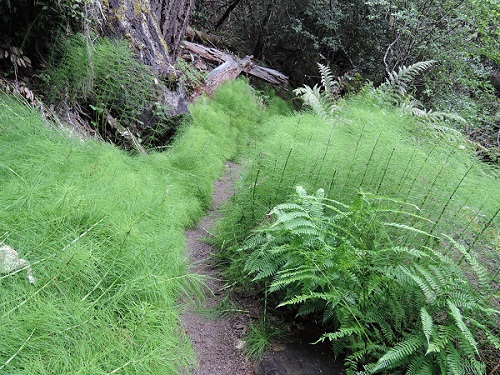 Funky bottlebrush plants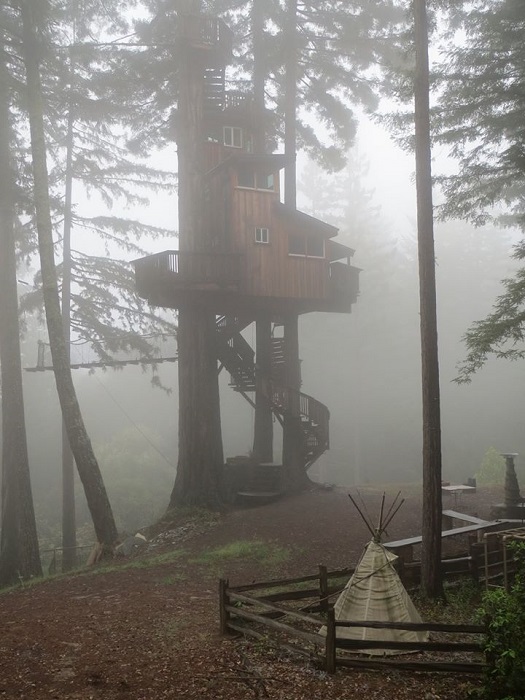 Love the treehouse and the teepee too
Somewhere on Johansen Road along the way to Middle Ridge Trail, I got separated from everyone else. For about 1.5 miles, I had the entire forest to myself. It was so serene and breathtaking I wish I could have stayed in that moment for the rest of the day, but the party waits for no one - and I was famished. After taking a quick break to eat another bar, I was able to pick up the pace and catch up to Karl at the juncture for Middle Ridge Trail - okay, okay, I confess, he waited for me.
The rest of the hike went by fairly quickly after that and before long we found ourselves back where it all started in the parking lot ready to head to the after party. Along the way, there were more trees, some banana slugs, more nature, and even a partial ocean view at one point on the trail - I think early on, can't be sure since I didn't think that I'd be doing a write-up so wasn't taking notes.
After waiting 20 minutes for three teenage girls to change, I finally got to use the restroom - only to find out later that there were restrooms right next to the party grounds. By the time we got to the after party,almost everyone was back and Steve even joined us - he had arrived late and hiked a different trail. The grill was going, chairs were out, and lots of snacks and beer to be drank. For the next several hours, we all enjoyed the good food, company, and conversation. This is what INCH is all about. Even though I had been away for 11 years, it felt like I never left. Peter and Steve (and Russ in spirit) welcomed me back with open arms, and everyone else was equally as kind - albeit skeptical of my stories of how things used to be in the past.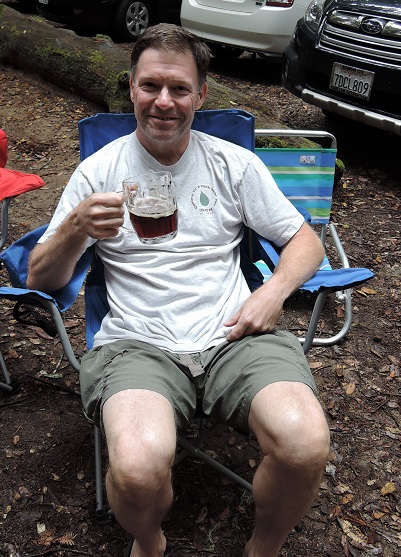 It felt good to sit down after 500 hikes!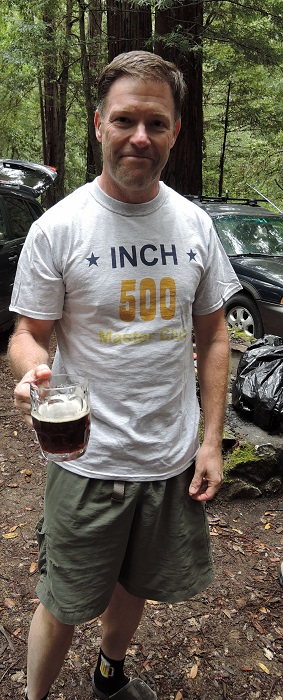 Time for the new shirt -- cheers!!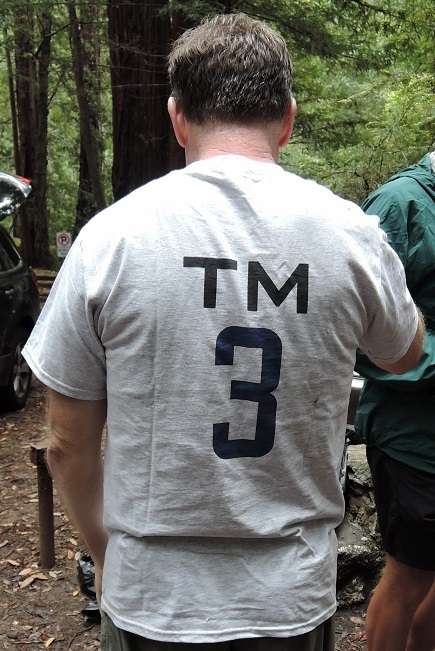 3rd one to reach the milestone
It is only fitting that Peter reached his 500th hike milestone on this day. And for those of us lucky enough to be there, we will never forget the display of might as he tore off his shirt Hulk (or is it Hulk Hogan?) style, flexed his arms, pounded his chest, and screamed the battle-cry of the wild signaling his might. Only after besting the largest banana slug that answered his call did he then earn the right to wear the shirt. If it weren't official before, it is now, Peter Saviz, our fearless founder, our leader, is the one, the only, The Man!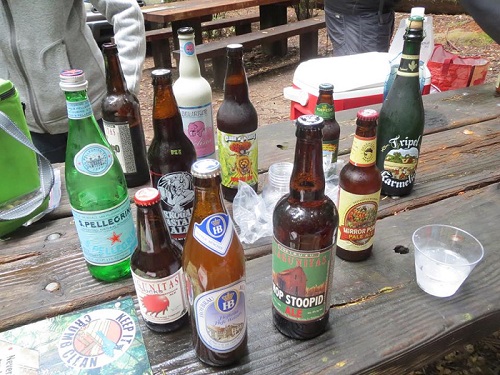 Let the anniversary party begin!
There's never a shortage of good drinks ...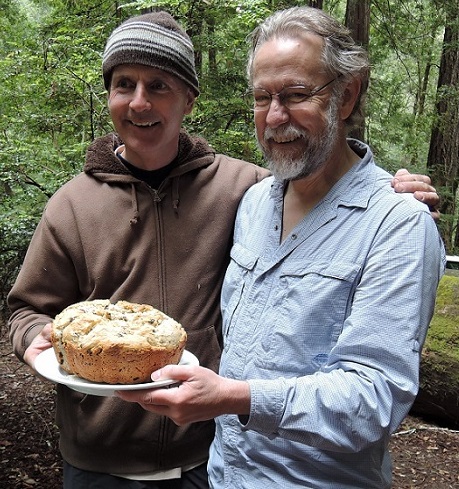 ... and food. Mmmmm, Irish soda bread!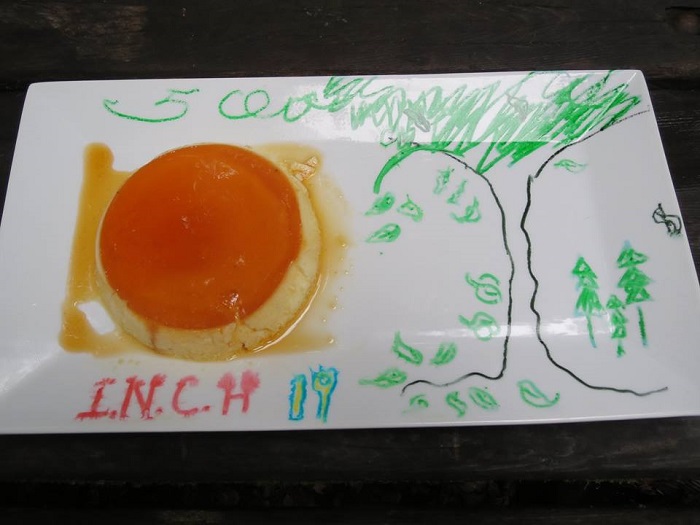 And Iris' flan ...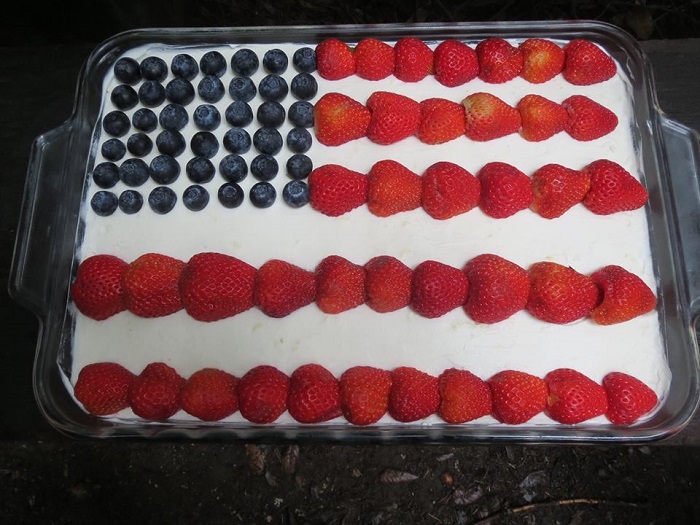 And Julie's cake ... God Bless America!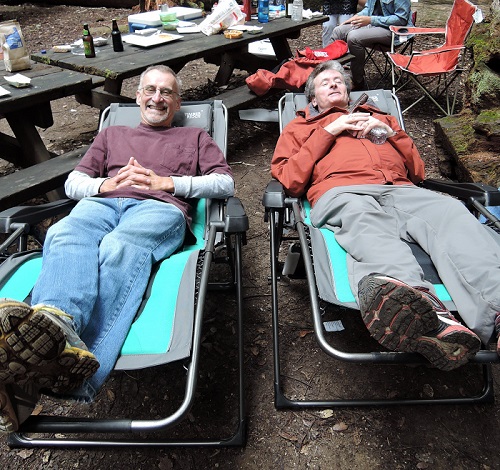 After all that, it was nap time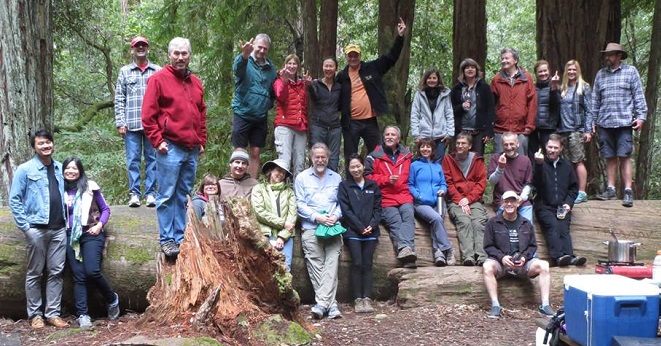 Happy 19th anniversary!!!
As I drove home later that night it dawned on me that the last time I was at an INCH event it was the Summer Party on June 26, 2004 and I couldn't help but think it was only fitting that my first hike back would be the 19th Anniversary Hike.
Honorable mention to Steve who showed up late and did a different hike. He has enough leaves anyway.
Milestones:
Chris's 50th leaf
Ellen's 1st leaf
Iris's 110th leaf
Janice's 310th leaf
Peter's 5th forest
Peter E's 110th leaf
Sung's 1st leaf







Pages maintained by Steve Walstra, Peter Saviz, and Russell Gee.
©2022 Intrepid Northern California Hikers