990. Willson & Vasquez Peaks (07/05/15)

Hikers (11): Brad, Christina, George, Jim, John, Karl, Nick, Peter, Sarah, Sarbinder, Shuli
Distance: 18 miles
Rating: 4 difficulty, 8 beauty
Park info: Henry Coe State Park east of Morgan Hill

Write-up by Peter -- Pictures by Karl
As a rule, I don't like to schedule killer hikes on Sundays, but I hadn't been to Coe for a while and had been requested to schedule a hike there (by two different people, neither of whom showed up!), so I picked an "easy" route in Big Henry's backyard. The only tough part would be the initial climb up Steer Ridge and then it would be smooth sailing the rest of the way ...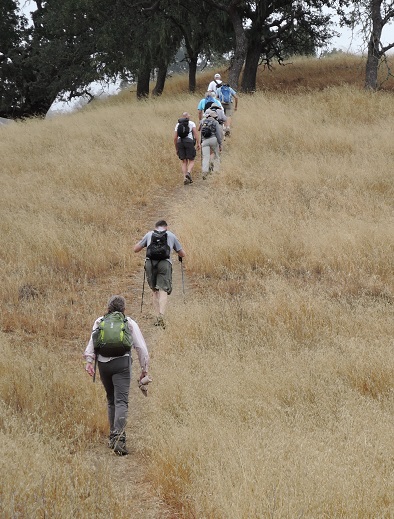 There's no time to warm up as we head straight up Steer Ridge to start the hike
(who knew this would be the good part?)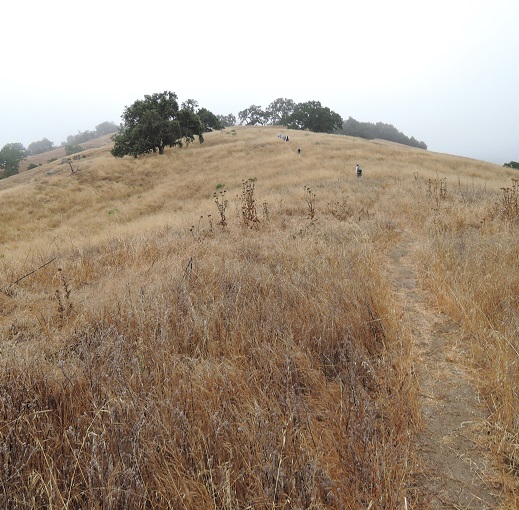 Keep going up up up into the clouds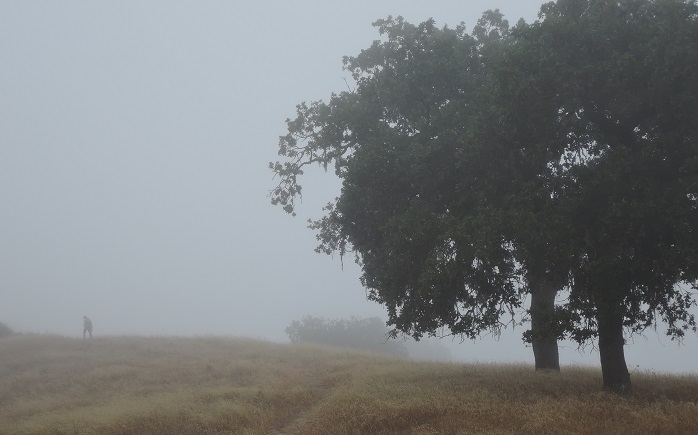 Foggy and cool near the top -- is this Coe in July??
The fast ones in the group made it to the top in under an hour. Nick did it in 56 minutes -- I believe that was a personal record for him. Good job! I came in at 1:04. I could have pushed myself harder, but in retrospect I'm glad I didn't because I would need gas in the tank to get through the back half of the hike.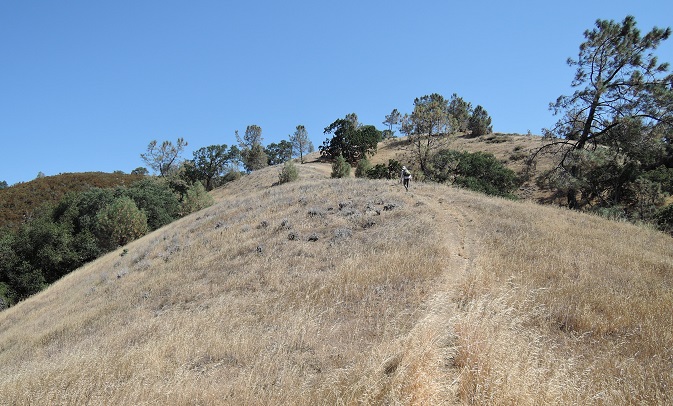 Of course, there was more uphill, this time from Tule Pond
As we headed in towards the interior, the fog was behind us and things started to heat up. Now it was starting to look more like the hot, dry Henry Coe State Park that we know and love.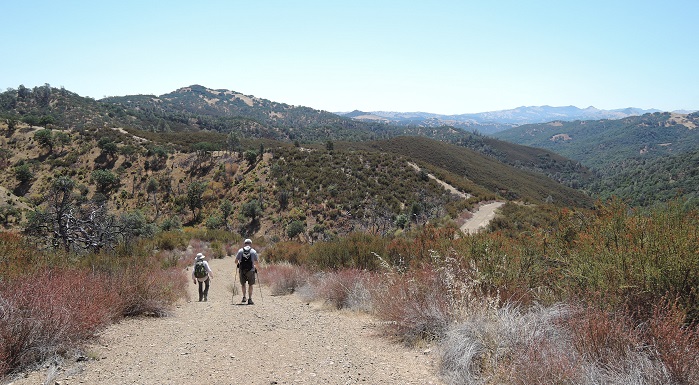 Heading out towards Dowdy was bringing back bad memories
I almost missed the turnoff to Vasquez Trail, but luckily Sarah saw the sign and reeled me in before I went too far. As it turned out, a few people did some extra miles on the day for similar reasons.
Sarah, Karl, and I stopped for a break at the top of Vasquez Trail. We reminisced about David and Angelika taking this trail up on the infamous Hunting Hollow to Dowdy Ranch hike.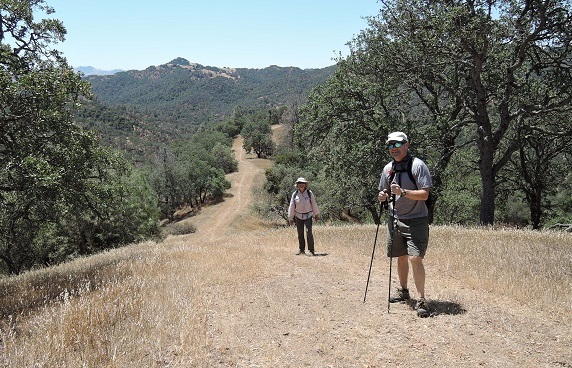 All smiles after a quick lunch break at the top of Vasquez Trail
(little did we realize what torture was about to begin)
As we were about to find out, our luck was not going to be much better because the Vasquez Trail drops down into a gulch and heads up the other side, so you're screwed no matter which direction you take it from. Big Henry was bringing it. How you like me now? The only saving grace on this day was that the temperature was only in the 80's -- about 20 degrees cooler than the last time we were in these parts.
The steep downhill was murder on my creaky old knees
I saw K-Man was not having the best of days, and I was in no big rush to pound more trail, so I hung back with him for the rest of the hike. It gave us a good chance to talk fantasy football in preparation for the upcoming season. Yeah, baby -- finally!!! It's been a long offseason ...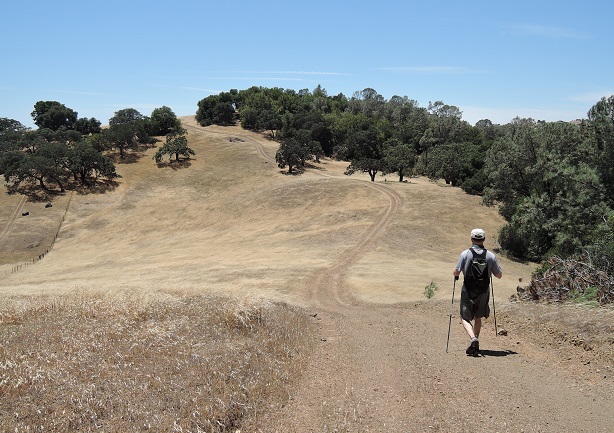 In the vicinity of Vasquez Peak -- nobody else was crazy enough to be hiking Coe on this day
I ran out of water with about 5 miles to go. I had underestimated this hike and left bottles back in the car, and Big Henry was punishing me for it. How you like me now?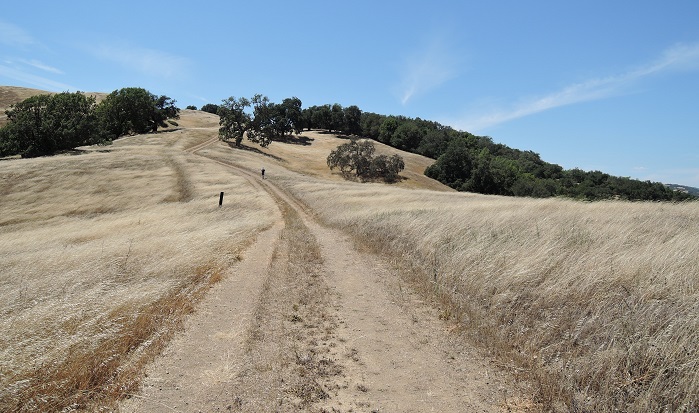 Final big hill of the day -- I need beer!!!
Karl and I couldn't find the Redfern Trail despite milling about in circles for a while, so we gave up and took Phegley Ridge back down instead. We could tell by the fresh footprints that others had done the same. That long downhill was a bitch, but we finally landed on flat ground and I was happy to pack away the poles for the rest of the day. Whew!
Back at the parking lot, the party was in full swing. I downed two cold Newcastles in record time. I think I still had my backpack on. Oh man, it sure felt good to finally sit down again!
Happy 239th birthday, America!






Pages maintained by Steve Walstra, Peter Saviz, and Russell Gee.
©2022 Intrepid Northern California Hikers