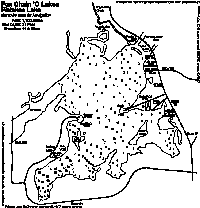 Get detailed map, (33k) (including depths).

Pistakee Lake is located in Northwestern Lake county, between Route 12 and Route 134. Free access is available at Chain O'Lakes State Park. Other access is available from various marinas in the area, check the map above for names and approximate locations. Small boaters (canoes/kayaks....) should be sure to wear your PFD.

Directions to State Park (free access): I-294 to Illinois 173 (Rosecrans Road), and head west. Turn left at Wilmot road and watch for signs for the State Park. The State Park is located on Grass lake (which is a shallow lake and power boats will want to be sure to follow navigation buoys).

Sailboat owners note: Pistakee is not accessible to sailors via the public ramp in the park (which is off of Grass Lake on the Fox River and closed right now). There are two adjacent bridges (highway and railroad) between Nippersink and Pistakee Lakes which a sailboat cannot pass unless the mast is stepped down. (Clearance is about 8'4"). The easiest access to Pistakee is from Ben Watt's Marina in the town of Fox Lake on Rt. 12. Ramp fee is $13/day.
(Leaving the state park, you'll come to the junction of the lake and the Fox River)
Fox Chain O'Lakes (Upper Fox River Watershed)
Water Quality Information (Illinois EPA)