1027. Santa Rosalia (03/26/16)

Hikers (19): Biz, Brad, Carissa, Chinyet, Christophe, Craig A, George, Jane, Jim, Karl, Mihail, Russell, Sarbinder, Shuli, Sophie, Steve, Tim R, Vicki, Yipeng
Distance: 21 miles
Rating: 4 difficulty, 9 beauty
Park info: Forest of Nisene Marks State Park near Aptos

Write-up by Steve -- Pictures by Vicki
The weeks of hike #1027 and #1028 were "unclaimed", and neither Russ nor I were eager to volunteer. But the weather looked good, so threw together a trip to the far edge of The Forest of Nisene Marks.
1-2-3 INCH!
Unlike the previous visit, this time I encouraged people to take the "Bacon Trail", which is just a bit uphill after Sand Point. It's an unsigned single track route with more to see along the way, and makes the whole trip closer to a loop, albeit it a very narrow one. I even gave the coordinates for the entrance. . .10 degrees too low in the longitude. Whoops! But most people picked it up at the start, or at least the half-way point when they saw other people on it.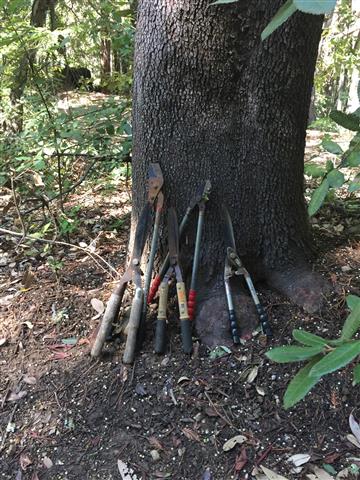 The start of the Bacon Trail includes do-it-yourself trail maintenance tools
I was geocaching on the way up, but kept up with the "mid tail" of the group consisting of Biz, Vicki, and Christophe. Upon our fifth encounter, I came upon Christophe-less Vicki and Biz scrutinizing the map. They said Christophe had headed down the Ridge Connector trail. Well, that wasn't right--we headed off in the correct direction (and he eventually figured it out).
Later near the top of the ridge, the front runners were coming back. Made sure they had all visited the summit, as per requirements of the hike notice. Ran into Sophie just before the gate that designates the official turn-around point of the hike. She told me she and Jane O had missed the turn at Sand Point, and proceeded down the trail a bit. Sophie figured it out, but couldn't call Jane O, who had immediately run downhill with her headphones on. . .That Jane!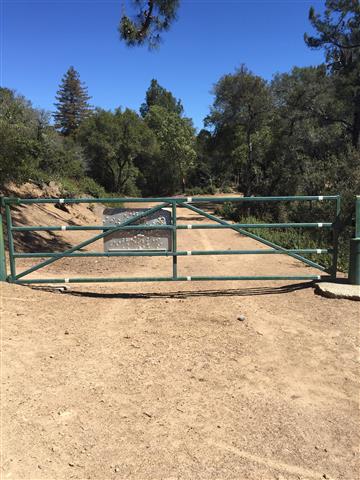 The Gate
Sophie and I took a tiny loop just behind the gate (0.1 miles long) which connects back to the main trail. Then a little bit farther up, we headed up to the the coordinates of Santa Rosalia Mountain. There was no distinct summit, and the highest point labeled on the Topo map is 2529 ft, even though there are five different contours over 2600 within a .2 mile radius. But we'll assume the place we claimed was the highest point since the park border goes through it. . .Ran into to some INCHers coming up while we were going down--great!
This is the part where I'd normally say, "And we hiked back to the car". But there was more adventure to be had! On the way back down Aptos Creek Fire Road, Shuli caught up to us just before we took the unofficial Pig Trail. I'd taken this route before, and had a better map this time, so had no problem getting to the right place on the Big Slide Trail. From there, it was down, down, down. At one point, we reached a junction that I remembered being confusing in the past. It's where a different piece of the Pig Trail intersects the Slide Trail, and yet appears much more used. Sophie noticed a big arrow on the ground (left by Jim, we would learn), so we had confirmation of the correct direction and headed down some more.
Big Slide ends at a junction with Aptos Creek Trail. To the left is Five Finger Falls, but this time we were heading right. I stopped along the way to visit a sag pond, and then headed up the trail. For a trail paralleling a creek, there is a surprising amount of uphill along this route. There was also a surprising amount of downhill--straight downhill! As I was walking along the trail, it just dropped off into the oblivion. A large section had fallen into the creek, 50 feet below. Looking up, I could see Sophie had already found the bypass trail, so headed up in the same direction--there was no better route. It was a little rough getting up and over, and the ground was not as stable as one might prefer, but it wasn't bad. After reaching the trail again, we headed on. It occurred to me that Shuli might not enjoy that route, so went back to check.
Shuli was on the other side of the gap when I arrived, so pointed out that she'd have to go "up and over". She stalled out at the top. I couldn't quite see what the problem was, so climbed back up, only to see she was right on the obvious use trail, and needed only to scoot down 10 feet to reach a stable tree, followed by another 15 feet of "you can't die even if you just slid to the bottom" stretch. Well, that took about ten minutes to work through, but everyone survived, including her beloved hiking poles.
Not too much farther was another slide. This one was much sandier, and had a sketchier--yet short--segment to get by. I took that route and then watched as Shuli came upon it. She was thinking about trying to climb down below it, and then find a way to climb back up, but I was afraid she'd never get back out, so coaxed her to go the "fast" way. (I later heard Christophe successfully took the "down" route and found enough roots to get back out on the other side) This went a little faster than the last one, and we were off again. There was a third small landslide, but that was no big deal--mostly just climbing over a downed tree.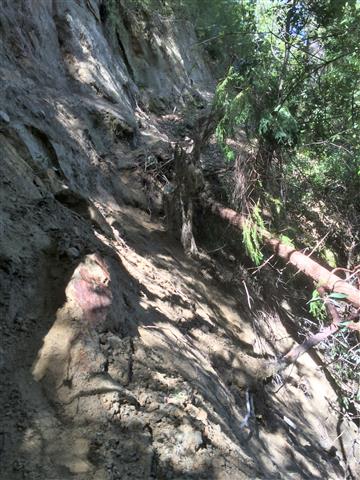 The second slide (it was sketchier than it looks)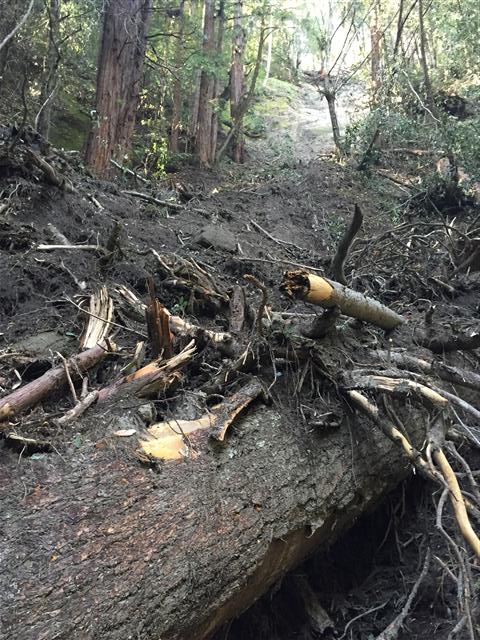 The third slide
Guessed there would be a big sign at the entrance to this trail saying "Danger! Closed due to land slides!", similar to how it was years ago. But there was no sign, which made us wonder how recent the slides were. Well, no doubt they'll shut down the trail again for years until they can build some more cool bridges. . .
After the slides, the only remaining hazard was crossing the creek twice, but that was manageable by rock hopping (and not very deep to walk through if needed, as Karl did). If anything, pounding out the last two miles on the fireroad, after 19 miles of more interesting/distracting/terrifying terrain, was the hardest part of the hike.
All in all, the hike had it all: redwoods, the 230th highest California Coastal Peak, landslides, and 4k of elevation. We had a long post-party as people trickled in and shared their landslide stories. Eventually people started leaving, and we finally decided to head off to Britannia Arms in Capitola (where we hiked a bit more to avoid paying the exorbitant parking fees) before the last two intrepid hikers made it back (Craig A and Tim R). But they came in not too much after we left, with Tim getting in just around sunset.
Milestones:
Biz's 50th leaf







Pages maintained by Steve Walstra, Peter Saviz, and Russell Gee.
©2022 Intrepid Northern California Hikers