1051. Skyline to Big Basin and back (09/10/16)

Hikers (28): Adam, Brad, Chinyet, Christina, David A, Dong, George, Hailong, Iris F, Jane, Jarda, Jason F, Jeff, Jim, Karl, Kirk, Mihail, Milon, Peter, Piotr, Ramesh, Russell, Shuli, Sophie, Steve, Vicki, Xiuyan, Xun L
Distance: 31 miles
Rating: 5 difficulty, 8 beauty
Park info: Big Basin State Park near Saratoga

Write-up by Peter -- Pictures by Chinyet, Karl, Ramesh, Xun, and Peter
Thanks to UG's good suggestion, we hiked from Skyline down to Big Basin HQ and then back up to Skyline. Not only did it give us more elevation (see below), it also eliminated the hassle of arranging car shuttles from Waddell Beach and the boring 8 miles from Berry Creek Falls to the beach.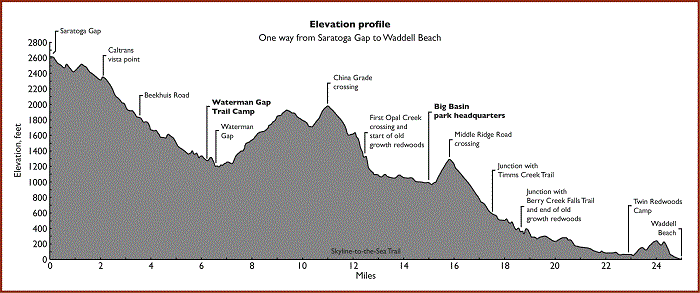 It should be a fun day!
We had a staggered start, but 28 crazy people showed up for a 30+ mile hike -- some even added more miles to make it an even 40!
1, 2, 3, ... INCH!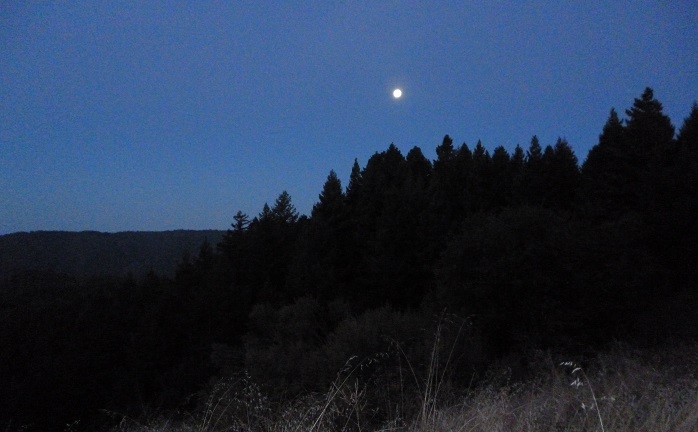 We started in darkness under a beautiful full moon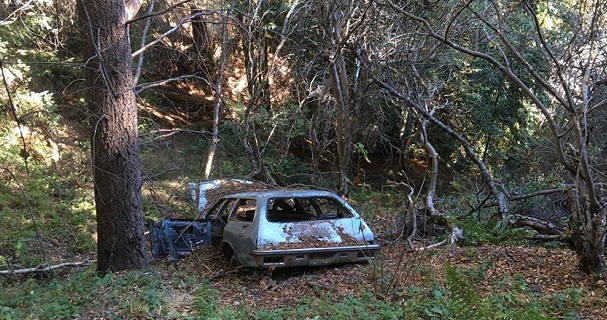 There's always interesting stuff to see along the trail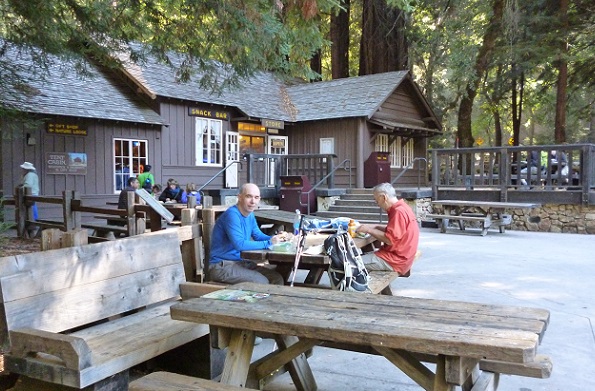 The first wave arrives at Big Basin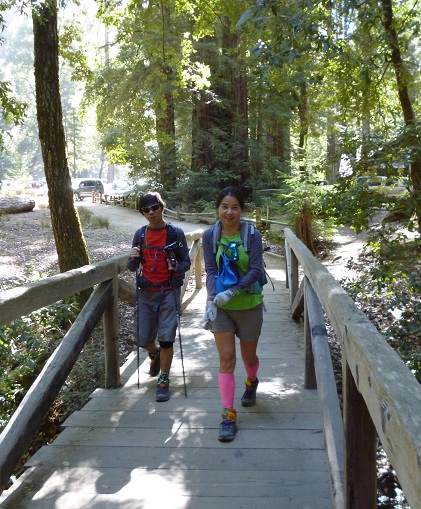 All smiles for Iris -- too easy for her!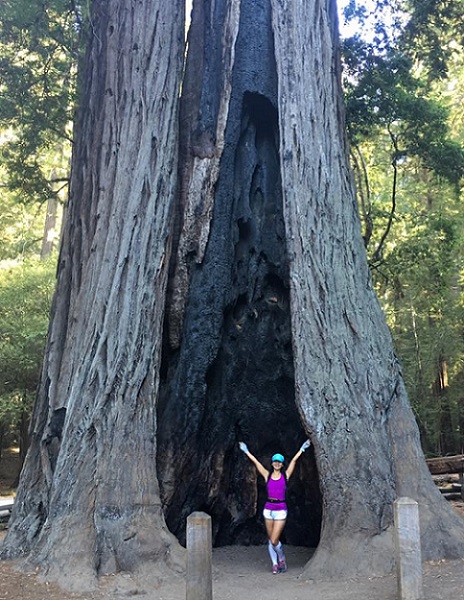 Xun enjoys the mighty redwoods
The stragglers drift in ...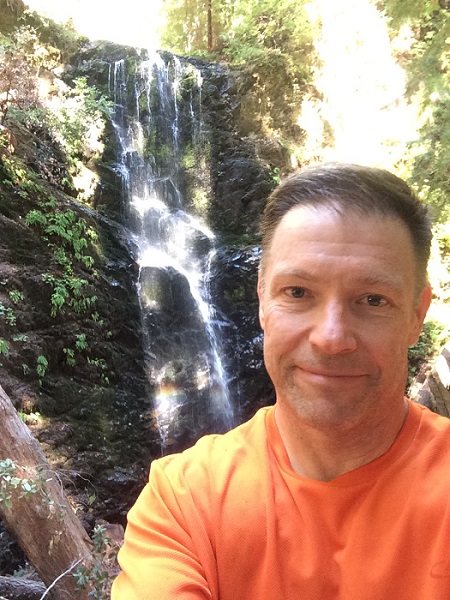 Selfie at Berry Creek Falls -- 20 miles down, 20 to go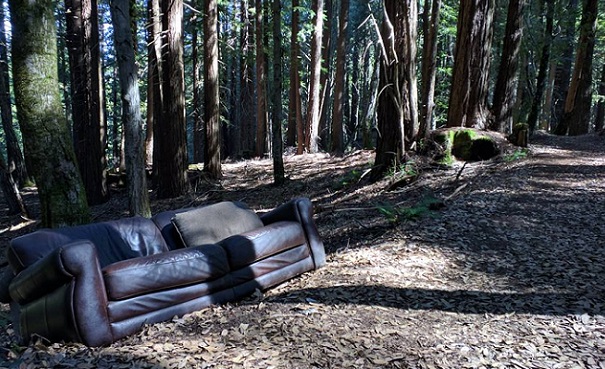 I really wanted to take a nap here on the way back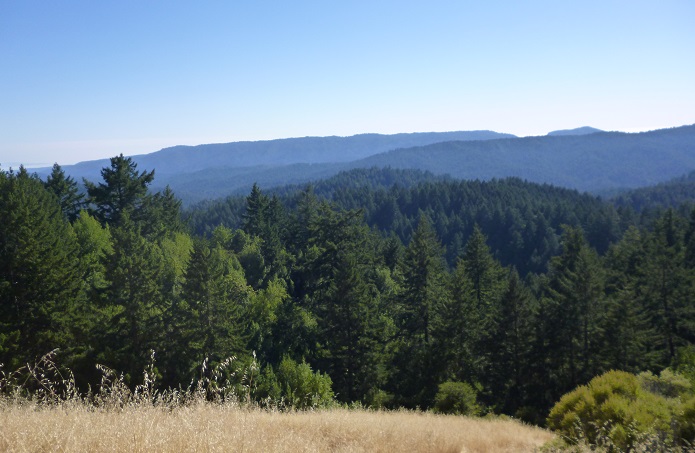 Beautiful view from Vista Point in the late afternoon to close out the day
Postscript: Alan did the hike the next day -- here's his report: Drove 780 miles on Saturday just do I could do the hike on Sunday (that's my story, and I sticking to it). Arrived at Saratoga Gap at 6:30, spent 10 minutes looking for the port a pottie that I was sure must be there but never found. Set a new low bar for the most feeble 1-2-3-INCH ever and headed out on the Skyline Trail, not the Skyline-to-the-Sea trail, which I figured out about 5 minutes later. Wrong turn already - it's an INCH hike! Stopped at the Sempervirens Point because they did have a bathroom, although a very odoriferous one.
The rest of the way down was uneventful until about 3 miles from the end when I met 2 women who were hunting for water because their campsite was dry and they had been told there was a spring with potable water. Fortunately, I had my emergency bottle, which has come in handy on other INCH hikes, and suggested they go to Big Basin HQ for water. I saw them when I was leaving HQ after lunch, and they were very appreciative.
I managed to go too far up the road and had to find a way across the stream to get back to the Skyline-to-the-Sea trail. Bushwhacking - definitely an INCH hike. Thank goodness for the shady trail - it was 5 degrees hotter on Sunday than Saturday, and I had decided to take the interconnector trail to the Saratoga Toll Road on the way back, which meant I had to load up on water because I turned off before Waterman Gap. I was a little nervous because the interconnector trail is not as well signed as the rest of the trail, dropped several hundred feet, and seemed to be going in the wrong direction part of the time, but it turned out to be all good - a mile or 2 longer, but the Saratoga Toll Road is so beautifully graded that you never notice the climb out. Gaya said it was 34.6 miles, 6200 feet elevation, and took me 11 hours, which is probably what it took Sarbinder, George, etc. to do 40+ on Saturday.
Milestones:
Brad's 160th leaf
David A's 40th leaf
Steve's 820th leaf
Xiuyan's 10th leaf







Pages maintained by Steve Walstra, Peter Saviz, and Russell Gee.
©2022 Intrepid Northern California Hikers