1055. Baloney Trail (10/15/16)

Hikers (11): Brad, Chinyet, Giulia, Hailong, Jason F, John H, Ken T, Mihail, Sophie, Steve, Yipeng
Distance: 30 miles
Rating: 5 difficulty, 10 beauty
Park info: Ohlone Regional Wilderness near Livermore

Write-up by Steve -- Pictures by Everyone
Location Pics: Fence | Murietta | Structure | Wrong | SO45 | MP23 | Mission
This hike has nearly as much of a story before it started than after. A long non-loop hike requires additional logistics, like how to get back to the cars. Traditionally we recruit a few kind souls to shuttle from where the hike will end to the trail head, which allows people to finish the hike at any time. That was the plan this time around, but we had more hikers than volunteers at "decision time".
Two people had also warned that Stanford Avenue (the traditional ending point) had recent parking changes. Sophie suggested starting at Ohlone College instead, which worked perfectly with the theme of the Baloney Trail: use as little of the Ohlone Trail (OT) as possible. It also brought the mileage to 30 miles even. Only problem was deciding where in Ohlone College to meet. . .
Hailong asked if he could meet us at the trailhead. I asked him how he planned to get back, to which he said he'd take a bus to BART, and BART to his house. I suggested perhaps his wife could bring him to Ohlone College, pick up a few people, and then drop him off. His wife countered that Hailong should just take people himself and they could drop him off at Del Valle at the end. Well, that was something we never risked before, because it requires some set of fast people to successfully make it back in time for a car to get to Del Valle before it closes. That being said, we had enough data to suggest several INCHers could achieve that easily. Hailong recruited Chinyet, and I planned to deputize another hiker the morning of the hike. After sending those details out to the people who signed up, I did get a second and third volunteer willing to shuttle the carpool, but by then it was too late.
At 5:15am, I turned into Ohlone College to find the entrance barricaded. I didn't even slow down as I zipped between the barrels, which were preceded by a blinking sign saying the area was closed until 6am (or something like that). I figured I'd go in, collect any scofflaw INCHers, and return to park outside on the street. Well, I didn't make it that far, as campus police pulled me over. I told the guy I needed to check on the parking area, but he wasn't having it. So I called a few people to warn them not to come in. As I stepped out of my car, I saw that Giulia and Mihail had come in after me and somehow managed to be caught by the parked police officer. So there were three INCH tickets in quick succession. We were cited as "On Campus after Curfew" with a $45 fine. Not a good start!
Amazingly, we all got street parking and were ready to go at 5:30am. I tried to get Jason to be the third shuttle driver, but he demurred that he was one of the last to finish a previous long INCH hike. Fortunately, Mihail stepped up. Rainer suspiciously drove off with all the INCH women, and the men were split between Chinyet's and Mihail's cars, with Livermore-based Hailong on tap to drive Chinyet and Mihail back to their cars at the end of the hike. Thanks to the Rainer, Mihail, Chinyet, and Hailong for making everything work out!
With that done, all we had to do was start the hike. This was delayed, as several INCHers felt compelled to lighten their loads just before the hike was going to begin. I used that time to give everyone a lecture about taking the required pictures (since we had a few people who did not hike with INCH often), although I realized soon after that I'd left my cellphone in my car (or elsewhere) between the police drama and the start of the hike. . .I was camera-less!
1-2-3 INCH
The moon was out, but it was quite dark due to clouds, so we began with headlamps around 6:30am as planned. We quickly zipped up Vallecito Trail to the sign-in board. After making sure we could see the last person, we took a right on Sailor Camp Trail to try out a use trail that goes along a ridge parallel to the Ohlone Trail. Not only does this ridge have better views of the reservoir, but it is a single track trail that resulted in hiking on less of the Ohlone Trail (the theme of the Baloney Trail). As trails go, it wasn't as steep as I had recalled/feared from my only other visit (going down). By the time the ridge intersected with Rocky Ridge, only Hailong and Mihail were visible behind me. I let them both pass, and we continued on (while I left an arrow in one questionable junction). Once this trail reached the road on Rocky Ridge, I left some more arrows to make things clear, and told Hailong and Mihail they were free to run off.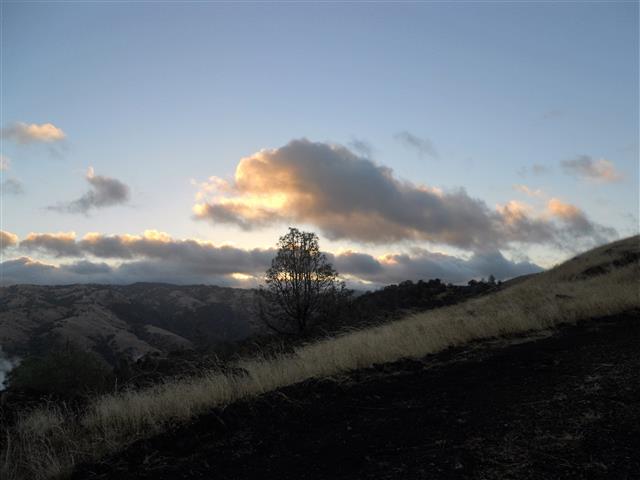 Sunrise over Del Valle
Mihail wasn't in a big rush, so we hiked together for a while. I told him my camera predicament, so he said if I did all the navigation, he'd take all the pictures. Deal. Rocky Ridge dumped us back on the OT, where we eventually dropped 400ft into Williams Gulch and climbed 1400ft out. We stopped by Schlieper Rock, which Mihail had never climbed before.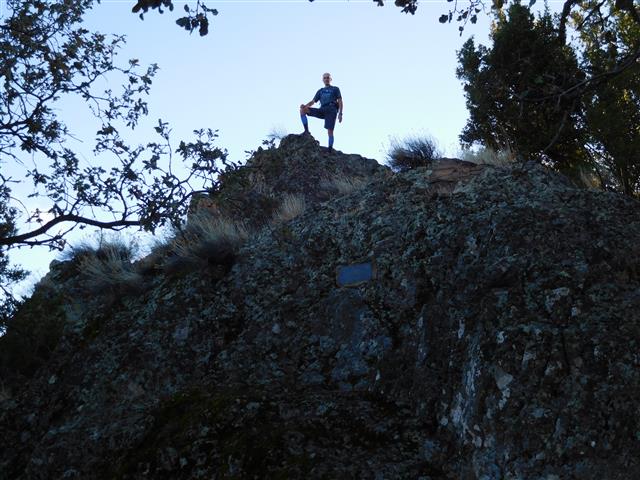 Mighty Schlieper Rock
It was time to get off the Ohlone Trail again, so we veered onto Springboard Trail to the unmarked junction with the unnamed trail that heads up to Rowell Ridge and the Murietta Falls junction. Along the way was a stop at the "fence" for pictures.
After that was Murietta Falls, where I decided we should get as close to the edge as possible (unlike my previous Baloney visit). As we were hiking back out from the edge, we could see Eric running down the trail above us.
We climbed up Greenside Trail, where a half dozen people were having breakfast at Stewart's Camp. It had rained the night before, and they had two well-populated clothes lines out. Guessing they hadn't set up camp before the rain started the previous night.
We were back on the OT for a short stretch before turning off toward "Murietta's Secret". Just before we reached "the structure", Eric caught up. Pictures were taken. The Structure, as always, appears to be better maintained every year, and yet we have never seen anyone around.
We proceeded to bypass Rose Peak (and the Ohlone Trail) between OT29 and OT28 by taking the trail to Maggie's Half Acre, and immediately took the trail to Portuguese Pt at OT27. This is a nice section of trail with much better views than its counterpart Ohlone Trail segment. We stopped for another round of pictures on the "Wrong Side".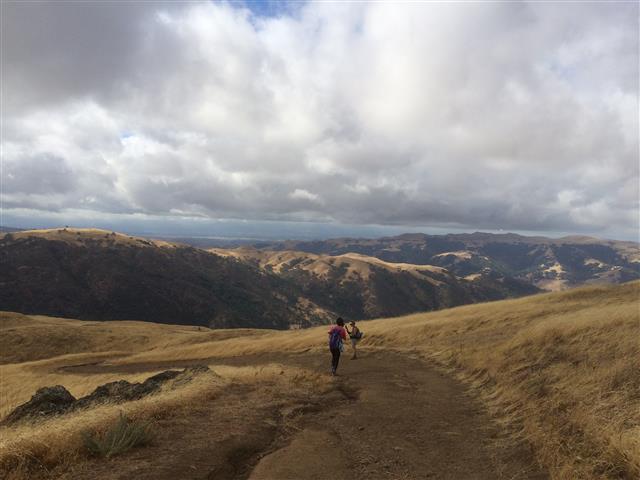 Heading down Portuguese Pt
Next was a trip down to The Bluff, a mostly unloved location in the Ohlone Wilderness. It was a steep downhill, and Eric couldn't resist jogging off. Mihail was having trouble holding back, but he never got too far off. We eventually hit Billy Goat Road (no marker, since one is supposed to stay on the OT while in the Ohlone Wilderness, but it's on the map) and headed down to Camp Ohlone Road. We'd learn later that Tiffany couldn't figure this section out and hiked back up to the OT.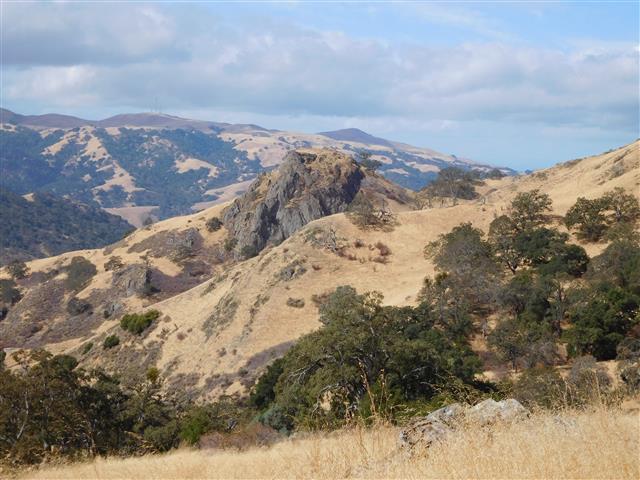 Goat Rock from The Bluff
Much to my mild dismay, there was a large construction project going at the bottom of the road. I noticed it from quite far off, but thought it might be something/somewhere else. But as we approached, there was no missing the numerous pieces of heavy moving equipment, temporary contractor structures, and even some preliminary landscaping. It must be quite active during the week, judging from all the signs posted along the road. And when we eventually reached the Sunol boundary, we were surprised to find a new automatic gate erected behind the standard park gate. Apparently they keep the park gate open during construction days, and the secondary gate is activated by the work crews. Whatever the case, the original park gate was SO45--another picture point. So we had to navigate two gates to get the picture. That procedure made it clear that they really don't want people back there.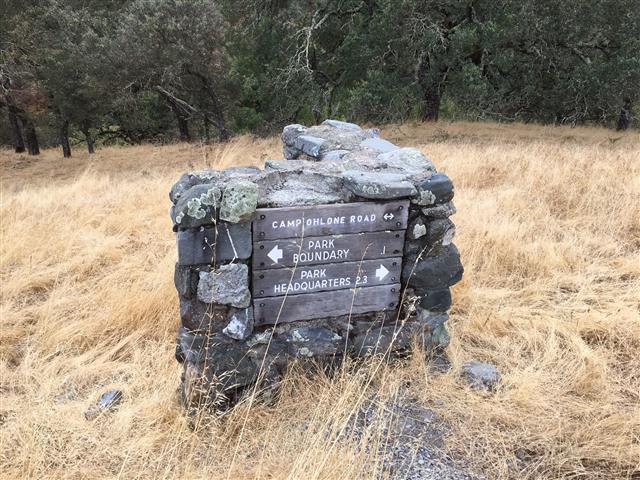 To the left, "Park Boundary 0.1", is SO45
After that gate, it is pretty much a gentle downward stroll to Sunol HQ. I mentioned to Mihail that I don't understand why anyone hikes this part of the trail, but that I always see someone at the "W Tree". And, yet again, there were people at that location when we passed. There might be a trail behind the tree called "W Tree Rock Scramble", but the map doesn't show it as an actual trail, so maybe it's just the name of the creek. . .we'll have to check that out some "short-hike day".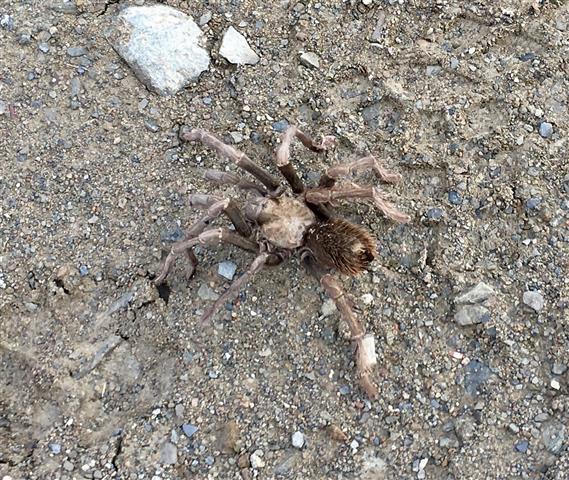 Trail Tarantula
Alameda Creek (which runs along the Camp Ohlone Road) had been bone dry until now, but it picked up enough water so that by the time we got to Little Yosemite, we could hear the water. . .but it wasn't doing Yosemite any justice. After taking the trail that bisects the sprawling Sunol parking lots, I made a beeline for the HQ to grab a little more water. It had been mostly cool during the day, but figured it was better to be safe than sorry. Mihail got a little water, but mostly wanted to sit down for a short break. That didn't last long, and we set off. Jason F came in to HQ as we were going out.
The hike from Sunol to Mission Peak, on a relative cool day like today, was surprisingly easy. The trail and (later) Water District road are just the right pitch to hike at a brisk pace without getting winded. I recalled previous hotter times where it seemed much harder, even though it is shaded most of the way no matter what the temperature. We reached the sign-in location in no time. After that, we took a detour (to get off the OT) to visit MP23, and (unlike the last time) took the seemingly forgotten Laurel Canyon Trail which is the nicest trail in the entire park. It also seems to be among the least used, as Mihail wasn't believing we were on the right trail as we set off. The MP23 post wasn't entirely clear, but together with the map, you knew where you were, so the rest was just picking the trail that went the right direction.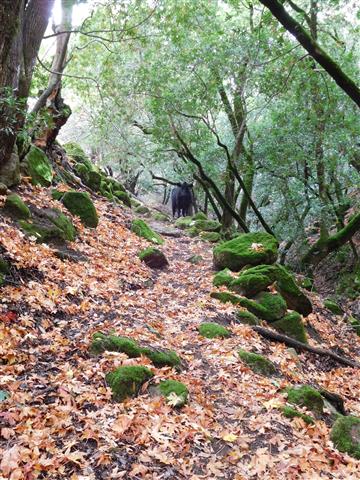 This is the nicest trail in Mission Peak, and that's no bull
We walked a short section of OT and then left it to head up Mission Peak from the backside. It was already quite windy before we reached the final trail to the summit, and by the time we were on the spine, it was blowing hard enough to make one lose balance occasionally. When I got to the top, Mihail was already looking around for the summit marker. I pointed it out, and we took our obligatory pictures. Made the mistake of trying to put on a wind jacket while still in the wind. . .Mihail wisely headed off toward the Mission Peak pole, where a dozen people were queued up taking pictures of each other not on the summit.
Down, down, down we went to Ohlone College. Just as we reached the bend between MP6 and MP7, Jason F came jogging down the hill with a friend he'd picked up at Mission Peak. We chatted for a short time, and he ran down. That was less than a mile from the end of the hike, so we came in not far behind. We were greeted by Hailong 100 yards from where we'd parked. I figured he was going to ask us what took so long, but instead he said, "Where's Eric?". Well, we hadn't seen Eric since The Bluff, so had no idea. Oh well, nothing we could do. . .
I cleaned up, got the address of the post-hike party location for Mihail (so he could come there after getting his car), found my phone, hypothesized on Eric's whereabouts, and headed across the street to eat a late lunch. Just as I left to eat, Chinyet showed up (he had gotten lost). By the time I was done eating, Brad was back. Then Tiffany came back--she'd hitched a ride from Sunol due to the aforementioned directional impairment (23 miles and nothing to show for it!). I left a note on a few INCH cars and headed off to California Craft Brew. I was as interested in washing off 30 miles of sweat from my face as I was in drinking beer.
Brad, Tiffany, and I had a round before Mihail and Chinyet showed up, followed closely by Giulia, Sophie, and Yipeng (who'd hiked out together). The only people missing were John H and Ken T. Those two had five leaves between them, which reminded me why I normally limit long hikes to people who hike with INCH regularly. But they both made it back, with Ken T coming in at 8:30pm. Turns out he got to the MP summit in daylight, but had the misfortune of coming down in the rain and eventually the dark. That, with a wrong turn or two, made for a longer ending than expected.
We enjoyed lots of post-hike chips and dip at California Craft Beers after the hike, which was quite dead for a Saturday night near a college. Tiffany had made chili, which she and Chinyet heated up in the parking lot (lest we get kicked out for having an open flame). It was a tasty end to a 30 mile, 7.1k elevation day.






Pages maintained by Steve Walstra, Peter Saviz, and Russell Gee.
©2022 Intrepid Northern California Hikers