1056. Rim2Rim2Rim (10/22/16)

Hikers (12): Adam, Colleen, George, Jane, Jeff, Karl, Mihail, Peter, Sarbinder, Steve, Tyler, Yipeng
Distance: 47 miles
Rating: 6 difficulty, 10 beauty
Park info: Grand Canyon National Park in Arizona

Write-up by Adam, George, Jane, Mihail, Sarbi, Steve, and Peter -- Pictures by Adam, Alan, Colleen, Mihail, and Karl
The hike was so big, it required multiple perspectives -- enjoy!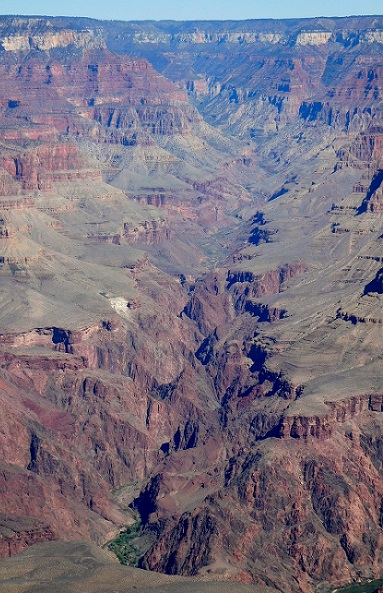 Preview of our trail the day before -- all you have to do is go there and back -- piece of cake!
1:00 AM at the trailhead, with everyone rarin' to go!
Steve: After doing a geocache in the dark near the 1.5 mile station, I concluded it was too hot, so took off my shirt and base layer. Was going to put the shirt back on, but figured no one was going to see me, so why not let evaporation do its thing? I was in such a rush that didn't stow the shirts and soon tripped over a water diversion rock and smashed my knee. It bled profusely and hurt substantially. A few minutes later my foot caught another raised rock and I yelped in pain as it twisted the same knee. At this point, I stopped, packed up everything in my hands, and took off my headlamp. I held it lower like a flashlight so could easily see the height of oncoming obstacles. That worked well, except that my injured leg was getting stiffer. Did a couple more geocaches, including one that required going across a stream in the dark. . .and eventually made it down to the stretch of trail along the river. Could see a group of people far ahead, led by a blinking red light.
Much later, caught up (very slowly) to most of that group. It turned out to be George, Sarbinder, and Mihail, who were being paced by Jane O. I zipped by them because I didn't want anyone to see me shirtless! Actually, the uphill for this section was so gentle and rock-free, it was easy to go fast. An hour or so later, I caught up to the blinking red light--it was Tyler. I almost fell into him while passing because I had lost a lot of dexterity in my left leg.
Eventually passed some backpackers who were chatting with Colleen, although I didn't realize it was her at the time. At the pump station--last stop for water--Colleen came in as I was going out. She warned me that it was steep from then on. And so it was, but a good sort of steep. The sky started to lighten, and could finally ditch the headlamp (or handlamp). Started to run into people coming down from the North Rim. Several of them said "What time did you start?" and commented that I was almost done (which was technically true, but didn't feel like it). Several of them also said "Are you OK?" because I had blood running down half of my leg.
Got to the North Rim at 8:05am. Walked the length of the parking lot looking for a "North Rim" sign, then came back and cleaned up my knee. Took some pictures at the trailhead sign and drank the water, which was especially delicious. Tyler showed up and we chatted a bit. He had some food, got some water, and set off on the 52-mile extension loop. Tyler mentioned there was beer under one of the cars, but didn't know which one. I headed back down, where I soon ran into George and Sarbinder. George knew which car had the beer, but there was no way I was turning back, even for beer. Instead, I knew there was beer to be had down at the Phantom Ranch Cantina.
I'd forgotten my hat at the hotel, so thought I'd buy one at Phantom Ranch. But nature provides--someone had left a black "Germany" hat at the pump station. I wore that hat all the way back--someone even pointed out later in the hike that I'd found "my" hat (because they had seen it earlier in the same place).
Ran into the beer providers Kathryn and Vicki an hour away from the Cantina. They wanted to know how far back everyone was. "No idea!" After some discussion, they convinced me that the longer Bright Angel Trail would be shaded and, of course, have plenty of water. I had originally planned to take the shorter South Kaibab back (to complete the more traditional R2R2R route). Got to the Cantina just after 1pm. I had been fantasizing about a club sandwich and fries. But no, they have no grill there--and no fresh food for that matter (not that beggars should be choosers). So got a bagel and a beer. A woman whose path I crossed going up to North Rim came over and said "Congratulations--almost done!". I am guessing she recognized me from the now clotted knee.
After the extended break, I felt pretty good, enough to take a short detour to snag the last geocache of the day. Made good time to Indian Gardens. Then. . .took a break. A long break. Then slogged up to 3-mile station where I sat down for a while again. I skipped 1.5 mile station, but was going very slowly up, as were most people. It was sort of a community of suffering. Got to the rim a few minutes before 6pm. Didn't make it before sunset, but it was still plenty bright. A happy couple immediately asked if I would take their picture with the sunset in the background, and I'm thinking "What, you want me to do work now after that hike?". Then I went to do a selfie at the trailhead sign, where a different couple offered to take my picture (karma works). Turned out the husband had done R2R2R the previous day--everyone and their uncle does this hike, it seems!
Went back to my hotel, took a shower, had a two hour nap, and then went to dinner. In the next six days, hiked another 66 miles while tagging eight Arizona county highpoints. The day after R2R2R was tough on the knee, but by the end of the week, was almost back to normal.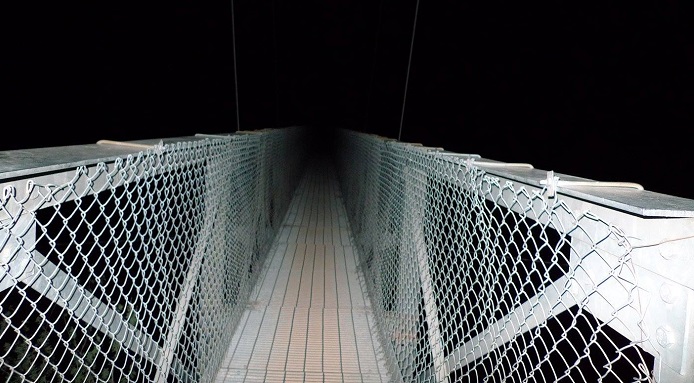 The Silver Bridge looked ghostly as we crossed the Colorado River for the first time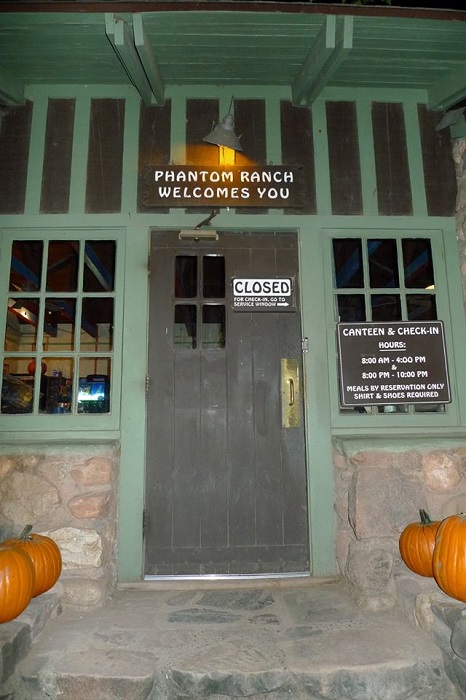 All quiet at Phantom Ranch (but they were ready for Halloween)
Jane: Before I forget I wanted to send you my photo proof of reaching the North Rim. I was hurting too much to actually be bothered with a proper selfie this point but hope this will suffice.
When I shot the photo, I wasn't sure how I was going to make it back. I actually caught my right foot on one of those odd rock blockades that divide the trail after Phantom Ranch and then twisted the same leg on a root on one of the uphills after Cottonwood. At first my right knee just felt off, but then it began to ache and by the time I passed Roaring Springs(?) I knew that something was wrong. I was slowing down and it wasn't the altitude or lack of sleep- the dull pain was more constant and the distance to Supai Tunnel seemed endless. In fact after Supai Tunnel, I just stopped and stood overlooking the valley pondering my options, considering whether I should call it a day. But after debating for almost half an hour, I realized that my options were limited/nonexistent. Even if I did turn back at that point, I still had 22 miles to go and despite what people had assured me, no mule was going to drag my butt back to the South Rim. I was on my own and unless my own two feet carried me out of the canyon, my corpse would eventually be found rotting along the Colorado. Maybe it was the altitude, maybe it was seeing Steve, Sarbi and George effortlessly bounding down from the top that galvanized me to suck it up I.N.C.H. style and continue along the godforsaken path. In any case, I experienced a brief burst of energy (stupidity?) and finally made it to the top. There I collapsed on the wall for a good 15 minutes before washing up, using the facilities and refueling on dates. By the time I saw Jeff, I had determined what I thought would be a prudent course of action (ha!). It was after 9, close to 9:30AM. I had made good time so far thanks to jogging downhill early on. If I could just manage 2 miles an hour for the next 12 hours, I would be back by 9:30. This seemed doable even with a bum knee. One foot in front of the other, slow and steady. Focus on the road and breathe.
The plan worked for a while but it was not as easy as I'd hoped- never is right? To silence my doubts, I turned up the volume on the mp3 player as a distraction and tried to drown out my negativity with music. I started writing lists in my head, counting the number of ultrarunners with red shirts, what I would have for dinner when/if I finished, invented PC curse words, and when it seemed like I was about to lose it, I finally reached the Pumphouse where I collapsed again. But looking at my watch I was grateful for the small progress I had made. My plan seemed to be working so far so I rewarded myself with another Orchard bar, cleaned up my hat and then chatted with Tyler who had just arrived having completed the additional 5 miles at the North Rim. Although he mentioned being tired, he too seemed in good spirits and more than ready to tackle the remainder of his run/hike. Feeling re-energized by his mood, I decided to set my sight on Ribbon Falls as the next landmark. This segment of my return trip was probably my most enjoyable part of the afternoon. Sometime after Ribbon, I was greeted by the smiling faces of other more sane I.N.C.Hers Vicki and Catherine, and then later another group led by Peter E. It was a nice surprise and made me feel less lost amid the dry landscape of cactus and damn rocks that were beginning to torture my knee.
In any case, this email is running too long now so I won't bore you with more details about my minor trials and tribulations, how I eventually reached Indian Gardens and almost cried with relief much to the consternation of some foreign visitor who thought I was off my rocker.
One final description, I will mention is the hellish torture of the last 4.5. miles to the trailhead. When I started on Saturday, I tried to envision a finish around sunset as a possible goal, the perfect photo opp. By the time I reached the 3 mile resthouse, I was just praying to make it out alive. Everytime I turned a corner, there was another level to clear. And I'm not ashamed to admit that real curse words were liberally popping out of my mouth at this point, albeit under my breath. Toddlers were passing me by, seniors backpackers with heavy packs, pregnant women with poles, and maybe I was self conscious but I could swear that some were wondering what was wrong with the wimpy hiker who could barely inch forward a few feet. I was just praying for an end to my misery. As the headlights began to blink on in the distance, I felt like they were mocking me. Like elusive stars, they glimmered faintly in the distance, a sadistic reminder of how much farther I had to drag my weary self. Normally, I'd consider myself a fit hiker but not a hard core/skilled hiker so this truly felt like a death march to me. If I didn't die, my knee was certainly dead. And it was in this delirium, when I was about to give up all hope, that I finally saw the lights of the Bright Angel Lodge appear. I raised my weary body out onto the Rim Trail, somehow padded down the 1/4(?) mile to the Tovar and arranged for a ride back to my hotel. It was almost 6:55PM and I was alive.
Anyway, the reason that I related all this was to tell you that despite the serious misery my body (i.e. my right knee) has undergone, and is still undergoing (am now on crutches and off to the doctor this week ;)) I am SO happy that I decided to sign up for this "adventure" which even included some boulder scrambling (you can ask Tyler and Mihail about that). Night hiking was an unforgettable experience- the steep terraced rise of the canyon walls, the soft ripple of moonlight reflected on the river, it was all truly stunning. I never realized how intimate an experience night hiking can be in appreciating the beauty of a national park and I am very grateful to you for having organized this trip so Thank You!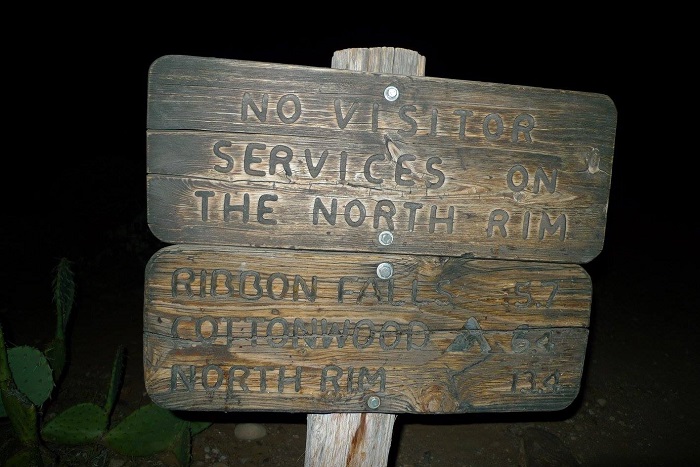 Only 37 more miles to go!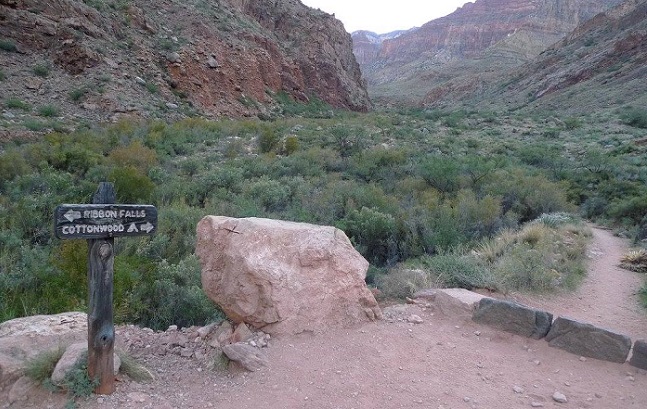 Things looked better in the daylight
Sarbi: The memory of this hike will come back in bits and pieces like symptoms of PTSD (difficulty remembering the traumatic event and avoiding reminders of the experience) but here are a couple of conversation/tit-bits.
Mihail said this hike reminds me of theme song from Alaska:The Last Frontier: Sometimes it's blood, sweat, and tears on Alaska's last frontier (Theme song, Story).
There was a lot of sweat and some blood (Alan, Steve). Tyler promised to provide tears when the hike was over (he also gave high odds to him helping upchuck the hike to level 7 when George pointed out Peter valued suffering but the sodden bastard did not deliver on any of his promises- time for robot baristas!).
Mildly Interesting Facts:
Grand Canyon is home to short-horned lizards that shoot blood from corner of their eyes for up to three feet (one meter) to startle and confuse predators. INCH level badass!
'Uncle Jim' (James T Owen) was a game reserve warden who lived on the North Rim of the Grand Canyon for over ten years at the start of the last century, responsible, amongst other things, for killing over 500 mountain lions, in a (misguided) attempt to protect the local population of mule deer.
A canyon plane crash gave rise to the FAA. In the 1950s, passenger flights would sometimes detour over the Grand Canyon for a better view. On June 30, 1956, two planes flying from Los Angeles to Chicago, a United Airlines DC-7 and a TWA Constellation, had both requested permission to fly into the Grand Canyon's airspace. The planes collided directly over the canyon, killing everyone on board. The Federal Aviation Administration (FAA) was created in 1958 as a result of the crash.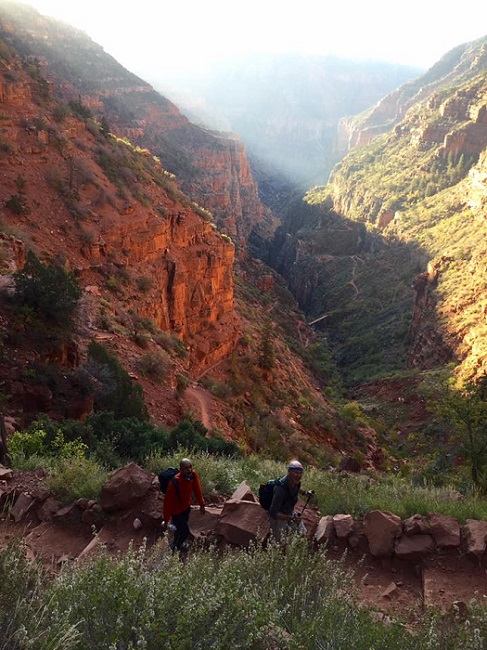 UG and Sarbinator trying to make North Rim while still in the shade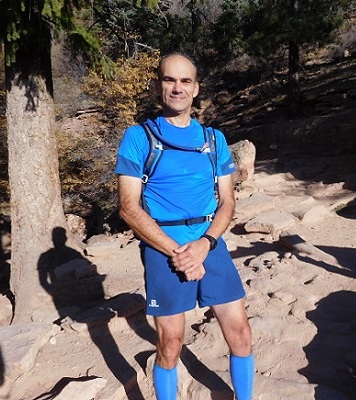 Mihail not even breaking a sweat after 20+ miles
Mihail: I finished at 18:15pm. Did some jogging on the downhill in the dark mostly with Tyler and also Jane O. Paid the price later when my knees started hurting.
North Rim was a tough climb last couple of miles. But on the downhill wasn't any better because of my knees. I took a break and two Excedrins at pumphouse. It felt better after awhile. The lemonade at Phantom Ranch was delicious but my mind was set on the last long climb. It turned out I had nothing to fear. I took a short break at Indian Garden. The last 3 miles I did for 1h10min which is not bad after 44 miles. Could be a mental thing because after a got to the top I felt like I'm not doing a single step extra.
A couple of guys were hanging at the trailhead. I checked my watch for the time. One of the guys asked me and I said 17h15min. "Rim to Rim ?" No, Rim to Rim to Rim. "Congratulations, you are an animal" he said and came to shake my hand. It felt good.​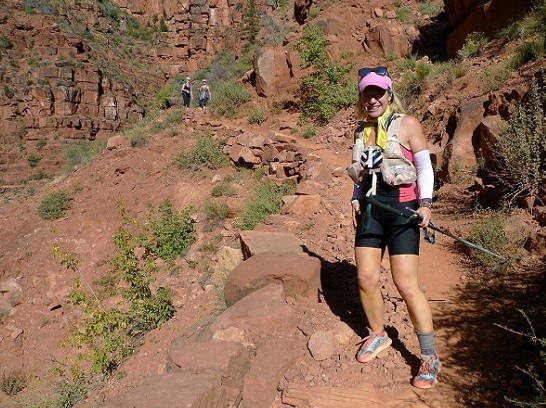 Colleen loves the Canyon -- all smiles as usual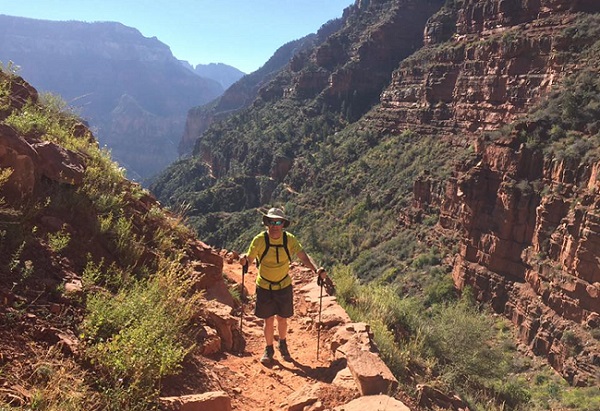 I was dying on the uphill to North Rim!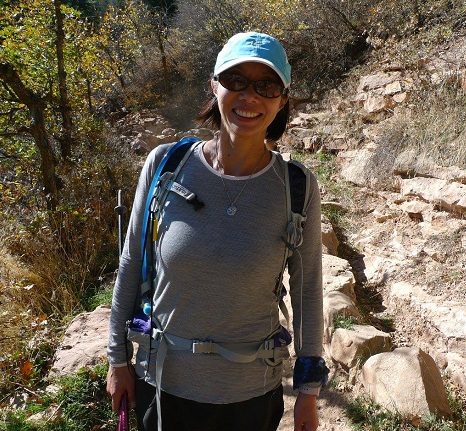 It was easy for Yipeng (not only a great hiker but she also buys me beer)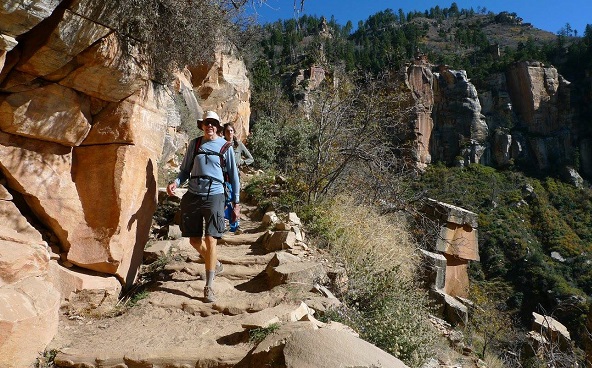 Jeff enjoys the stroll down from North Rim
Jeff: Got home yesterday. Got to North Rim at 9:30. Yipeng and I got back to the South Rim about 9:10PM. Yipeng had 47.8 miles on her phone GPS. I walked around the south rim for an hour and 50 minutes, figure I was real close to 52 miles, but mark me down for 51.
Congratulations to Tyler for being the only guy who did the true original hike.
Got tired saying 'hi', 'hello' or 'good morning' to the 200 people I passed while hiking. Couldn't believe the number of r2r2r runners and hikers.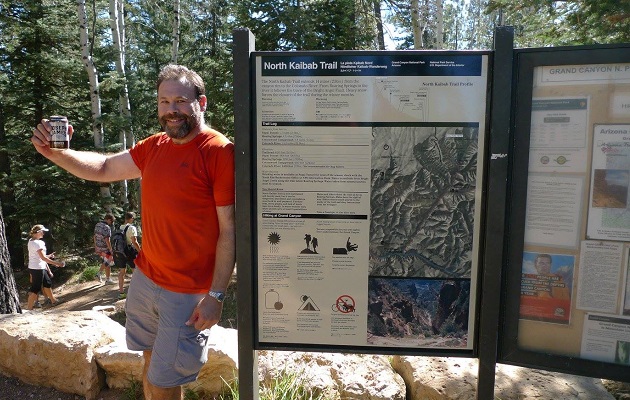 Adam enjoyed a cool beer at North Rim thanks to Vicki. Cheers!!!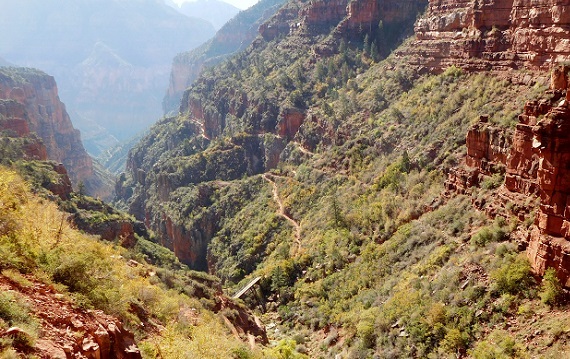 But then we had to head back down :( and across the bridge
Lots of good scenery, but no time to enjoy it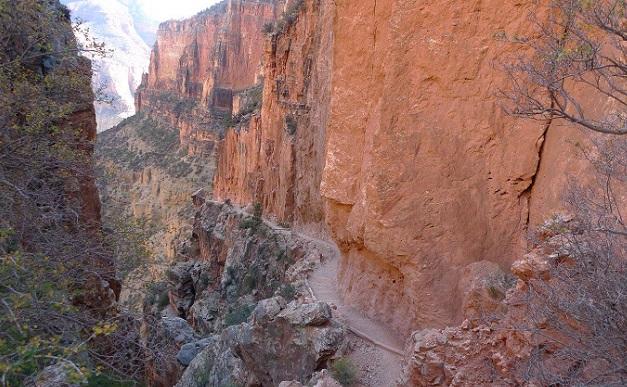 I hated those ledges on the North Kaibab Trail (shudder)
George: At the start Colleen took off like a rabbit. Tyler followed. After a little while I caught up with Mihail who also took off after Tyler but had slowed down. Then he took off again and I didn't see him for a while. Jane passed by shortly after that.
In about a minute I found Jane's hat on the trail and called out to her to stop. Gave her the hat back, and off she went. About 1/2 hour later I found a hat strap on the ground, same color as Jane's hat, so I picked it up and put it in my pocket thinking I might not see her for quite a while. But I didn't have to wait long because ..........
Jane and Mihail followed Tyler down to the river. I mean literally. They stayed to the left at the River Rest House instead of bearing to the right. Of course Sarbi and I had no idea they had taken wrong turn, but we were discussing how far behind we were. Tyler was wearing a headlamp with a blinking red light on the back so at times we were able to follow their progress.
The next time we spotted them was when we were on an uphill shortly after the River Rest House. They were below us so I asked Sarbi "how come we are going uphill if we have to get down there?". Then I realized they were climbing straight up to our trail. I mean straight up - clambering up a steep pile of large rocks. Attached picture shows the location, I took the shot in the afternoon on the way back. From the sandy beach they went up the rock pile that is just to the left of the beach. Quite a climb !
Tyler caught up with us in no time and went running by. Soon after Jane did the same. A few minutes later Mihail caught up with us and stuck to us like glue. He said he did not want to get lost again.
We met up with Colleen as we were climbing to the North Rim. She had shoe problems and a broken pole, so we hiked with her to the North Rim, and most of the way back to Phantom Ranch. She pleaded with us to go to Ribbon Falls, and I'm glad she convinced us. What a magical spot. The waterfall spilling onto a large dome of rock, then spilling down the face which was covered in stringy moss. It was like being in Hawaii. She also convinced us to walk into the pool of water at the base, then get under the waterfall and even climb into the little cave under the waterfall. The water was cold and felt really good.
She also convinced us to clamber up a steep trail, but very short, to get up to the top of the large rock where the waterfall fell onto the top of the rock. Also a magical spot. Standing behind a curtain of water looking out at the Grand Canyon.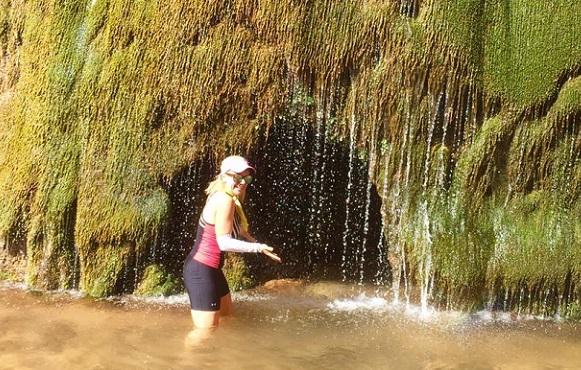 Colleen enjoyed a dip at Ribbon Falls on the way back
And she managed to convince the boys to join her (how strange)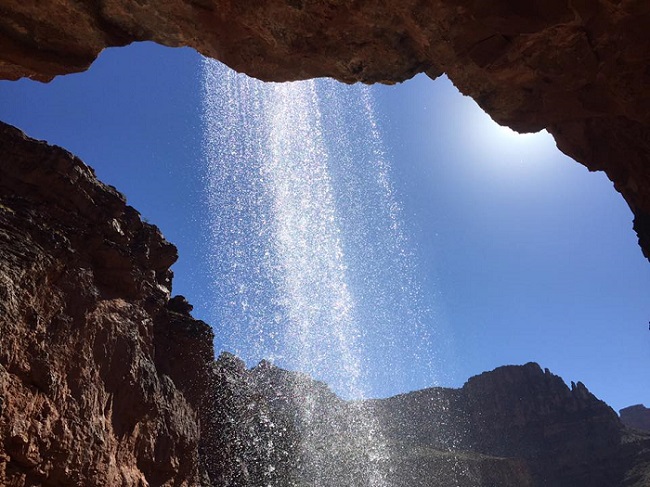 Backside of Ribbon Falls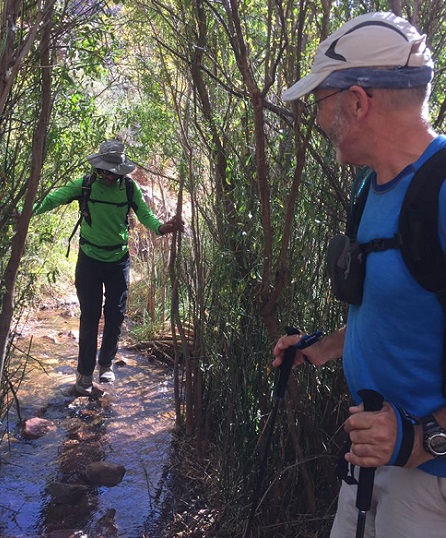 Some minor bushwacking was required along the way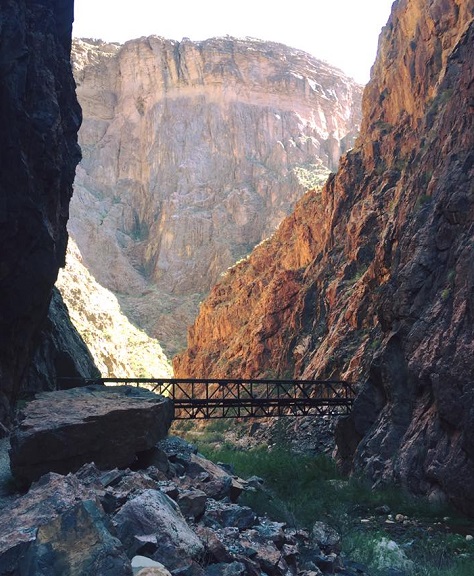 Sundown approaching as we headed back through the Box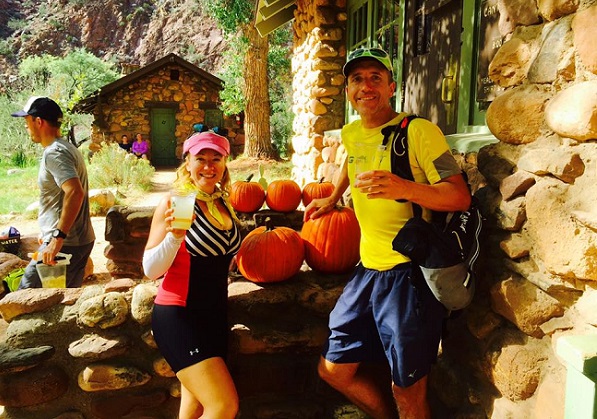 Enjoying some refreshing lemonade at Phantom Ranch with Benedict Dugger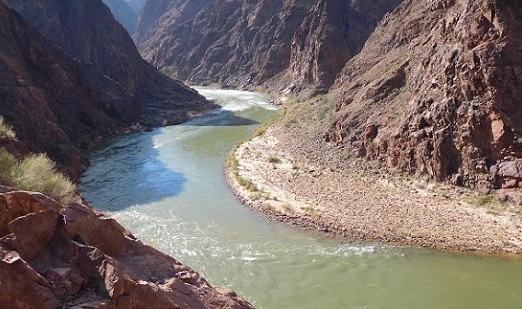 Crossing the mighty Colorado for the second time
Peter: My story is pretty tame compared to everyone else's. My strategy right from the beginning was to go slow and steady, especially in the dark, just to make sure I got through the hike. I knew I wasn't going to be able to hang with the jackrabbits, so why kill myself?
1, 2, 3, ... INCH!
Despite Karl and my warnings to be careful, everyone took off charging down the hill in the pitch black darkness. Less than a quarter-mile into the hike I was alone, looking way down the chasm at the headlamps down below. It was surprisingly warm, and I regretted wearing long sleeves and gloves, so I stopped to strip down to my usual short sleeves. Aaaah, much better.
Around the 2-mile mark, I saw a headlamp coming towards me. A few minutes earlier I had seen 3 other people coming out of the canyon, so I assumed this was another member of their group. Wrong! It was Alan! I asked him why he was going back up the trail, and he stared at me with a confused look in his eyes. He said he had fallen down twice and felt disoriented. He pointed his headlamp down and showed me a big gash on his leg and another cut on his elbow. Uh-oh! This was not good. I was worried he might have hit his head on a rock, but did not see any signs of that. After a couple of minutes, he said he was OK to continue on. I stayed close to him the rest of the way down just to be sure he didn't accidentally wander off a cliff (just like I did with UG on the way out of the canyon a dozen years earlier when he had seen the "fuzzy mosquito").
We made it to Phantom Ranch exactly at 5am. There was a crowd outside the cafe waiting for breakfast! That coffee smelled good, but we had to keep moving. The next few miles through the Box and over to Cottonwood were fairly quick and uneventful, except for taking a wrong turn towards Ribbon Falls, but we soon realized we were going the wrong way.
We caught up with Adam at Cottonwood and he gave us the scoop on who was up ahead. At this point Alan decided he'd better not press his luck with his bad leg. He figured he had enough in him for one big climb, so he reluctantly had to turn back. It was definitely the right choice. I felt bad for him, but the canyon will still be there (for a few hundred million more years) to come back and try another day.
I was feeling pretty good, so I decided to pick up the pace a little. I caught up with Karl about halfway up the North Kaibab. I know he hates going up this trail and was cursing me every step of the way. The top is so near, and yet so far! I could tell I was getting closer as I started to run into INCHers coming back the other way -- Steve, George, Sarbi, Mihail, Colleen, Jane, Jeff, and Yipeng. The notable exception was Tyler, who as it turns out, was the only one who did the optional 5-mile loop to Uncle Jim Point at the top of the North Rim. I had decided I would only do that loop if I made it to the North Rim in under 9 hours. It was not to be. It took me a full 10 hours to get to the top, and I knew it would take me longer than that to get back, so if I was to do the additional loop the whole hike would take me close to 24 hours. Forget it ...
I rested at the top for a full hour. I didn't realize I had been there so long because it went by so fast. I rearranged all my gear, had lunch, had a cold beer courtesy of Vicki, chatted with some ultra-runners, waited for Karl and Adam, rearranged my gear again, and then finally took off because my legs were starting to stiffen up on me.
It was high noon as I headed out. Crazy to think I was starting a 23.5 mile hike at noon after already having done 23.5 miles! It took me just over 5 hours to get back to Phantom Ranch. The only noteworthy items were the scary ledges on the North Kaibab, seeing Vicki/Chris/Kathryn/PeterE coming back the other way on the second-leg of their two-day R2R2R trip, and the endless hot flat section at the bottom of Bright Angel Canyon that took foreverrrrr ...
As I was resting at Phantom Ranch, I encountered some ultra-runners who had passed me earlier on the trail. It was their first time in the Canyon, but they told me impressive stories about doing 50 and 100 mile runs before. They were a good group, but one was a little cocky, and I was thinking it would be great to beat them up the hill. We all headed out from Phantom Ranch around 5:45 to begin the trek up to the South Rim.
I was surprised by how fast it got dark, and I had to make one more stop at the Silver Bridge to take out my headlamp. As I did so, I could see the runners on the other side of the bridge had also switched their headlamps on and were starting up the hill. I headed out at a brisk pace. In a short while, I could see I was starting to gain on them. It became a classic tortoise and hare race -- they would sprint for a short distance, then stop and start gasping for air, and meanwhile I kept chugging along at a constant pace. The gap was closing. I caught them about halfway up to Indian Gardens. They were standing on the side of the trail, hands on hips. I said a quick hi and kept going. As I looked back every now and then I could see I was increasing my distance over them -- uphill, cool weather -- that's my kind of hike! After a while I could not see them any more.
I cruised into Indian Gardens. Time for one last rest. I refilled my water, had a snack, and rested my legs. I felt good. As I was packing up and getting ready to head out, my buddies came in to camp. They looked beat. I sat with them for a couple of minutes, but then had to keep going. I told them "5 more miles, guys!" as I headed out.
I reached the 3-Mile Resthouse pretty quickly, but then I started to hit the wall. Maybe I had pushed myself too hard coming up from the river. I could see the lights at the top of the rim taunting me. So near, and yet so far. Just stay focused -- one foot in front of the other. I had slowed down considerably and was doing a 30-minute per mile pace now. It was 8:30 pm and I had one and half hours to go. The thought of the runners catching me kept me going.
Closing in on two miles to go ... one hour left. I looked down and saw nothing but darkness. The runners were nowhere in sight. I came across a group of 3 men sitting by the trail. From their attire and lack of gear, I could tell that they were not experienced hikers -- just 3 guys who had come down the trail earlier in the day and were now struggling to get back. They were clearly in over their heads and now paying the price. I asked how they were doing. They said they were OK but just really tired. I lied to them and told them they were almost there (what else could I do?). The leader tried to walk with me for a few steps but then had to stop again. I advised them to just rest, drink water, recover, and then keep walking slowly. I told them there was a 911 phone a mile ahead if they really needed it, and then headed out.
The last mile took me forever, or so it seemed. I was starting to feel dizzy and lightheaded now. The trail did not look familiar, but I kept telling myself this was the only trail around here, so I could not have taken a wrong turn. I could not see the lights at the top any more, but at least it was heading up, so I knew I was going in the right direction. I was not going to head back down unless I was absolutely sure I was on the wrong trail. I finally rounded the last turn and saw the sign at the top. I was done! It had taken me 4 hours to come up from Phantom Ranch (same as it took me to go down), 10 hours from North Rim (same as it took me to get there), and 21 hours (20:58) on the day.
As I emerged at the top, I saw headlights coming towards me. It was George, Mihail, and Alan (sorry if I forgot others -- I was barely conscious at this point). We walked straight to the Maswik Lodge. I was too tired to eat or even drink (!), but Yipeng offered to get me pizza and beer, so how could I refuse? The best part of it was just sitting down and not having to walk any more.
After I had partially recovered, I walked out of the lodge and saw the runners coming in. The leader came up to me, shook my hand, and said, "Mr. Green Shirt, you kicked our ass!". Yeah!! That made it all worthwhile :)
My thanks to George for suggesting this hike. I was hoping to break 50+ miles but that will have to wait for another adventure. I felt fine the next day, probably because I took it easy and went at a slow pace most of the hike. I don't think I'll ever do R2R2R in a single day again, but I wouldn't mind doing it over 2 or 3 days so that I can actually take time to enjoy the beauty of the Grand Canyon.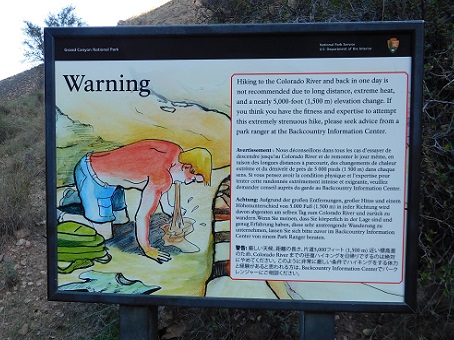 Yeah, this seems about right ...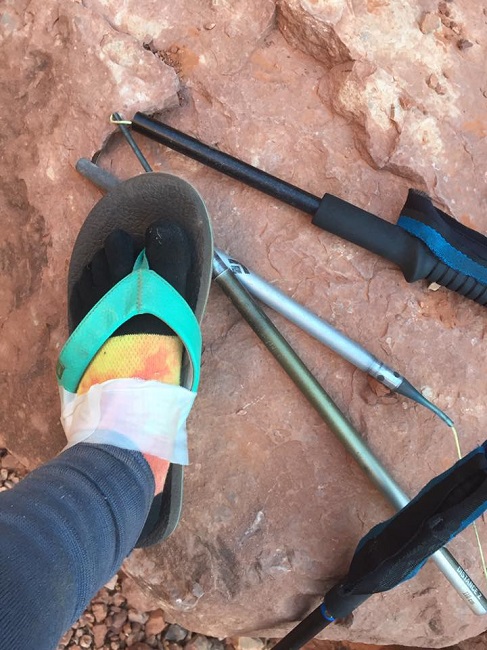 Ouch! R2R2R takes its toll on Colleen.
Adam: It's been over 2 days since I finished my Rim-to-Rim-to-Rim Grand Canyon odyssey, and I've been sitting here on a grey and gloomy afternoon, still trying to assimilate the magnitude of this grand adventure and how I feel about it. The usual numbers and stats (47-48 miles, 11,000' climbing) at once shock and yet fail to convey much useful about the experience. But the details must be recounted, lest they dissolve like half-remembered dreams. Indeed, much of this hike was done when I should have been sound asleep and dreaming!
The Wed afternoon flight to Phoenix & drive to Grand Canyon Village (shared with Peter and Alan) were tight schedule-wise, yet uneventful apart from the speeding ticket Peter got near Williams. We arrived just in time for a sumptuous dinner at El Tovar, organized by George. Jeff arrived straight from Utah sans watermelon, yet managed to put his signature touch on the classy affair by handing out a stack of 50-cent Walmart fruit pies at dessert time. I slept solidly after having lain wide awake with excitement most of Wed. night.
Friday was a relaxed day of walking along the South Rim and testing trailrunner combinations. My right shoe, a Salomon Speedcross 4, had developed a hole in the lining exposing a plastic heel counter that would've blistered me badly, so I bought a second pair of the Salomons and a pair of Brooks road-running shoes). I decided to use the new right shoe with the old left one (new left had a weird lump under the arch) and carry the Brooks pair as back-up (never needed them).
We went along the rim to Mather Point, enjoying the interpretive "Trail Thru Time" that explained all the different geologic layers down to the "Vishnu Basement" rock found at the Colorado's current depth. Very well-done, with samples of the rocks cut and polished as trailside exhibits. After selfies at Mather we trooped over to the Market where we bought lunch and cold sandwiches to carry on-trail. I fortified my stash with Butterfinger Bites, Sour Patch Kids and other health foods.
Then we found our way back to Maswik Lodge with only moderate degrees of disaster. Hike leader, speed demon & navigational whiz Peter got on the shuttle bus going the opposite way and spent a good chunk of an hour recovering from his error. I was nearly ensconced on the correct bus when Yipeng (a notorious troublemaker) attempted to bring an ice-cream bar aboard and was banished by the angry driver. Chivalry won out over self-preservation, and I hiked the ~1.5 miles back with her. (OK, actually I figured I could blame her if I bonked later on.)
I carefully laid out all my gear, then went to the big pizza-fest early in the evening. Vicki, Kathryn, Peter E, Petra, Ellen & Dara arrived from the North Rim, where they'd started Fri AM and would return at some saner hour Sat AM. Kathryn mentioned how treacherous the Bright Angel trail seemed to her, and she succeeded in unnerving me a little.
I couldn't sleep a wink after that, despite lying motionless for hours. I thought seriously about starting off early, at 11 or so, but decided to wait for the group since we'd all agreed on 1 AM. Got up at midnight, had coffee & ibu, put on my long sleeve merino base, long pants & cycling gloves & headed out the door with Mihail.
One of Colleen's friends [Peter: That was famed Rim2Rimmer Benedict Dugger who runs the R2R FB page] was somehow on hand at that ungodly hour to take a group photo at the start. We did our muted INCH cheer and started off into the yawning void. I half-ran, half-walked down Bright Angel trail which did feel dangerous in the dark with all the water bars and erosion and steep drops into unseen blackness.
I managed to hang with Jane O and chat a while before she sprinted on ahead, never to be seen again save for a passing glimpse later. I fell in with Yipeng and Jeff who caught me near Indian Garden down to Phantom Ranch @4AM, where they went on ahead. I needed more time to ditch the knee brace I'd bought, which was binding and chafing and doing more harm than help. [I did my damnedest to sprain my MCL a week before the trip by slipping on a wet floor, but the injury wasn't bad enough to excuse me from this mad undertaking.]
I made my way along North Kaibab Trail thru the cool air of The Box alone, with the pristine half moon and stars overhead and the Big Dipper perfectly framed in the slot ahead, no urban light pollution to spoil things.. Thought how different this probably was to the typical experience of the place as a sun-baked furnace. I did a little running but mostly just coasted along, feeling good but also suspicious of the apparent ease of this trip so far.
I realized my bum knee and chronically bad ankle probably wouldn't stop me as I'd feared they might. But I also thought grimly of the many, many miles still ahead, the coming heat, and the dizzying heights of the North Rim whose ominously glowing solitary orange light I could see, impossibly high and far ahead in the dark. I turned my head at a noise, and eerie mule deer eyes stared back at me, a lurid green. It began to sink in just how far I'd still have to go to reach halfway. Halfway?! Ludicrous.
Dawn came as I passed thru the open section below Cottonwood, starting to feel a bit numb and unwell. Hiking so long with a headlamp is mentally fatiguing--so much concentration is required to avoid missteps and twisted ankles (or worse). I realized I'd been lax at consuming electrolytes and food, and now made up for it with a few stops. At one of these, Karl passed me and gave some beta about the "Asinine Hill" near Ribbon Falls cutoff. This helped me take the right trail (NKT) despite a confusing sign later.
Karl went on ahead, and I made my way to Cottonwood, where I intended to shed layers and tank up on water. Immediately two women arrived, a veteran R2R2R runner and her first-timer friend. They were very talkative, and the newbie had just had a seam give out on her running tights--I offered her some duct tape from my first-aid kit to fix this. Then a bunch of guys replaced them, and talked even more. So many trail runners on this route--I thought they outnumbered the hikers, though Karl later put the ratio at 50/50. .
I finally excused myself, did my chores and went to leave-- only to have Peter and Alan appear. Alan had an unsightly gash on his shin and looked pale and unwell. I learned he'd fallen one or more times in the first 3 miles down BA, possibly also hitting his head, and now intended to turn back. I think it was the right call, but I felt very sorry for him having to abort after investing so much preparation and effort...and I was also impressed that he soldiered on to Cottonwood in such a state. He even did more miles at the top of the South Rim!
It was almost 7:30 by the time we left Cottonwood. I thought I could stick with Peter, but his hill climbing is monstrous and he steadily pulled away. I saw Karl up ahead... gained on him but couldn't quite reel him in. I marveled at the sun hitting the tall towers above me as I neared the steep pull up to Supai Tunnel. This was my favorite stretch of trail with all the multi-hued rock layers and the trail clinging to the side of massive cliffs. But I knew there'd be a stiff climb after these dramatic traverses, and when it came it was psychologically very tough because you could see all the people far, far above. There's rarely an opportunity to kid yourself about how far you have left to climb on this hike.
I started running into returning INCHers, the first being Steve who said "You're practically there--well, not really!" with his typical smirking understatement. He didn't run, apparently, but somehow still beat everyone else. All the rest of the gang seemed in a good mood and encouraged me onward, especially Mihail, George, Colleen & Yipeng. Tyler came by too, having become the first and only person to do the extra 5 miles to "Uncle Jim" point...very strong hiker! He just needs to be more cynical about doubling down on insanity, especially when neither the hike leader nor the crazy uncle who proposed it actually follow through!
Water was off at Supai Tunnel, but some guy sitting there called me "crazy" which was almost as good as a drink.. I was reeling by this point but kept marching on thru red Supai Formation rock, Hermit shale, Coconino sandstone, then the aspens appeared, then the pines, then finally saw the TH sign around 11AM--ten hours in. Peter and Karl were there waiting for me, with the welcome news that Vicki had left cold beer. It would be my one trail celebration, and it was exquisite despite the chill breeze.
I burned a lot of time there at the North Rim just regrouping and refueling, then giving sunscreen to a half dozen runners who'd neglected to bring any on their R2R2R! I decided I had carried way too much food, and dumped half what I had left (put it under Vicki's car with the water and beer).
Started back down after noon, quickly picking up Karl at the Coconino overlook. We were stiff from the break and hurting some but felt better to be headed down and out of the thin air with the sun warming us. Nice to have a trail partner after so much solo hiking. We passed Vicki and thanked her profusely for the beer, then talked with Peter E and Kathryn briefly.
At Manzanita we took another long break & picked up a companion, Cyndi, whom we'd seen before. Turned out she was dayhiking solo from north to south, roughly at our pace, and we invited her to join us. Between her and Karl, I learned a lot about Grand Canyon lore & trip ideas, along with other AZ hiking trails.
We blasted thru the now-sweltering Box as shadows lengthened, and I realized we'd miss the 4pm lemonade cutoff. I liked the Box in the daylight, but it seemed to go on forever, and we were back on headlamps before Phantom finally materialized out of the gloom. I started to feel a bit stressed, as I knew Bright Angel was still looming. Would we ever finish in time? No one could get cell signal to contact Peter or anyone up top...Would they send out rescue helicopters and make us an unenviable footnote in INCH history?
It was impossible not to take more time at Phantom resting and replenishing. Cyndi had a friend dining at the lodge, and she & another guest came out and talked to us more. We didn't leave Phantom until 7:15! I pressed on ahead with as much speed as I could muster, but had to stop and regroup at Indian Garden. There we met a young canyoneering couple who were exhausted but in good spirits, and another 20-something R2R2R couple who seemed gassed and speechless.
The return climb up Bright Angel was just plain hell, in a rising and increasingly chill wind. I don't remember a lot of it, just shuffling zombie-like through the endless dark, looking up at the El Tovar lights far overhead. I felt dizzy and sick at intervals, weaving dangerously yet slowly like an Amish drunk driver. I would stop for sugar and electrolytes, then soldier on a bit farther. Karl, Cyndi & I all began to resemble the other two speechless R2R2Rers we'd left behind: we were all hurting and there was even some fond talk of taking a nap as we sat with lamps off looking at the stars, which I found seductive & a bit alarming. We knew we'd never get up again if we did that!
After the final resthouse, where I ate all my remaining candy and gu shots as well as a tangerine Cyndi offered me, I finally got mad, summoned my finishing drive, and stormed up the last 1.5 mile of switchbacks and tunnels, emerging at 1 AM, same time as I'd started. Karl followed soon after. Colleen had astutely suggested parking a car right at the trailhead, and I was glad to get a ride for even the short distance to Maswik. I texted Peter we were alive & well, showered and slept like the dead for 4.5 hours.
Then a big 7 AM breakfast & brief reminiscences, a quick citation-free drive back to PHX with Alan and Peter, beer + nachos + football in the gate area, a turbulent flight back in which the girl across the aisle from me kept freaking out and screaming at each jolt, and then a much-appreciated ride with Peter, Taylor & the kids to my car (Thanks, Taylor!).
Incredibly, I don't feel particularly sore or wasted, just a little of that "what now" letdown feeling that sets in after these long-awaited milestones, when you abruptly return to life's mundanity and uncertainties, and yet can only daydream about the next grand adventure.
Very grateful to Peter for organizing the hike & driving to & from Phoenix, George for suggesting the whole crazy affair & arranging dinner, Colleen for her enthusiasm and great suggestions, Mihail for sharing his room, Vicki & crew for water caching and BEER, and Yipeng & Karl for companionship on the darkest parts of the trail. Congratulations to all on this accomplishment!
Epilog: Extra stud points to Tyler for doing 55 miles on the day, and honorable mention to Alan who got injured early in the hike, but soldiered on as far as Cottonwood and back, and then did extra mileage at the top of the South Rim -- 41 miles total. INCH is brutal -- you do 40+ miles at Grand Canyon and don't even get a leaf! Damn ...
Milestones:
Jeff's 260th leaf







Pages maintained by Steve Walstra, Peter Saviz, and Russell Gee.
©2022 Intrepid Northern California Hikers