1112. Rose Peak (12/16/17)

Hikers (29): Alan, Baltazar, Bjorn, Brad, Chris P, Dan L, Dong, Hailong, HaJo, Helen, Iris F, Jim, Karl, Laura V, Manfred, Mihail, Milon, Nohemi, Peter, Praveen, Rob C, Ross, Sarah, Shuli, Sophie, Susan S, Vicki, Xun L, Yipeng
Distance: 20 miles
Rating: 4 difficulty, 8 beauty
Park info: Ohlone Regional Wilderness near Sunol

Write-up by Dan L -- Pictures by Dong, Karl, and Alan
If I mentioned that when it came to picking last weekend's hike, I was caught in the horns of a dilemma, I'd be exaggerating. A lot.
Although I try to make these hike logs interesting enough to get you thinking "If he can hike like that, so can I", I try not to exaggerate in order to get you off your butt and on your feet. I may take some poetic license here and there though.
So I wasn't caught in the horns of a dilemma. Of the two choices I had, the pick I made was actually an easy choice. Although one of the hikes -- with INCH, promised to be difficult, a trudge up a long series of hills, the other hike was something I've done like maybe 50 times before. Or so it seems.
In the end, I stayed away from an oldie but goodie hike to Alamere Falls in Pt Reyes and went with a brand spanking new hike, an hours drive away, to Rose Peak in the Del Valle Regional Park in Livermore. The new and potentially exciting won out over the old tried and true.
I arrived at the trailhead just in time to get out of my car, grab my backpack, and watch fellow INCHers, Alan, Baltazar, Bjorn, Brad, Chris P, Dong, Hailong, HaJo, Helen, Iris F, Jim, Karl Marek, Laura V, Manfred, Mihail, Milon, Nohemi, Peter Saviz, Praveen, Rob C, Ross, Sarah, Shuli, Sophie, Susan S, Vicki Carter Alexanderr, Xun L, and Yipeng, take off. INCH is punctual, something I'll remember when I feel like stopping for coffee at McDonalds before the next INCH hike.
After running to get caught up with the group, I realized that in my haste to catch up, I had left my trekking poles in my car. They really would have helped on the steep downhill sections of the hike.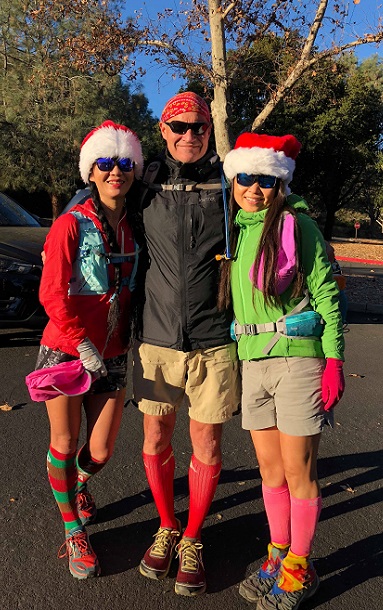 Santa's elves brought a smile to Karl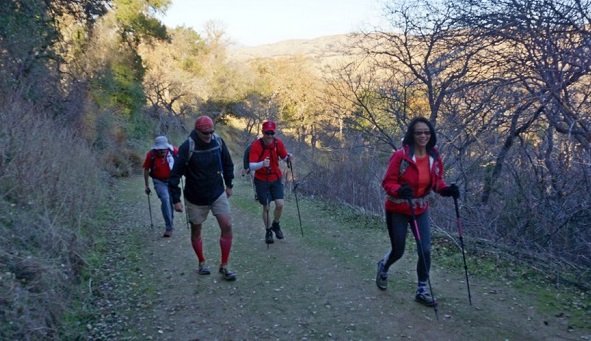 INCHers were looking good in their Christmas red
The hike from the trailhead to Rose Peak was mostly a steep climb, but there were parts of the hike up to the peak that included a steep descent, especially the hike down to Williams Gulch.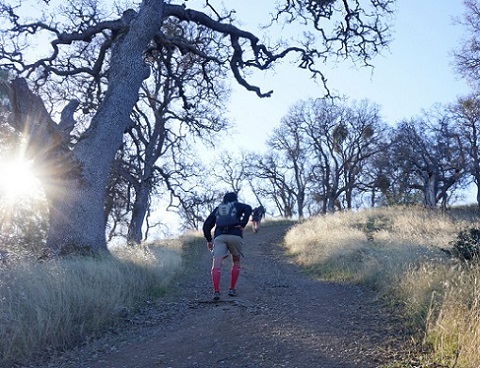 Steep hills right from the beginning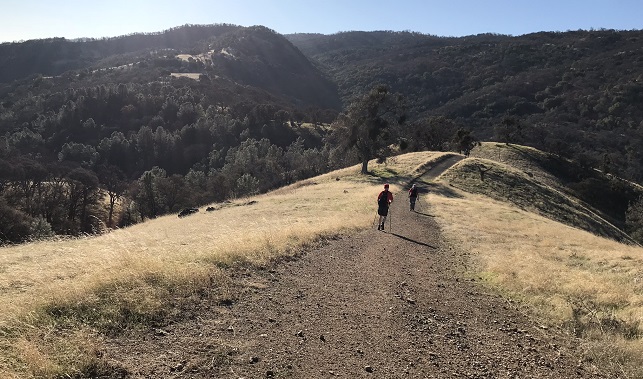 Up on top of the Rocky Ridge
Along the way to Rose Peak, there are ample views of the surrounding hillsides, lots of oak trees, some forest and ponds, and off in the distance, Livermore. If you're a tree hugger or nature lover, there are many reasons to hike up to Rose Peak. If you're with a lover, the many oak trees with mistletoe on the trail are a good enough reason to make the hike at this time of the year.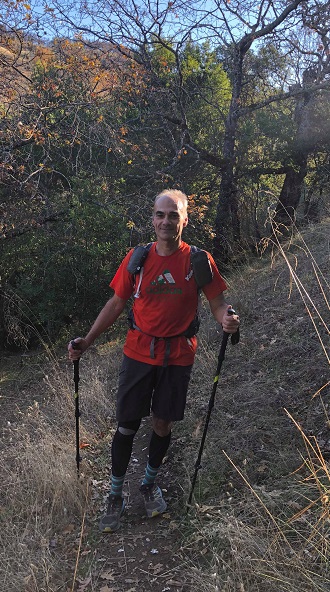 Mihail looking good on the Big Burn ...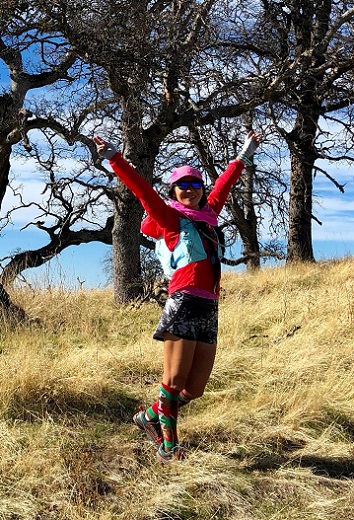 ... and Xun looking good at Rose Peak
At times, the hike was cold and windy, especially when we reached the peak but overall, the air was cool and refreshing. Once on the peak, we stopped for lunch, about 20 ft away from the peak, out of the cold, windy air.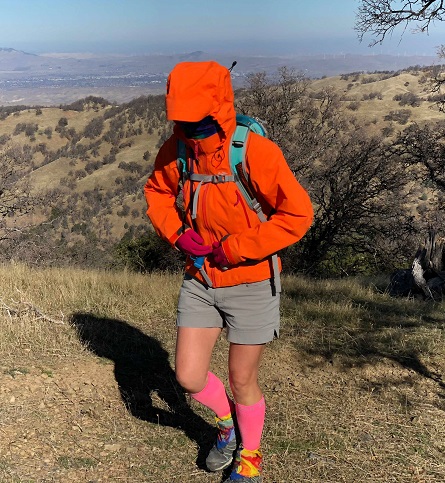 It was windy and coooooold!!!!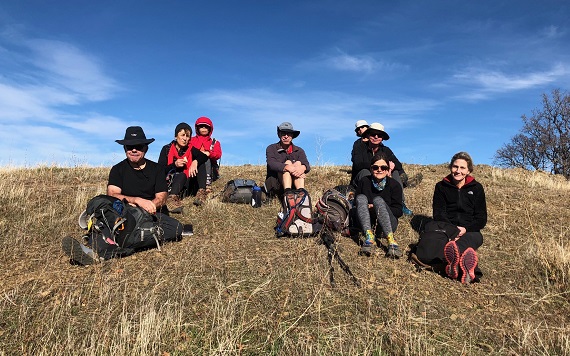 INCHers at the peak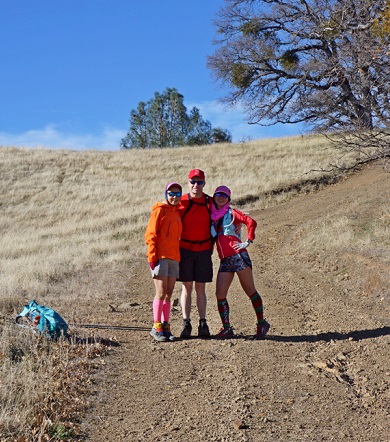 The ladies were coming back from Rose Peak while I was still heading there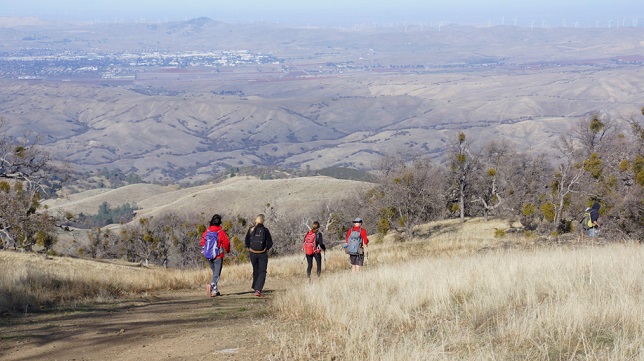 Going down the long hill back to the start
If the steepness of the climb up was challenging in parts, the hike down from the peak wasn't a walk in the park either, at least not in the figurative sense. It seems that hiking downhill should be a slam dunk but it never is. It's harder on the knees and thighs that a climb up, and it can really slow you down on steep sections.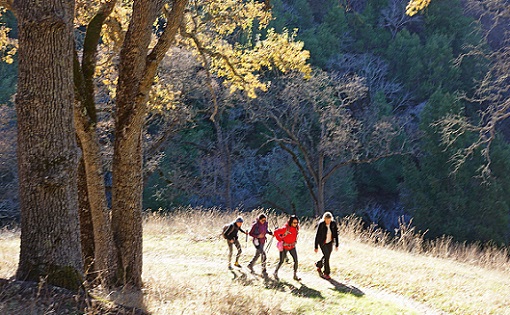 After the wind died down, it was a nice afternoon
Eventually, near the trailhead, after somewhere over 19 miles and over 5,000 ft of elevation gain, we ran into a large tribe of goats. The goats were well behaved, if a bit curious but shy, and I never felt like I was about to be rammed, or caught in the goat horns of a dilemma.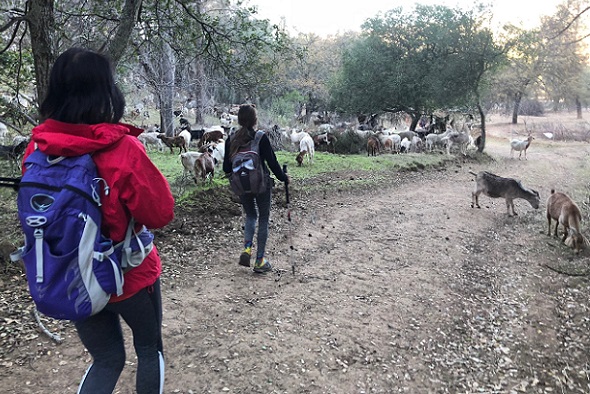 We had a welcoming committee waiting for us at the end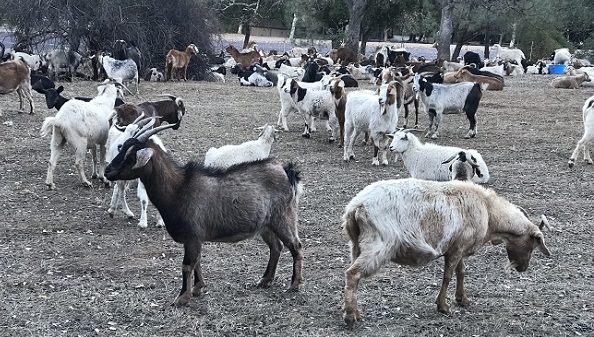 It was a baaaaaaaaaad hike!
As the group straggled in, we all sat down for the usual INCH social where wine, beer, cheese, cracker, snickerdoodles, fudge, chocolate chip cookies and lots of other treats were passed around, pot luck style. Ah, the INCH social. To some, it's the best part of the hike.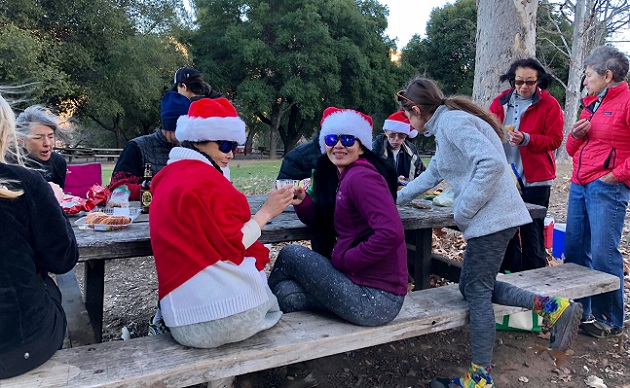 All smiles at the chilly post-hike party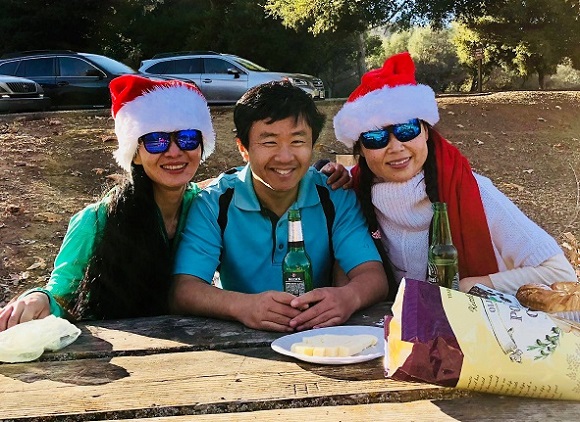 Hailong deserved that beer -- he finished hours ahead of everyone else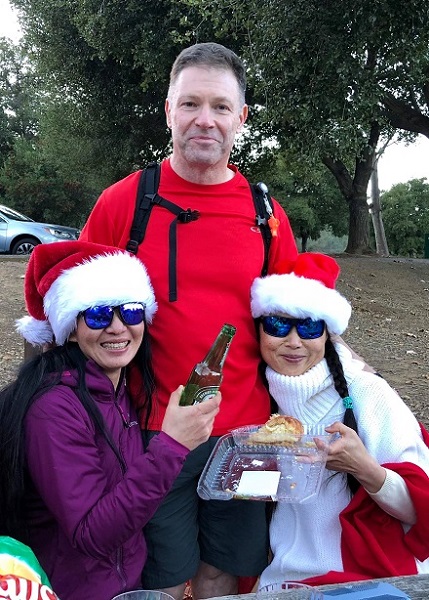 Even the stragglers got to pose with the ladies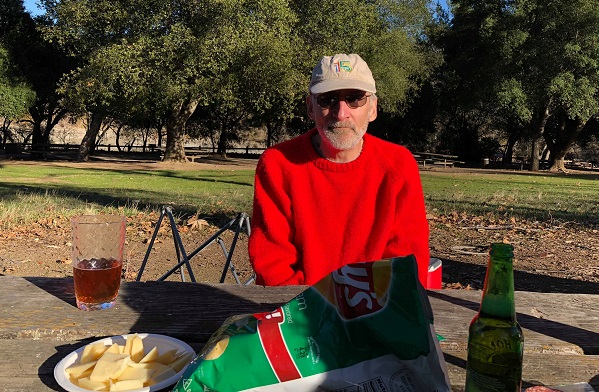 The question remains: Is Brad's sweater red or orange?
Milestones:
Jim's 110th leaf
Laura V's 1st leaf
Mihail's 90th leaf
Nohemi's 1st leaf







Pages maintained by Steve Walstra, Peter Saviz, and Russell Gee.
©2022 Intrepid Northern California Hikers