1194. Rock House Ridge (09/21/19)

Hikers (16): Alan, Angelika, Baltazar, Brad, Brenda N, Camly, Chinyet, George, Karl, Mihail, Pal, Peggy, Peter, Sandy F, Sarbinder, Steve
Distance: 20 miles
Rating: 4 difficulty, 8 beauty
Park info: Henry Coe State Park east of Morgan Hill

Write-up by Sandy F and Peter -- Pictures by Chinyet and Karl
It was a nice day at Coe -- cool temps in the morning thanks to the early start, and most folks got in before it heated up in mid-afternoon. The downside is that I had to downgrade it to a level 4.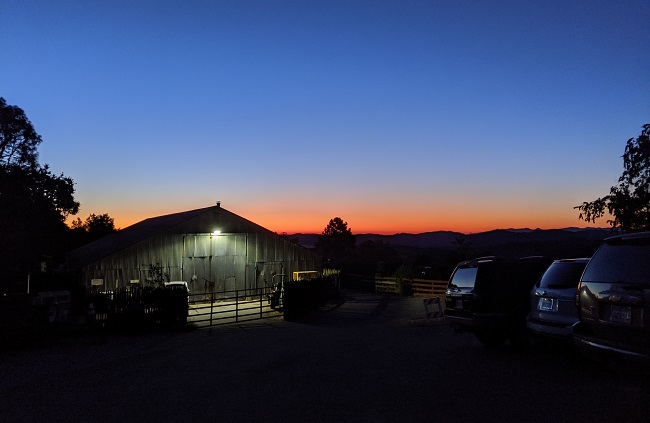 It was dark at headquarters for the 6am hike start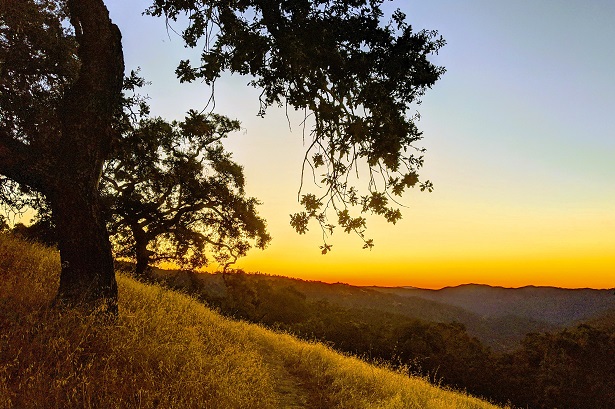 Beautiful early morning at Coe -- the air smelled sweet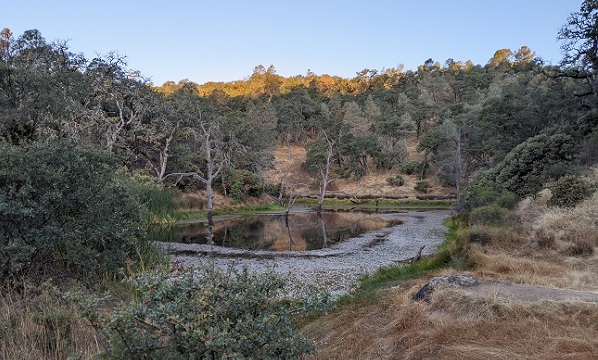 Frog Lake has seen better days -- the plants are taking over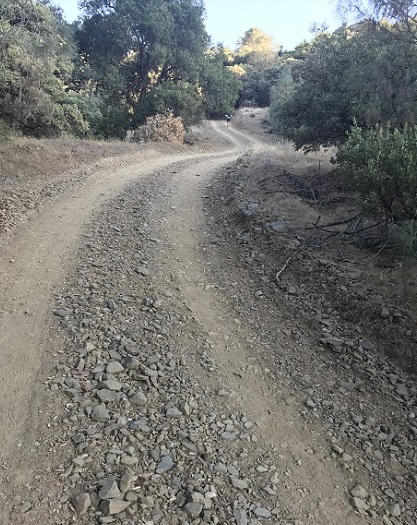 The hike up to The Bench is always a highlight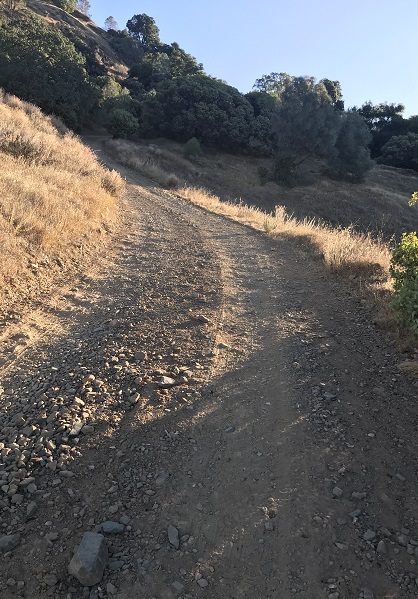 Keep going ... get there before it heats up!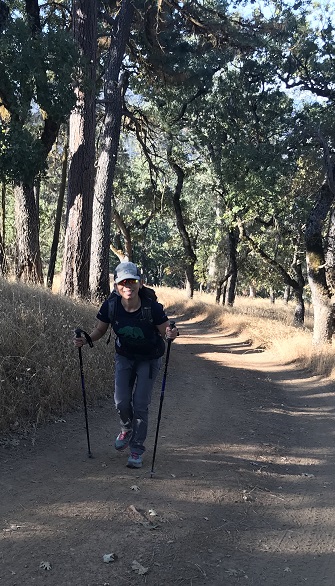 Brenda's all smiles on her first trip to The Bench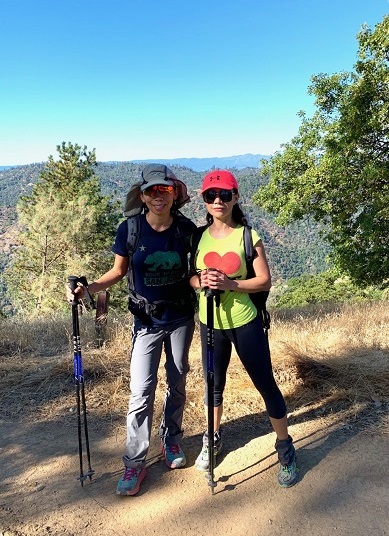 Brenda and Camly enjoying the view near Mt. Sizer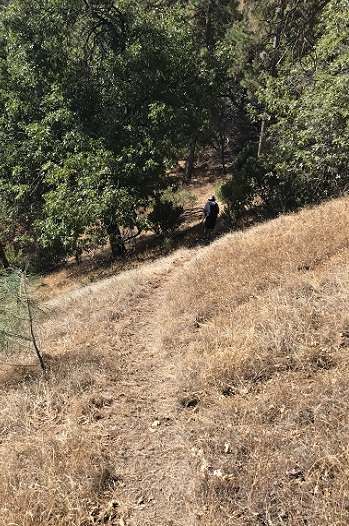 Heading down the Black Oak Spring trail (it's easier to find now)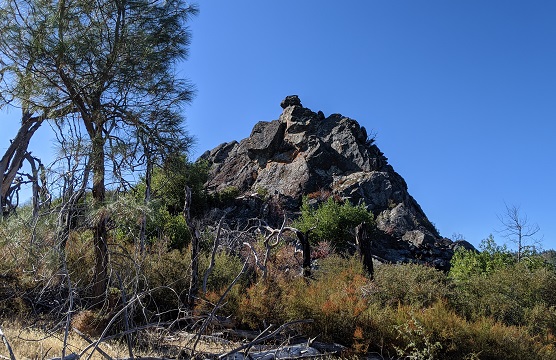 Approaching The Rock, wearing its nice little hat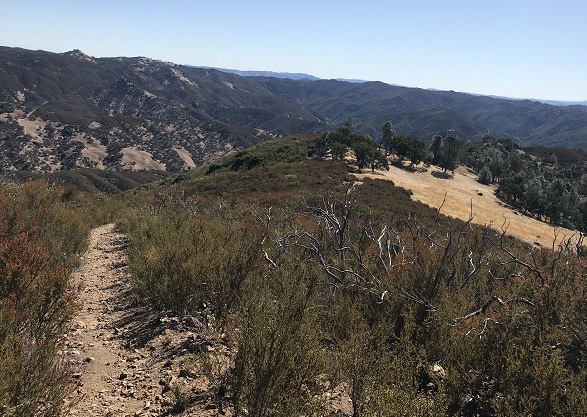 It's a long way back ... prepare to get scratched up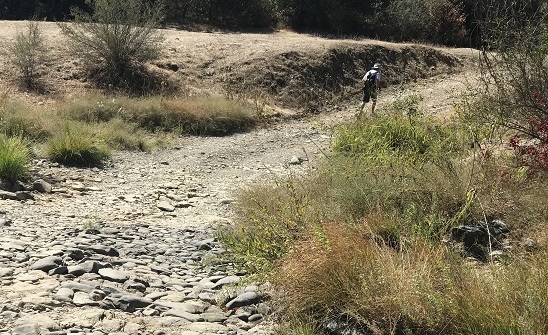 Baltazar crosses the dry creek at Poverty Flat and starts the big final climb -- let's get this over with!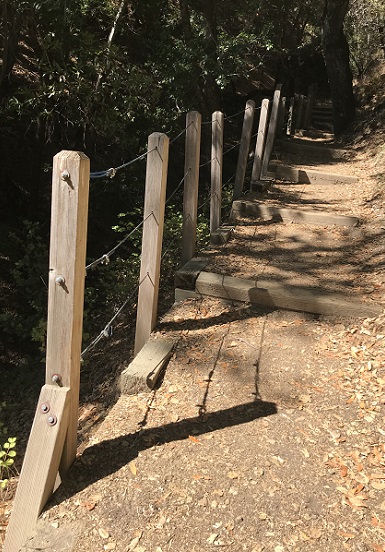 Blue ropes!!! It's all over!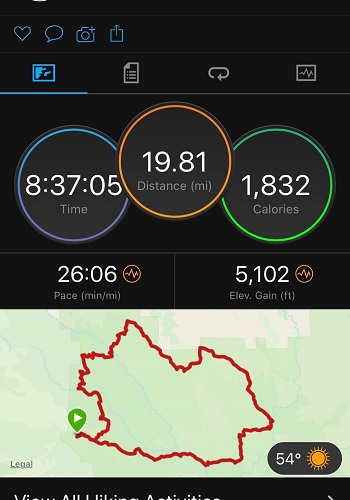 Karl's stats on the day: Almost a mile vertical -- good training for Grand Canyon
Sandy's notes: I survived. I climbed the"hill" in 59 minutes (really) and was not wasted when I reached the top. That time is 12 minutes less than my age (my time last year was 1 hr 30+ minutes). Got to the hat rock trail by 12:30, felt good, so took the plunge. Got down to the spring where the trail disappeared. took a bearing on the high hill to the east and set off. Very nice hike through grass lands. On the east side of the stream bed, about 200 yards up was very clear trail (going north-south) walked it for a little bit and realized it was a cow trail. went back to my starting point and made a bee line straight up the hill (along the north side of the peak). again, very nice, easy hike. Went looking for the trail down, could not find it. So started hiking east. passed 1 or 2 smaller peaks and a largeish valley. there was a peak in the distance, but did not find any trail. So I bushwacked south to the road (rather than wandering off to the east). It was a nice hike except for 1 or 2 places where I had to cross over some steep-sided valleys. I eventually encountered the lower end of the trail and followed it down (about 1/2 mile). Then the long slog back to the car. Got back to the car about 9pm. I hiked for 13 hours and my legs feel it.
Milestones:
Chinyet's 180th leaf







Pages maintained by Steve Walstra and Peter Saviz.
©2021 Intrepid Northern California Hikers