1221. Madrone Knoll (06/20/20)

Hikers (21): Alan, Baltazar, Chinyet, Clive, David, Edita, George, Karl, Kathryn, Le D, Mihail, Mikael, Peter E, Rainer, Rudi, Sandy F, Sarah, Sophie, Steve, Susan CF, Yenya
Distance: 7 miles
Rating: 2 difficulty, 8 beauty
Park info: Bear Creek Redwoods Open Space Preserve near Los Gatos

Write-up by Steve -- Pictures by Alan, Peter E, Karl, Chinyet and Steve
The hike officially started on time (at 8:55am), although I was the only one in the parking lot at that time. Actually, that's not true: Clive, Chinyet, Yenya, Mikael, and Sandy F were also there, sitting in their cars, awaiting a different Open Space experience. Sandy said it was about 40 minutes until the last person started hiking. Combining those five with four early starters, INCH was well distributed across the trails.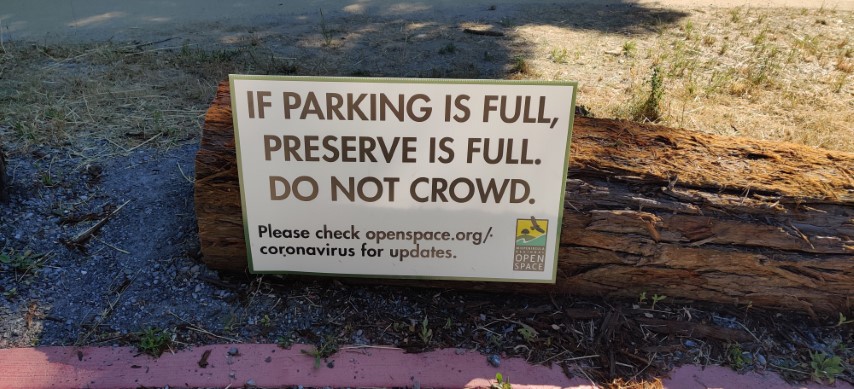 INCH complied
As I reached the first bend in the trail, was happy to see a small clutch of INCHers waiting for the official start (and mostly catching up with each other after the long break). We did a muted socially-distanced cheer.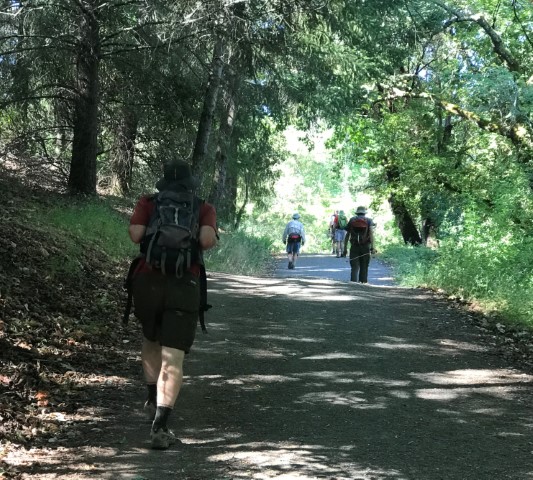 Wide trails make "distancing" easy
The hike only has a few marked junctions, so easy to follow. I noticed during planning that an old road ran parallel to the official route (and exits on a private road a little south of the trail). It was easy to follow and had only a few downed trees along the way. It did not appear to be used very often despite being prominently shown in open source maps (which is what a third of INCH--and probably the free world--uses for hike navigation). I'll take it every time in the future just to make it a little more of a "loop" on the way to Madrone Knoll.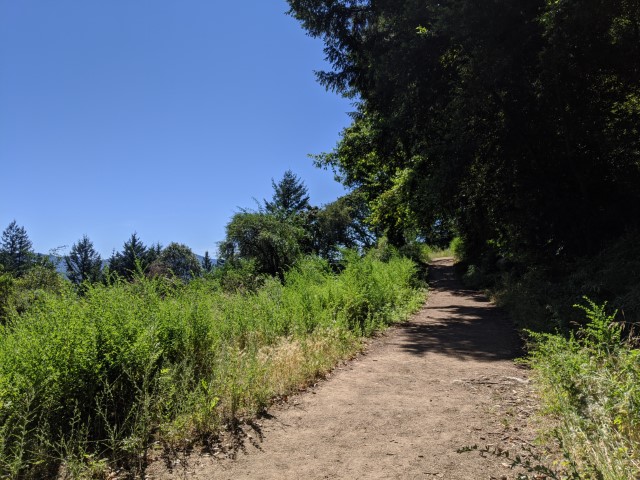 First day of summer was clear and warm
I ran into Sarah, dressed like a colorful bandit, upon rejoining the official route. She had started the hike early, so was already returning from the summit. I'd also gotten behind a lot of people on that alternate route, so passed a few on the last stretch to the summit. Passing on the uphill sections is definitely more difficult with a mask. Wanted to pass quickly, but passing quickly requires more oxygen. . .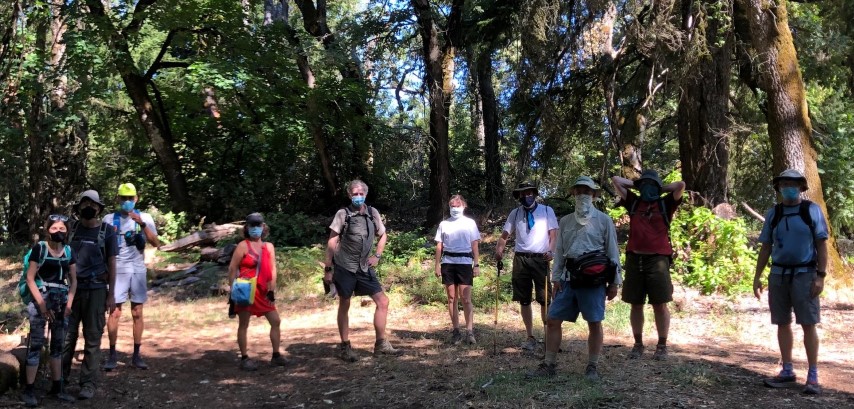 Madrone Knoll middle group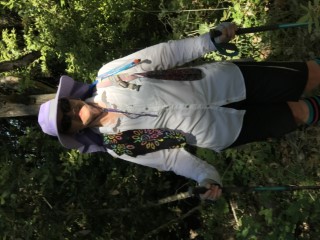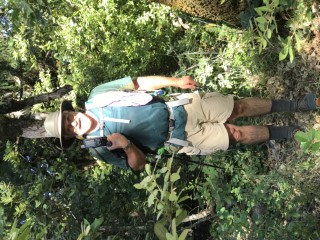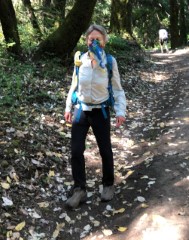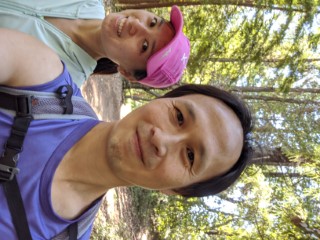 Early and late contingents at or near Madrone Knoll
Most people walked the small loop around the summit and then strolled up to the vicinity of the ill-defined summit. It's odd there isn't a well-beaten path on top of the summit area considering all the visitation it gets.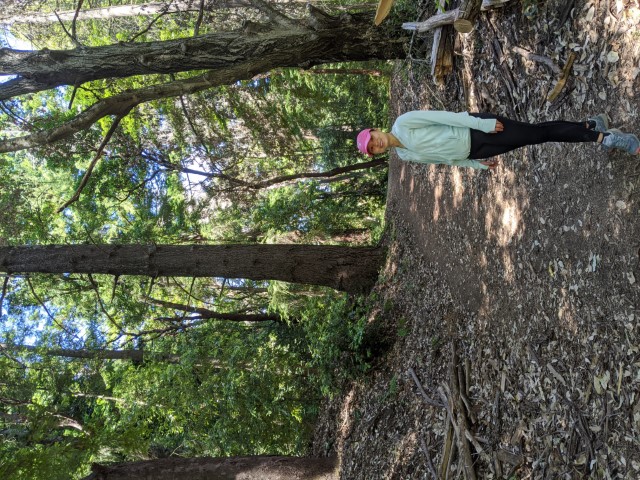 Plenty of shade in Bear Creek Redwoods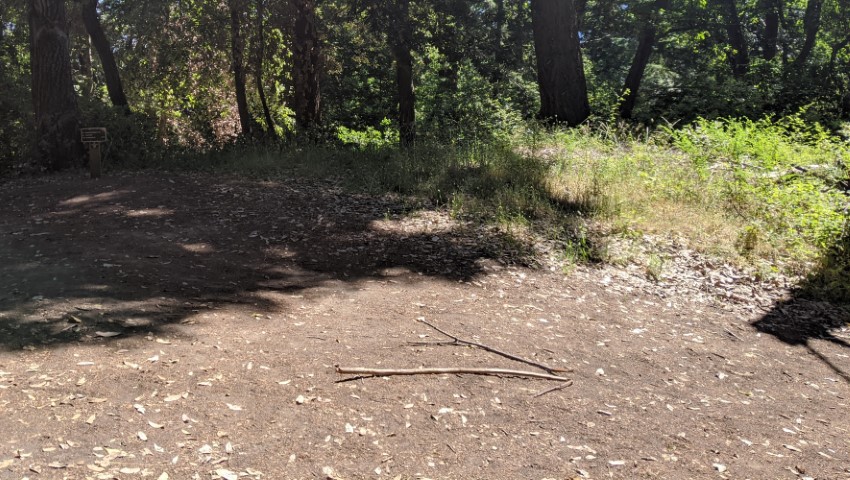 Navigation is easy, but still left an arrow or two
On the way back from the summit, I turned one of my arrows around to point to the rest of the hike. Someone pointed out that there were still several people who hadn't headed up yet (the ones who got a late start). I was torn, but figured they would figure it out (if they noticed the arrow at all). I heard later from Chinyet and Sandy that everyone had been seen in the vicinity of the summit--hooray.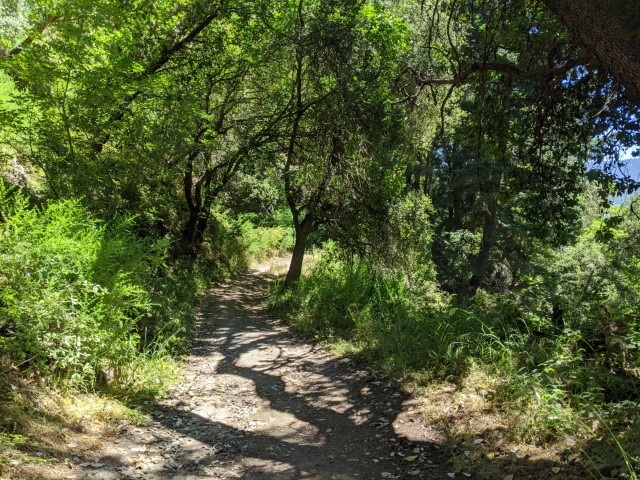 Green trails
From there, it was colorful trails the whole way back. I left the official route a little earlier (see below), but everyone else made it back without incident. Two tracks showed the hike is less than 7.5 miles, so downgraded the distance of this already short hike. Last time we did a loop around the pond to start off the hike, which might have boosted the distance just enough to round up to 8. The good news is that it was a fairly cool hike on this hot day with enough elevation keep it legit.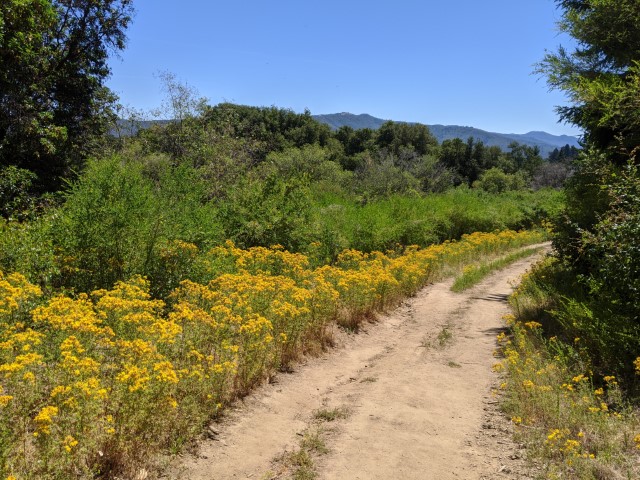 Yellow trails
Alan had reconnaissance indicating the Bear Creek parking area filled very early, even on weekdays. George reminded me that the last time we went, we had stashed a few cars farther away. Perhaps my 8:55 starting time wouldn't be early enough? (it wasn't, obviously)
George mentioned he was going to park in that far-away area and walk in to the park. This sounded like a great idea, so also did that, thinking it would help with parking. . .plus it provided an opportunity to explore some nearby areas. I parked an hour before the hike officially started, and there were only three spaces available in the parking location on Black Mountain Road. Not sure what that lot is used for--maybe fishing. But it turned out to provide additional adventure and hiking opportunity, as I ended up logging an additional 11.5 miles.
All this backstory is to explain the next two pictures. Along some additional trails on the way to the parking lot, there was one meadow full of purple. We saw some of this in Bear Creek as well, but not this magnitude.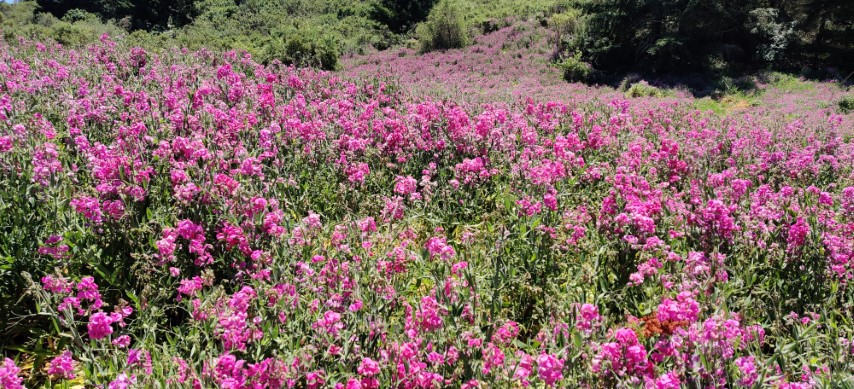 Purple trails
Could hear a lot of honking as I neared the end of Bear Creek Road. Highway 17 gets backed up around this point, with people heading up and over to Monterey, so wasn't thinking much of it until I reached the Alma Road overpass. A group of political activists was waving various flags above the slow-moving traffic. A truck with "Impeach Gavin Newsom" painted on it was parked nearby. Was slightly disappointed they were gone by the time I drove by.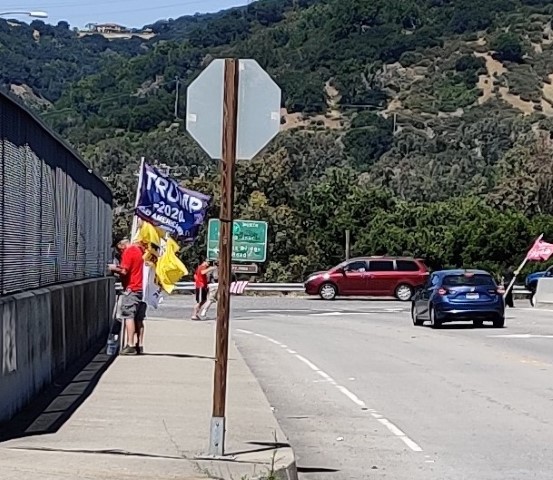 Hard to interpret what the honks were saying






Pages maintained by Steve Walstra, Peter Saviz, and Russell Gee.
©2022 Intrepid Northern California Hikers