1252. BART2BART 2 (06/12/21)

Hikers (15): Bjorn, Chinyet, Dong, Giulia, Iris F, Jarda, Jeff, Jim, Jolly, Manfred, Mihail, Rudi, Sophie, Steve, Yipeng
Distance: 24 miles
Rating: 4 difficulty, 7 beauty
Park info: Tilden Regional Park

Write-up by Jarda -- Pictures by Milon, Sophie, Jarda and Steve
As the only one who did this hike the right way including the BART ride in both directions, I feel kind of entitled to do a writeup.
I like BART2BART hikes. I really miss the ability to just take public transit to a hike, which is considered a basic human right where I come from. And I miss point to point hikes. Also, the BART was extended a year ago and now ends in North San Jose, only about 3 miles from my place. I've been planning to use the new station for a whole year, but thanks to COVID, there hasn't been much opportunity - apart from hike 1228, but that used the station only as a starting point and I'd rather forget about it. This INCH hike finally gave me the opportunity. The heat in the forecast was a bit concerning, but being the only red flag on the otherwise nice adventure, I decided to just bring more water than usual.
So at 8:30am on Saturday I was standing on the platform in Berryessa/North San Jose station, waiting for the train - properly masked, as per COVID rules. I drove to the station and paid the VTA parking fee, though I briefly considered walking there. Took me whole 9 minutes to get there - must be the shortest drive to an INCH hike ever. I was expecting Steve might show up, but he didn't. But the train did show up on time, and it was one of the new BART trains with a digital map and weird seat layout. So that was another first, riding on the new train.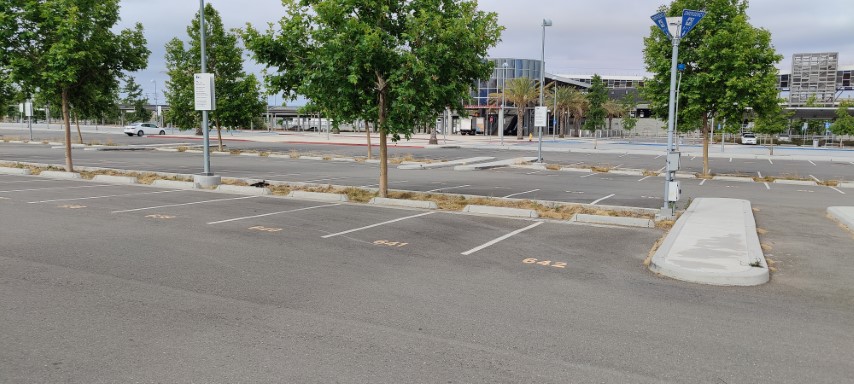 Warm Springs BART Station at 8:30am. . .not too popular
Steve did eventually show up at Warm Springs station. I found him at the very end of the train playing Candy Crush. He didn't want to pay the $3 parking fee at one of the new stations. So apparently taking public transit and helping to decrease greenhouse emissions is OK as long as the parking is free. Good thing that most of the BART stations have free parking on weekends, otherwise I'd be the only one riding BART.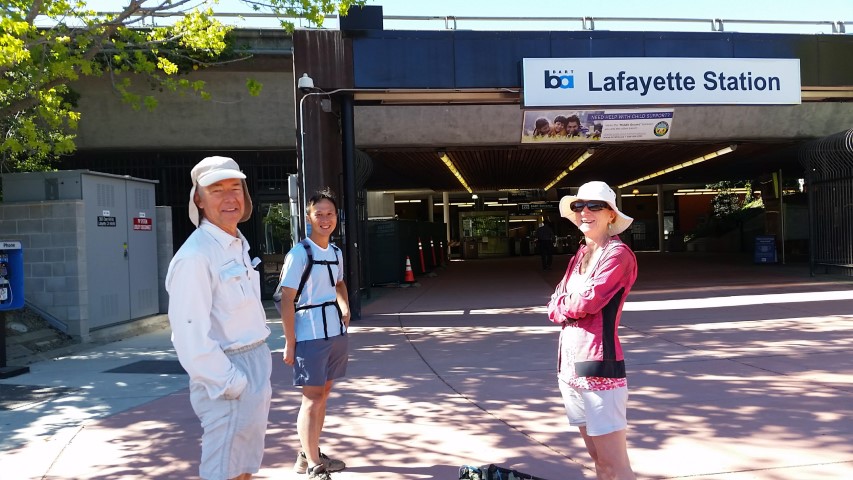 Early INCHers at Lafayette Station
The train arrived on time and there were already quite a few INCHers waiting in front of Lafayette station. A few of them actually took BART - all the way from Orinda (next station and hike's endpoint).
1… 2… 3… INCH
Then the real pain started. It was really hot in Lafayette, and it was just 10am. Pretty soon I mentioned to Steve that it's too hot a day for this hike and to my surprise, he agreed. Even Iris F seemed concerned about Steve and gave him something to eat. I was seriously considering turning around, taking the BART to The Fourth Bore in Orinda, which opens at 11am, and just waiting there. But somehow I didn't. I was still glad I brought a lot of liquids. Soon, most people were far ahead of me on the initial climb, but I caught up on some noname peak (1433) that I would have missed if it wasn't for the GPX track. Apparently, it was important to stop there. Steve was hanging out there and sending people to the highest point and left only a while before me. I drank about a third of my Gatorade there and felt a little bit more optimistic about my life and surviving the hike.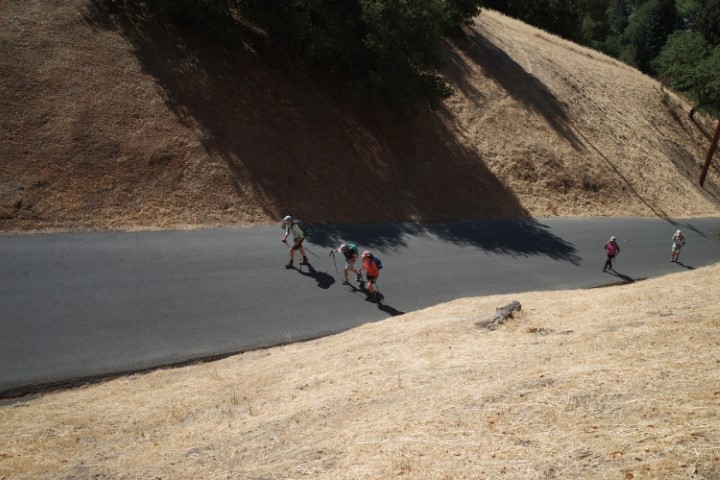 Heading up to the first trail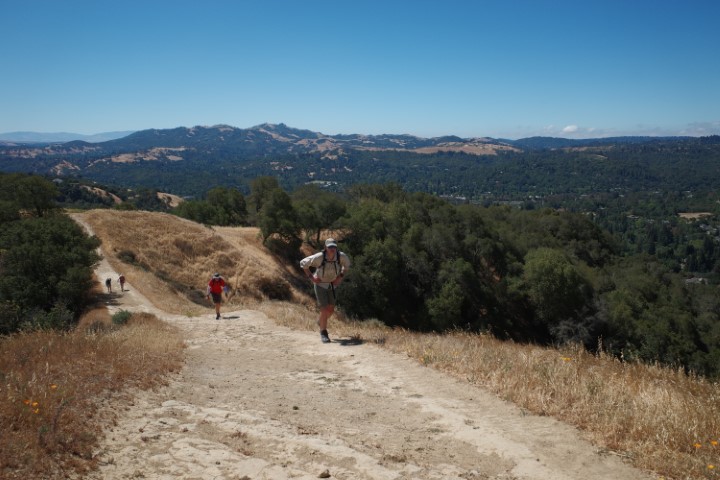 Already too hot. . .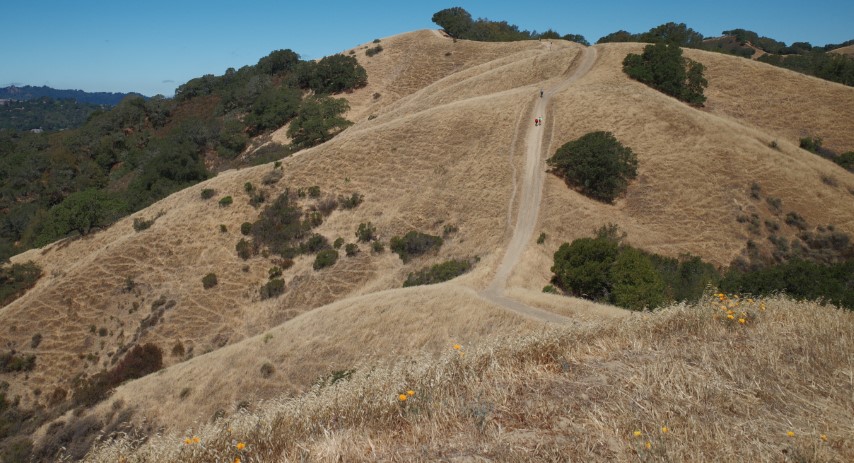 . . .and more to come
Near the peak on the main trail I found a hike map lying on the ground that I was fairly sure was Steve's map. So I now was on a mission to give it back to Steve. I thought I might catch up with him on the nearby Briones peak, which I remembered from the last time, but I was wrong. A couple of other people followed me to Briones Peak and when coming back to the main road, we ran into Jeff and Jolly, so we sent them to the peak too. They wouldn't want to miss it.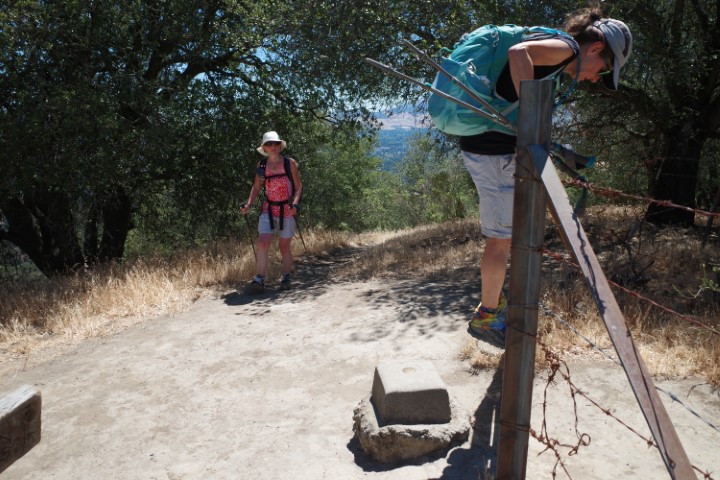 Briones Peak
After Briones Peak, things got a bit easier - it was mostly downhill and there was an occasional breeze. On the other hand, my mission to return Steve's map looked pretty hopeless. I ran ahead of the group I was with, going as fast as I could, but I thought Steve probably went on a tangent looking for peaks/geocaches/pubs and wasn't even on a trail anymore. So I was surprised when I caught sight of him at the Bear Creek staging area water fountain (working water fountain!). Mission accomplished. :-)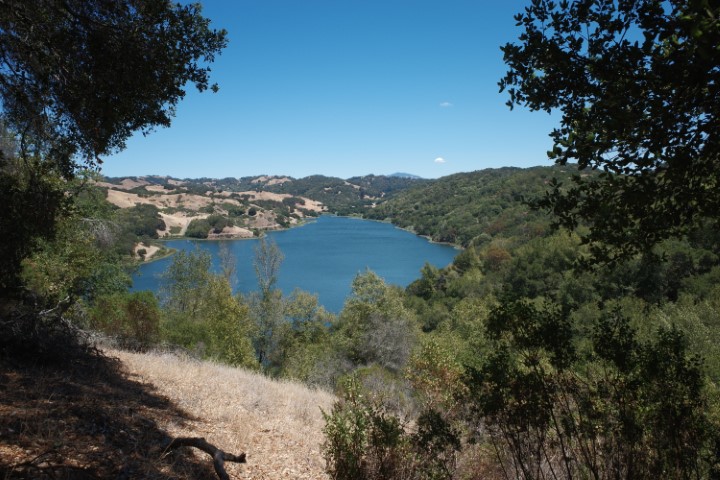 Briones Reservoir
After that, I could relax a bit while hiking through the EBMUD lands along Briones Reservoir. It's a nice part, though a bit long. I distinctly remembered a bench from last time along the trail, and was thinking about taking a nap there. When I got there, the bench was occupied, but luckily there was another bench right next to it, which I took full advantage of. That's where Sophie, Giulia, Yipeng and Jeff found me. After the brief reunion celebration (this is, after all, about halfway point of the hike), we set off, and I was already dreading the climb up the Inspiration Point. But when we finally got there, it wasn't all that bad, because there was a nice breeze. Still, I was feeling cramps coming at the top and was glad it was over. We did the standard route - I hadn't even noticed there was an alternate route on the map and hadn't scouted it, but now it looks like it's pretty reasonable. At that point in the hike though we all were in "just follow the damn track" mode. We did lose Jeff and Yipeng somewhere on the climb, and a bit later I lost Sophie and Giulia in some confusion over the newly rerouted Vollmer Peak trail. The "just follow the damn track" mode would have us hike through a lot of branches. I decided to take the trail that had the right name but went in the wrong direction, while they decided to try the road. My trail pretty soon turned in the right direction, but I was again on my own. I waited near the steam trains at the end of Tilden for a while while eating a granola bar and just when I was about to leave, Sophie and Giulia showed up - apparently happy that they located a water source on their excursion.
Taking a break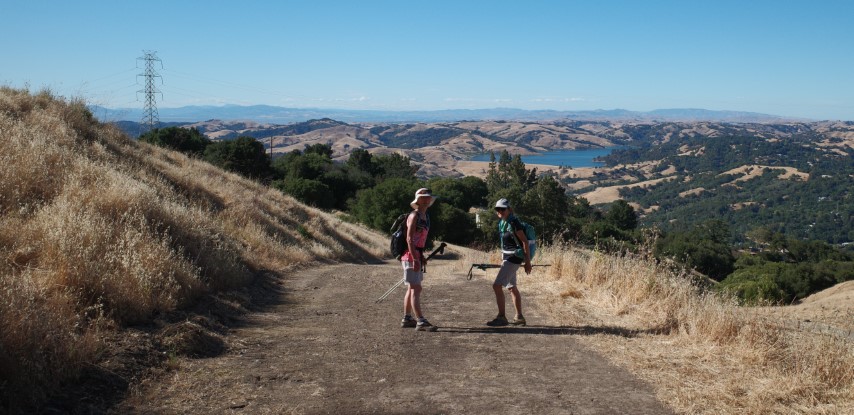 Almost done
And that's how we finished. From there it was mostly down through some cow pastures, though there was one last hill that none of us remembered from the last time. Finally, some zig zagging through traffic in Orinda brought us to The Fourth Bore, where Mihail was on his third beer and Steve was just finishing his main course. Time for some refreshments and celebration of our survival.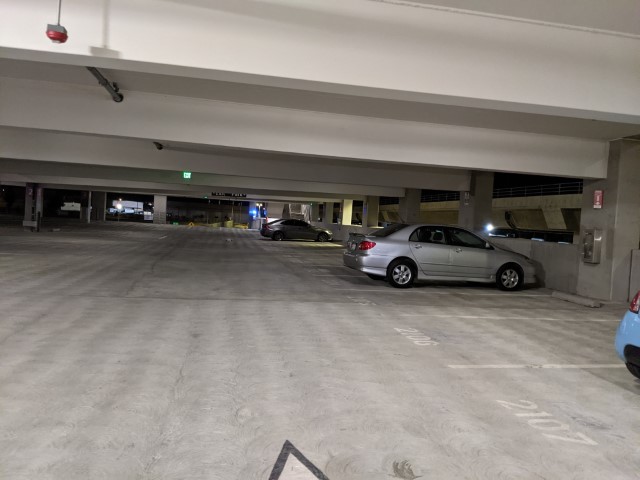 Empty Berryessa BART Station
To round the whole day up, I decided to pass on Mihail's generous offer to drive me back to my car (unlike Steve, who couldn't resist). Because who knows when will I again get another opportunity to take public transit from an INCH hike. So, almost exactly 12 hours later, around 8:30pm, I was standing at a BART platform again, this time in Orinda. Unlike with the hike 1185, where I both missed the train that Steve caught, lost my phone and got home very late, this time BART worked great. I read about a quarter of a book on my Kindle (which I carried the whole hike) and I was at home around 10pm. Turns out I still beat Steve - apparently somebody put another pub in his way.
All in all, another good hike with minimum driving. I got 24 miles with 5,000 ft of climbing. I would not have signed up for it if I knew how hot it would be, but now I am glad I did. $17.30 in Clipper fees and parking for a whole day of suffering in heat is a bargain.
Milestones:
Mihail's 220th leaf







Pages maintained by Steve Walstra, Peter Saviz, and Russell Gee.
©2022 Intrepid Northern California Hikers