1253. Purisima Loop (06/19/21)

Hikers (34): Adam, Bjorn, Brad, Chinyet, Christina, Crystal, Dan, David A, Gela, George, Giulia, Helen, Hong, Jarda, Jeff, Jim, Kathryn, Manfred, Mihail, Milon, Nohemi, Pal, Peggy, Peter, Ralph, Ross, Rudi, Sandy F, Sarah, Sarbinder, Sophie, Steve, Susan S, Yipeng
Distance: 21 miles
Rating: 4 difficulty, 9 beauty
Park info: Purisima Creek Redwoods Open Space Preserve near Woodside

Peter owes a writeup! -- Pictures by George. Milon, Pal, and Peggy
It was a special version of the Purisima Loop -- the Super Duper Up 'n' Down Loop -- as chosen by George for his 500th leaf. Congrats also to Adam for joining the Forest Club. We had a big turnout for event, resulting in a warning from the ranger for not having a large group permit, but it was a great day.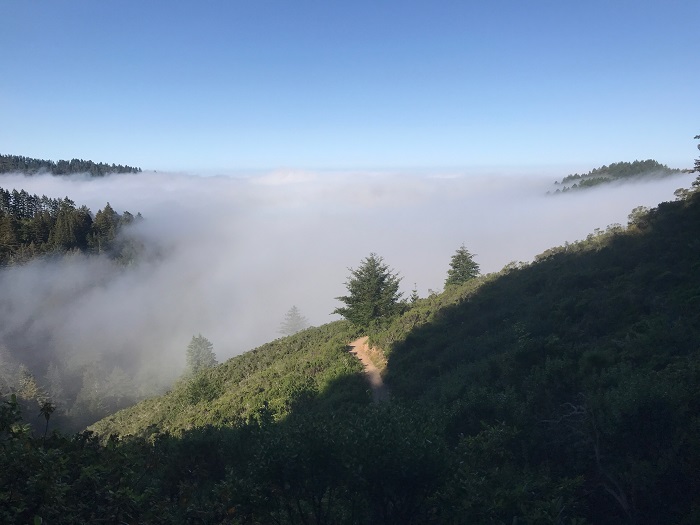 The West Coast was in the midst of a heat wave, but it was cool and foggy in the early morning at Purisima
Love those islands in the fog!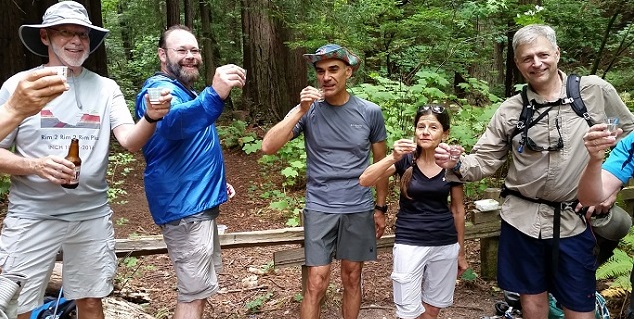 Congrats to George and Adam on the Forest milestones, and thanks to Mihail and Sophie for providing the appropriate libations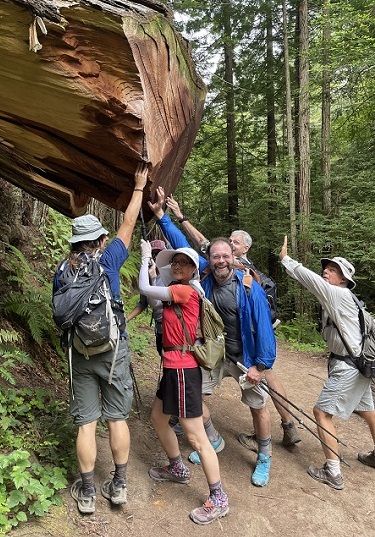 Those wacky INCHers! Especially nice job by Rudi on the "air hold".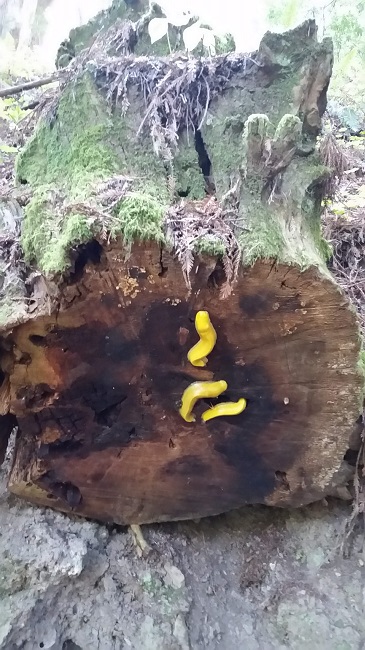 The banana slugs were also having a party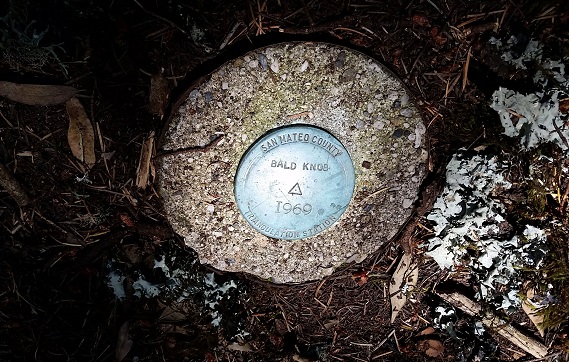 The highlight of the trip was finding out that the marker at Bald Knob was laid in '69!
On the way back, Milon explained what the big notches in the redwood tree stumps were for. I've said it before, and I'll say it again: INCH is educational and fun!
Milestones:
Adam's 1st forest
Gela's 30th leaf
George's 5th forest
Sarah's 460th leaf







Pages maintained by Steve Walstra, Peter Saviz, and Russell Gee.
©2022 Intrepid Northern California Hikers