1281. Priest Rock Trail (01/15/22)

Hikers (38): Ares, Arlene, Baltazar, Betty D, Brad, Chinyet, Chris R, Crystal, Danny, David A, Edita, Ellen, George, Giulia, Hima, Hong, Iris, Jim, Karl D, Kathryn, Kendra, Kevin, Mihail, Milon, Nagendra, Peter, Peter E, Qi, Rhea, Rudi, Russ, Sandy F, Sarah, Shuli, Sophie, Vicki, Yenya, Yipeng
Distance: 8 miles
Rating: 2 difficulty, 9 beauty
Park info: Sierra Azul Open Space Preserve near Los Gatos

Write-up by Peter and Jim -- Pictures by Peter and Shuli
It was a beautiful sunny day -- perfect for what was probably INCH's last trip to Priest Rock. My good deed for the day (besides scheduling the hike) was making sure people did not step on any newts in their zeal to charge up the hill.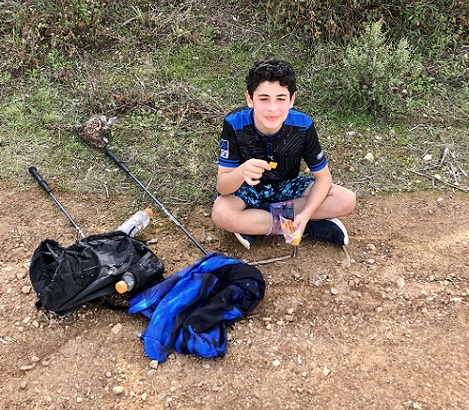 Danny was one of the first 5 hikers to get to the top (much better than his old man) -- good job!!!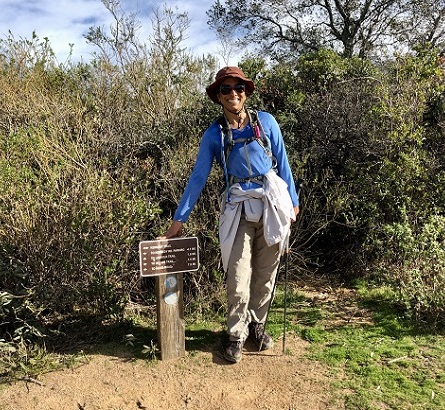 Historic moment: To commemorate INCH's final Priest Rock hike, Hima touches the sign!!!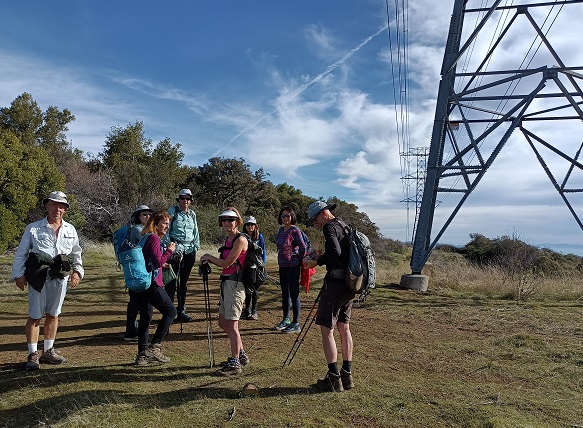 Several INCHers went on Mt. El Sombroso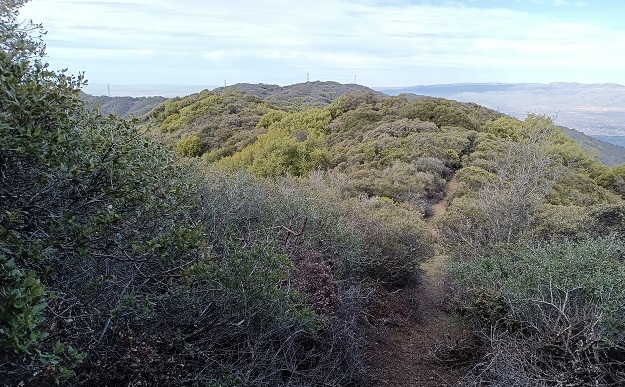 Jim & Shuli did some bushwacking ...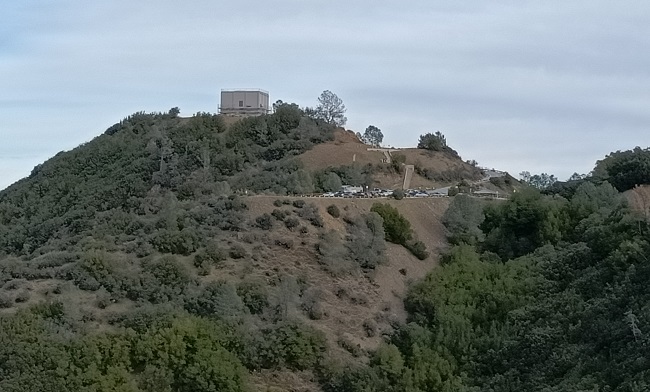 ... and went all the way to Mount Um!
Jim's writeup: Last time we explored 3+ years ago, this route went about half way to Thayer and ended, or at least we didn't see any way to continue. This time, to our surprise, it went through all the way to the road along the Mt. Thayer ridge. We walked left from there along the road and then along the foliage on the left 3/4 mile or so to a point about half mile from Umunhum peak, then returned the way we came. My GPS put this at about 8 miles from the hike start. This means by taking this route it is only 17 miles from Priest Rock trailhead to Umunhum and back.
Near the start we worked on small, spiky stuff with our little tools for a while and improved it, but there's still a short narrow stretch there. Past that, though, someone had done major work on the whole length of the trail, probably during the recent fire seasons. They sawed out a lot of larger manzanita and such that we moved aside, and we cut back some smaller new growth along the way.
There's still a tight stretch at the far end and another in the middle. For the first half the trail runs on, or parallel to, a still-visible old road grade down into the saddle and up the ridge. At an up-grade near the middle area it's necessary to leave this road grade and make your way up hill a bit - we went first right, then left of the grade for a short way.
The trail also passes through three clearings that likely are for helicopters, and another nice clear spot under trees on the right. Near the end the trail sticks to a nose ridge and pitches up steeply. After leveling and then a little rightward, it "opens" at the side of a semi-paved road, with Thayer's taller peak to the right. This opening is tough to spot from the other side.
We walked toward Umunhum along Thayer ridge near the antennas, where we saw a park system "bear paw" bench. I was already surprised there was no perimeter fence protecting the ridge except ones close to antenna and equipment clusters - these are easy to go around. From Umunhum I remember there was a serious-looking high gate on the connecting road to Thayer from Umunhum Road. This gate may still be there, but all we could see was a low park-type vehicle gate at the road choke point, where a white-and-green sheriff or ranger vehicle was also parked. Time to go…
Based on what we saw, we are wondering whether this whole area is, or might soon be, open to walkers.
Milestones:
Betty D's 1st leaf
Chris R's 30th leaf
Hima's 380th leaf
Iris's 180th leaf







Pages maintained by Steve Walstra, Peter Saviz, and Russell Gee.
©2022 Intrepid Northern California Hikers