902. Tipsea (11/09/13)

Hikers (24): Arlene, Brad, Christophe, David, George, George J, Helen, Jackie, Janice, Kevin, Kristy, Mike, Padraig, Ralph, Robert, Ross, Sarah, Sophie, Steve, Theresa, Trish, William, Yannick, Yoshiko
Distance: 14 miles
Rating: 3 difficulty, 9 beauty
Park info: Mt. Tamalpais State Park in Mill Valley

Write-up by Steve -- Pictures by Jackie, George and Steve
With the days getting shorter, I was looking for a short hike that covered some new trail. I'd planned (in my head) several 40+ hikes that start around Pt. Reyes and end near GG Bridge. Those hikes typically cross a segment of the "Coastal View" trail that INCH had never encountered. For some reason, it occurred to me the week before this hike that we could do "normal" Dipsea up to that trail, and then head down to Muir Beach instead of (crowded) Stinson Beach, and come back a different way to make it a loop. Even better, Muir Beach was closed, so figured we'd have the Pelican Inn to ourselves for a mid-hike beer check.
Sophie warned that a local Meetup club was doing Dipsea from the same trail head at 9:30am. If we started earlier than that, we'd risk getting to the Pelican Inn before noon. Everyone knows INCH gentleman (and gentlewoman) do not drink before noon. So I stuck with the original plan (10am) and added another fifteen minutes to find parking. As it turned out, the parking wasn't too bad at all, and we started on time.
1-2-3 INCH!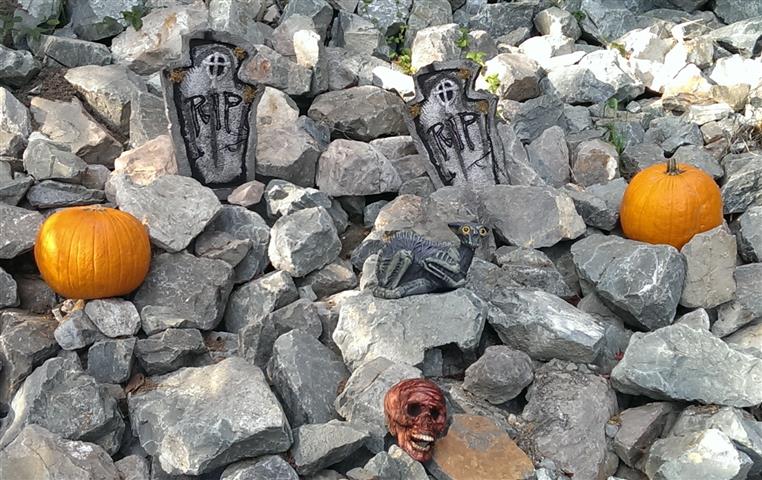 Scary Halloween picture along Dipsea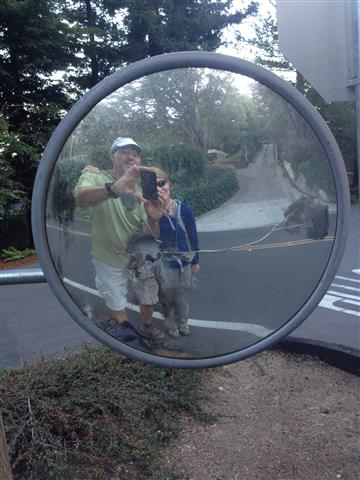 Another scary Halloween picture along Dipsea
The Dipsea steps get easier every time, and I was on Panorama Drive in no time flat. Continued through Muir Woods when Ross caught up. We ran into the bulk of that Meetup group on top of Cardiac Hill. They had a ton of people sitting around the water fountain having lunch. We claimed a nearby rock by another smaller clutch of hikers. Popular location!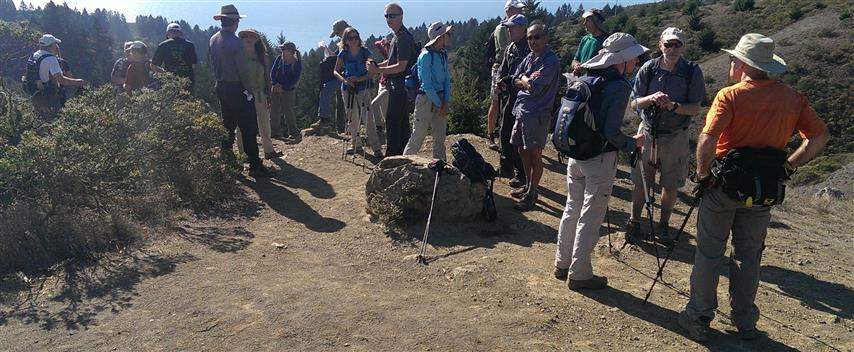 INCH gathers to get Tipsea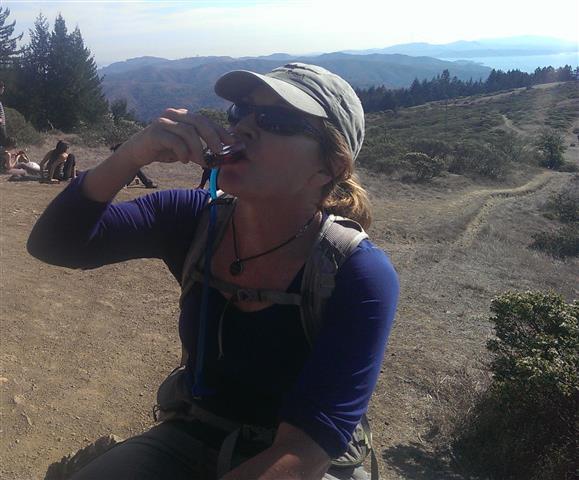 Helen does #151 right
Ross had carried the bottle of 151 rum that Kristy bought to celebrate Helen's 151th hike. Sweet deal. We set up the bar while awaiting Helen, and soon we were living up to the the Tipsea hike. Fellow 151+ INCHers Ross, David, George and myself celebrated with Helen (Happy 151st!). Kristy, as bringer-of-the-rum also had a little, along with Janice. Once Jackie showed up, we were off to the next drinking venue: The Pelican Inn.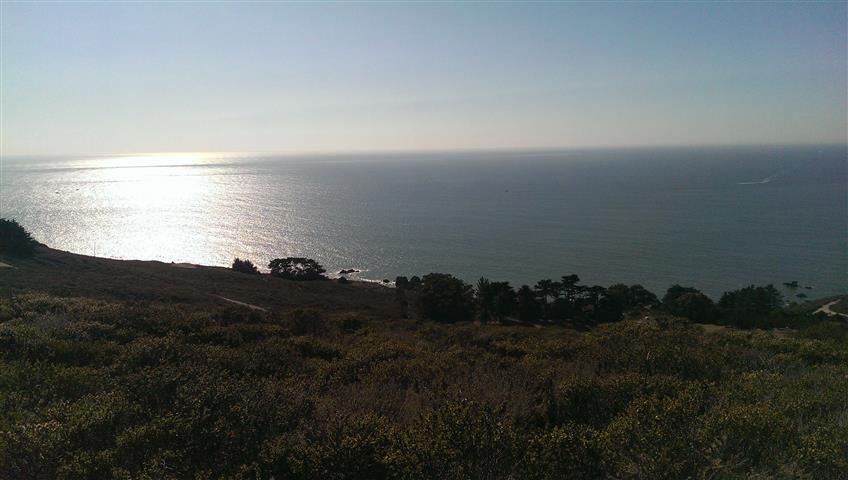 Coastal View
As the name implies, the Coastal View Trail provided nice views of the coast. The Heather Cutoff trail was incredibly switch-backed, ensuring our knees would not be damaged by the long downhill to near sea level. I waited at the bottom to make sure everyone made it to Redwood Creek Trail. You really couldn't go wrong because there were access points in either direction once exiting the trail, but just in case. . .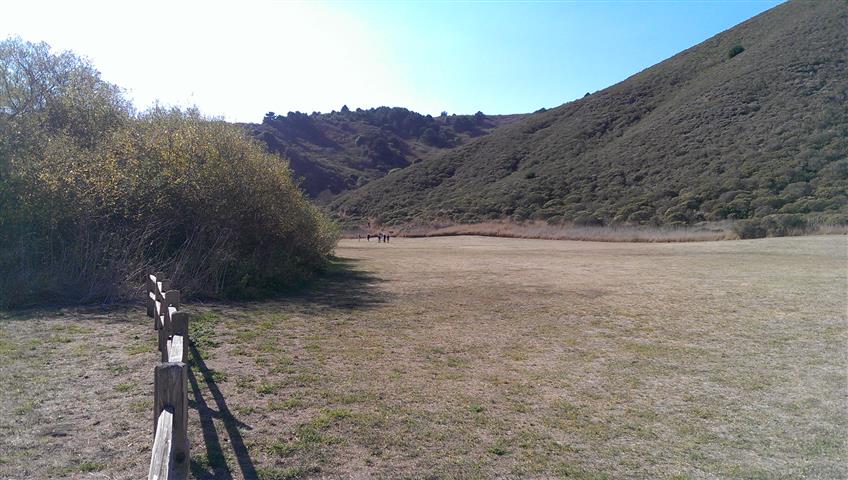 The stragglers arrive via Heather Cutoff
The Pelican Inn was packed! There were people all over the lawn and inside the restaurant. Since the beach was closed, the Pelican Inn was the only access point (with the requirement that you eat there). George was the person nearest the front of the long line of people, so asked him to order up four pitchers of beer. That saved a lot of INCHers from waiting in the line. I came out with two pitchers, Kristy expertly snagged a plate of glasses, and INCH got its Tipsea on. I was afraid I'd ordered too much beer, but by the time the fourth pitcher appeared. . .it soon disappeared.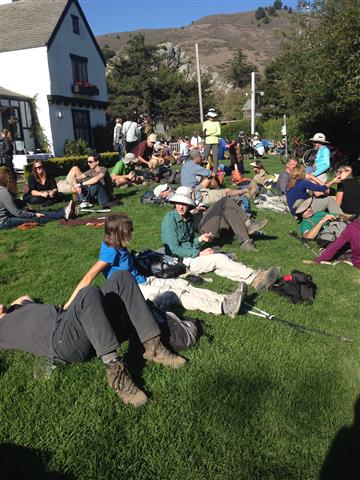 More drinking on the lawn of the Pelican Inn
Some of the teetotalers--along with a few time-paranoid and/or lame people--left early to tackle the final uphill (Dias Ridge) and the subsequent multi-option return path. Local William successfully got that group to the top of Homestead Hill. I also took a group up there, and it's possible that everyone made it there. Go INCH. There were two other options available of differing length/beauty.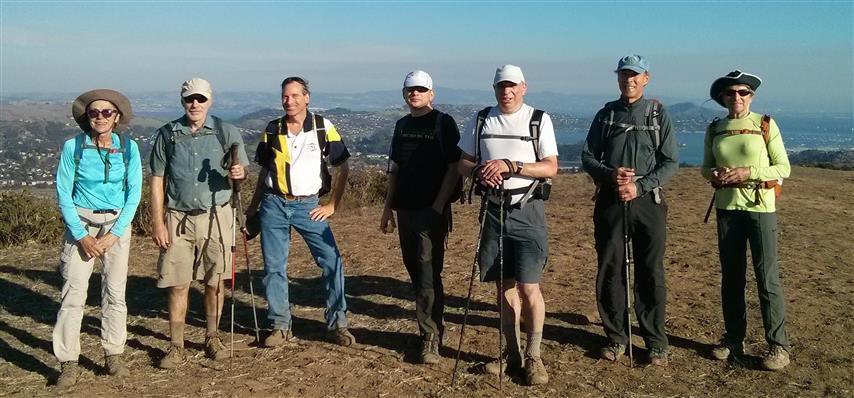 The first group to Homestead Hill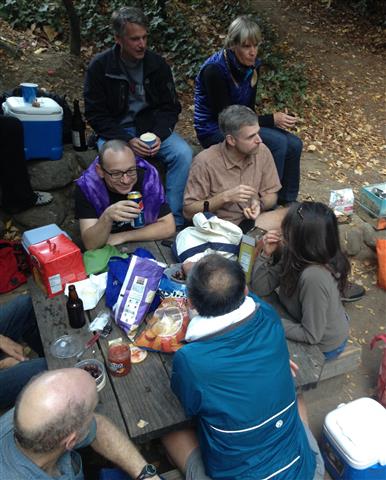 Post hike picnic
From there, it was an easy navigation of a few short segments of road to get back on the Dipsea Trail and back to the bottom. Always the role models, we had a fairly sizeable post-hike picnic and beer party next to the playground of Old Mill Park. After that, George duped us into going to a local pizza restaurant, omitting the key fact that it was a vegan place (shades of hike 822). Oh well, the pizza was pretty good the beer reasonable. Most people managed to polish off their pizzas despite doing a weak hike and eating at the previous party. Tipsea forever!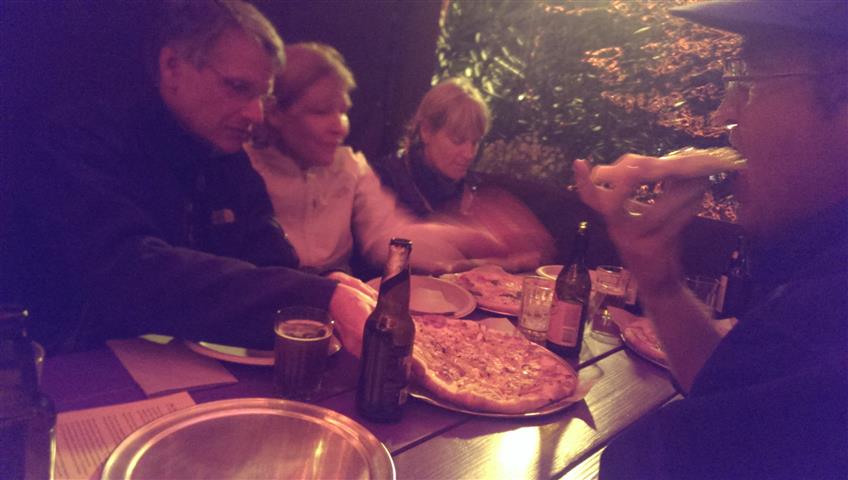 Post picnic dinner
Milestones:
Helen's 151st leaf (and shot)
Ralph's 20th leaf
William's 1st leaf







Pages maintained by Steve Walstra, Peter Saviz, and Russell Gee.
©2022 Intrepid Northern California Hikers