996. Las Trampas Loop (08/22/15)

Hikers (29): Adam, Alan, Arlene, Biz, Brad, Chris P, Christina, David, George, Jane, Jarda, Jeff, Jim, Jim Be, Josh P, Kathryn, Kevin, Kirk, Mark N, Nagendra, Nick, Peter, Peter E, Russell, Sarah, Sarbinder, Shuli, Stacy, Vicki
Distance: 14 miles
Rating: 4 difficulty, 8 beauty
Park info: Las Trampas Regional Wilderness near San Ramon

Write-up by Peter -- Pictures by Adam C, Alan W, and Biz
The hike route was figure-eight loop -- one loop on the Eastern side of the park featuring Eagle Peak and the famous Del Amigo Trail, and the other loop on the Western side featuring Devil's Hole.
1, 2, 3 ... INCH!
To add a bit of flavor, I split the group in half and sent each group on a different loop to start the hike. Both loops were almost exactly the same distance, so I was thinking many people would meet back at the parking lot in the middle of the hike to refresh their supplies and to refresh themselves with a cold beer.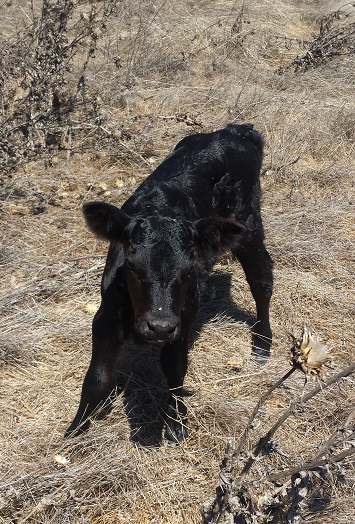 The locals came out greet us -- awwwwww!
The group I was with tackled the Rocky Ridge first. I had planned the route to go in the opposite direction to the one we usually take. It was a quick, pleasant stroll up the Elderberry Trail and then down to The Hole. From there, we scrambled up the Sycamore Trail back to the top of the ridge. It was definitely a good climb. Looking across the ridge, I could see Alan and Jeff had missed the turn to the Sycamore and were climbing up a different trail. No worries -- it all ends up in the same place.
From there, it was a quick jaunt down the Cuesta Trail and back to the car. That was fast! All right, time for beer! As was enjoying a cold one, I could see folks coming down the trail on the Eastern side, but instead of coming back to the parking lot (as instructed), they shortcut over to the Elderberry. No beer for them!
After a brief rest, we headed out again. Things were getting warmer now, and the climb up to Las Trampas Ridge and then Eagle Peak had us huffing and puffing, but we had a good lunch break at the top while enjoying the view.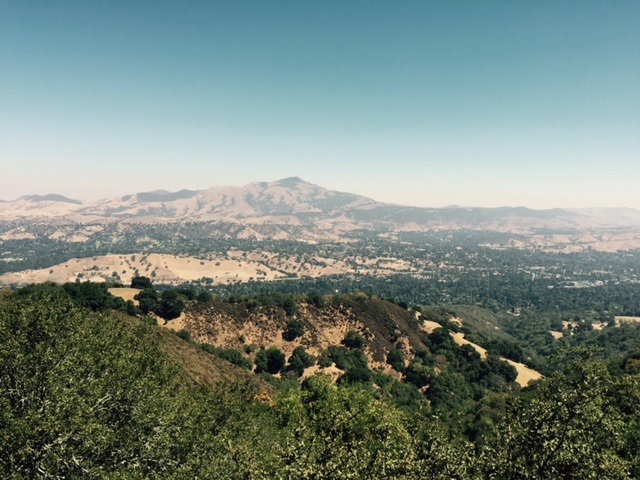 Nice view of Diablo from the lunch spot on Eagle Peak
The last quarter of the hike was the most punishing for me. In addition to having the usual torture of the Del Amigo Trail, it included the Sulphur Springs Trail, which has a few steep drops and climbs of its own. When the legs are tired, each one of those climbs seems to go on and on forever. Each time you think this is the last hill, there turns out to be another one behind it.
But all bad things eventually come to an end, and then there's beer. Cheers!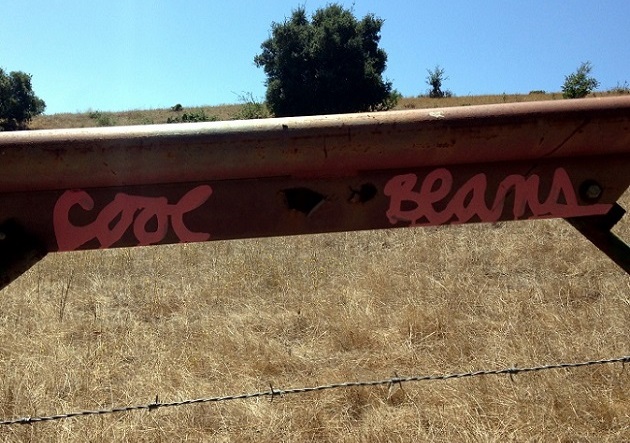 I don't even know what to say about this
Milestones:
Jane's 90th leaf
Josh P's 1st leaf
Kirk's 70th leaf
Stacy's 110th leaf







Pages maintained by Steve Walstra, Peter Saviz, and Russell Gee.
©2022 Intrepid Northern California Hikers