995. Granite Chief (08/15/15)

Hikers (14): Arlene, Chen, Jackie, Jeff V, John, Keung, Kevin, Nagendra, Sabine, Sarah, Sarbinder, Sophie, Steve, Tiffany
Distance: 7 miles
Rating: 3 difficulty, 9 beauty
Park info: Granite Chief Wilderness in Squaw Valley

Write-up by Steve -- Pictures by Keung and Steve
Every once in a while we venture out of town for some bigger mountains. This time was to the west side of Lake Tahoe for 9k ft Granite Chief. As a bonus for the intrepid, two more peaks lay cross-country beyond Granite Chief. A different bonus was available for the weak and cheap: the option of taking the gondola down for free ($39 RT otherwise).
Everyone was at the trailhead on-time for the 8:45am start, which is no small feat considering how far we all were from the Bay Area. I hadn't brought any maps (because I couldn't find any good maps on-line), so we needed to stick together up to Granite Chief. . .
1, 2, 3. . .INCH!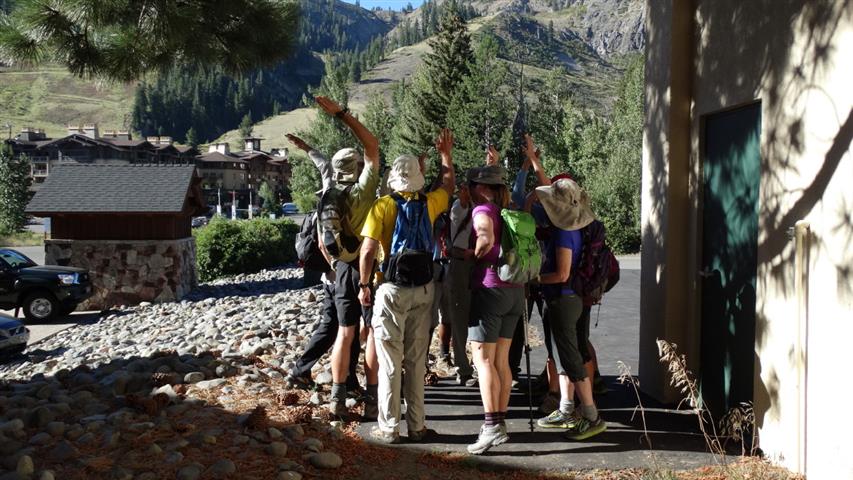 The nondescript trailhead
After not too long, Sarbinder zipped by while I was doing a geocache, so I asked him to wait up at the junction with the Pacific Crest Trail. Other than that, it was just up, up, up to the junction, although I did see Keung spinning around on a rock platform at one point.
It was getting a little warm, but not too bad. Up at the PCT junction, we chatted with other hikers coming through. Once everyone was there, we set off for the unmarked use trail up to Granite Chief.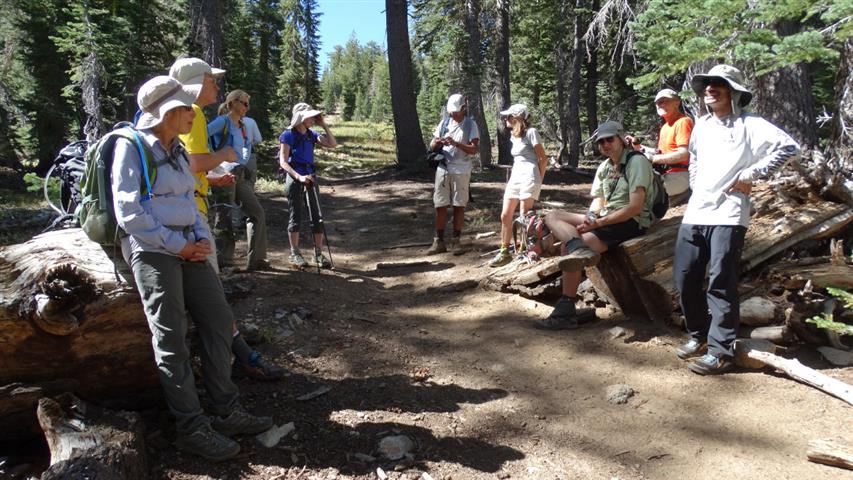 Waiting at the junction with the PCT
Although the next junction wasn't too far away, the wait time was almost as long. During that time, we discussed which trail to take to get to the gondola on the way back. We could see there was a use trail which avoided going up and over an intermediate peak, and it was good we discussed it because people would be coming back at vastly different times. . .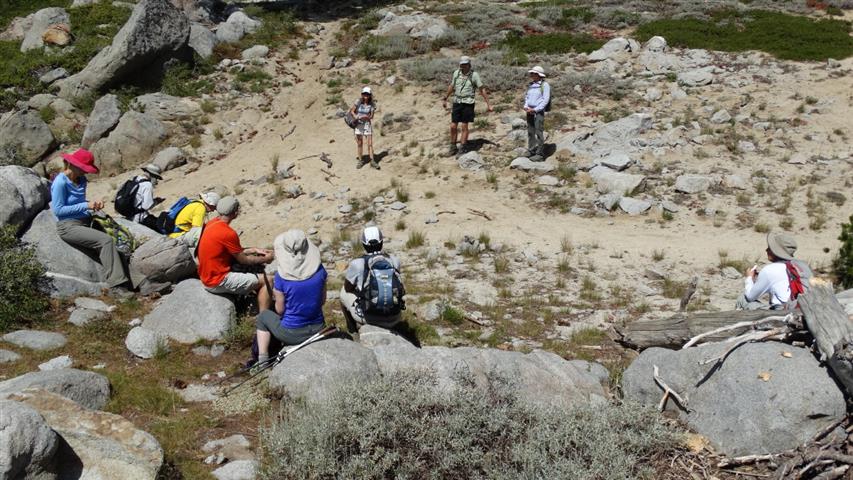 Waiting to head up to Granite Chief
Now it was just another long push to get to the summit. There was a good use trail up, as long as you knew were it started, so route finding wasn't an issue after we got going. Soon we were all on top of Placer County's most topologically prominent point. Hooray!

Chillin' on Granite Chief summit
Arlene, Chen, Kevin, Nagendra, Jackie, Sarah, and Tiffany headed back from here (I think). The rest headed off for Needle Peak.
After a rocky decent, we regrouped at the saddle before the rather imposing Needle Peak. Sarbinder and John decided to bail here, going cross-country down to the connector trail below us which we knew was there, but could no longer see. I'd learn later that Sarbinder was the only person who hiked all the way back (i.e. skipped the gondola ride). He knew he'd have to wait for his wife either way, so he got to enjoy the hike down to Squaw Valley via Shirley Lake. Not a bad trade-off.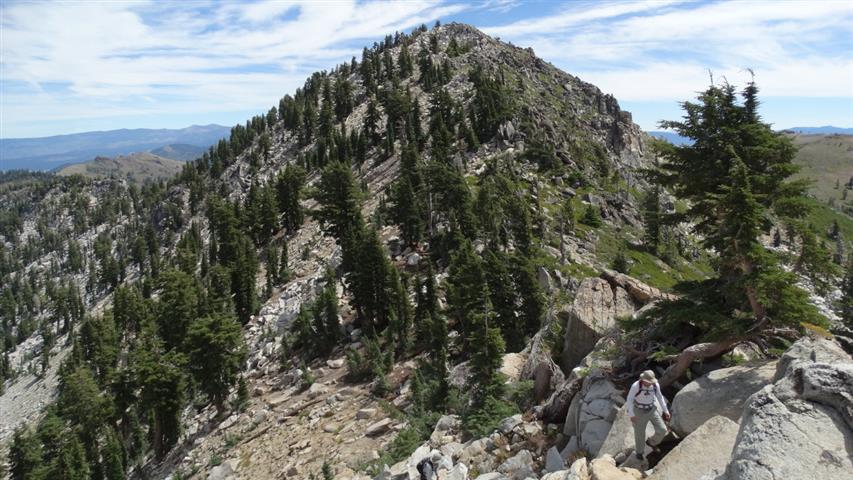 Looking back at Granite Chief on the way to Needle Peak
Now we were down to five, and we continued on to Needle Peak. I knew there was a false summit it between, so took a round-about way to avoid the rocks. This didn't save much, but I ended up at the next waiting point well before everyone else. I snapped a picture of Keung taking a picture of Needle Peak while everyone else came down the intermediate peak. . .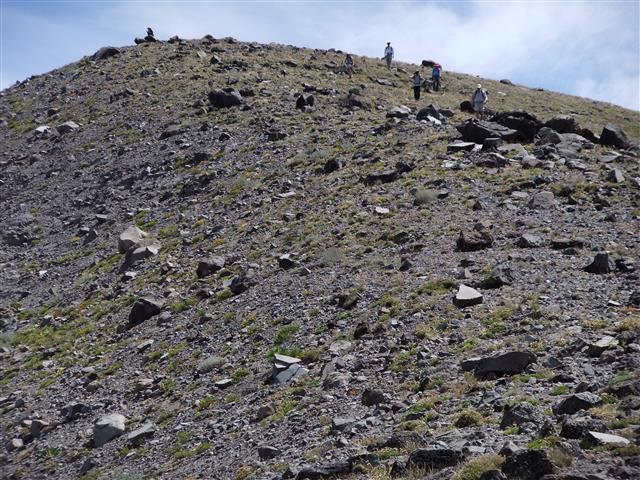 Steve's picture of hikers coming down to the notch between Granite Chief and Needle Peak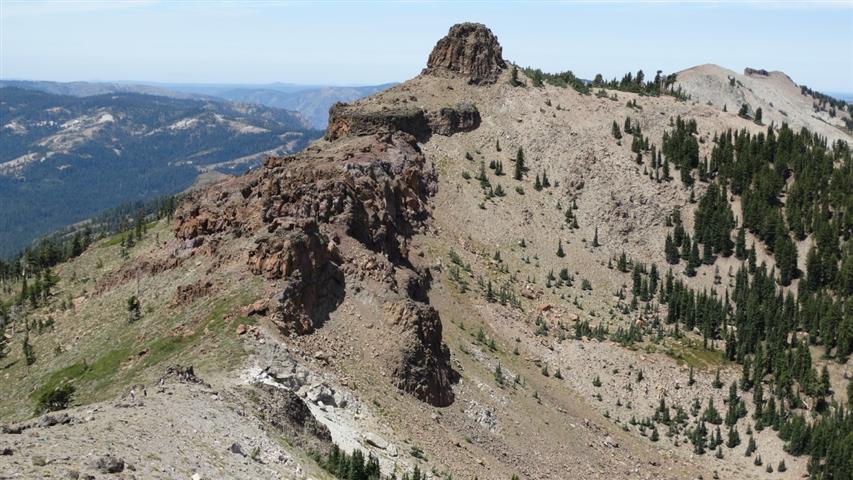 Keung's picture of hikers going down to the notch between Granite Chief and Needle Peak
We skirted the front approach, opting to loop around the left. Keung took a more direct approach. I started up much too soon and climbed a sketchy cliff only to see Sabine (who'd done the hike before) coming up a gentle slope to my left toward the real crux of the needle. We took various routes up from there--they all worked just fine. Keung was already there snapping pictures when I got up. We touched the summit marker, checked out the views, and headed off for Lyon Peak.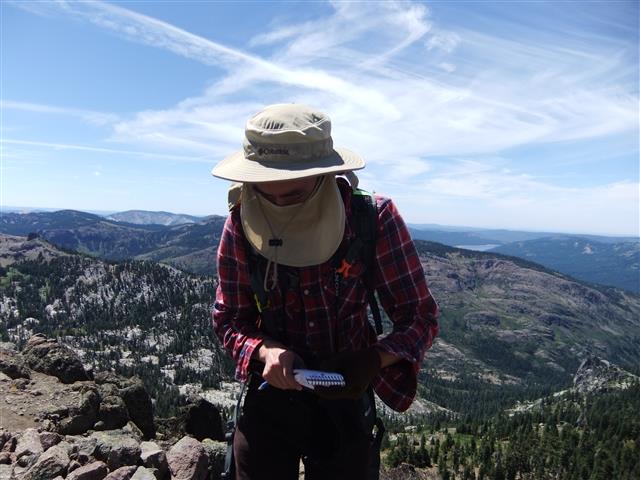 The Columbia Bandito atop Needle Peak

Everyone else on Needle Peak
Keung wanted to take a different route down from Needle Peak. The rest of us went down more or less the way we came up. After getting down from Needle Peak, the route to the Lyon Peak was relatively straightforward: go left around the intervening peak and head on up. That's exactly what I did, and was at the summit in no time. After seeing Keung's pictures, I noticed people had somehow ended up on the right side of the ridge and crossed over. That explained why I was able to bag the summit, find a geocache (FTF!), and take all my pictures before anyone showed up. We hung around here for longer than normal (for INCH) before setting off.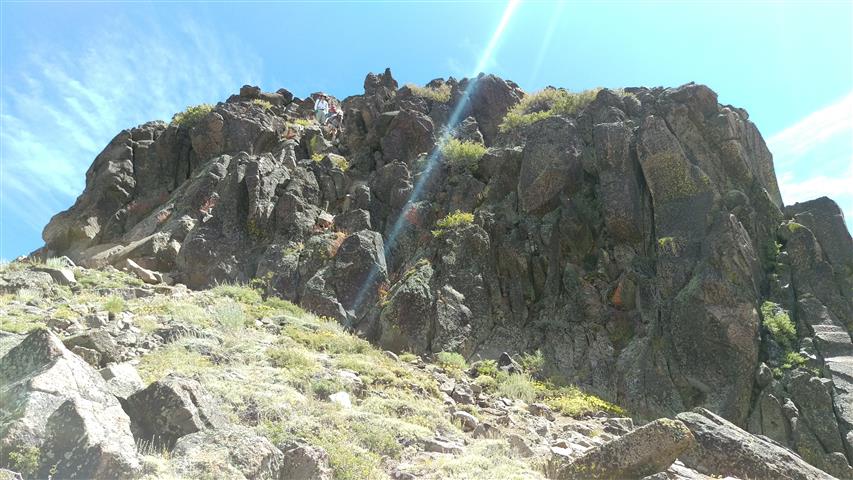 Coming down from Needle Peak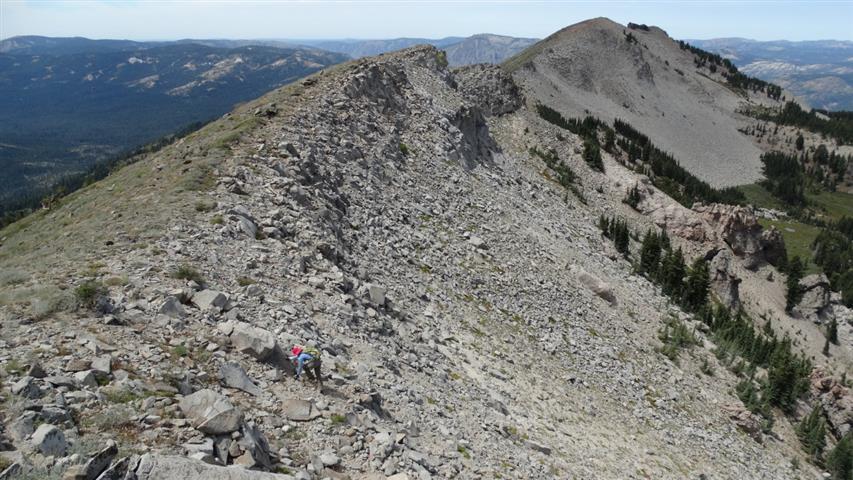 Lyon Peak (the farther one)
Third peak captured
From here, we set off cross country "diagonally downward" to pick up the trail that would get us back. The logic here is that the alternative of going cross country back to Needle and Granite Chief would take much longer than picking up the trail below us. I'm not convinced this is true, as we dropped more than 1000 feet in the process to pick up the trail. . .only to climb 1000 ft (net) to get back near the Granite Peak junction. It might be easier to head back to Needle peak before going down, and split the altitude difference.
Whatever the case, I separated from the other three pretty quickly (like a bad hike leader) on the way down. I had a waypoint where I wanted to catch the trail and I hit it. . .but it was a hell of a lot more work than expected. Very shortly after finding the trail, I was heading back uphill and saw Sophie, Sabine, and Jeff V coming in. They were happy to see I was on the trail, and I was surprised because I thought they had gone "less" diagonal than I did, and thus found the trail earlier, and were ahead. This may only make sense if you've trudged down the side of Lyon peak.
Sophie and I eventually split off from Jeff and Sabine on the uphill. I had run out of water at this point, and was starting to flag a bit. I asked Sophie how she was doing on water, and she was relatively awash. I figured we were close to the end already (so it didn't matter), but Sophie talked me in to sharing some of her water. And thank God for that, because I really needed that water. It was like spinach for Popeye at that point. Sat down at the last major junction to "check the map and wait for Sabine and Jeff", but mostly I was happy to sit down and eat some synthetic food. Sabine and Jeff showed up quickly, though, so didn't get much of a break. I was figuring out where that magic use trail was relative to where we were, as all trails looked "upward". A few steps later, however, there was a giant arrow (not ours) highlighting that trail.
The use-trail bypass was. . .pretty crappy! What it made up in avoiding elevation it gave up in non-optimal footing and occasionally sketchiness. Energy-wise, it was still easier than going up and over the intervening ridge, so we'll call it a win. When we finally got to the end of it, we saw lots of people meandering about. They looked carefree and happy, so we knew the gondola was running!
We walked down to the gondola area, which was a hotbed of activity. Sabine went to get some chilled beverages while the rest of us headed for the gondola. Turned out they were about to leave, so Sophie and I jumped on the crowded gondola (my olfactory insult adding to the non-paying injury). We gave Jeff a wave, as Sabine didn't get there before the gate closed. . .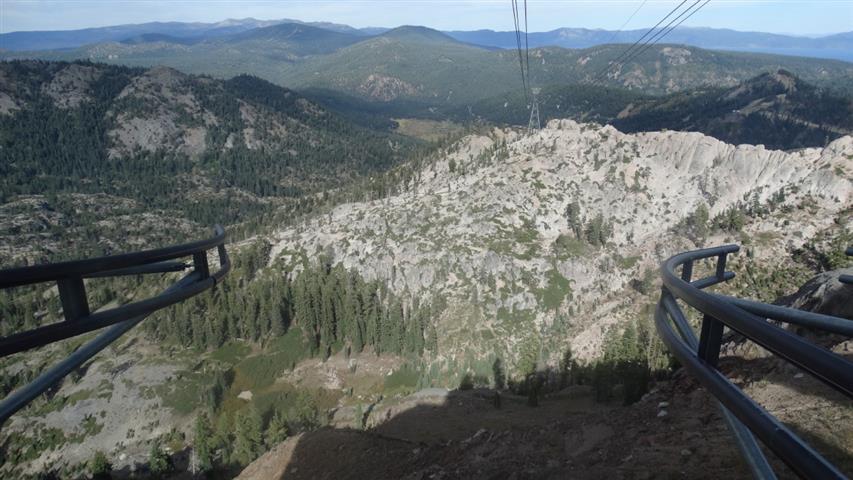 Easy ride down!
Back at the cars. . .no one was there. This was definitely different than local hikes, where people hang out. I was beat, but thankfully Sophie had a beer in her car. She was in a "big rush", but I wasn't. So I sat over in a shady spot, enjoyed a cool brew, and changed clothes. Watched a nearby zipline/rope-bridge/tree-thing (Squaw Valley Adventure Center), which was equal parts education and entertainment.
Back at Lyon Peak, Keung had decided he was going to to a bit further to visit the next unnamed subsidiary peak, so he was behind us all. Other INCHers had run into his mother on the way back, and talked her into taking the gondola back (instead of waiting up at Granite Chief junction). This was good, as she found out the last gondola was leaving at 5pm. She relayed this info to Keung, who made it to the gondola four minutes before the last ride. He thought he had until 6pm. . .
Milestones:
Nagendra's 50th leaf
Steve's 780th leaf







Pages maintained by Steve Walstra, Peter Saviz, and Russell Gee.
©2022 Intrepid Northern California Hikers