1080. Not Point Bonita (04/22/17)

Hikers (24): Adam, Brad, Chinyet, Christina, Craig A, Dan, Dan L, David, David A, Hailong, Jane, Jeff, Megan P, Mihail, Praveen, Ralph, Sarbinder, Sophie, Steve, Theresa, Tiffany, Xiaofei, Yannick, Yipeng
Distance: 23 miles
Rating: 3 difficulty, 8 beauty
Park info: Golden Gate National Recreation Area near Mill Valley

Write-up by Steve -- Pictures by Everyone
Picked out a route that hit several new locations (for INCH) in Marin Headlands, with the intent to squeeze a Level 4 hike out of it by traversing up and over the various ridges of the park four times.
The hike looked doomed before it started. Not only was another (pay!) club doing a hike starting 5 minutes after our start time, but it was also the Bay Area Ridge Trail's "Ridge to Bridge" hike that day, which included lunch at our parking location. I was paranoid that the parking lot would fill early, so showed up extra early (and warned everyone else to do the same). The lot was full, but I didn't have to park too far down the road. Much to my delight, almost everyone was already there as I walked in. We started almost on time.
1-2-3 INCH!
Since there was an unmarked trail many miles into the hike (i.e we wouldn't be together), I had considered limiting the hike to active hikers and no guests. But I figured no one would bring someone on such a hike. Should have known better, as there were four guests (!?), only two of whom completed the required pictures (although one later sent in a GPS track). Oh well. . .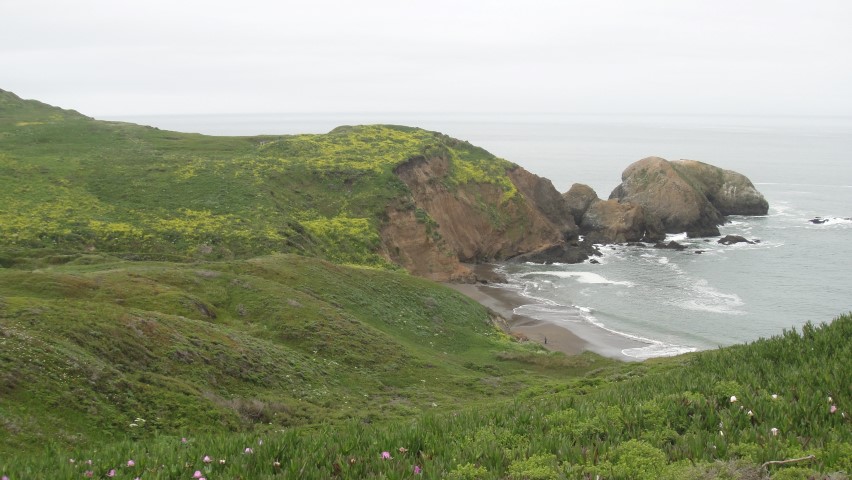 View from the use trail
I sent out a map with the details of how to get from Rodeo Lagoon to Pt. Bonita. I wasn't surprised to see Megan P standing in the sand looking quizzical about where to go. She was Brad's +1, and he was nowhere to be found, invalidating the entire concept of a "+1". Whatever the case, I'd put the coordinates of the necessary trail on the map, and it was spot on. So up the ridge we all went to Pt. Bonita.
INCH has never visited Pt. Bonita, despite it being a very popular location. This oversight was entirely because there is no official trail to get there. It wasn't until I looked at it in Google Earth that the obvious use trail popped up. And for all our effort, we were rewarded with a sign telling us that it doesn't open until noon. Oh well, close enough!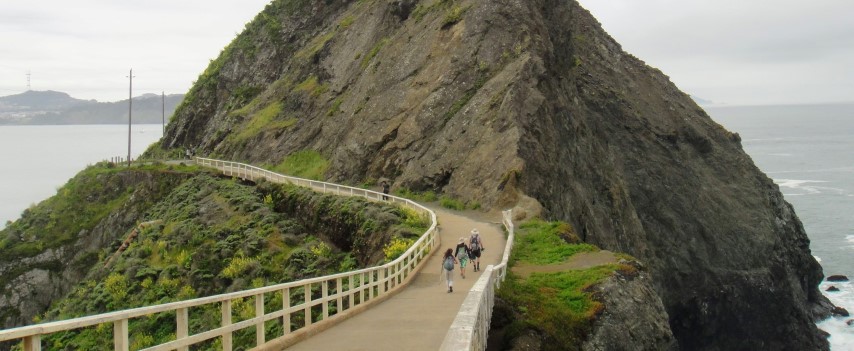 We're too fast--the last bit of trail to Pt. Bonita does not open until noon
The tunnel was as close as we could get to the lighthouse without swimming. Mihail wanted to try to climb up the rocks to go over the tunnel, but I was pretty sure it would cliff-out on the other side. So, like the many other tourists who were milling about, we took some pictures and headed on back.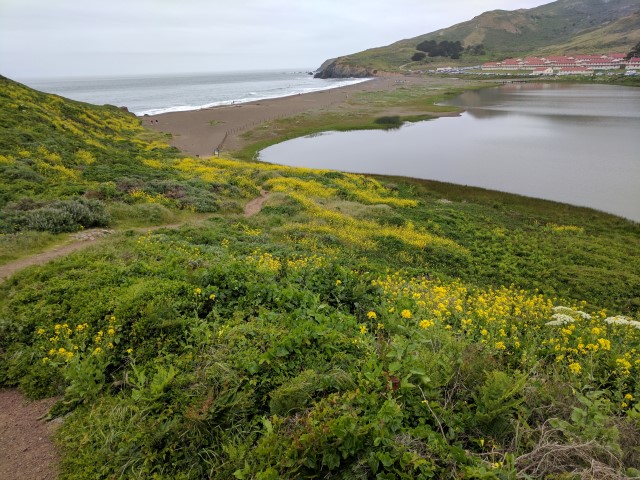 Rodeo Lagoon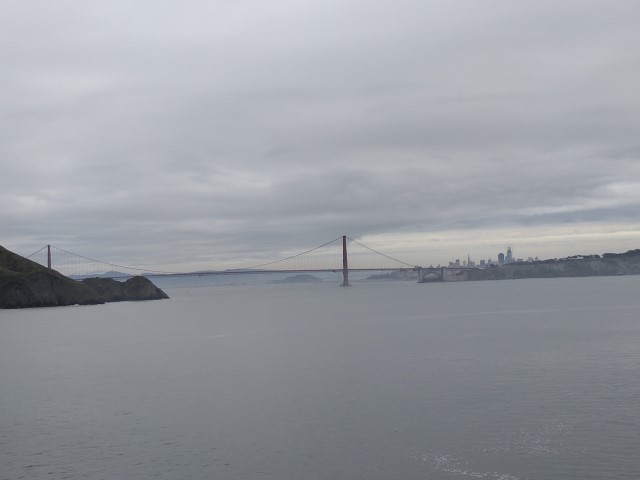 Another fine view of the Golden Gate Bridge
Ran into many people going back, and gave them the sad news. Took a slight detour to make loop around Battery Alexander, which couldn't have been too long since I was soon caught up with Mihail, Nancy, and oft-errant Megan P.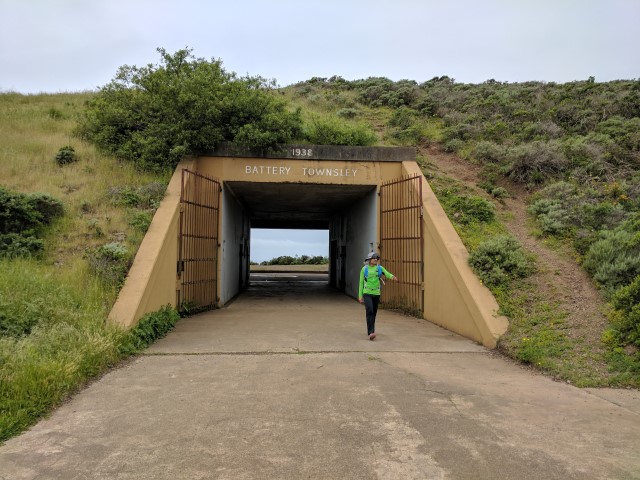 Sarbinder checks out the coastal defense
We crossed the beach between the Pacific Ocean and Rodeo Lagoon and got on the Coastal Trail. I wanted to walk the ridgeline to Hill 88 (a new trail for me), but took the turn too early and ended up on an old paved road to nowhere. Turned around and got back on the right trail, where I ran into Sophie and David A. After a steep uphill segment, I took the correct side trail for my "secret" route. Much to my surprise, I saw David A and Sophie taking a similar route (and thus leaving the official route). Met up again with Mihail at Hill 88, where we took our obligatory pictures. Ran into many INCHers on the short segment back out of Hill 88, so was happy to see that most people were doing well.
From there it was mostly downhill and then gently uphill to the intersection with Middle Green Gulch Trail. I had been expecting something steeper to Middle Green Gulch. Guess this hike might not be a four. . .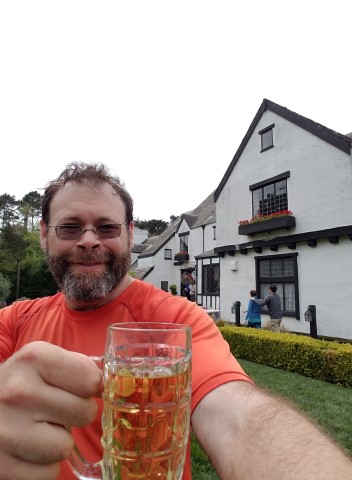 Adam demonstrates the proper thing to do when passing a location with beer
The good part about any trail down toward Muir Beach (including all the Green Gulches) is that they end at Pelican Inn, a much-too-popular English pub. Despite being there at an odd time, there was a line to get beer. Mihail grabbed a table while I waited in the line for refreshments. We would later see Sophie and David A, but they were too weak to have any beer. It was clear that the runners (Hailong, Chinyet, Hailong's +1, Megan P) had also bypassed the highlight of the hike. However, I was happy to hear (and see) that INCH had a large contingent taking up lawn space later in the day (see picture at end).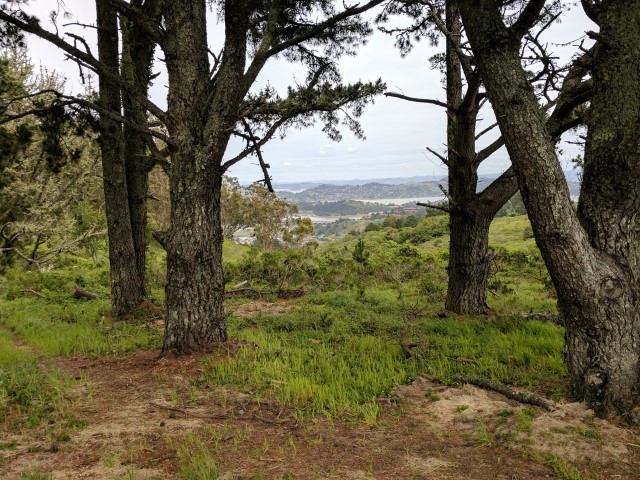 A peek at Tiburon through the trees
Awaiting the stragglers
Energized with beer and an order of fries, Mihail and I would eventually catch Sophie and David A (plus someone they'd picked up outside Pelican Inn--true story!). The overall hike had turned out to be easier than expected, thanks to cool breezes and an even distribution of hills for "only" 4.3k ft of elevation gain over 23 miles. Everyone still had energy to party while waiting for the last few people to roll in (some of whom had accidentally lengthened the hike).
While 25 people started the hike, only 23 sent in the required pictures.
The Four Mystical Energy Points of Marin Headlands
---

Name
Tunnel
Hill 88
Middle Green
Pelican Inn
Theresa

(Theresa's pic, not Theresa)
Tiffany
Ralph
Christina
Adam C
Jeff
Yipeng
Yannick
David A
Sophie
Praveen
Steve
Mihail
Megan P
Jane O
Brad
Sarbinder
Chinyet
David
Hailong
Dan
Xiaofei
Craig A
Milestones:
Chinyet's 110th leaf
Dan L's 1st leaf
Ralph's 50th leaf
Sophie's 230th leaf
Xiaofei's 1st leaf







Pages maintained by Steve Walstra, Peter Saviz, and Russell Gee.
©2022 Intrepid Northern California Hikers