1190. Coit & Kelly Lakes (08/24/19)

Hikers (16): Adam, Angelika, Baltazar, Brad, Chinyet, Christina, Jeff, Jim, Kendra, Mihail, Pal, Peggy, Peter, Sarbinder, Shuli, Yipeng
Distance: 18 miles
Rating: 5 difficulty, 8 beauty
Park info: Henry Coe State Park near Morgan Hill

Write-up by Adam, Baltazar and Peter -- Pictures by Peggy, Yipeng and Peter
First stop, Willson Peak -- so far, so good! (except for the hairline)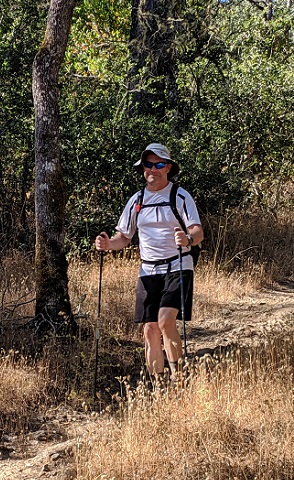 Heading down into the gulch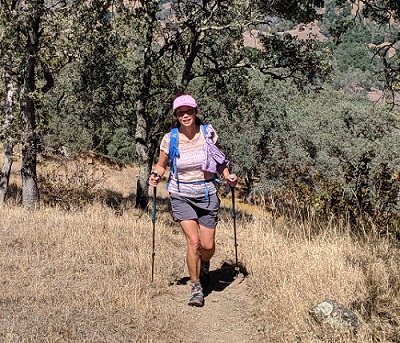 It's always too easy for Yipeng (so she did a couple extra unintentional miles on the way back)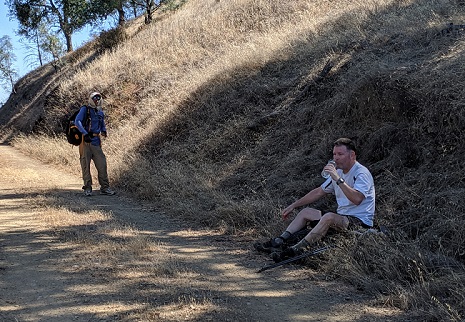 Catching a breather at the top of Tule Pond Trail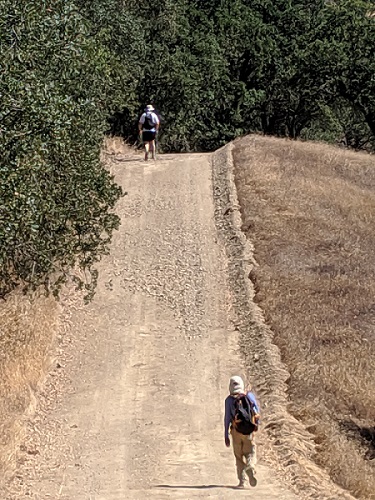 It was warming up as we hit the Wasno Road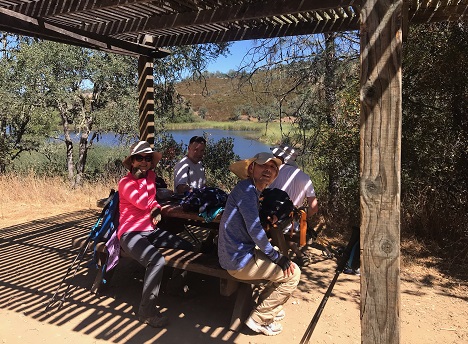 Taking a well-deserved break at the lunch spot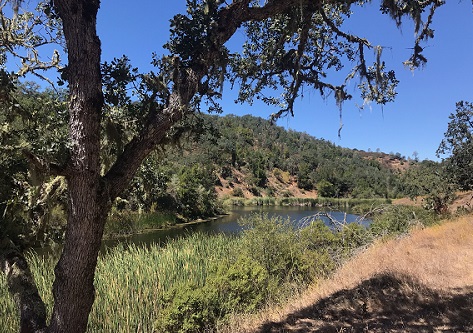 It's tough to get to Coit Lake through all the reeds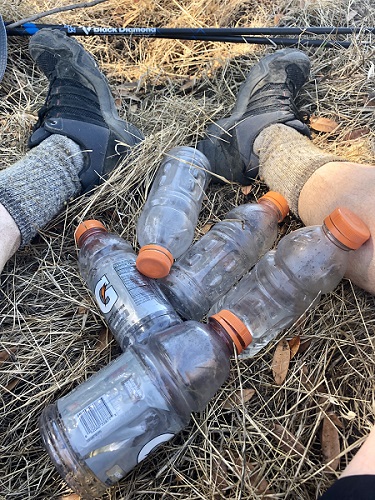 Going back was torture -- I was out of water before getting back to Willson Peak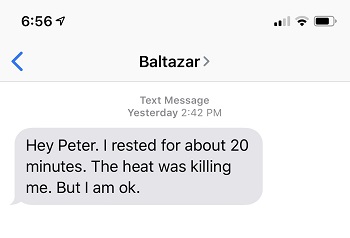 Distress calls started coming in ... (I didn't get the texts until later)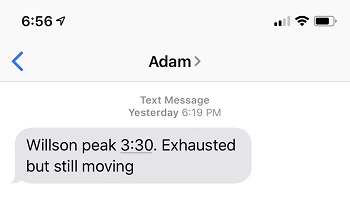 Big Henry was at it again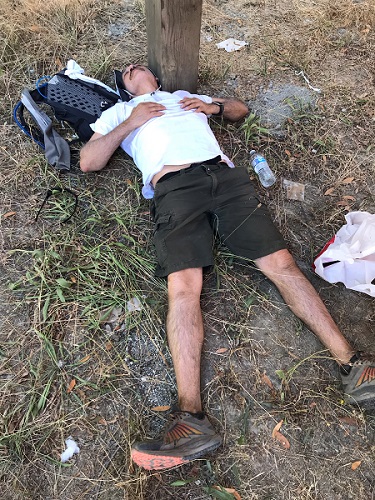 Baltazar was hugging the post for a while, but glad to report he was OK afterwards
Adam's notes: Christ, it's hot. 103 degrees, blazing sun, two big hills to go, and I'm out of water*. Why do we do this to ourselves?
I started almost half an hour late and tried to catch up by rushing up Middle Steer Ridge, a great way to set yourself up for epic INCH suffering. By the time I reached Coit Lake 3.5 climbs and about 35 Fahrenheit degrees later, I still hadn't seen, much less, caught the group, only a growing feeling that this was gonna be a brutal day.
Starting with the steep climb from Kelly to Wasno Rd, it "wasno" picnic. Even the slightest uphills slowed me to a 1 mph crawl, lurching drunkenly forward as my tongue cleaved to the roof of my mouth and my head swam with visions of frosty drinks that were still miles and hours away.
*I had brought 3 L and a filter, which I used on the algae-encrusted shores of Kelly Lake. The resulting...liquid was disgustingly warm and tasted awful, and made me feel instantly nauseated. No way in hell was I drinking any more! The real stupidity on my part was leaving so many chilled sparkling waters & frozen Gatorades in my cooler. None of them survived the aftermath of this hike.
Baltazar's notes: For me, it was a 6 out 5. Tough! Not so much the mileage, the heat was hitting me like flames of burning gas, according to someone in the group, it was around 103 degrees. The last uphill I was suffering terrible cramps and had to lay on the grass for up to 20 minutes to recoup, felt so ligh headed and dizzy and I think I heard myself snoring. When I got home I weighed in at 156.67 lbs, down from 168 lbs in the morning before the hike. Mostly water I lost but also lost about 4000 calories. The heat kills me.
Peter's notes: Before the hike, I was wondering if this would be a Level 4 or 5. On a cool spring day, I'd probably give it a 4, but on this day the afternoon temperatures in the mid-nineties on the trail (100+ when we got back to the cars) made it a 5. I ran out of water with about 4 miles to go and was dizzy and close to fainting by the time I finally stumbled in. Many others were in similar bad shape. Big Henry does it again!!!
Honorable mention to Sandy F, who started out with us but wisely turned back as his hamstrings started hurting badly as he headed up Middle Steer Ridge. Better to find out early! It saved him a lot of punishment the rest of the day.
Milestones:
Pal's 40th leaf
Peggy's 30th leaf







Pages maintained by Steve Walstra, Peter Saviz, and Russell Gee.
©2022 Intrepid Northern California Hikers