1189. Madrone Knoll (08/17/19)

Hikers (28): Alan, Alan B, Baltazar, Chinyet, Clive, David, Edita, Gela, George, Hong, Iris, Jarda, Jeff, Jim, Karl, Manfred, Mihail, Milon, Peter E, Pov, Qi, Rudi, Sandy F, Sarah, Sarbinder, Shuli, Steve, Yenya
Distance: 8 miles
Rating: 2 difficulty, 8 beauty
Park info: Bear Creek Redwoods Open Space Preserve near Los Gatos

Write-up by Steve -- Pictures by Karl, Qi, Jim, Milon and Steve
The goal was to visit a new park and beat the heat. We were especially successful on the latter, as the fogged in summit of Madrone Knoll was a little chilly.
1-2-3 INCH
We started a few minutes late while people were still waiting to park. We'd already taken four cars to a parking area at the bottom of Black Road to free up space. Between that and a slow trickle of people returning from hiking, things looked like they would work out. Whew.
Added a bit of a "delay loop" by walking around Upper Lake before heading up Alma Trail. Along the way, we passed near the road and saw Chinyet coming in several minutes late.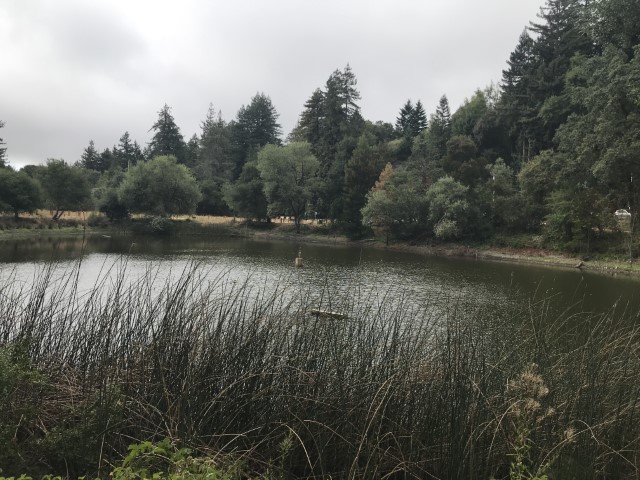 Fabulous Upper Lake
Upper Lake is the only thing open on the parking-lot side of the park, everything else on the west side of Bear Creek Road. A few years ago, if you got a permit to visit Bear Creek, the only part that was open was the east side of Bear Creek Road. I was pleasantly surprised that the better part of the park was opened first--all things being equal, it's nice to have a definitive "thing" to reach, like Madrone Knoll (or Pablo Point).
Speaking of Madrone Knoll, we were there pretty quickly. I pulled out the 151 to prepare to celebrate Jeff's 151 x 2 hike, the fifth consecutive hike with a 100th or 151st milestone. Took the short use trail to the well vegetated summit while waiting for critical mass. Soon we had a big group and quickly celebrated at the chilly summit area. People kept arriving and doing the little loop at the top. We passed the last of the INCHers on the way down, including Iris and Chinyet, thus indicating everyone got parking.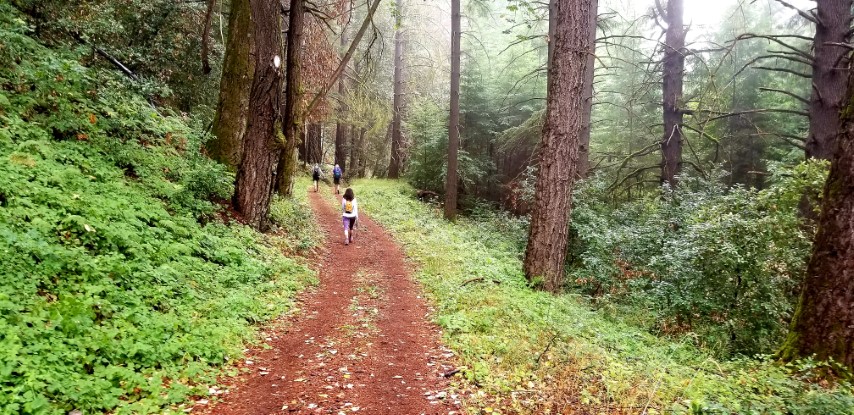 Returning on Alma Trail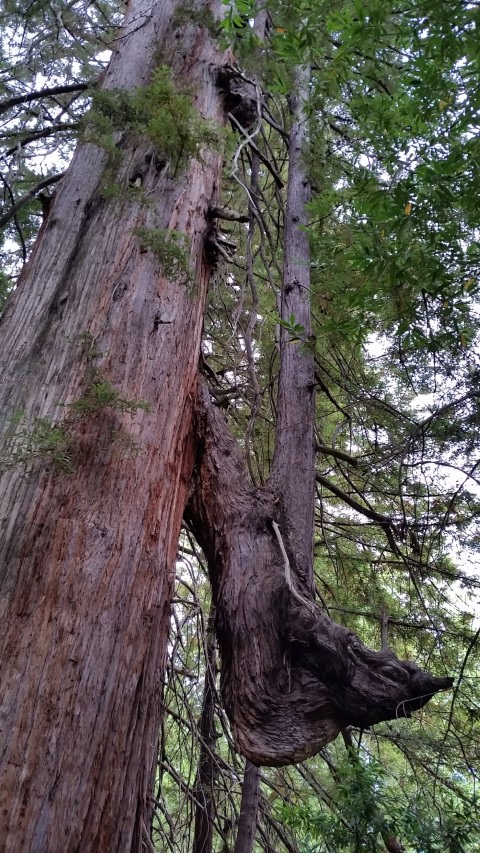 Old growth redwood, spared due to appendage
The route back was quite gentle, and we were back at the parking lot in no time. Mihail drove Sarbinder, David, and me back to Black Mountain Road so we could get our cars. Then he headed off to Yosemite--he's unstoppable. Sarbinder didn't want to drive back to the trail head, but made a kind beer donation before leaving.
Judging by the lack of picnic tables, Bear Creek Redwoods does not want people hanging around (and generating trash). There was another hiking group having a small post-hike party using a bench as a table. Thanks to Peter E, we could use the bench as a bench, and had a short party while awaiting the return of the tail end of the hikers.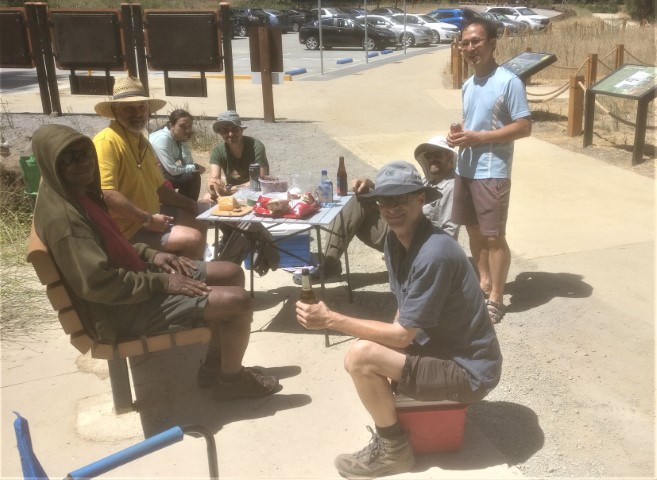 Post party in Bear Creek Redwoods
This is definitely a good location for a hot day, although it would be considerably better with more miles of trail. There is related talk about a connector under/over Hwy17 to Sierra Azul. That would allow a Bear Creek Redwoods to Mt. Umunhum hike. . .but wouldn't open for another five years or longer.
Milestones:
Baltazar's 50th leaf
Hong's 70th leaf
Jeff's 151st leaf (and shot) × 2
Rudi's 140th leaf







Pages maintained by Steve Walstra, Peter Saviz, and Russell Gee.
©2022 Intrepid Northern California Hikers