1212. Crockett Hills (01/18/20)

Hikers (37): Alan, Arlene, Chinyet, Clive, Dan, Diana B, Ellen, George, Giulia, Helen, Hong, Jarda, Jeff, Karl, Kevin, Michael W, Mihail, Milon, Nagendra, Neil B, Otis, Peter M, Qi, Rainer, Robert, Rudi, Rufina, Sandy F, Sarah, Sarbinder, Sophie, Steve, Susan CF, Titus, Vicki, Yenya, Yipeng
Distance: 14 miles
Rating: 2 difficulty, 8 beauty
Park info: Crockett Hills Regional Park in Crockett

Write-up by Steve -- Pictures by Chinyet, Yenya, George, Milon and Steve
A ranger from Crockett Hills walks into a bar and sits next to a ranger from Henrey Coe State Park. They start talking about building trail. The Coe ranger says "I tamed the Jim Donnelly Trail by making a 1.6 mile trail almost 2X longer. I got a big raise!". The Crockett Hills ranger says "Hold my beer." and leaves. Nine months later, the Crockett Ranger comes into the same bar, a little dejected, and spots the same Coe ranger. The Coe ranger is considerably thinner, sitting next to a glass of stale beer, and says "Sheesh, I was starting to think you'd never come back!" The Crockett ranger says "I spent the last nine months doing what you did, but instead of a raise, I got fired!? I took a 0.66 mile section of Tree Frog Loop and made it 3X longer! In fact, I built a new access trail from the opposite side just to add all that additional trail." "Wow," says the Coe ranger, "that's amazing--the original trail must have been really steep!" "Well," says the Crockett ranger, "actually it only had 270ft of elevation gain, and now it has 410ft because, you know, switchbacks can't always go up." The Coe Ranger says "I think you missed the point, but the joke's on me, because I've been waiting here for 9 months with your beer."
Ah, Crockett Hills. We visited this small park five years ago, and had to work hard to make the hike reasonably long. I mentioned we'd probably never return. But when looking around for new hikes, I saw Crockett Hills had added a lot of new trail. . .in between the old trails.
1-2-3 INCH!
Another big turn-out despite being "far north". That can be a problem in a park like this because, as it turns out, many of the junctions aren't signed. Fortunately we had a few moments where most of the people grouped back together.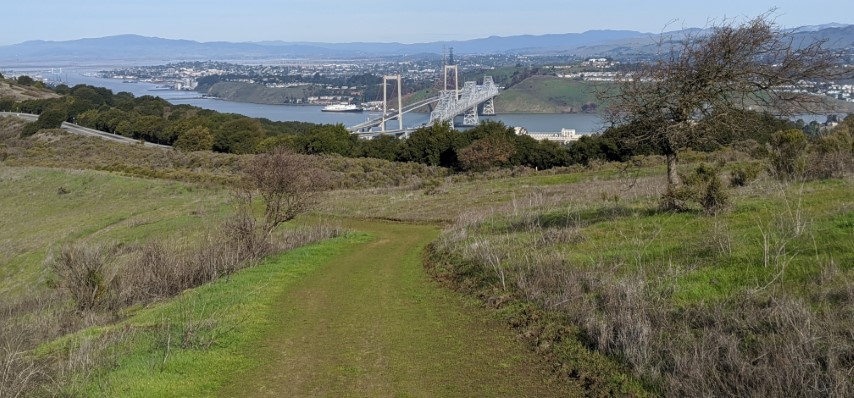 We narrowly avoided the Carquinez Bridge (I-80) toll by taking the last exit to Crockett Hills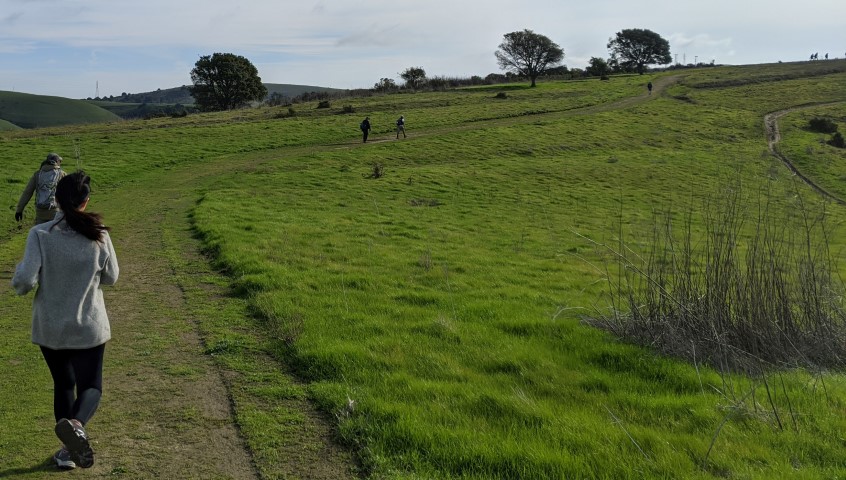 INCHers heading up Sky Trail
It was Arlene's second forest and Nagendra's first forest, and there was quite a crowd to celebrate at the big, flat, paved area near the highest point of the hike. This allowed everyone to catch up, guaranteeing we wouldn't miss the next turn down a new (to INCH) Sugar City Trail. For trail historians, the previous Sugar City Trail (which we took on the last visit) is now called Two Peaks Trail.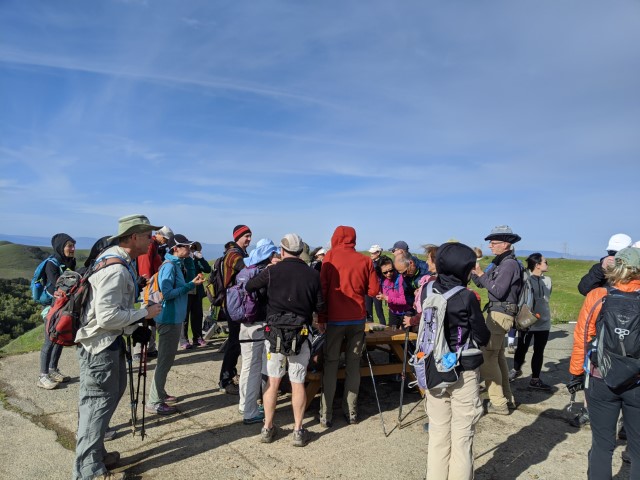 Chaos the the Crockett picnic table #1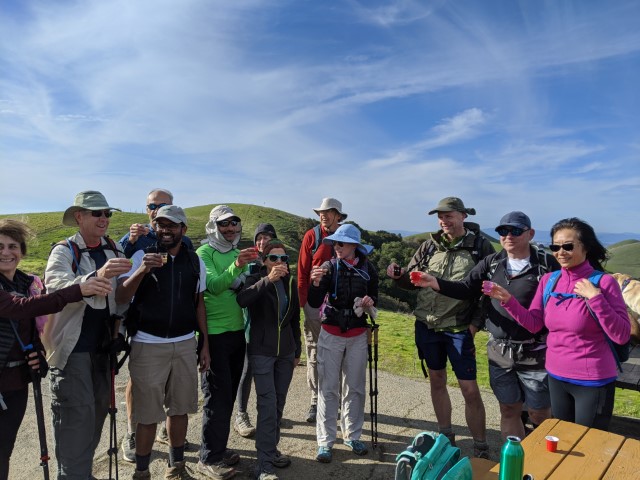 A toast to Arlene and Nagendra on their forests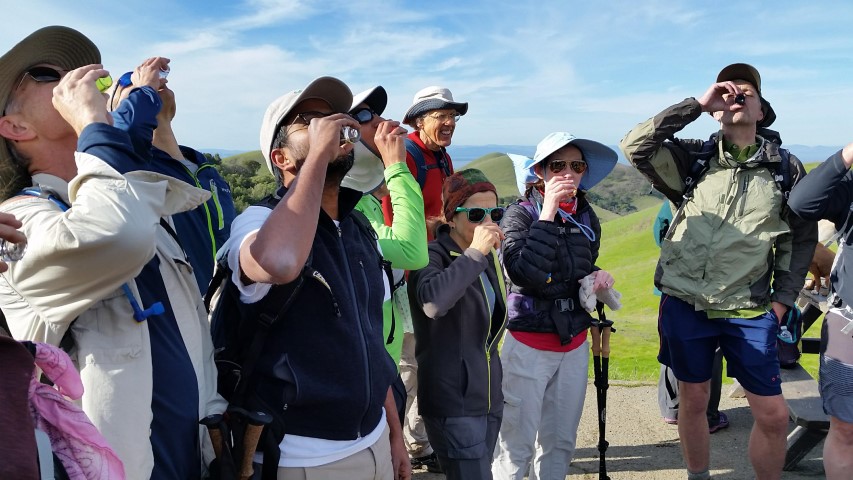 Down the hatch
Down, down, down we gently went, finally reaching the corral for (presumably) Back Ranch. After a short wait, George headed off with some people in the wrong direction while I was sussing out where I thought the correct trail should be based on the number of junctions that should be there. I called them back, but he said he was following the track. He was on the track, but the return track, not the outgoing track. I knew he'd figure it out, and in the ensuing discussion about the correct route, people caught back up, which was good. . .
Not everyone was convinced as we headed down the correct route because this section of Back Ranch Loop was overgrown with lush untrammeled grass. You can tell there was a road, but it was hard for everyone to imagine so little visitation. We took it until the next junction, which I'd labeled "Mystery Trail" on the map. This is another road that heads steeply from Back Ranch Loop. It has no sign at the junction, perhaps because it has no name. While prominently displayed on the Crockett Hills map, it also appears to get little love.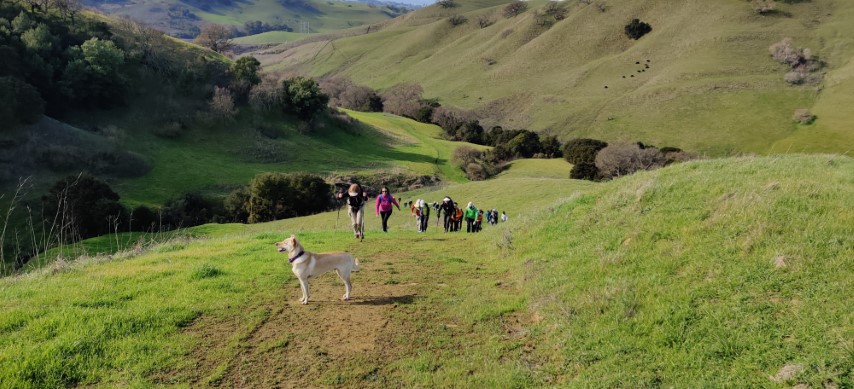 INCHers coming up Mystery Trail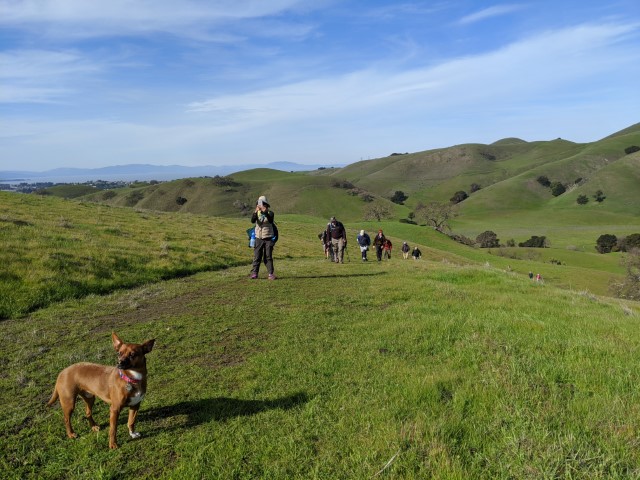 The park is dog friendly
After navigating a few more trail intersections on much clearer roads (and nice views), we reached the start of Goldfinch Trail. Built a largish arrow and headed down the trail. As before, people weren't convinced, but the overgrown (with grass rather than weeds) trail worked out fine and became more obviously "real" as we kept going. At one point it almost reached the road, and we stepped off. But the map indicated it should still be parallel to the road for a bit and, indeed, spotted the trail and kept going. Looking back in the second picture below, the next group ended up on the road. Oh well, close enough.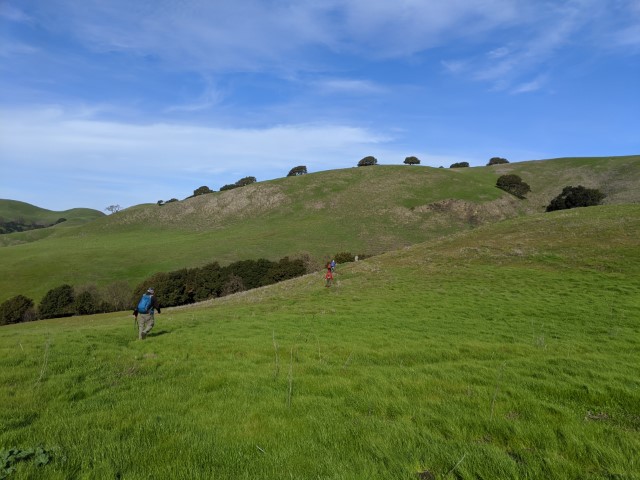 Starting on the unsigned Goldfinch Trail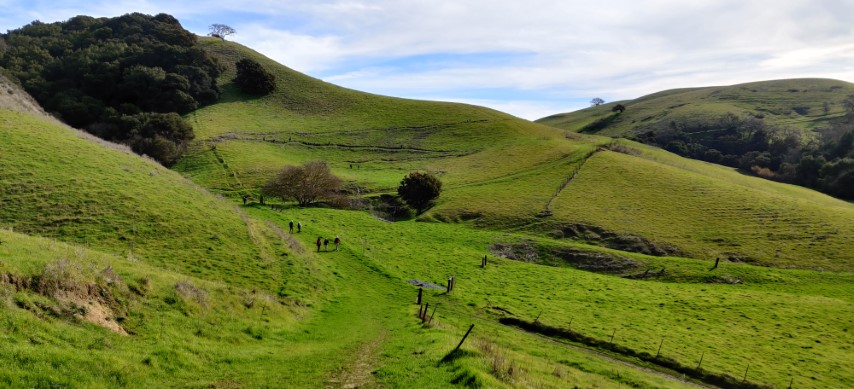 Tiny INCHers populate the switchbacks of Goldfinch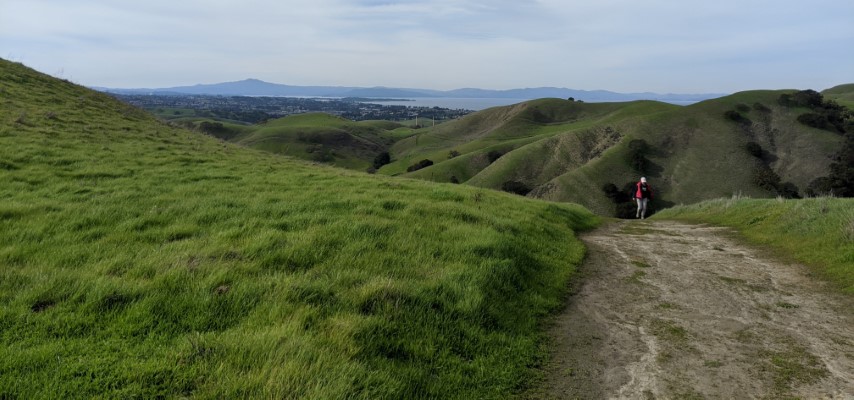 Reaching the Tree Frog/Chorus Frog junction the "hard" way
The end of Goldfinch reaches a junction where one heads up Tree Frog Loop. There is a junction near the "top" that turns into a single track trail. This is the new section of Tree Frog Loop.
It appears the original plan was to make a longer trail that continued east. On our visit five years ago, the section of road was called "S Tree Frog Loop", but it was not a loop and ended at at gate with the adjacent land bank. Now the section beyond the single-track junction is called Chorus Frog.
Based on the above history, we can only guess they had a big budget for that trail, and spent it all to cram a loop within the existing park boundary. It was quite an experience to spend so much time making so little progress to the creek at the bottom of the trail.
We eventually reached Warep Trail and back to the Back Ranch corral. From here, we proceeded on a short segment of previously-taken trail, and then headed onto the unsigned and hard-to-spot Kestral Trail. I'd noticed there was no sign, so was carrying a bunch of sticks to make an arrow. Sarbinder had gotten there before me and already created an arrow. So I extended it greatly for an unmissable arrow.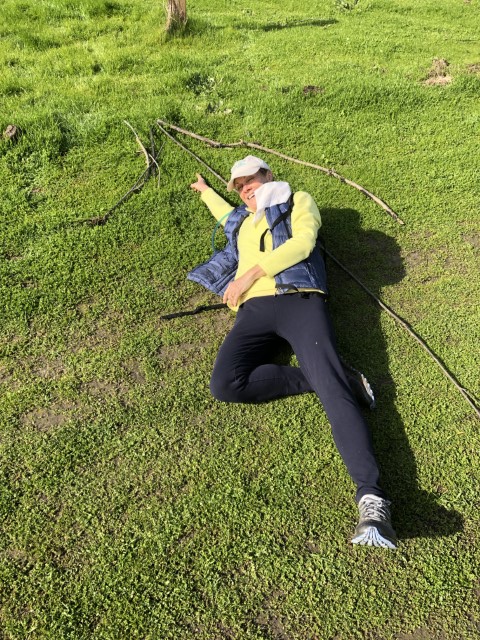 Kestrel Trail started at yet another unsigned grassy junction, so we left a big arrow
Even then, Mihail couldn't believe it was correct, but came along. Soon we all felt it was the right way, and headed up a gate near the top. The map showed the trail was to the right of the gate, and it was easy to spot the road, so up we went. Turns out actual trail branches off of that road, and the road we were on was not on the map. Thus, it was surprising to see, 0.1 miles later, a sign implying we were at the junction of Kestrel loop coming from a third direction. Oh well, no harm done, and most people probably do the loop in the opposite direction (as we did last time), making it more clear.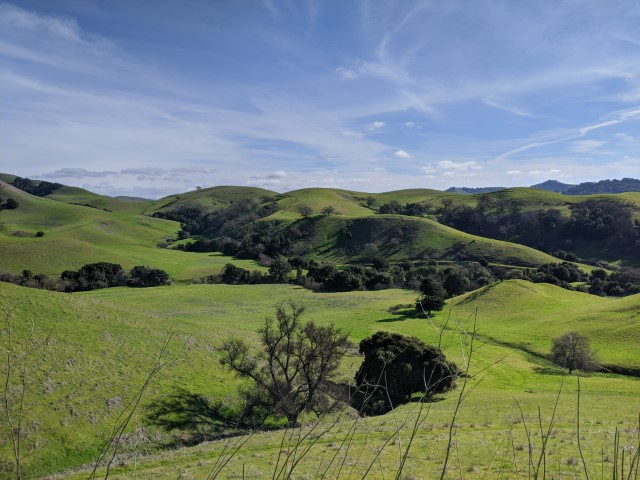 Crockett Hills from Kestrel Trail
As we approached the location of our morning toast to Arlene and Nagendra, there were several emergency vehicles positioning themselves on the wide paved area. There was also a helicopter overhead. Alan asked them what was up, and they said there was an emergency call from in the park. Considering the number of people we had seen during the day, seemed like the probability it was an INCHer would be high. They didn't have any details, so we kept going.

Chaos the the Crockett picnic table #2
As it turned out, poor Theresa had slipped, fallen, and broken her wrist. She was going to walk it out, but Helen called 911 to get a ranger sent out. The good news is that the ranger was able to get Theresa back to her car as intended, her wrist was set properly at the hospital, and she won't need surgery. The unintended consequence was all the other vehicles sent out.
We headed down the Soaring Eagle Trail, which was another gentle downhill route to contrast with the steeper uphill of the adjacent Sky Trail. Back in the parking lot, had a discussion with a biker about the park. She was surprised we'd gone so far back in the park. I was equally surprised when she said there generally aren't that many bikers when she visits, except when some organized event is happening. To me, the entire non-ranch-road part of the trail system is designed for single-track mountain bikers.
A vigorous, though short-lived, post-party ensued. It was a bit too cold to hang out. Several of us went on to a few breweries in Martinez to celebrate Arlene and Nagendra's accomplishment in absentia.
Milestones:
Arlene's 2nd forest
Chinyet's 190th leaf
Diana B's 1st leaf
Nagendra's 1st forest
Rudi's 150th leaf
Rufina's 30th leaf







Pages maintained by Steve Walstra, Peter Saviz, and Russell Gee.
©2022 Intrepid Northern California Hikers