1218. Butano Ridge Loop (03/07/20)

Hikers (27): Alan, Arush, Chinyet, Christina, Clive, Dan, David, Giulia, HaJo, Hima, Hong, Jim, Kathryn, Mihail, Pal, Peggy, Peter E, Qi, Rainer, Robert, Russ, Sandy F, Sarah, Sarbinder, Sophie, Steve, Vicki
Distance: 15 miles
Rating: 3 difficulty, 8 beauty
Park info: Pescadero Creek County Park near Pescadero

Write-up by Steve -- Pictures by Chinyet, Qi and Steve
It was supposed to rain a little before 10am, so started the hike at 9:30am. The hike date was just as COVID-19 concerns were getting press, and two weeks prior to the prohibition of groups of 10 or more. 27 people signed up. That being said, several people signed off the last day, mostly because of the rain rather than the virus.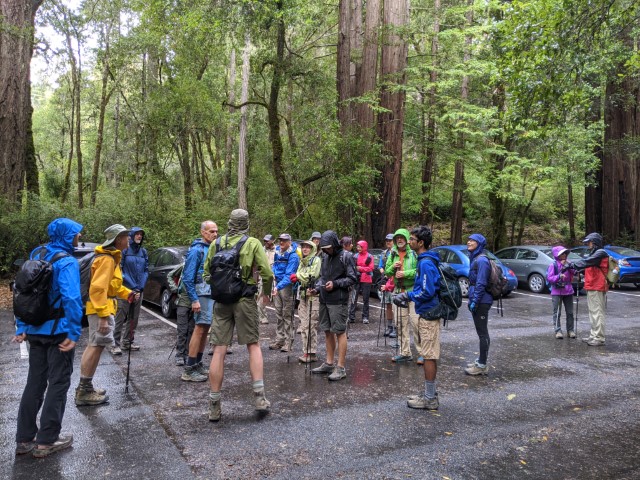 Awaiting the start of the hike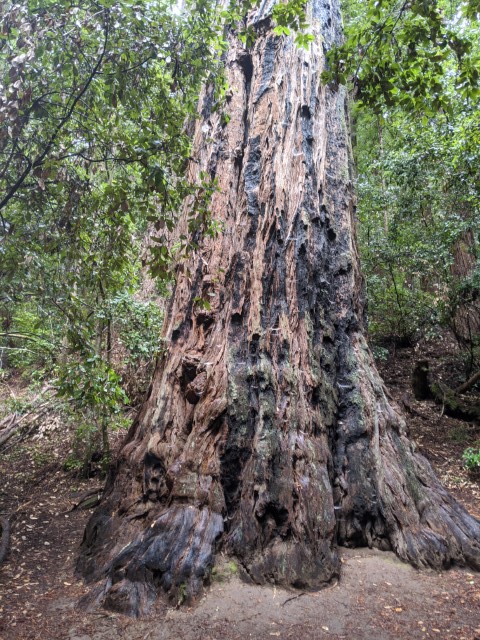 First stop was Old Tree
As usual, several people were in a big rush. Eventually they got ahead and blew by a crucial junction. This time it was blamed on Arush, but since he was following the track, he figured it out and soon people were running by me on the downhill. I had left an enormous arrow to make sure the people behind wouldn't miss that same junction. . .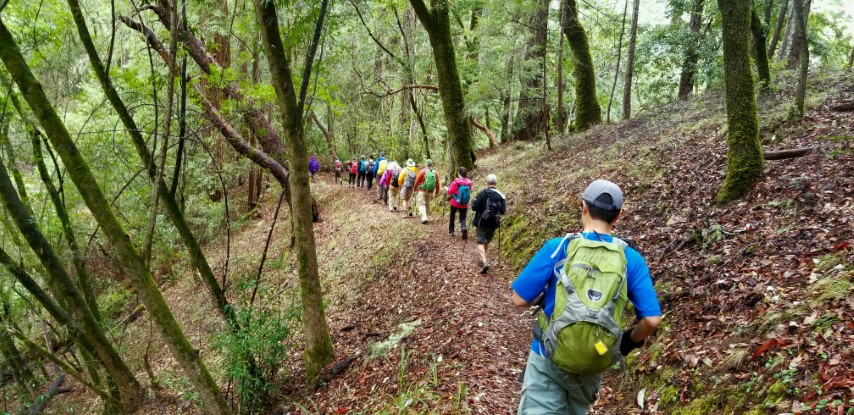 INCHers as far as the eye can see
There were many more zigs and zags. I left arrows, but was afraid that might not be enough. Wasn't quite sure I'd found the correct path myself, so consulted my map. . .and eventually decided to continue heading uphill. 30 seconds later I saw the front-runners waiting. The intended trail was closed. . .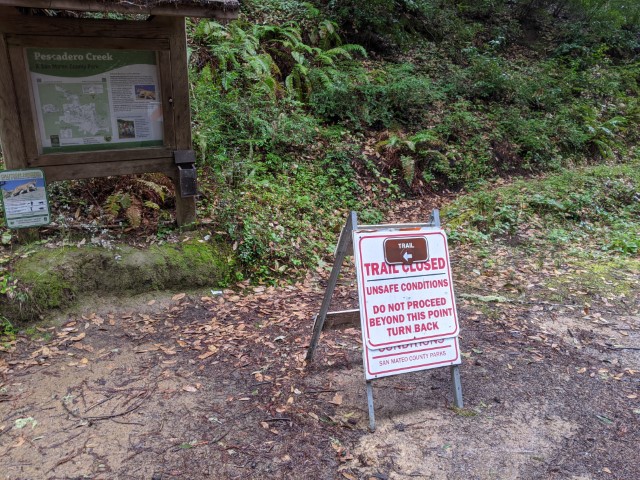 Oh no!
Left an arrow pointing down the closed trail with the expectation it wouldn't actually be "unsafe". I didn't interpret the "Trail" marking on the sign to be a bypass, but others said it was. Oh well, there was a single downed tree to cross, and then the trail was clear.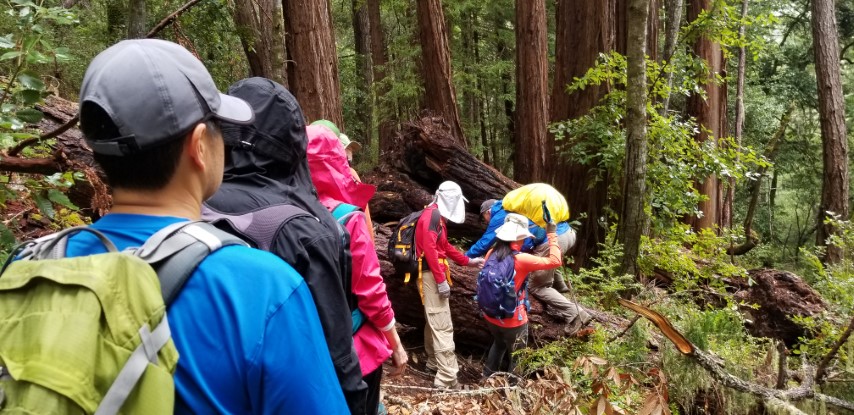 Crossing that tree
After that was smooth sailing all the way up to Butano Ridge and then across it. All the front runners, except Mihail, visited the edge of the park, which was the "bonus" route on the map. For this, they enjoyed both the Ocean View and the world famous Marker 88.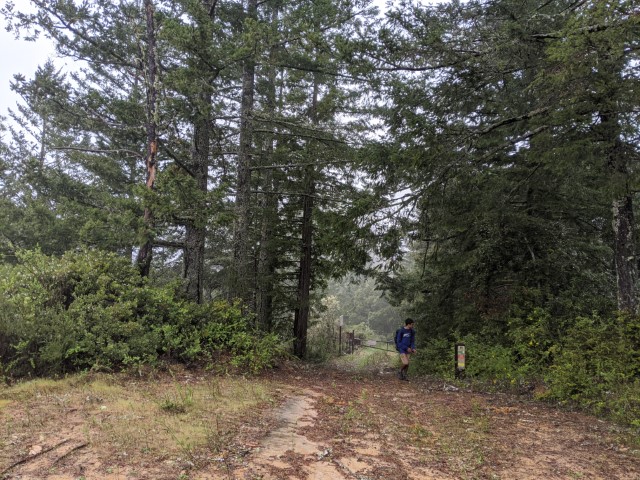 Arush at Marker 88
I had been geocaching on the way up, so was the last of the front runners. Because of that, I saw all those guys coming back as I was going up. On my own way back I saw. . .no one. 0% of people behind me took the optional route! I was surprised. I mean, they missed Ocean View!
Ocean View
Despite the whole "rain until 10am", it actually drizzled quite a bit during the hike well into 3pm.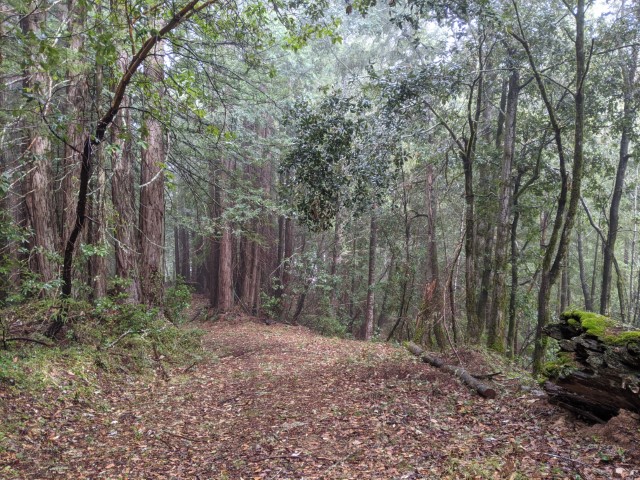 Just before the turn down Ocean View Trail
At the bottom of Ocean View Trail (which used to be called Butano Ridge Loop), there is no sign for the intended junction to Shaw Flat. Every map shows this route, but it seems like the park wants to remove this route due to the lack of bridge (I'm just guessing).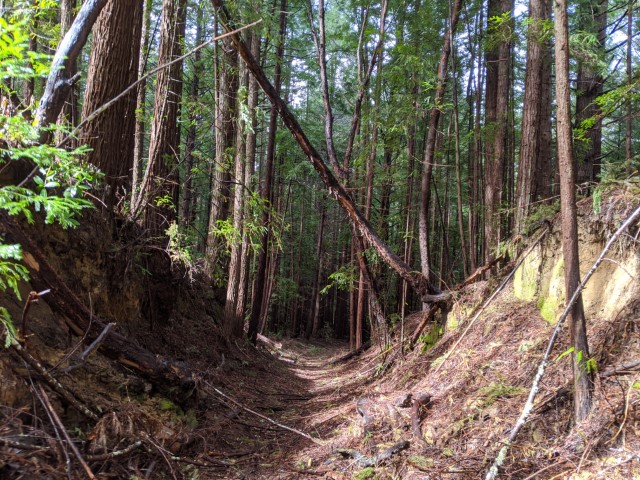 Start of the "no name" trail to Shaw Flat
When I got there, I saw Sandy a little up the trail. I called to him that the trail was "right here" and headed down. This eventually reaches Pescadero Creek and there is no easy way to cross it without taking off one's boots. . .Unfortunately, despite warning about this, I forgot to bring my water shoes.
While I was daintily crossing (it took forever), Sandy donned plastic bags over his boots and essentially passed me. Now across the creek, it was mostly easy going back to the cars. . .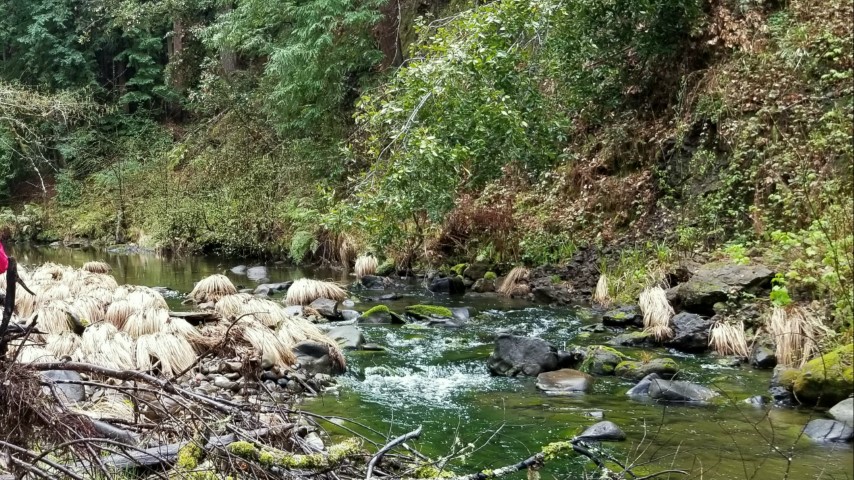 Pescadero Creek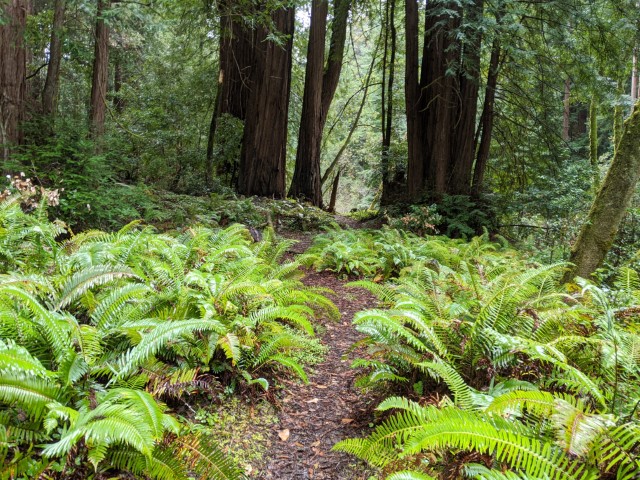 Pescadero Creek County Park is a nice place
While I did manage to pass a few people, plenty of people had already left by the time I got back (since they'd skipped the extension). But there was one unexpected guest--Iris was there, despite having bailed the night before. She had a cake! It was my birthday the day before. Thanks!
After a rousing "Happy Birthday", I put out the candles by "hand" to prevent blowing on the cake.
Pinching is the new blowing. My B-day wish was not to ignite.
We finished up the quick party just before the heavy rain began. Whew.
Milestones:
Jim's 170th leaf
Sarbinder's 240th leaf







Pages maintained by Steve Walstra and Peter Saviz.
©2020 Intrepid Northern California Hikers